What's Up?
Monday was spent stock-piling blog posts and finishing the "UK Puffins and Gannets" article for Helen Longest-Saccone and Nature Photographer magazine.
Both the Fort DeSoto IPT and the Sunday morning Cheap in the Field Session (I need to do more of those) were huge successes filled with great folks, tame birds, and more than a few amazing situations. There was one Unhappy Camper at the Sunday workshop who was what she was. And I loved it. The fourteen other Happy Campers went home happy–no shock there, smarter, and with more than a few good images. Lots more on the IPT coming soon.
I am still working on finishing up the draft of the LensAlign/FocusTune micro-adjusting tutorial. Thanks for your continuing patience.
Gear Questions and Advice
Too many folks attending BAA IPTs and dozens of the folks whom I see in the field, and on BPN, are–out of ignorance–using the wrong gear, especially when it comes to tripods and more especially, tripod heads… Please know that I am always glad to answer your gear questions via e-mail.
The Streak: 326!
Today's blog post marks a totally insane, irrational, illogical, preposterous, absurd, completely ridiculous, unfathomable, silly, incomprehensible, what's wrong with this guy?, makes-no-sense, 326 days in a row with a new educational blog post. There should be no end in sight until my big South America trip next fall. Or not… As always-–and folks have been doing a really great job recently–-please remember to use our B&H links for your major gear purchases. For best results use one of our many product-specific links; after clicking on one of those you can continue shopping with all subsequent purchases invisibly tracked to BAA. Your doing so is always greatly appreciated. Please remember: web orders only. And please remember also that if you are shopping for items that we carry in the new BAA Online Store (as noted in red at the close of this post below) we would appreciate your business.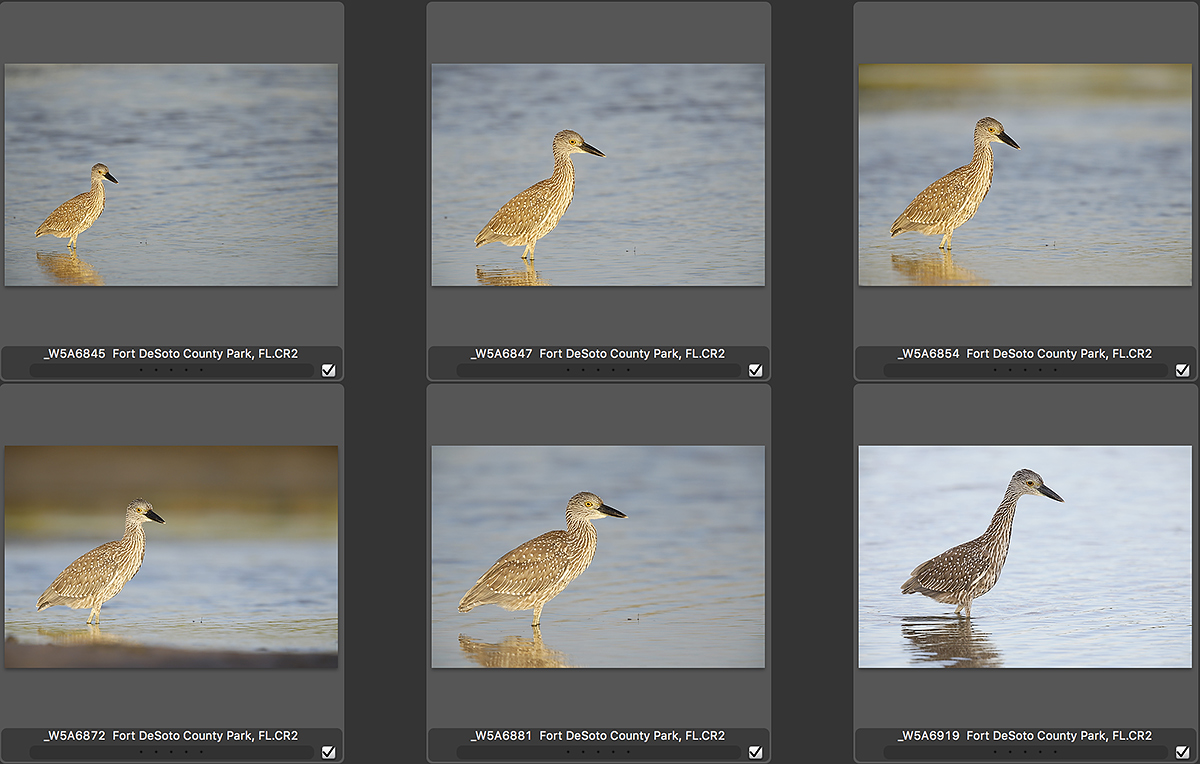 TLD-Bird
The six images above were chosen from among my 14 keepers of this very cooperative subject.
Things to Notice
Notice that I varied the size of the bird in the frame. Notice that with the bird small in the frame I tucked it well into the corner of the image. Notice that I changed my perspective from standing behind my tripod to kneeling to lying in the mud. Notice the right exposure for each image, even the last one; when the sun went behind a cloud I needed to add a lot more light.
Notice that the very same bird can exhibit a variety of postures and thus shapes.
Your Favorite?
Please leave a comment and let us know, via the file name, which of the six images you like best. And why.
What They're Saying
Via e-mail and personal comment from the young Mr. Patrick Brady; Pat signed up at the last minute.
Artie,
Wow. With ten folks you did a masterful job. I had an amazing time at the workshop and learned so much! Thank you! I got some great pictures (for me) of the night heron and the green heron and afterwards got to see lots of warblers at East Beach. I'm really excited to put what I learned to use on my own.
Cheers, Patrick
Best of luck to Patrick who is moving to the British Virgin Islands for his new job.
Fort DeSoto Spring IPT
Fort DeSoto is such a great teaching laboratory that I will be doing a Spring Fort DeSoto IPT in 2017. Dates TBD.
Living Vicariously: A Completely Free, In-the-Field Morning Fort DeSoto Fall Workshop.
Note: completely free is better than cheap!
Obviously, for a man who loves creating acronyms, a TLD-bird is a tour leader's dream bird. More on that below…
I met my group of 10 (reduced by two due to the car crash on the drawbridge mentioned in yesterday's blog pot) at 6:45am. Three folks from the IPT stayed on for their free morning session and were very glad that they did. Well before the sun came up I have a big lesson on exposure and on working in Manual mode. "When the sun is not out at full strength and the scene averages to a light tone (like pre-dawn sand or sky) the meter is stupid. Now point your lens at the sky in Av mode (Aperture for Nikon folks) and take one image with zero EC (exposure compensation). Where is the histogram?" All responded, "In the middle." "Now, add two stops of light to your exposure again in Av Mode." I helped the one gentleman who did not know how to set EC and was smart enough to admit it. "Where is the histogram?" All responded, "To the right." And I added, "Right where we want it."
"Y'all just learned that when the sun is not out at full strength and the scene averages to a light tone (like pre-dawn sand or sky) the meter is stupid."
"Now, switch to Manual mode. If you have a zoom lens, zoom to the longest focal length. Set your widest aperture (the one with the smallest f-number like f/4 or f/5.6). Now, adjust the shutter speed so that the indicator on the analog scale comes to the 0 or null mark, that is, in the middle. Now point the lens at the sky and make one image. Where is the histogram?" All responded, "In the middle." "Now, while pointing the lens at the sky, lower the shutter speed until the indicator on the analog scale shows +2 stops. Take one image. Where is the histogram?" All responded, "To the right."
"Congratulations! You just learned how to work in Manual mode and that working in Manual mode is no different than working in Av mode."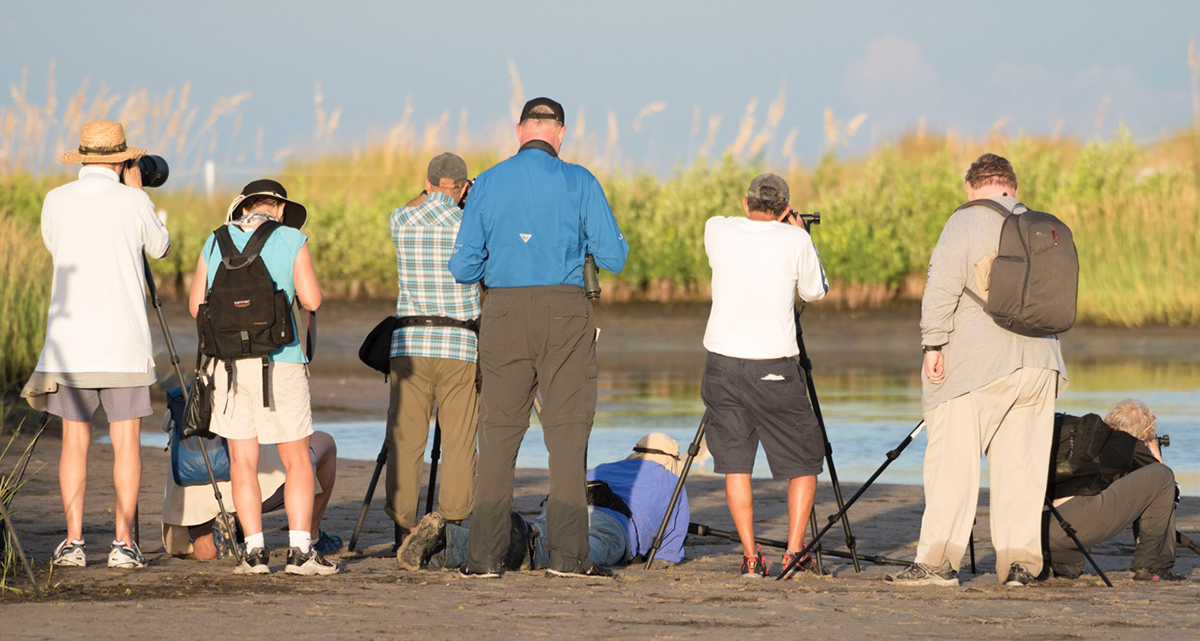 This image was created with the hand held Nikon AF-S NIKKOR 200-500mm f/5.6E ED VR Lens(at 280mm) and the Nikon D750.
The Sunday Morning Cheap In-the-Field Fall Fort Desoto Group and the TLD-Bird.
Image courtesy of and copyright 2016 Fort DeSoto Fall IPT participant Juan Tolentino
Your browser does not support iFrame.
The Sunday Morning Cheap In-the-Field Fall Fort Desoto Group and the TLD-Bird
Thanks to Juan for sharing this image with us. One thing he learned on the IPT was exposure. On cloudy days he was underexposing everything by two stops. But he was a quick study and got the WHITEs right here in full sun!
Technique Questions
That's me lying on the ground in the middle of the group with the blue sun shirt on. Standing next to my left was multiple IPT veteran Bob DeCroce; I originally thought he was to my right. In any case you can see the TLD-bird standing in the water just to the right of my 100-year-old tan sun protection hat and just to the left of the left thigh of the guy to my right, the one in the dark gray shorts.
#1: From what you can see of the bird, why do you think that I was working a bit off sun angle (with my shadow pointed to the right of the subject)?
#2: What was I doing that was very wrong?
#3: Why do you think I did it?
#4: Which of the six images did I make while lying on the ground? (Please use the file #).
What Juan Said
Via e-mail from Juan Tolentino
Thank you for the wonderful IPT. It was amazing! And even more amazing was the huge amount of information that you shared in just 3 1/2 days. I loved it! Juan Tolentino
And Just What Is a TLD-Bird?
We headed out to the spit and noted that the amazing feeding spree from the day before did not repeat itself. We spotted a young Yellow-crowned Night Heron and approached it slowly. Many of them–including the one we were gaining on–are very tame. But with our shadows pointed at the subject, the bird, hunting for fiddler crabs, had its back to us with the sun behind it. The better to see you with my dear crab. Then came the TLD-bird: A second young Yellow-crowned Night Heron flew in and landed about 40 feet from us in beautiful still blue water. It was perfectly square to the light. We got into position, some folks standing, some folks kneeling, and one or two folks–including me eventually–lying in the wet muck.
The handsome bird stood stock-still for 30 minutes. With the sun out on a beautiful clear morning I suggested +2/3 or + 1 stop (or even more plus for those with short lenses). And then check your histogram to make sure that you have some data in the rightmost box. As the sun rose higher in the sky and we got closer, the bird filled more of the frame, so I suggested +1/3 or +2/3 and then check your histogram as above and as always. When the sun it out on a clear day, the meter is smarter; you need less positive EC. Had the bird stayed for an hour, we might have gotten to the point where zero EC, the metered exposure, might have been best. After 25 minutes a light cloud covered the sun and I explained that we all needed to get well above +1, to as much as +2 stops. Remember, when the sun is not out at full strength the meter is dumb…
In addition, we were able to talk about composition: "Choose an AF point that gets the bird out of the center of the frame. Be sure to give the bird 3-4 times as much room in front as behind." And we discussed One-Shot AF (Single Servo in Nikon) and AI Servo (Continuous in Nikon) and when and why to use which one. Finally the bird moved off and so did we.
So now you know exactly how a tour leader's dream-bird behaves.
After photographing a cooperative young Great Egret and an amazing juvenile Green Heron that flew in and landed 15 feet from the entire group, an adult Great Blue Heron caught and–after five minutes–swallowed a gorgeous green-striped, silver Pinfish. Pinfish, Lagodon rhomboides, is a saltwater fish of the Sparidae family. Again, it was high-fives all around.
Please Remember to use my Affiliate Links and to Visit the New BAA Online Store 🙂
To show your appreciation for my continuing efforts here, we ask, as always, that you get in the habit of using my B&H affiliate links on the right side of the blog for all of your photo and electronics purchases. Please check the availability of all photographic accessories in the New BIRDS AS ART Online Store, especially the Mongoose M3.6 tripod head, Wimberley lens plates, Delkin flash cards and accessories, and LensCoat stuff.
As always, we sell only what I have used, have tested, and can depend on. We will not sell you junk. We know what you need to make creating great images easy and fun. And we are always glad to answer your gear questions via e-mail.
I would of course appreciate your using our B&H affiliate links for all of your major gear, video, and electronic purchases. For the photographic stuff mentioned in the paragraph above we, and for everything else in the new store, we, meaning BAA, would of course greatly appreciate your business. Here is a huge thank you to the many who have been using our links on a regular basis and those who will be visiting the New BIRDS AS ART Online Store as well.
Facebook
Be sure to like and follow BAA on Facebook by clicking on the logo link upper right. Tanks a stack!
Typos
In all blog posts and Bulletins, feel free to e-mail or to leave a comment regarding any typos or errors. Just be right 🙂