What's Up?
Monday afternoon and evening at least through Tuesday morning was great fun. I was and still am the process of passing a kidney stone. Not the worst one ever, but plenty painful. I got into bed at 8:30pm and did not fall asleep until 1:00am 🙂 The best thing about it is that it makes me realize how good I usually feel 🙂 The pain lessened by Tuesday morning but I was still uncomfortable. Then on Tuesday I developed some flu-like symptoms and visited Dr. Holmes. The pain from the stone–yes, I have blood in my urine–started in the center of my back, moved to the right side of my back on Tuesday, and on Wednesday morning I have a slight bloating pain in my right abdomen. And I did have a bit of wicked indigestion on Tuesday morning–the last food that I ate. And throughout my blood sugar levels were spiking first low and then high.
Gear Questions and Advice
Too many folks attending BAA IPTs and dozens of the folks whom I see in the field, and on BPN, are–out of ignorance–using the wrong gear, especially when it comes to tripods and more especially, tripod heads… Please know that I am always glad to answer your gear questions via e-mail.
The Streak: 327!
Today's blog post marks a totally insane, irrational, illogical, preposterous, absurd, completely ridiculous, unfathomable, silly, incomprehensible, what's wrong with this guy?, makes-no-sense, 327 days in a row with a new educational blog post. There should be no end in sight until my big South America trip coming soon. But likely not… As always-–and folks have been doing a really great job recently–-please remember to use our B&H links for your major gear purchases. For best results use one of our many product-specific links; after clicking on one of those you can continue shopping with all subsequent purchases invisibly tracked to BAA. Your doing so is always greatly appreciated. Please remember: web orders only. And please remember also that if you are shopping for items that we carry in the new BAA Online Store (as noted in red at the close of this post below) we would appreciate your business.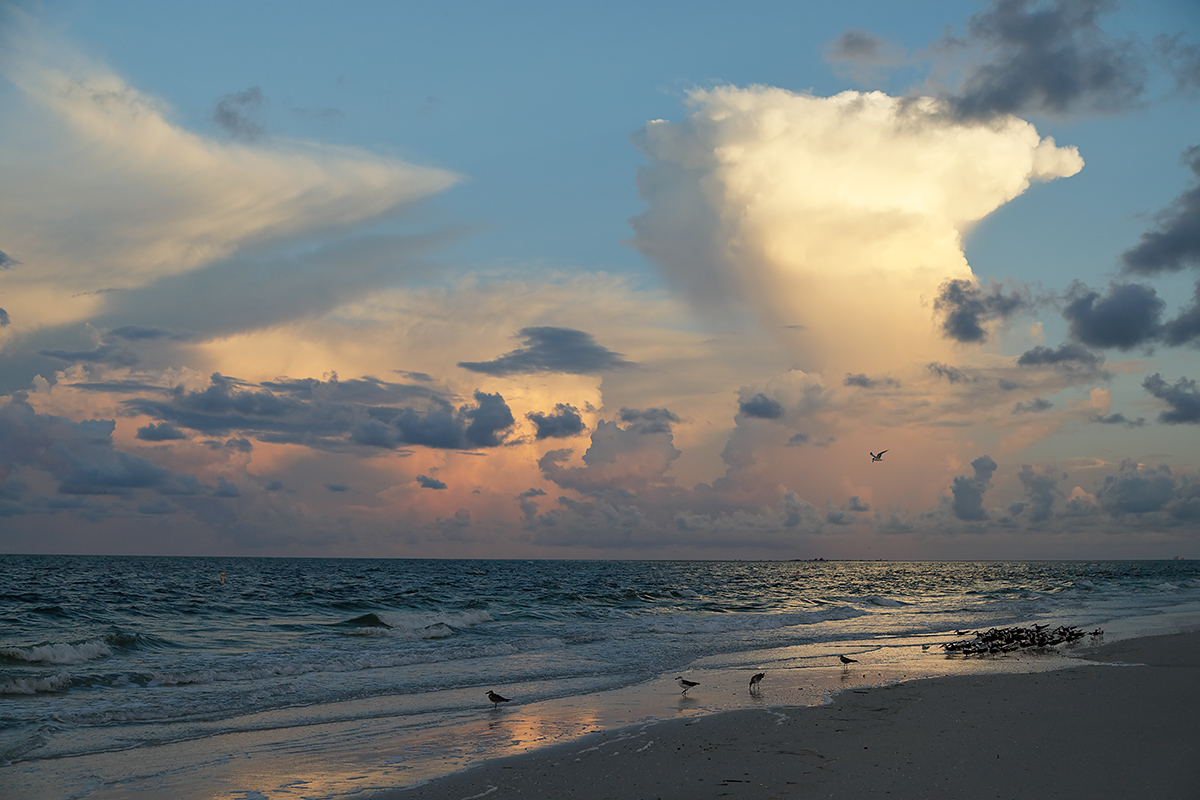 This image was created on the first morning of the Fort DeSoto Fall IPT with the hand held Canon 24-105mm zoom lens soon to be replaced by the Canon EF 24-105mm f/4L IS II USM zoom lens (at 55mm) and the Canon EOS 5D Mark IV. ISO 800. Evaluative metering +1 stop: 1/1600 sec. at f/6.3.
Center AF point/AI Servo Expand/Rear Focus AF on the flock of birds and re-compose. Click here to see the latest version of the Rear Focus Tutorial.
Image #1: Skimmers and terns at sunrise
Your browser does not support iFrame.
Entering Fort DeSoto Early As I Understand It…
Since a $5 daily entry fee was instituted at Fort DeSoto Park about five years ago, arriving early at the park often left me stumped as to what to do. On the Saturday of our scouting trip last week, we passed a long line of cars and drove around the barrier. To make a long story short, a ranger stopped us. Here is what I learned:
1-The official opening time is 7am.
2-The large barrier gates–there are two, one on the way to North Beach and one on the way to East Beach–are supposed to be and almost always are open at 6am.
2-The pay booth is manned on a daly basis beginning at 6:30am.
3-Once you pay, you are permitted into the park "as a courtesy."
4-Folks who purchase an Annual Pass are, again, "as a courtesy" permitted to enter the park at 6am by driving in the oncoming traffic lane to the left of the Pay Booth. It is imperative that you have your Annual Pass displayed on the dashboard of your vehicle to ensure that you will not be ticketed. This policy was instituted in part to encourage more folks to purchase an Annual Pass.
5-If you go to the boat ramp and purchase an day ticket from the 24 hour machine, put it on your dashboard, and enter the park n before 6:30am there is a good chance that you will be ticketed. To repeat, entry before 6:30am is only for folks with an Annual Pass.
To access the Fort DeSoto Park home page, click here. Annual passes are available at the Fort DeSoto Park Administration Office near the big flag on the big flagpole just past the Pay Booth and at the Gift Shop on Saturdays. Be sure to ask about the rather limited days and hours at the Pay Booth. The price is $75, Seniors $55, Limited Income, $37.50. I do know that you can purchase an Annual Pass at the Gift Shop on Saturdays. I am not sure about Sundays…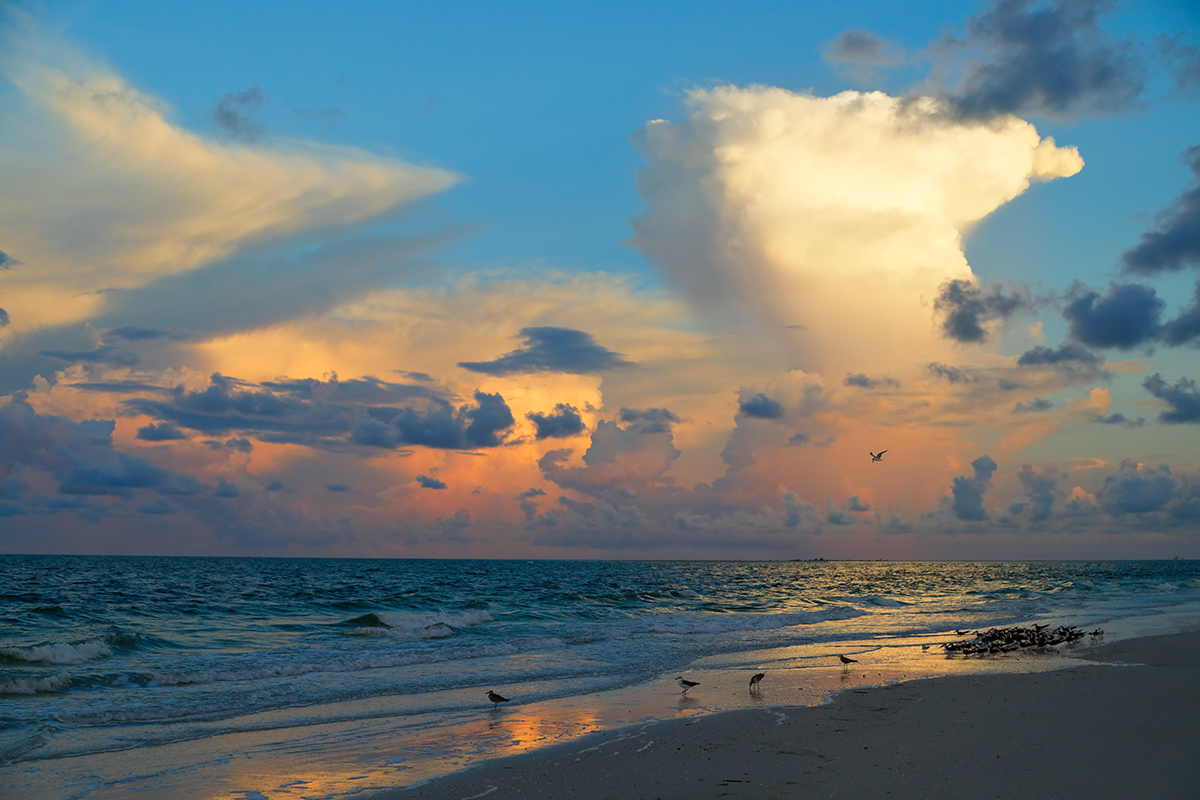 This image was created from the image above simply by boosting the saturation.
Image #2: Skimmers and terns at sunrise/more saturated
Your browser does not support iFrame.
Your Favorite?
Please leave a comment and let us know if you like Image #1, the subdued version, or Image #2, the juiced up version. As always, please let us know why?
Some Fort DeSoto Photo Tips
1- If there are some nice clouds around it is a good idea to bring a short zoom lens with you. My favorite right now is the soon to be replaced Canon 24-105, my all-time favorite b-roll lens.
2- Arrive early. I generally like to be in place at least 45 minutes before sunrise.
3- Try to keep your hands out of the sand if at all possible. If not, a small towel helps. You can rinse your hands in the saltwater and then dry them.
4- Those who arrive early will find the lights on in the restrooms at the Bay Pier–a left turn after you make a right at the flag pole. These restrooms are very accessible as compared to those at North Beach.
The Fort DeSoto Site Guide
You can get yourself a copy of the Fort DeSoto Site Guide here. Fort DeSoto is about the only bird photography hotspot that I know of that has the potential to offer great opportunities to every day of the year. The big attractions here are shorebirds, all the large wading birds (including Roseate Spoonbill at various seasons), many species of terns, and gulls. In the spring photograph the breeding behaviors of Royal & Sandwich Terns and Laughing Gull. Flight photography can be good when feeding sprees occur just off of the beach. These feature terns and gulls and Brown Pelican. Spring and fall migration can be excellent for all manner of warblers, vireos, gnatcatchers, tanagers, grosbeaks, and orioles in some of the wooded areas. The Skyway Bridge Piers and environs are also covered in this Site Guide. By purchasing the guide you will know exactly where to be on what tide and what wind. Why waste your time searching for the birds when you can just show up and act like a DeSoto veteran?
Please Remember to use my Affiliate Links and to Visit the New BAA Online Store 🙂
To show your appreciation for my continuing efforts here, we ask, as always, that you get in the habit of using my B&H affiliate links on the right side of the blog for all of your photo and electronics purchases. Please check the availability of all photographic accessories in the New BIRDS AS ART Online Store, especially the Mongoose M3.6 tripod head, Wimberley lens plates, Delkin flash cards and accessories, and LensCoat stuff.
As always, we sell only what I have used, have tested, and can depend on. We will not sell you junk. We know what you need to make creating great images easy and fun. And we are always glad to answer your gear questions via e-mail.
I would of course appreciate your using our B&H affiliate links for all of your major gear, video, and electronic purchases. For the photographic stuff mentioned in the paragraph above we, and for everything else in the new store, we, meaning BAA, would of course greatly appreciate your business. Here is a huge thank you to the many who have been using our links on a regular basis and those who will be visiting the New BIRDS AS ART Online Store as well.
Facebook
Be sure to like and follow BAA on Facebook by clicking on the logo link upper right. Tanks a stack!
Typos
In all blog posts and Bulletins, feel free to e-mail or to leave a comment regarding any typos or errors. Just be right 🙂