What's Up?
Felt pretty good on Sunday but bloated from the air that they inject into you with a laparoscopy; that should last just a few more days.It is a small price to pay for the relative ease of the surgery. Finally slept pretty well last night. Took two naps. No swims till DEC 19. Started packing the small stuff, plugs, power strips, and chargers, plus a first run through of packing my big Think Tank roller.
Gear Questions and Advice
Too many folks attending BAA IPTs and dozens of the folks whom I see in the field, and on BPN, are–out of ignorance–using the wrong gear, especially when it comes to tripods and more especially, tripod heads… Please know that I am always glad to answer your gear questions via e-mail.
The Streak: 332!
Today's blog post marks a totally insane, irrational, illogical, preposterous, absurd, completely ridiculous, unfathomable, silly, incomprehensible, what's wrong with this guy?, makes-no-sense, 332 days in a row with a new educational blog post. There should be no end in sight until my big South America trip next fall. Or not… As always-–and folks have been doing a really great job recently–-please remember to use our B&H links for your major gear purchases. For best results use one of our many product-specific links; after clicking on one of those you can continue shopping with all subsequent purchases invisibly tracked to BAA. Your doing so is always greatly appreciated. Please remember: web orders only. And please remember also that if you are shopping for items that we carry in the new BAA Online Store (as noted in red at the close of this post below) we would appreciate your business.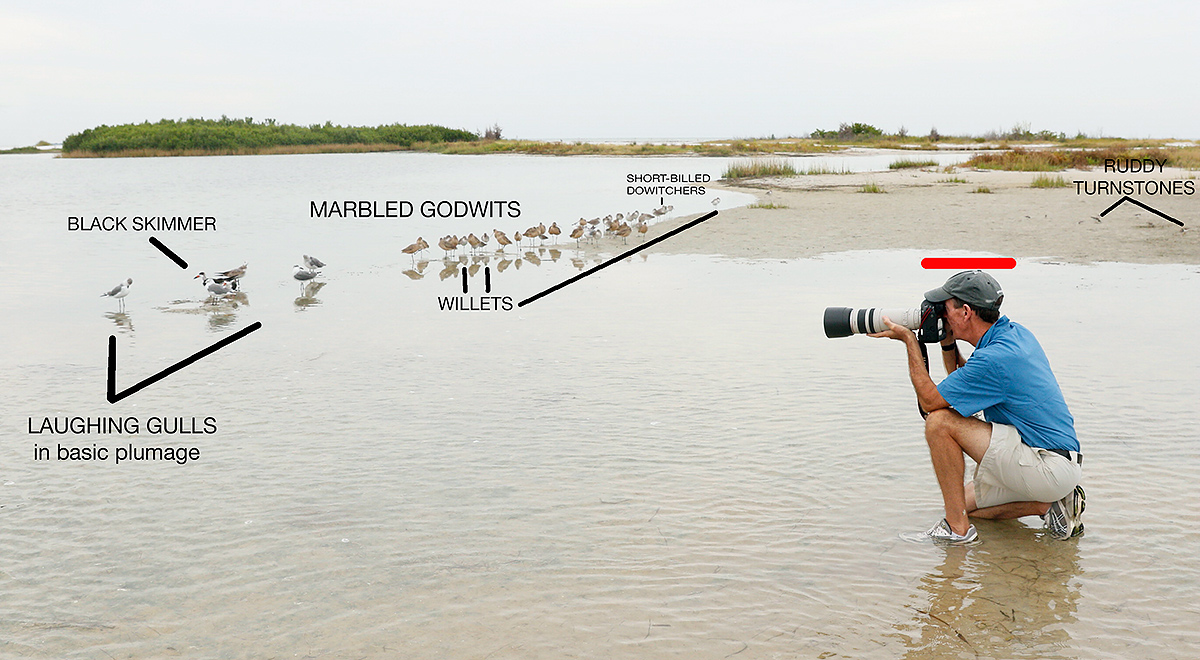 Answers Wide. Be sure to click on the image to enlarge
Answers… And folks are still not understanding perspective as it relates to image design…
In the Perfect Kneeling Knee-pod Technique Illustrated. Image Design Question. And Pick Your Prize ID Quiz… blog post here, I wrote:
A: Be the first to identify the six species of birds in this photograph in a comment below and we will be glad to send you either the Top 100 CD or APB II.
Here are the species:
1-Laughing Gull. There are five or six. Most are adults with their grayish hoods.
2-Marbled Godwit. Lots of them. They are our only large, cinnamon-colored shorebird and you can see their long, up-curved bills on the few birds that are not sleeping.
3-Black Skimmer. Just one but easy to pick out by its shape, orange bill, black cap, and white neck.
4-Willets. See the tighter crop below.
5-Short-billed Dowitchers in basic plumage. See the tighter crop below.
6-Ruddy Turnstones. There are two. The brighter, more orange bird still retains some of its breeding plumage.
7-Folks with good eyes can spot some small shorebirds on the mud near the turnstones. These can only be Least Sandpipers as Sanderlings rarely visit the spit and are whiter rather than browner. But it would not have been fair to ask.
This appeared in the same blog post:
Image Design Question
Why was it important to get close at 24mm? Same question in a different form: what would the big negative have been if I had moved back and zoomed in?
Lots of folks tried. Nobody came close. By getting close at 24mm I was getting high enough to keep some separation between the top of the photographer's head and the mud bar. Check out the red line. If I had moved back and zoomed in, I would have been getting effectively lower, and the top of the photographer's head would have merged with the mud bar above the red line. For me, that would have been an image killer. And for you too…
Your best chance of learning to understand how changes in perspective relate to image design is to head back to the A Common Weakness in Perceptual Vision Skills and Understanding Perspective Choices as They Relate to Photography. And Suggestions On How to Improve blog post here, and start studying the Suggestions on How to Improve section.
This skill is a major one if you are ever going to develop the proverbial "good eye." For me and many other top photographers, this skill comes easily and very quickly. If that is not the case for you, you really do need to start moving left right up and down when you are in the field and see how your movements effect the juxtapositions of the subject to other elements of the composition (including the background, as with today's image).

Answers Tight. Be sure to click on the image to enlarge
Shorebird ID Answers Tight
4-Willets. If you enlarge the image, you can see the two taller gray shorebirds that are shorter than the godwits. These can only be Willets. There are two more to the right, the one indicated by the short vertical black line and another sleeping above it near a Laughing Gull. Willets: tall and gray.
5-Short-billed Dowitchers in basic plumage. If you check out the group of shorebirds on the right, you will note that they are medium-sized shorebirds and those that are not sleeping show their long straight bills. They are well shorter than Willets. Now that you know, you can find two others sleeping among the godwits.
And the Winner Is!
Warren (HOWE) September 29, 2016 at 11:04 am
Here's my shot. Laughing gull, Black Skimmer, Marbled Godwit, Willet, Ruddy Turnstone, Least Sandpiper.
Though Warren missed a relatively easy one, Short-billed Dowitcher, he got the toughest one, Least Sandpiper, IDed six species correctly, and did not have a single error. He is therefore, the winner. He has a choice of the Top 100 CD or ABP II.
Shorebirds; Beautiful Beachcombers
Written for naturalists and birders, the text tells you everything you've always wanted to know about North America's sandpipers, godwits, yellowlegs, phalaropes, plovers, avocets, stilts, and oystercatchers. With 70 of Arthur's images and 26 more by some of the world's best nature photgraphers, this book contains the finest collection of shorebird photographs ever published in a single volume. You will learn not only to identify all of North America's regularly-occurring species, but to age them as juveniles, first-winter birds, breeding adults, faded molting adults, or winter (basic) plumage adults.
To learn more the species featured in today's blog post get yourself a signed copy of my Shorebirds/Beautiful Beachcombers. The book is out of print and when our last few copies are gone they will be hard to get.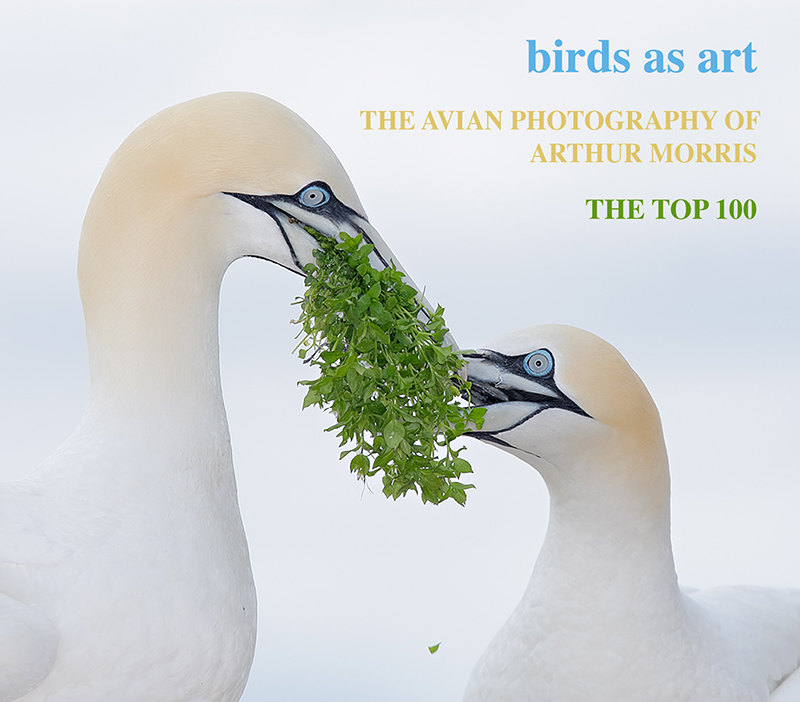 birds as art: The Avian Photography of Arthur Morris/The Top 100
The companion e-book to the solo exhibit at TheNat, San Diego, California
The new e-book on CD is available here.
birds as art: The Avian Photography of Arthur Morris/The Top 100
My latest e-book, created on a wing and a prayer in less than two weeks–see Harebrained Scheme here–includes the 67 spectacular images that will hang in the Ordover Gallery at the San Diego Natural History Museum in a career-retrospective solo exhibition. In addition, there are an additional 33 images in the spectacular e-book that barely missed making the show.
This exhibition companion e-book makes it possible for everyone to "visit" TheNAT gallery and, in addition, to enjoy seeing my top one hundred bird photographs under one roof. Each image includes a title, the species name, the location, relevant EXIF data, and an anecdotal caption.
birds as art: The Avian Photography of Arthur Morris/The Top 100: $23 for the professionally produced CD (includes shipping to US addresses only)
Please click here to purchase the physical CD. As above, your purchase price includes shipping to all US addresses. If you would like your CD signed on the inside cover with a black Sharpie, you will need to place your order by phone and request a signed copy: 863-692-0906. For our Canadian friends we are offering the CD for $28 with shipping to Canada via phone orders only: 863-692-0906.
Those who purchase the CD are advised to copy the file to their computers and then archive the CD.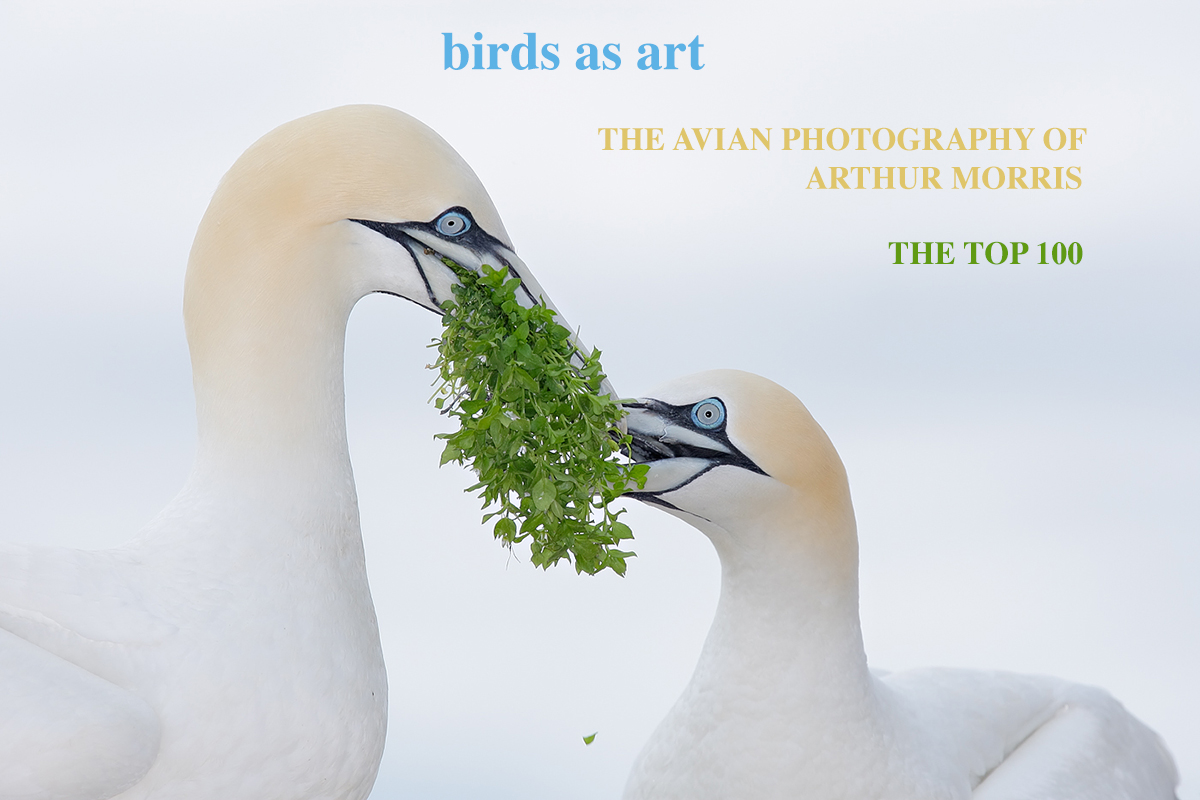 The new e-book via is also available via convenient download for $20 by clicking here.
birds as art: The Avian Photography of Arthur Morris/The Top 100: $20 via convenient download.
Overseas folks, and anyone else as well, can purchase the e-book via convenient download for $20 by clicking here.
Please Remember to use my Affiliate Links and to Visit the New BAA Online Store 🙂
To show your appreciation for my continuing efforts here, we ask, as always, that you get in the habit of using my B&H affiliate links on the right side of the blog for all of your photo and electronics purchases. Please check the availability of all photographic accessories in the New BIRDS AS ART Online Store, especially the Mongoose M3.6 tripod head, Wimberley lens plates, Delkin flash cards and accessories, and LensCoat stuff.
As always, we sell only what I have used, have tested, and can depend on. We will not sell you junk. We know what you need to make creating great images easy and fun. And we are always glad to answer your gear questions via e-mail.
I would of course appreciate your using our B&H affiliate links for all of your major gear, video, and electronic purchases. For the photographic stuff mentioned in the paragraph above we, and for everything else in the new store, we, meaning BAA, would of course greatly appreciate your business. Here is a huge thank you to the many who have been using our links on a regular basis and those who will be visiting the New BIRDS AS ART Online Store as well.
Facebook
Be sure to like and follow BAA on Facebook by clicking on the logo link upper right. Tanks a stack!
Typos
In all blog posts and Bulletins, feel free to e-mail or to leave a comment regarding any typos or errors. Just be right 🙂