What's Up?
I am somewhere in South America. I hope that you are well. Jim and Jen are at the office most days to help you with your mail order needs and Instructional Photo-Tour sign-ups. I still need folks for San Diego, Japan, Galapagos, the Palouse, and the Bear Boat (Grizzly Cubs) trips. Among others 🙂 Please e-mail for couples and discount info for all of the above. Click here for complete IPT info.
I will have relatively decent internet access for all but 22 OCT thru 11 NOV while I am on the Sea Spirit. Best and great picture making, artie
Please remember that the blog is intended to be interactive; the higher the number of folks who participate, the more everyone learns, including you. And me.
Gear Questions and Advice
Too many folks attending IPTs and dozens of the folks whom I see in the field, and on BPN, are–out of ignorance–using the wrong gear, especially when it comes to tripods and more especially, tripod heads… Please know that I am always glad to answer your gear questions via e-mail.
The Streak: 357!
Today's blog post marks a totally insane, irrational, illogical, preposterous, absurd, completely ridiculous, unfathomable, silly, incomprehensible, what's wrong with this guy?, makes-no-sense,357 days in a row with a new educational blog post. There should be no end in sight until my big South America trip next fall. Or not… As always-–and folks have been doing a really great job recently–-please remember to use our B&H links for your major gear purchases. For best results use one of our many product-specific links; after clicking on one of those you can continue shopping with all subsequent purchases invisibly tracked to BAA. Your doing so is always greatly appreciated. Please remember: web orders only. And please remember also that if you are shopping for items that we carry in the new BAA Online Store (as noted in red at the close of this post below) we would appreciate your business.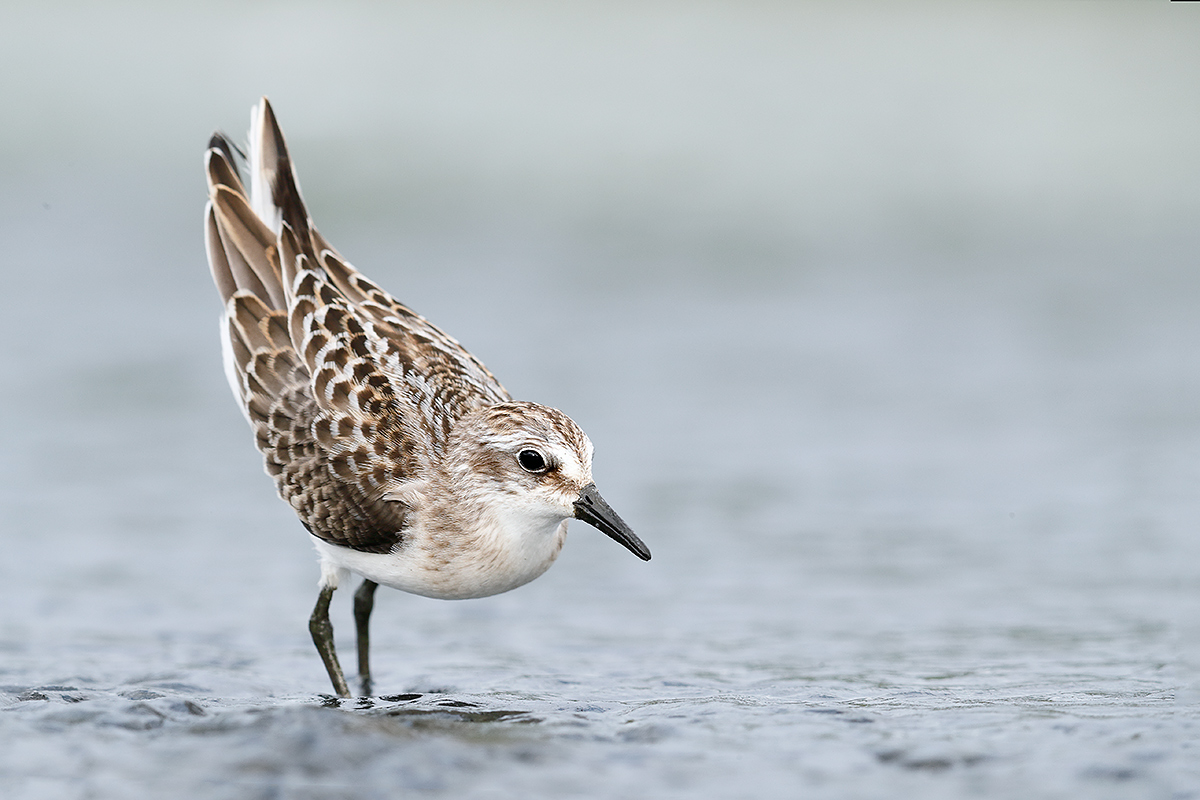 This image was created at Jamaica Bay Wildlife Refuge on Thursday morning past while I was with private client and multiple IPT veteran Elizabeth MacSwann. I sat behind my Induro GIT 304L/Mongoose M3.6-mounted Canon EF 600mm f/4L IS II USM lens, the Canon Extender EF 2X III, and the fast, rugged Canon EOS-1D X Mark II with 64GB Card and Reader. ISO 800. Evaluative metering +1/3 stop: 1/400 sec. at f/9 in Manual mode. Cloudy WB.
Lower center Zone/Shutter Button AF as originally framed was active at the moment of exposure. See the DPP 4 screen capture below to see how effective Zone AF was for this image. Click on the image to see a larger version.
LensAlign/FocusTune micro-adjustment = +5.
Semipalmated Sandpiper in fresh juvenal plumage/aggression display while feeding
Your browser does not support iFrame.
Feeding Threat Display
It is not uncommon to see peeps (small sandpipers of the genus Calidris) feeding with their tails in the air. Their message is clear: this feeding area is mine; stay away.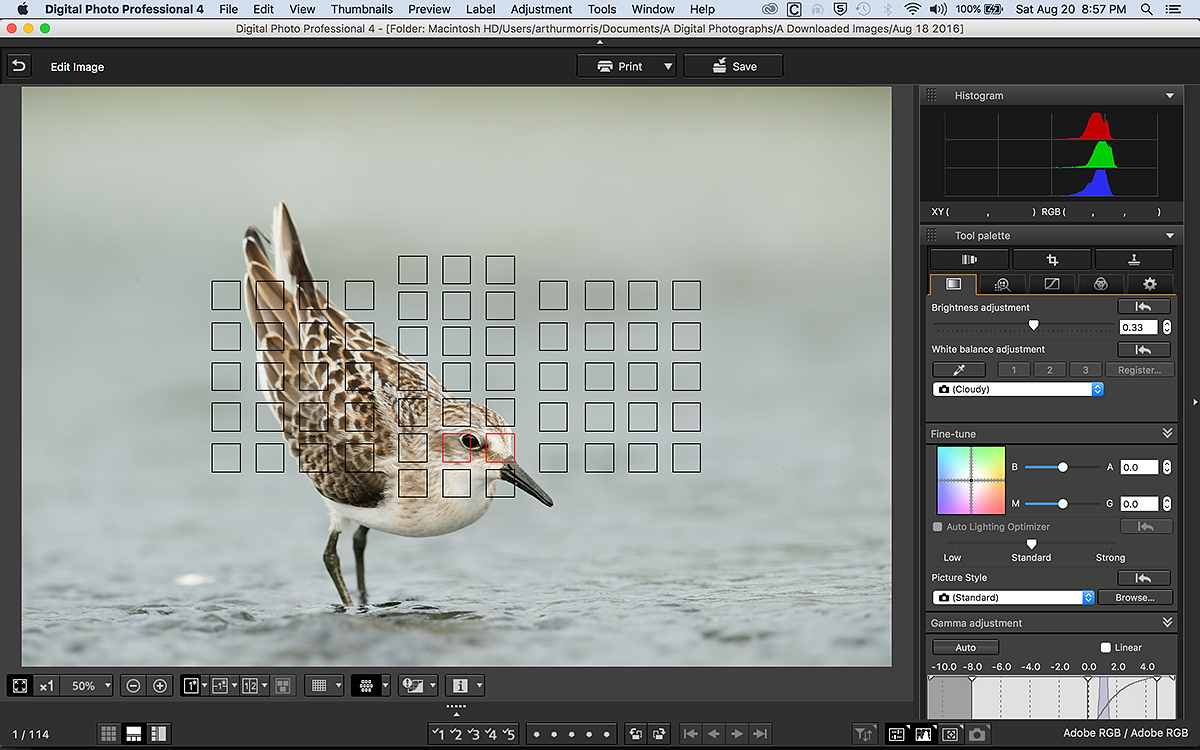 DPP 4 Screen Capture
A Tough Shorebird Photography Technique Question
In the Interesting Sandpiper Behavior, Zone AF and Image Optimization (including White Neutralizer magic) Tips, & Another EOS-1DX Mark II f/8 Advantage… blog post here, I wrote:
A look at the histogram shows that the image was at least 2/3 stop under-exposed. I did that purposely. Why?
On his second attempt, IPT veteran Joel Eade wrote, To get adequate shutter speed for a sharp image you quickly dialed up to 1/400 but didn't have time to adjust the ISO up due to the fast action and didn't want to open the f-stop so depth of field and sharpness would be maintained.
His answer was close to perfect. Here is what I was looking for:
I wanted the relatively fast shutter speed of 1/640 second to freeze the heads of the feeding shorebirds and was willing to live with the little bit of extra noise that comes with a 2/3 stop 1DX II underexposure (while remaining at ISO 800). In retrospect, even though I love the image and the noise was easily removed with NeatImage, raising the ISO to 1250 with the 1DX II would not have hurt me at all.
Arctic Tern at Nest with Wings Raised/Serendipitous 1DX Mark II (Dis?) Advantage…
In the Serendipitous 1DX Mark II (Dis?) Advantage… blog post here, I asked, referring to the animated GIF above, I posted this:
Image Optimization Question…
Do you think that I overdid the NIK 25/25 on the bird's black cap? If yes, how could I have reduced the effect during post?
Nobody took a crack at it. In retrospect, I think that I did overdo the 25/25 on the bird's black cap just a bit; while I love the enhanced highlight in the eye, I did lighten the cap too much. I could have reduced the effect on the cap by adding a Regular Layer Mask and painting it away (B, D, X) with a reduced opacity brush. I often set the opacity to 33% in these situations so that one swipe with the brush will reduce the effect by one-third and two swipes will reduce it by two-thirds. You can, of course, change the opacity to fit your needs exactly on a case by case basis.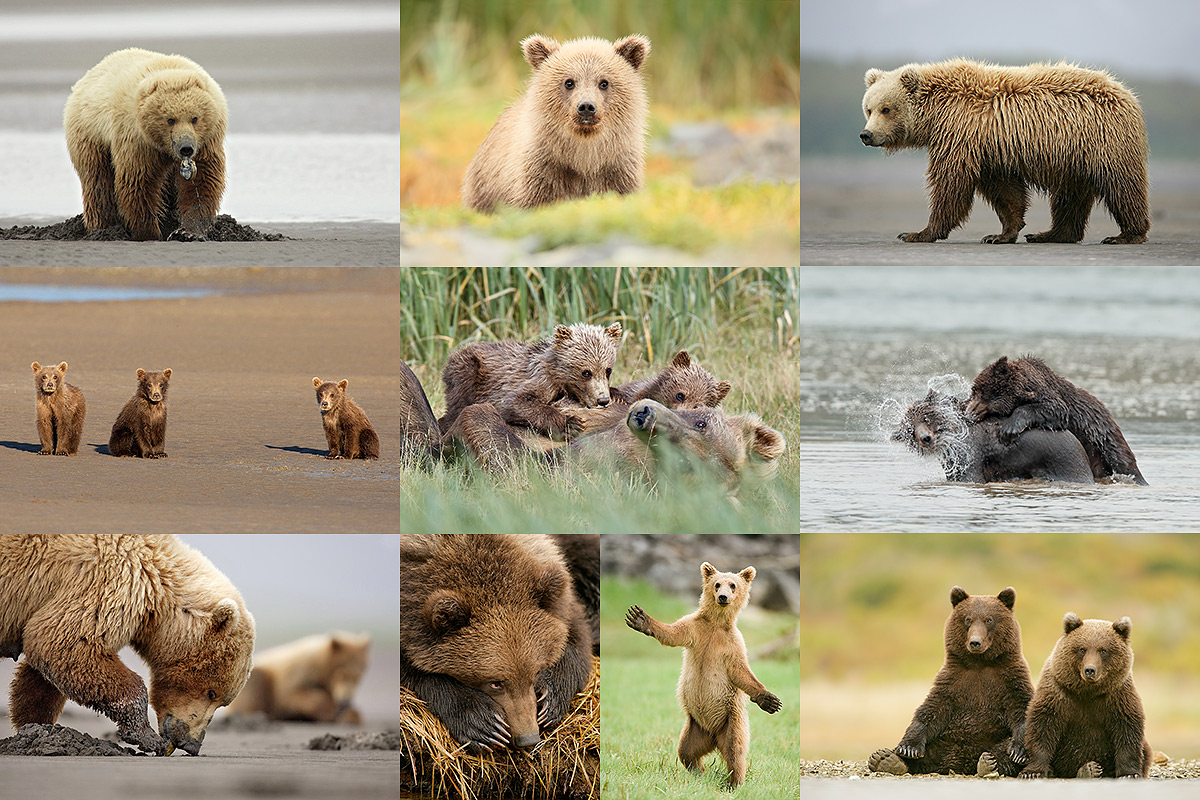 Images and card copyright Arthur Morris/BEARS AS ART 🙂
2017 Bear Boat Coastal Brown Bear Cubs IPTs: July 18-24, 2017 from Kodiak, AK: 5 FULL & 2 Half DAYS: $6699. Happy campers only! Maximum 8/Openings 3.

Join me in spectacular Katmai National Park, AK for six days of photographing Coastal Brown Bears. Mid-July is prime time for making images of small, football-sized cubs. The cubs, and these dates, are so popular that I had to reserve them three years in advance to secure them. There are lots of bears each year in June, but the mothers only rarely risk bringing their tiny cubs out in the open in fear of predation by rival bears. In addition to making portraits of both adults and cubs, we hope to photograph frolicking and squabbling youngsters and tender nursing scenes. At this time of year, the bears are either grazing in luxuriant grass or clamming. There will also be some two- and three-year old cubs to add to the fun. And we will get to photograph it all.
We will live on our tour operator's luxurious new boat. At 78 feet long its 24 foot beam makes it quite spacious as well. And the food is great. We will likely spend most of our time at famed Geographic Harbor as that is where the bears are generally concentrated in summer. On the odd chance that we do need to relocate to another location we can do so quickly and easily without having to venture into any potentially rough seas. We land via a 25 foot skiff that has lots of room for as much gear as we can carry.
Aside from the bears we should get to photograph Horned and Tufted Puffin and should get nice stuff on Mew Gull, Glaucous-winged Gull, Black-legged Kittiwake, Harbor Seal, and Steller's Sea Lion as well. A variety of tundra-nesting shorebirds including Western Sandpiper and both yellowlegs are also possible. Halibut fishing (license required/not included) is optional.
It is mandatory that you be in Kodiak no later than the late afternoon of July 17 to avoid missing the float planes to the boat on the morning of July 18. Again, with air travel in Alaska (or anywhere else for that matter) subject to possible delays, being on Kodiak on July 16 is a much better plan.
Barring any delays, we will get to photograph bears on our first afternoon and then again every day for the next five days after that, all weather permitting of course. On our last morning on the boat, July 24, those who would like to enjoy one last photo session will have the opportunity to do so. The group will return to Kodiak via float plane from late morning through midday. Most folks will then fly to Anchorage and to continue on red-eye flights to their home cities.
What's included? 7 DAYS/6 NIGHTS on the boat as above. All meals on the boat. National Park and guide fees. In-the-field photo tips, instruction, and guidance. An insight into the mind of two top professionals; we will constantly let you know what we are thinking, what we are doing, and why we are doing it. Small group image review, image sharing, and informal Photoshop instruction on the boat.
What's not included: Your round trip airfare to and from Kodiak, AK (almost surely through Anchorage). Your lodging and meals on Kodiak. The cost of the round-trip float plane to the boat and then back to Kodiak as above. The cost of a round trip last year was $550. The suggested crew tip of $200.
Have you ever walked with the bears?
Is this an expensive trip? Yes, of course. But with 5 full and two half days, a wealth of great subjects, and the fact that you will be walking with the bears just yards away (or less….), it will be one of the great natural history experiences of your life. Most folks who take part in a Bear Boat IPT wind up coming back for more.
A $2,000 per person non-refundable deposit by check only made out to "BIRDS AS ART" is required to hold your spot. Please click here to read our cancellation policies. Then please print, read, and sign the necessary paperwork here and send it to us by mail to PO Box 7245, Indian Lake Estates, FL 33855.
Your deposit is due when you sign up. That leaves a balance of $4699. The next payment of $2699 will be due on September 15, 2016. The final payment of $2000 is due on February 15, 2017. We hope that you can join us for what will be a wondrously exciting trip.
Please Remember to use my Affiliate Links and to Visit the New BAA Online Store 🙂
To show your appreciation for my continuing efforts here, we ask, as always, that you get in the habit of using my B&H affiliate links on the right side of the blog for all of your photo and electronics purchases. Please check the availability of all photographic accessories in the New BIRDS AS ART Online Store, especially the Mongoose M3.6 tripod head, Wimberley lens plates, Delkin flash cards and accessories, and LensCoat stuff.
As always, we sell only what I have used, have tested, and can depend on. We will not sell you junk. We know what you need to make creating great images easy and fun. And we are always glad to answer your gear questions via e-mail.
I would of course appreciate your using our B&H affiliate links for all of your major gear, video, and electronic purchases. For the photographic stuff mentioned in the paragraph above we, and for everything else in the new store, we, meaning BAA, would of course greatly appreciate your business. Here is a huge thank you to the many who have been using our links on a regular basis and those who will be visiting the New BIRDS AS ART Online Store as well.
Facebook
Be sure to like and follow BAA on Facebook by clicking on the logo link upper right. Tanks a stack!
Typos
In all blog posts and Bulletins, feel free to e-mail or to leave a comment regarding any typos or errors. Just be right 🙂