What's Up?
I am somewhere in South America. I hope that you are well. Jim and Jen are at the office most days to help you with your mail order needs and Instructional Photo-Tour sign-ups. I still need folks for San Diego, Japan, Galapagos, the Palouse, and the Bear Boat (Grizzly Cubs) trips. Among others 🙂 Please e-mail for couples and discount info for all of the above. Click here for complete IPT info.
I will have very intermittent internet access for the rest of my South American adventure. I get back home late on December 25, 2016. Best and great picture making, artie
Canon EOS 5D Mark III
William B Ellison, Jr. is offering a used Canon EOS 5D Mark III in near mint condition for the BAA record-low price of $1497.
The sale includes the original box, the computer disks, the unused camera body strap, the front cap, and all the cables. The body has less than 10,000 actuations. The sale includes ground shipping to all US addresses by major courier. You camera will not ship until your check clears unless other arrangements are made.
Please contact William via e-mail or by phone at 1-843-884-9595 (Eastern time zone).
I have used the 5D III for birds on occasion with excellent results, even with the 2X III TC and the 600 II. It was my go-to dSLR for flowers, landscapes, and Urbex photography for many years until I replaced it first with the 5DS R and then with the 5D Mark IV. In my experience, the quality of the image files is superb. . artie
Gear Questions and Advice
Too many folks attending BAA IPTs and dozens of the folks whom I see in the field, and on BPN, are–out of ignorance–using the wrong gear, especially when it comes to tripods and more especially, tripod heads… Please know that I am always glad to answer your gear questions via e-mail.
The Streak: 393!
Today's blog post marks a totally insane, irrational, illogical, preposterous, absurd, completely ridiculous, unfathomable, silly, incomprehensible, what's wrong with this guy?, makes-no-sense, 393 days in a row with a new educational blog post. As always-–and folks have been doing a really great job recently–-please remember to use our B&H links for your major gear purchases. For best results use one of our many product-specific links; after clicking on one of those you can continue shopping with all subsequent purchases invisibly tracked to BAA. Your doing so is always greatly appreciated. Please remember: web orders only. And please remember also that if you are shopping for items that we carry in the new BAA Online Store (as noted in red at the close of this post below) we would appreciate your business. target=blank>here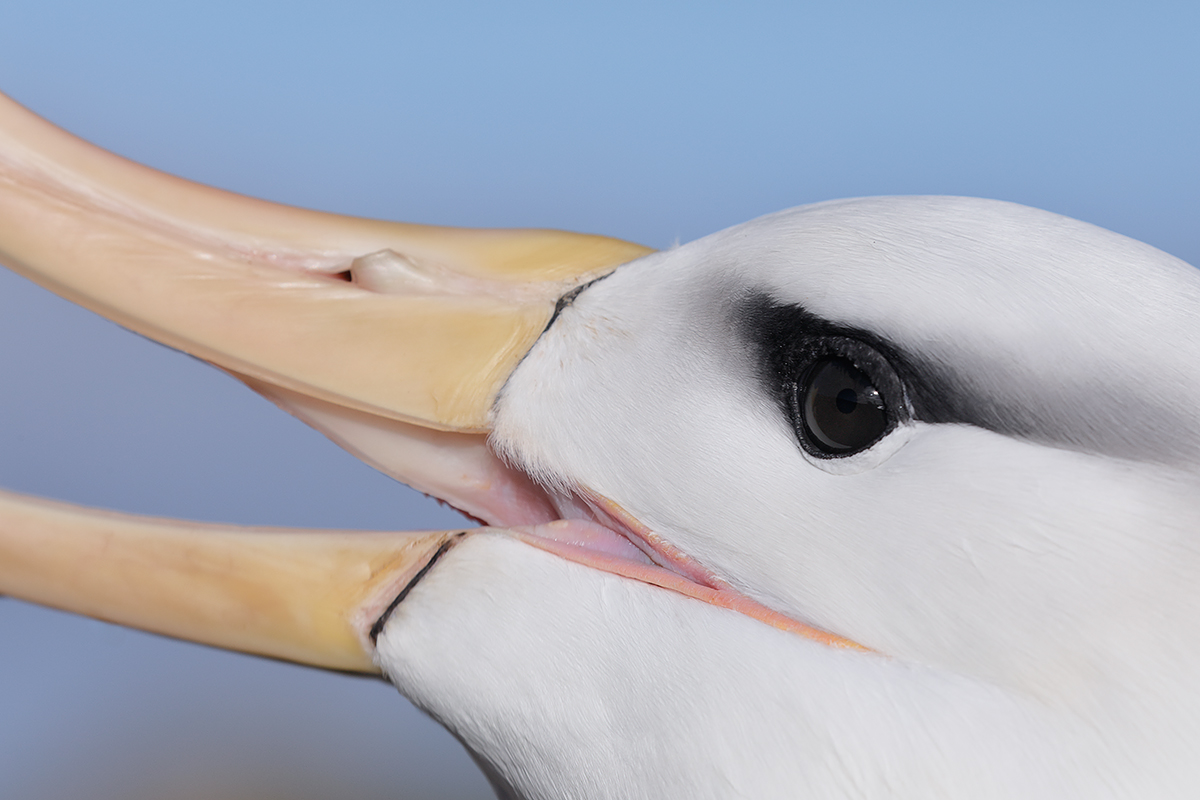 This image was created on Saunders Island with the Canon EF 100-400mm f/4.5-5.6L IS II USM lens, the Canon Extender EF 1.4X III, and the Canon EOS 5D Mark IV. ISO 400. Evaluative metering +1 stop: 1/800 sec. at f/14.
Two AF points to the fight of the center AF point/AI Servo Expand/Rear Focus AF as framed was active at the moment of exposure (as is always best when hand holding). The selected AF point was just forward of the bird's eye. Click here to see the latest version of the Rear Focus Tutorial. Click on the image to see a larger version.
Black-browed Albatross with bill open
Your browser does not support iFrame.
Taming the Whites
Even though the brightest WHITEs came in with RGB values of 235, 235, 231, the WHITEs in the bright sun were sorely lacking detail. To tame the WHITEs in the image I tried and failed with both a Levels and a Curves adjustment. Then I succeeded with a combination of my NIK Color Efex Pro 25/25 recipe and a Linear Burn reduced to 20% opacity.
Shutter Speed and Depth of Field Considerations
Working at close to point blank range and having lots of light, I went with a relatively small aperture while being able to maintain a relatively high shutter speed. A small aperture is somewhat of an advantage when you are close to minimum focusing distance but the gains in depth of field are actually small. But every little bit helps. When the black-browed are courting their head movements are fast and unpredictable. Though the head angle here is less than ideal, I love that you can see the bird's pink "lips." And the extra bit of depth of field did help sharpen up the bill that was angled away from us.
A New MP4 Image Optimization Video: $20
See the complete process described above as well as the complete image optimization of the Rockhopper Penguin in early morning light image featured in the recent "Light, Subject, and Background to Die For" blog post in the wide-ranging, one hour three minute Rockhopper and Black-browed Albatross Image Optimization MP4 Instructional Video. Topics covered in the two sections include moving the subject back in the frame, saving the WHITEs, NeatImage noise reduction, a variety of image clean-up on a layer techniques, creating and refining Quick Masks, removing specular highlights, understanding why you might have background noise in an ISO 400 image, using my NIK Color EFEX Pro 25/25 and 50/50 recipes, comparing one of those recipes with the results from a Linear Burn, Keyboard Shortcuts, creating and sharpening JPEGs for electronic use, and amazingly, lots more.
You can purchase your copy of the great new Black-browed Albatross Image Optimization MP4 Instructional Video in the BAA Online Store by clicking here.
And you can see the complete MP4 video collection here.
Falklands Cheap Land-based IPT DEC 22, 2018 thru JAN 5, 2019: Limit 7 photographers/Openings 5: $7499
I will be leading an innovative land-based Falklands IPT leaving from Stanley, The Falklands on SAT 22 DEC 2018 and flying back to Santiago, Chile on SAT JAN 5, 2019. Why innovative? We will be spending six nights at The Neck on Saunders Island, one of the premier wildlife photography destinations on the planet. We will be ending up on the amazing Bleaker Island. I will let you know in January when the trip will be formally announced as to we will be spending seven nights on Bleaker or 3 nights on Sea Lion Island and 4 on Bleaker. I will make that decision after visiting Sea Lion on the DEC 2016 land-based Falklands IPT that I am leading.
What else is innovative? Most two-week land-based photo trips have you visiting four or five islands hopping on a FIGAS plane every two days or so. As you are at the mercy of the flight operations you may miss several mornings or afternoons of photography. Why not stay in two or three of the best locations, locations that offer the best photo opps without any long walks. Saunders and Bleaker will get you close-up to the great species with ease. At The Neck we will be staying in rustic cabins right in the heart of the action. On Bleaker we will be enjoying near-luxury accommodations and great home-cooked meals. We will have two vehicles at our disposal.
What else? The first Black-browed Albatross chicks hatch every year on or about 12 DEC. If you visit in early January you will miss most of the tiny chicks. And worse yet, the Rockhopper Penguin chicks are leaving by the second week of January. This trip if timed to get you tons of chances on tiny fluffy white albatross chicks, some of the larger fluffy white chicks, and the rockhopper chicks as well.
With several years of experience on the Falklands, more than six in fact, nobody knows how to read the sky conditions, the wind, and the light better than me and have the group in the best possible spot at all times. With lots of strong west winds, you will need someone who knows how to put you in position to make good images on near impossible mornings.
If you are seriously interested, please shoot me an e-mail and I will get back to you during the second week of November.
Please Remember to use my Affiliate Links and to Visit the New BAA Online Store 🙂
To show your appreciation for my continuing efforts here, we ask, as always, that you get in the habit of using my B&H affiliate links on the right side of the blog for all of your photo and electronics purchases. Please check the availability of all photographic accessories in the New BIRDS AS ART Online Store, especially the Mongoose M3.6 tripod head, Wimberley lens plates, Delkin flash cards and accessories, and LensCoat stuff.
As always, we sell only what I have used, have tested, and can depend on. We will not sell you junk. We know what you need to make creating great images easy and fun. And please remember that I am always glad to answer your gear questions via e-mail.
I would of course appreciate your using our B&H affiliate links for all of your major gear, video, and electronic purchases. For the photographic stuff mentioned in the paragraph above, and for everything else in the new store, we, meaning BAA, would of course greatly appreciate your business. Here is a huge thank you to the many who have been using our links on a regular basis and those who will be visiting the New BIRDS AS ART Online Store as well.
Facebook
Be sure to like and follow BAA on Facebook by clicking on the logo link upper right. Tanks a stack!
Typos
In all blog posts and Bulletins, feel free to e-mail or to leave a comment regarding any typos or errors. Just be right 🙂