What's Up?
Monday was day one of post-travel recovery 🙂 Though I did my core and hip flexor exercises and enjoyed a 1/2 mile swim–my first in a long time, I spent much of the day feeling like a zombie. I started catching up on a slew of NFL and UFC stuff on Tivo. All that I can say about Conor McGregor is that he backs up what he says. He is the first to hold two UFC championship belts at the same time.
The Tale of the Scale
After eating pretty much everything in sight for 10 1/2 weeks I got on the scale this morning with much trepidation. I started the scale at 190. It wound up at 185 1/4 pounds. I was thrilled as this represented a weight gain of less then 3 pounds. I ate well today and will continue to do so.
Gear Questions and Advice
Too many folks attending BAA IPTs and dozens of the folks whom I see in the field, and on BPN, are–out of ignorance–using the wrong gear, especially when it comes to tripods and more especially, tripod heads… Please know that I am always glad to answer your gear questions via e-mail.
The Streak: 410!
Today's blog post marks a totally insane, irrational, illogical, preposterous, absurd, completely ridiculous, unfathomable, silly, incomprehensible, what's wrong with this guy?, makes-no-sense, 410 days in a row with a new educational blog post. As always–and folks have been doing a really great job recently–please remember to use our B&H links for your major gear purchases. For best results use one of our many product-specific links; after clicking on one of those you can continue shopping with all subsequent purchases invisibly tracked to BAA. Your doing so is always greatly appreciated. Please remember: web orders only. And please remember also that if you are shopping for items that we carry in the new BAA Online Store (as noted in red at the close of this post below) we would of course appreciate your business.
Your Favorite?
Which of these three images would you enter in the Nature's Best Contest? They love ICUN endangered species.
A Marvelous Tale: the Surreal Fighting Bees
"It eez here," said my guide Alex in a whisper. I looked at the perch that he said the bird would land on, but did not see any bird. I did see what looked to be two large bumblebees fighting just below the perch. I swung my lens to view the bees and was stunned. The two "bees" were actually the rackets on the bird's two very long modified feathers. As the bird moved them about as if by magic they looked just like two fighting bumblebees. The male hummingbird's body was impossibly tiny. When the bird flashed the feathers of its purple crown and aqua gorget it revealed its improbable beauty.
Over a two hour period on my first morning with this tiny bird, I had more than a few chances to photograph the male marvelous Spatuletail as it sat on its lek perch. The photos were all sharp, well exposed, and nicely designed but from my standing position on the steep hillside the light-toned branch that cut right through the hummer's neck was far less than ideal. It is funny how you can fail to notice the background when confronted with a stunning bird …
The Second Morning
After spending some time at the hummingbird feeders, Alex and I headed back up the hill to the spatuletail lek. This time I sat. Getting lower helped a lot with the still somewhat cluttered background. As soon as I had leveled my tripod platform by adjusting the leg lengths the bird landed in the same spot. It flew from its perch every few minutes only to land again almost immediately. Over the next 17 minutes and 26 seconds I created 838 images; it's no wonder the that flash did not fire for many of them! Amazingly, I never once buried the buffer on the 1DX II. (Note: a month later on Bleaker Island in the Falklands I did bury the buffer on my 5D Mark IV for the first and so far only time on a braying/displaying Magellanic Penguin; photos here soon.)
Sated, I left the lek and headed back down the hill with Alex carrying my gear.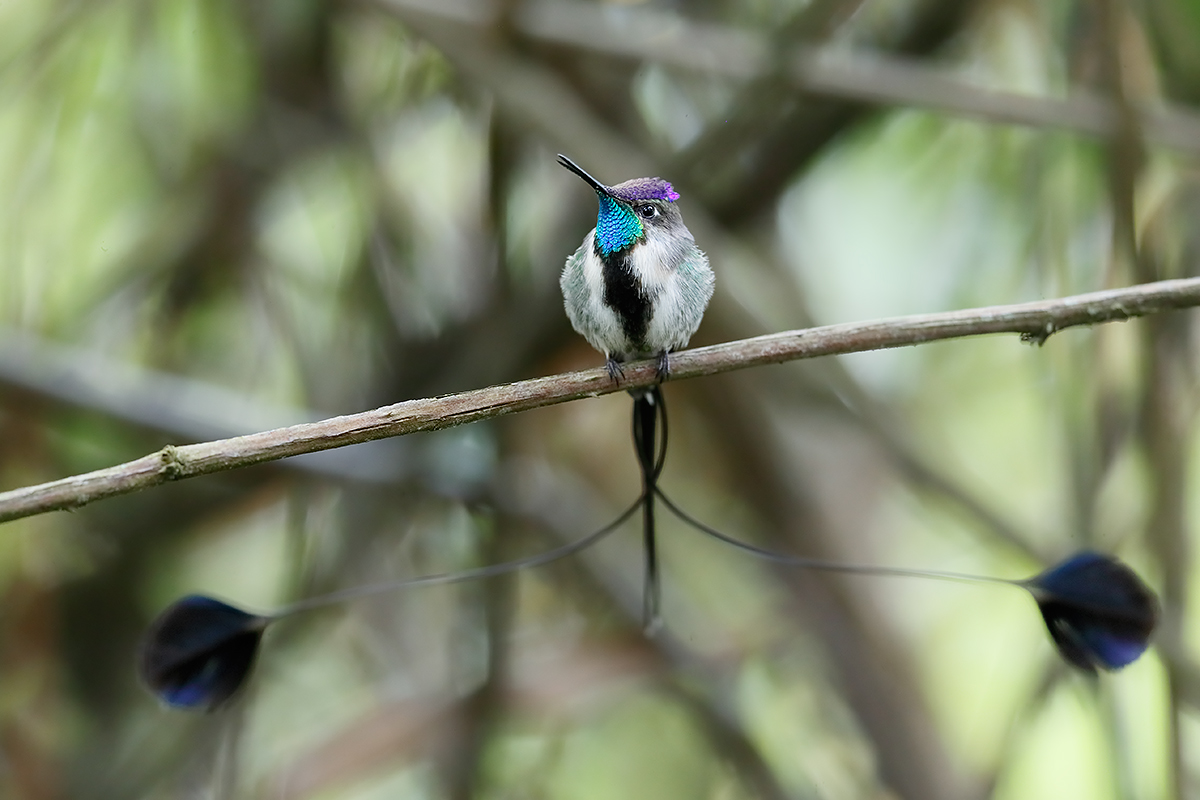 This image was created at Pomacochas, Peru with the Induro GIT 304L/Mongoose M3.6-mounted Canon EF 500mm f/4L IS II USM lens, the Canon Extender EF 1.4X III, and the and the Canon EOS-1D X Mark II.
Off-camera fill flash did not fire.
FocusTune/LensAlign micro-adjustment: -1
Image #3: Marvelous Spatuletail male
ISO 2500. Evaluative metering +1/3 stop: 1/60 sec. at f/5.6. Three rows up and on to the right of the center AF point (Manual selection)/AI Servo Expand/Shutter Button AF as framed was active at the moment of exposure. The selected AF point was on the edge of the gorget below the bird's eye. Click image to see a larger version.
Your browser does not support iFrame.
Marvelous Spatuletail
Marvelous Spatuletail, a Peruvian endemic, is a very rare bird indeed. It can be found only in a single valley in Pomacochas, Peru. Other than the fact that this species is ICUN endangered, there is not much definitive information on this species on the web. It does however, seem that there are less than 1,000 individuals. Conservation efforts include protecting habitat and planting vegetation that supply the tiny hummers with their preferred nectar.
I had thought that the Hummingbird Queen, Linda Robbins, had traveled to Peru to photograph this species, but I learned recently via e-mail that she never did. Folks interested in learning to photograph hummers at multi-flash set-ups should check out Linda's Hummingbird Guide: How to Photograph Hummingbirds Using High Speed Multiple Flash.
Alex Durand
Many thanks to my guide Alex Durand for his expertise in checking out several lekking areas before hitting paydirt. If you'd like to photograph this rare species or plan a bird photography trip to Peru, do know that Alex is superb. You can learn about his offerings or contact him here. Thanks also to Santos Monte Negro, a young man who lives in a tiny lodge in the center of the valley. Several years ago he purchased a small tract of spatuletail-rich land adjacent to the major highway that runs through the valley. The two leks that Alex checked out — including the magical one — were on Santos' property.
Please Remember to use my Affiliate Links and to Visit the New BAA Online Store 🙂
To show your appreciation for my continuing efforts here, we ask, as always, that you get in the habit of using my B&H affiliate links on the right side of the blog for all of your photo and electronics purchases. Please check the availability of all photographic accessories in the New BIRDS AS ART Online Store, especially the Mongoose M3.6 tripod head, Wimberley lens plates, Delkin flash cards and accessories, and LensCoat stuff.
As always, we sell only what I have used, have tested, and can depend on. We will not sell you junk. We know what you need to make creating great images easy and fun. And please remember that I am always glad to answer your gear questions via e-mail.
I would of course appreciate your using our B&H affiliate links for all of your major gear, video, and electronic purchases. For the photographic stuff mentioned in the paragraph above, and for everything else in the new store, we, meaning BAA, would of course greatly appreciate your business. Here is a huge thank you to the many who have been using our links on a regular basis and those who will be visiting the New BIRDS AS ART Online Store as well.
Facebook
Be sure to like and follow BAA on Facebook by clicking on the logo link upper right. Tanks a stack!
Typos
In all blog posts and Bulletins, feel free to e-mail or to leave a comment regarding any typos or errors. Just be right 🙂