What's Up?
Friday morning at La Jolla was not as good as Thursday morning, but there was still lots to photograph. I already have lots of XT-2 images and info to share with you. Stay tuned; you will not have long to wait …
Gear Questions and Advice
Too many folks attending BAA IPTs and dozens of folks whom I see in the field, and on BPN, are–out of ignorance–using the wrong gear, especially when it comes to tripods and more especially, tripod heads… Please know that I am always glad to answer your gear questions via e-mail.
The Streak: 421!
Today's blog post marks a totally insane, irrational, illogical, preposterous, absurd, completely ridiculous, unfathomable, silly, incomprehensible, what's wrong with this guy?, makes-no-sense, 421 days in a row with a new educational blog post. As always–and folks have been doing a really great job recently–please remember to use our B&H links for your major gear purchases. For best results use one of our many product-specific links; after clicking on one of those you can continue shopping with all subsequent purchases invisibly tracked to BAA. Your doing so is always greatly appreciated. Please remember: web orders only. And please remember also that if you are shopping for items that we carry in the new BAA Online Store (as noted in red at the close of this post below) we would of course appreciate your business.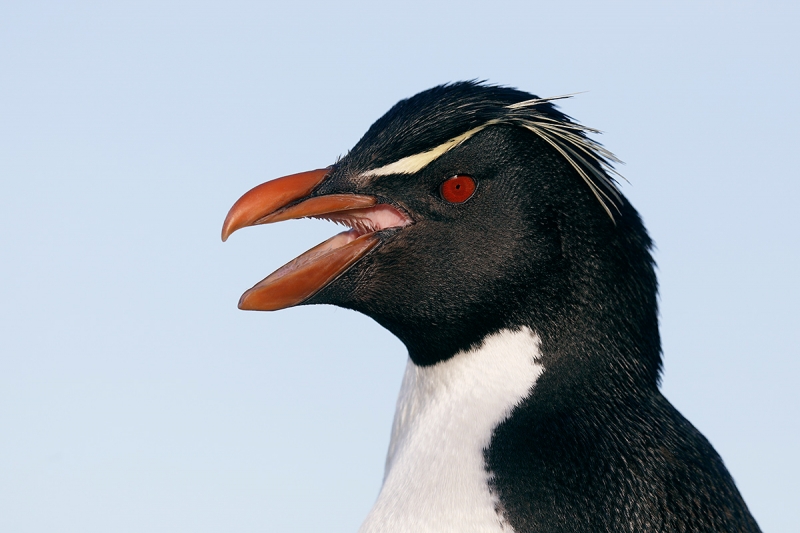 This image was created at The Neck on Saunders Island, The Falklands with the hand held Canon EF 100-400mm f/4.5-5.6L IS II USM lens, the Canon Extender EF 1.4X III, and my favorite bird photography camera, the Canon EOS 5D Mark IV. ISO 800. Evaluative metering +2/3 stop: 1/1250 sec. at f/8 in Manual mode. AWB.
Center AF point/AI Servo Expand/Shutter Button AF as framed was active at the moment of exposure (as is always best when hand holding). The selected AF point was below and in front of the penguin's eye. Click on the image to see a larger version.
Rockhopper Penguin in late afternoon light
Your browser does not support iFrame.
Rockhopper Penguin Behavior Quiz; Bring Your Imagination
What was this Rockhopper Penguin doing when the shutter button was pushed?
Consistently and Amazingly Good
There is a spot on the beach at The Neck where hundreds of rockhoppers come out of the surf and jump up onto the rocks every afternoon. Then they walk along the rocks, towards the photographers, before heading up the steep hill to the colonies on one of several penguin highways. It did not take me long to figure out exactly where to stand to create hand held head portraits of really clean birds at point blank range. Best of all? The spot featured a thick carpet of mussels rather than slippery seaweed or kelp. Why really clean? They just climbed out of the ocean. It is like shooting ducks in a bathtub.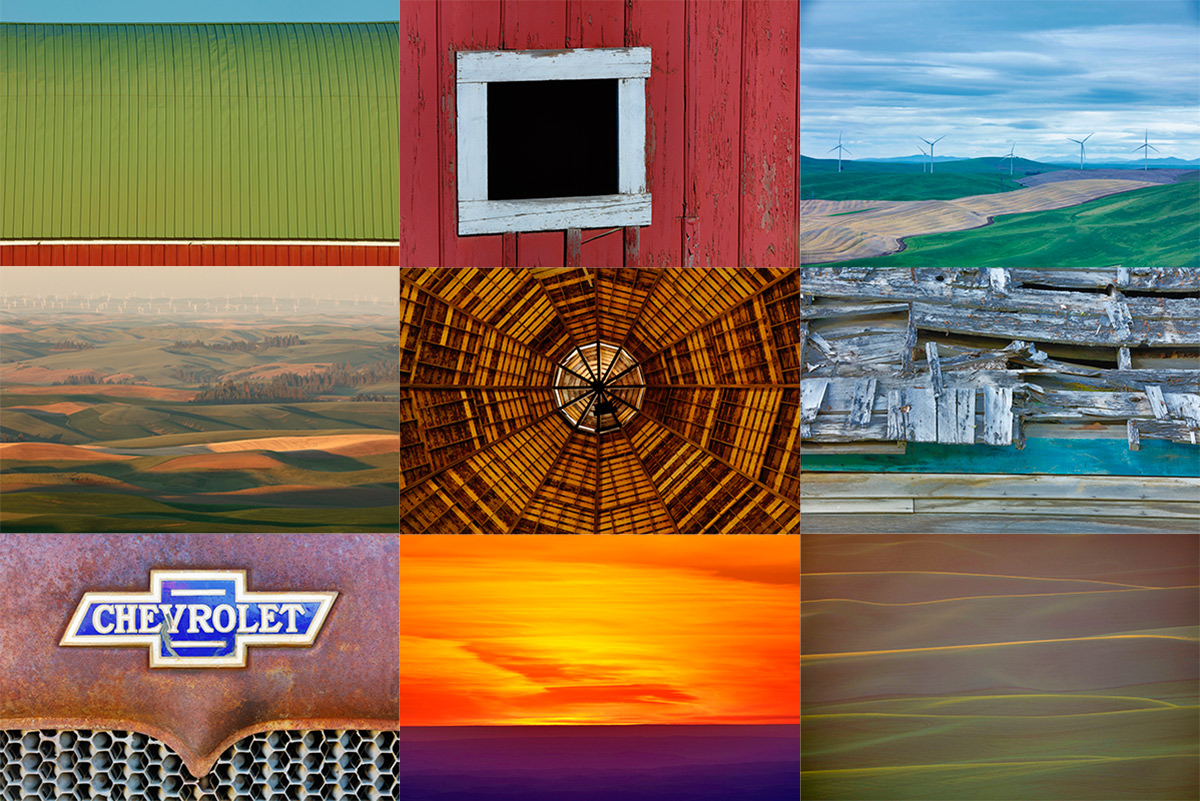 Palouse 2016 Horizontals Card
Why Different?
Announcing the 2017 BIRDS AS ART Palouse Instructional Photo-Tour
In what ways will the 2017 BIRDS AS ART Palouse Instructional Photo-Tour be different from the most other Palouse workshops?
There are so many great locations that a seven-day IPT (as opposed to the typical three- or five-day workshops) will give the group time to visit (and revisit) many of the best spots while allowing you to maximize your air travel dollars. In addition, it will allow us to enjoy a slightly more relaxed pace.
You will be assured of being in the right location for the given weather and sky conditions.
You will learn and hone both basic and advanced compositional and image design skills.
You will learn to design powerful, graphic images.
You will visit all of the iconic locations and a few spectacular ones that are much less frequently visited.
You will learn long lens landscape techniques.
You will learn to master any exposure situation in one minute or less.
You will learn the fine points of Canon in-camera (5D Mark III, 5DS R, and 7D II) HDR techniques.
You will be able to share a variety of my exotic Canon lenses including the Canon EF 11-24mm f/4L USM lens and the Canon EF 8-15mm f/4L Fisheye USM lens, aka the "circle lens."
You will learn to use your longest focal lengths to create rolling field and Urbex abstracts.
You will learn when and how to use a variety of neutral density filters to create pleasing blurs of the Palouse's gorgeous rolling farmlands.
As always, you will learn to see like a pro. You will learn what makes one situation prime and another seemingly similar one a waste of your time. You will learn to see the situation and to create a variety of top-notch images.
You will learn to use super-wide lenses both for big skies and building interiors.
You will learn when, why, and how to use infrared capture; if you do not own an infrared body, you will get to borrow mine.
You will learn to use both backlight and side-light to create powerful and dramatic landscape images.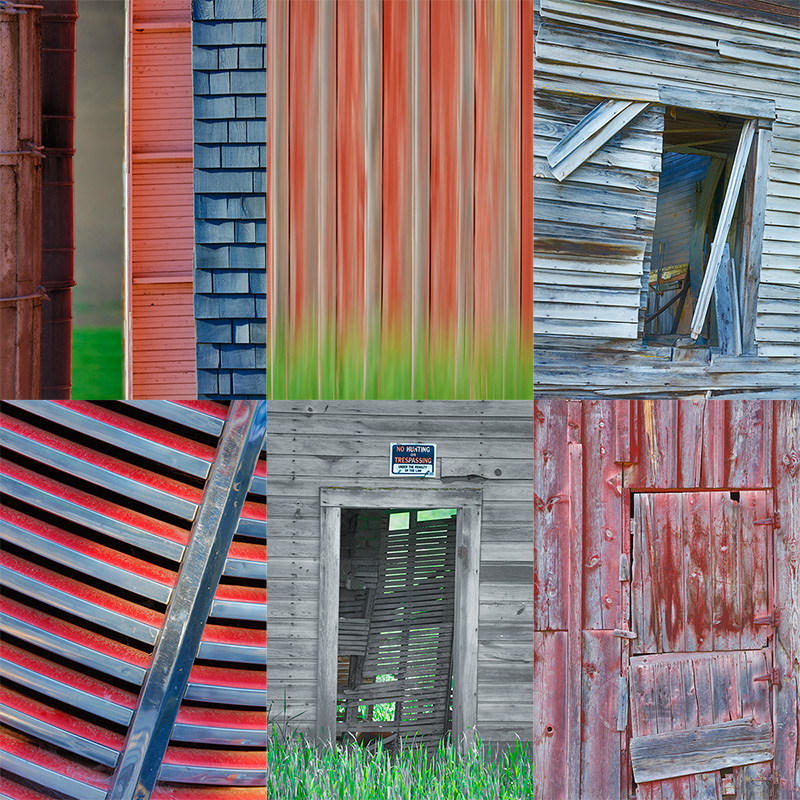 Palouse 2016 Verticals Card
The 2017 BIRDS AS ART Palouse Instructional Photo-Tour
June 8-14, 2017. Seven full days of photography. Meet and greet at 7:30pm on Wednesday, June 7: $2,499. Limit 10/Openings: 7.

Rolling farmlands provide a magical patchwork of textures and colors, especially when viewed from the top of Steptoe Butte where we will enjoy spectacular sunrises and at least one nice sunset. We will photograph grand landscapes and mini-scenics of the rolling hills and farm fields. I will bring you to more than a few really neat old abandoned barns and farmhouses in idyllic settings. There is no better way to improve your compositional and image design skills and to develop your creativity than to join me for this trip. Photoshop and image sharing sessions when we have the time and energy…. We get up early and stay out late and the days are long.
Over the past three years, with the help of a friend, we found all the iconic locations and, in addition, lots of spectacular new old barns and breath-taking landforms and vistas. What's included: In-the-field instruction, guidance, lessons, and inspiration, my extensive knowledge of the area, all lunches, motel lobby grab and go breakfasts, and Photoshop and image sharing sessions. As above, there will be a meet and greet at 7:30pm on the evening before the workshop begins.
To Sign Up
Your non-refundable deposit of $500 is required to hold your spot. Please let me know via e-mail that you will be joining this IPT. Then you can either call Jim or Jennifer at 863-692-0906 during business hours to arrange for the payment of your deposit; if by check, please make out to "BIRDS AS ART" and mail it to: Arthur Morris/BIRDS AS ART, PO Box 7245, Indian Lake Estates, FL, 33855. If you have any questions, please feel free to contact me via e-mail: artie.
Travel Insurance Services offers a variety of plans and options. Included with the Elite Option or available as an upgrade to the Basic & Plus Options. You can also purchase Cancel for Any Reason Coverage that expands the list of reasons for your canceling to include things such as sudden work or family obligation and even a simple change of mind. You can learn more here: Travel Insurance Services. Do note that many plans require that you purchase your travel insurance within 14 days of our cashing your deposit check. Whenever purchasing travel insurance be sure to read the fine print carefully even when dealing with reputable firms like TSI.
The San Diego Details
This IPT will include five 3 1/2 hour morning photo sessions, four 2 1/2 hour afternoon photo sessions, four lunches, and after-lunch image review and Photoshop sessions. To ensure early starts, breakfasts will be your responsibility.
A $599 non-refundable deposit is required to hold your slot for this IPT. You can send a check (made out to "Arthur Morris) to us at BIRDS AS ART, PO Box 7245, Indian Lake Estates, FL, 33855. Or call Jim or Jennifer at the office with a credit card at 863-692-0906. Your balance, payable only by check, will be due on 9/11//2016. If we do not receive your check for the balance on or before the due date we will try to fill your spot from the waiting list. Please print, complete, and sign the form that is linked to here and shoot it to us along with your deposit check. If you register by phone, please print, complete and sign the form as noted above and either mail it to us or e-mail the scan. If you have any questions, please feel free to contact me via e-mail.
Facebook
Be sure to like and follow BAA on Facebook by clicking on the logo link upper right. Tanks a stack.
Typos
In all blog posts and Bulletins, feel free to e-mail or to leave a comment regarding any typos or errors. Just be right :).