What's Up?
I spent most of Sunday working on the new Facebook Page–see item next. Most of Monday was spent packing for the short trip to my Mom's. The plan is to fly to Islip on Monday afternoon and return to Orlando relatively late on Thursday. Next: Japan.
Facebook News!
Because I've long hated the fact that my personal FB page limited me to 5,000 friends and that left several thousand folks with unrequited Friend Requests, I have created a FB page that will allow several hundred thousands of folks (hey, a guy can dream can't he?) to follow BIRDS AS ART on Facebook. To visit the new page click here and be sure to like the photos, follow the page, or share the post. Your doing so will allow me to be much more active on FB. Huge tanks! artie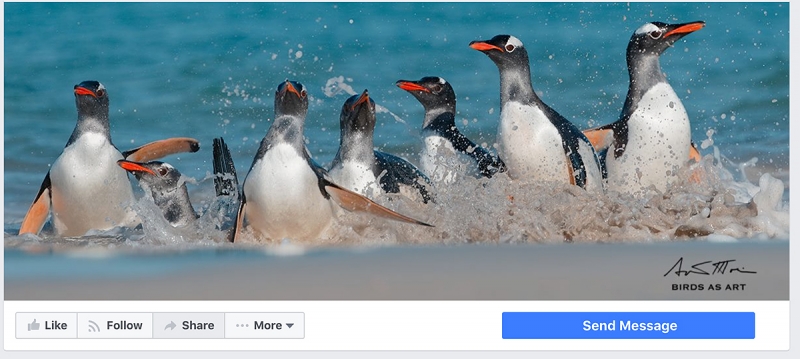 How to Like or Follow the New BAA Page on Facebook
To Like or Follow the New BAA Page on Facebook
Several folks have mentioned that they cannot find the Like or Follow tabs for the page … As you can see above, they are in the same spot they have always been in, on the left, right below the cover photo. All are invited to Like, Follow, or Share. See you there! artie
Gear Questions and Advice
Too many folks attending BAA IPTs and dozens of folks whom I see in the field, and on BPN, are–out of ignorance–using the wrong gear, especially when it comes to tripods and more especially, tripod heads… Please know that I am always glad to answer your gear questions via e-mail.
The Streak: 438!
Today's blog post marks a totally insane, irrational, illogical, preposterous, absurd, completely ridiculous, unfathomable, silly, incomprehensible, what's wrong with this guy?, makes-no-sense, 438 days in a row with a new educational blog post. As always–and folks have been doing a really great for a long time now–please remember to use our B&H links for your major gear purchases. For best results use one of our many product-specific links; after clicking on one of those you can continue shopping with all subsequent purchases invisibly tracked to BAA. Your doing so is always greatly appreciated. Please remember: web orders only. And please remember also that if you are shopping for items that we carry in the BAA Online Store (as noted in red at the close of this post below) we would of course appreciate your business.
Selling Your Used Gear Through BIRDS AS ART
Selling your used (or like-new) photo gear through the BAA Blog or via a BAA Online Bulletin is a great idea. We charge only a 5% commission. One of the more popular used gear for sale sites charges a minimum of 20%. Plus assorted fees! Yikes. The minimum item price here is $500 (or less for a $25 fee). If you are interested please e-mail with the words Items for Sale Info Request cut and pasted into the Subject line :). Stuff that is priced fairly–I offer free pricing advice, usually sells in no time flat. In the past few months, we have sold just about everything in sight. Do know that prices on some items like the EOS-1D Mark IV, the old Canon 500mm, the EOS-7D, and the original 400mm IS DO lens have been dropping steadily. Even the prices on the new 600 II and the 200-400 with Internal Extender have been plummeting. You can see all current listings by clicking here or by clicking on the Used Photo Gear tab on the right side of the yellow-orange menu bar above.
Recent Successful Used Gear Sales
Note: I missed adding several items below while I was in South America for ten weeks with limited internet access. If your item has sold but is still listed on the Used gear page please let me know via e-mail.
Teresa Mabry Reed sold both her Canon EOS-1D X in excellent plus condition for $2399 and her EOS Canon 5D Mark III also in excellent plus condition for $1429 within two days of listing them with BAA.
Gene Scarborough sold a Canon EF 500 mm f/4L IS USM super telephoto lens in excellent condition for $4049 one day after it was listed.
Multiple IPT-veteran Mike Goldhamer sold his Canon EF 400mm f/4 IS DO lens in excellent condition for the record low price of $2100 a while back.
Dear friend and multiple IPT veteran Patrick Sparkman sold his Canon EOS 5DS R with the Canon battery grip in like-new condition for $2899 back in early November.
IPT veteran Gerold Hanck sold his Canon 100-400 mm f/4.5-5.6 telephoto zoom lens, the "old 1-4," in excellent condition for $549.
Henry Raymundo sold both his Canon 500mm f/4L IS USM lens (the "old five") in excellent condition for $3999 and a Canon EOS 7D camera body in excellent condition for $399 back in November, 2016.
Ramona Boone sold here Canon EOS-1D X in excellent condition for the BAA record-low price of $2359 in mid December just days after it was listed.
Richard Goldman sold his Canon EOS 5D Mark III in excellent condition for the BAA record-low price of $1399, his Canon 100-400mm L IS Zoom lens, the old 1-4, in excellent condition for the BAA record-low price of $529. And his Canon EOS 24-105mm f/4 L IS Zoom lens, the original model, in excellent condition, for the BAA record-low price of $519. All within days of them being listed in mid-December.
William B Ellison, Jr.sold his a used Canon EOS 5D Mark III in near mint condition for the then BAA record-low price of $1497 in early December.
Ron Ozuna sold his Canon EF 300mm f/2.8L IS USM lens in near-mint condition for $2699 in early December.
New Listing
Canon EF 500 mm f/4L IS USM Super Telephoto Lens
Brian Patteson is offering a Canon EF 500 mm f/4L IS USM super telephoto lens in near-mint condition for $4399. The sale includes the lens, the Rear Lens Dust Cap E, the ET-138 Lens Hood, the lens trunk, the E-163 front lens cover, green camo LensCoat, a Wimberley P-40 lens plate, one each of the Version II TCs: 1.4X and 2X, and insured ground shipping via UPS Ground (to US addresses only). The items will not ship until the check clears unless other arrangements are made. Payment by USPS money order or bank cashier's check is preferred. Please contact Brian via e-mail or by text message or phone at (252) 216-9163.
The old five is a fairly lightweight super-telephoto lens that work well with both TCs. It is fast and sharp. I used mine as my workhorse lens (along with the old 600mm f/4) for almost ten years to photograph birds all over the world. Both have been replaced by their version II counterparts. The 500 f/4s have long been the world's most popular super-telephotos for wildlife and sports. artie
Using Tv Mode to Attain a Minimum Shutter Speed
I use this technique often. If you do not have ISO Safety Shift set, simply set Auto ISO. Now select a shutter speed that you are pretty sure will create a sharp image. With most of my telephoto lenses I am comfortable and confident at 1/60 sec. Next you need to enter the correct exposure compensation (EC) for the situation. Then acquire focus and push the shutter button. The camera will determine the ISO that you need.
Understand that there is nothing more complicated about using this technique than there is working in either Manual of Av mode. Why? In all three methods you need to be using the correct EC. Note: there is no way of actually setting an EC when working in Manual mode; you simply note how much plus or minus your chosen shutter speed/aperture combination is yielding by watching the exposure analogue scale … To move the indicator you simply change the shutter speed or the aperture.
Pomacochas
When I was not working at the spatuletail lek, there were some excellent hummingbird feeders at Pomacochas to keep me occupied. The two abundant species were Chestnut-breasted Coronet and Green Violet-ear.
ISO Quiz
Click on the featured image above, check out the noise levels, and consider the fine feather details. Then leave a comment with your guess as to the ISO that was set by the camera.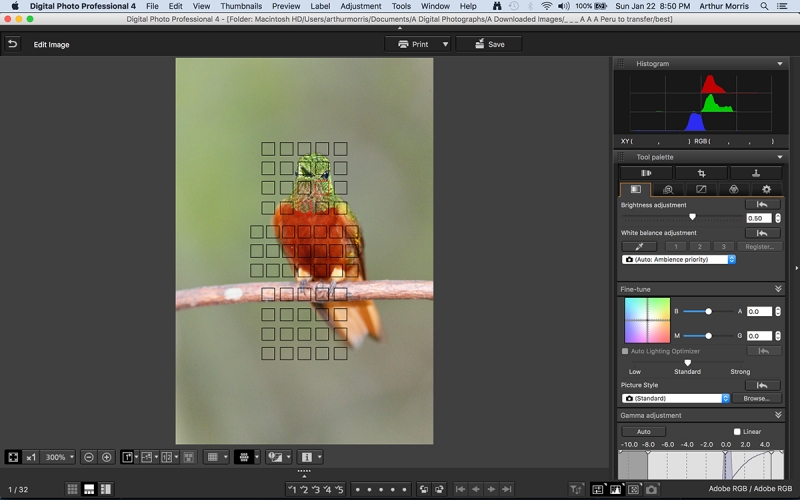 A DPP 4 Screen Capture for today's featured image
Your browser does not support iFrame.
A DPP 4 Screen Capture for Today's Featured Image
Most will need to enlarge the image to see the two active AF points illuminated as little red squares. Note also that at (only) +1/3 stop that the image was about 1/2 stop under-exposed; the Brightness slider was set to +0.5.
Extension Tubes
Extension tubes are used primarily to allow you to get closer to the subject than the lens's minimum focusing distance would allow. With the 500 II/1.4X III set-up adding a Canon Extension Tube EF 12 II will get me about 18 inches of close focus while costing me only a fraction of a stop of light. What most folks do not realize is that in addition, you will gain about 3% increased magnification even when you are working beyond the lens's minimum focusing distance. Do not forget, however, that you will lose the ability to focus on distant subjects. I almost always use the Canon Extension Tube EF 12 II for my hummingbird photography. Be sure to mount the 1.4X TC on the lens with the 12 tube behind it; this maintains fully functioning AF.
I used this set-up almost exclusively for hummingbirds in Peru and tiny penguin chicks in The Falklands.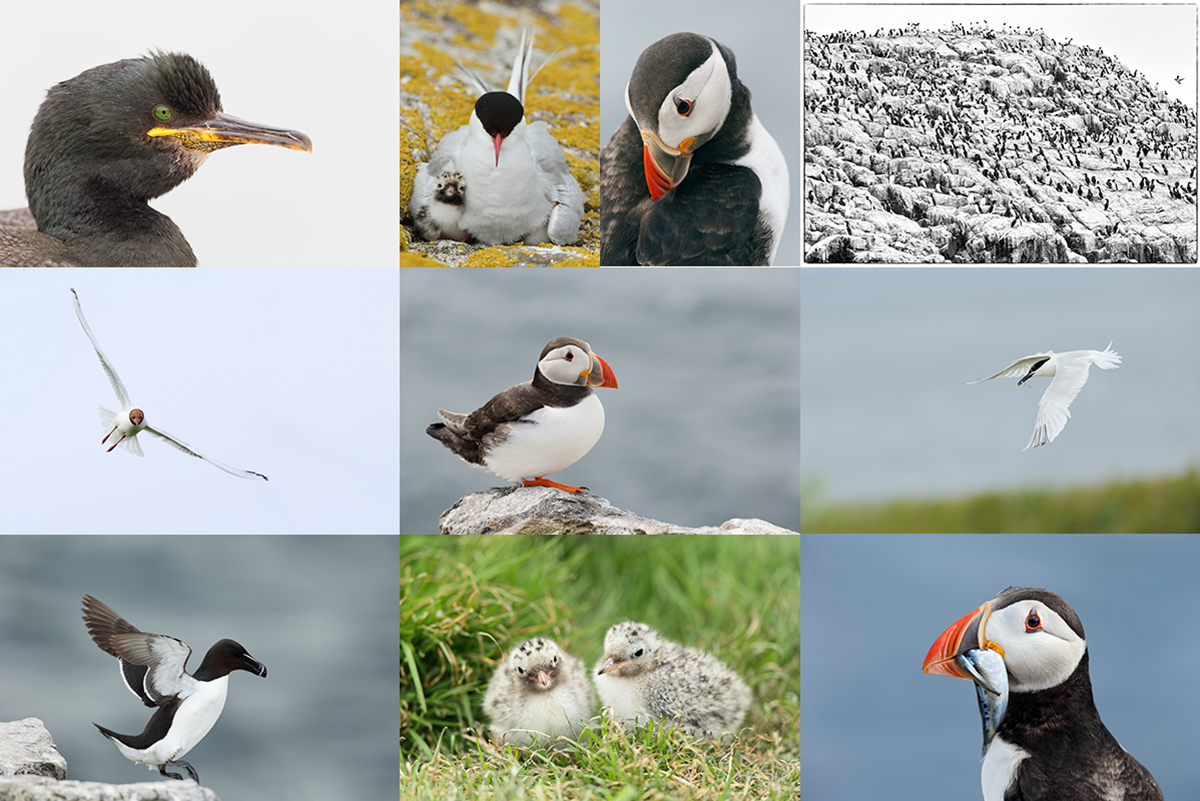 Images and card design copyright: Arthur Morris/BIRDS AS ART. Click on the card to enjoy a spectacular larger version.
2017 UK Puffins and Gannets IPT
Monday July 3 through Monday July 10, 2017: $5999: Limit 10 photographers — Openings: 6). Two great leaders: Arthur Morris and BPN co-owner, BPN Photography Gear Forum Moderator, and long-time BAA Webmaster Peter Kes.
Here are the plans: take a red eye from the east coast of the US on July 2 and arrive in Edinburgh, Scotland on the morning of Monday July 3 no later than 10am (or simply meet us then at the Edinburgh Airport–EDI, or later in the day at our cottages if you are driving your own vehicle either from the UK or from somewhere in Europe). Stay 7 nights in one of three gorgeous modern country cottages.
There are five days of planned puffin/seabird trips and one morning of gannet photography, all weather permitting of course. In three years we have yet to miss an entire day because of weather… In addition, we will enjoy several sessions of photographing nesting Black-legged Kittiwakes at eye level.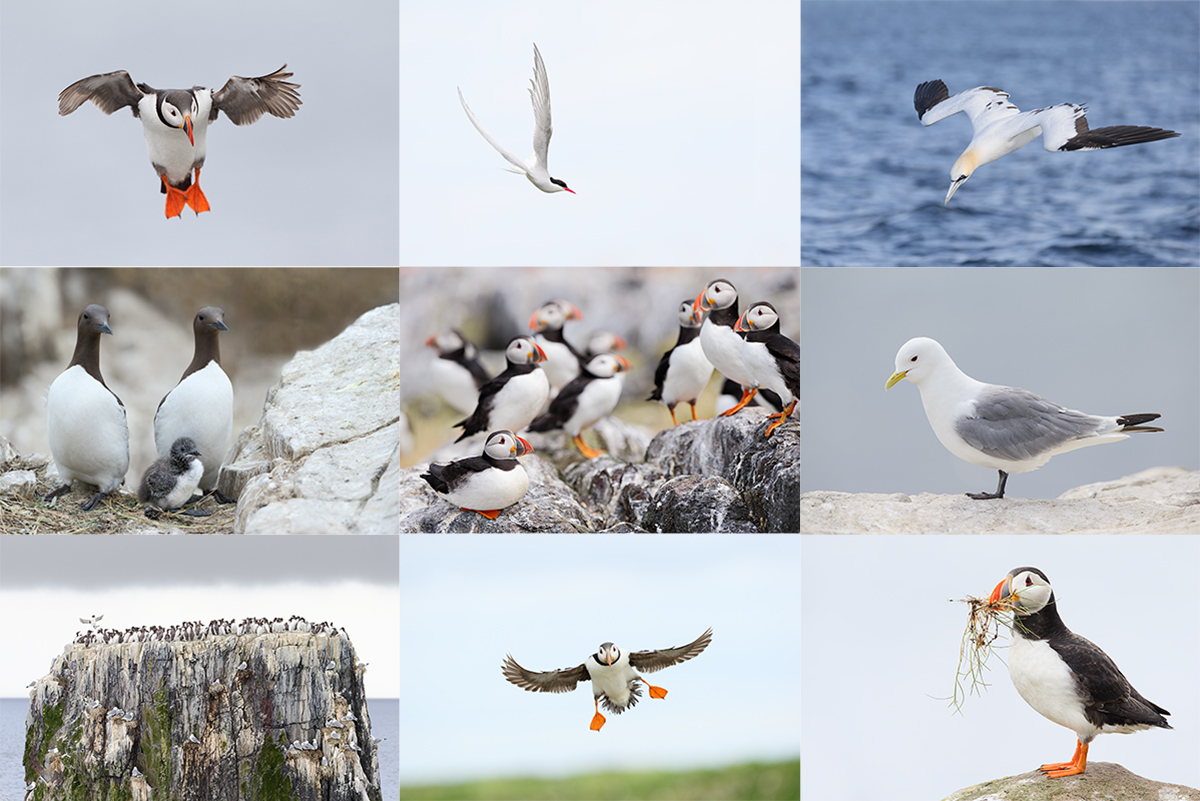 Images and card design copyright: Arthur Morris/BIRDS AS ART. Click on the card to enjoy a spectacular larger version.
The Details
We will get to photograph Atlantic Puffin, Common Murre, Razorbill, Shag, and Northern Gannet; Arctic, Sandwich, and Common Terns, the former with chicks of all sizes; Black-headed, Lesser-Black-backed, and Herring Gulls, many chasing puffins with fish; Black-legged Kittiwake with chicks. We will be staying in upscale country-side lodging that are beyond lovely with large living areas and lots of open space for the informal image sharing and Photoshop sessions. The shared rooms are decent-sized, each with a private bathroom. See the limited single supplement info below.
All breakfasts, lunches and dinners are included. All 5 puffins boat lunches will need to be prepared by you in advance, taken with, and consumed at your leisure. I usually eat mine on the short boat trip from one island to the other. Also included is a restaurant lunch on the gannet boat day.
If you wish to fly home on the morning of Monday July 10 we will get you to the airport. Please, however, consider the following tentative plans: enjoy a second Gannet boat trip on the afternoon of Monday July 10 and book your hotel room in Dunbar. If all goes as planned, those who stay on for the two extra days will make a morning landing at Bass Rock, one of the world's largest gannetries. We will get everyone to the airport on the morning of Wednesday July 12. (We may opt to stay in Edinburgh on the night of July 11.) Price and details should be finalized at least six months before the trip but you will need to be a bit patient. It would be ideal if I can get all the work done by the end of September so that folks can arrange their flights then.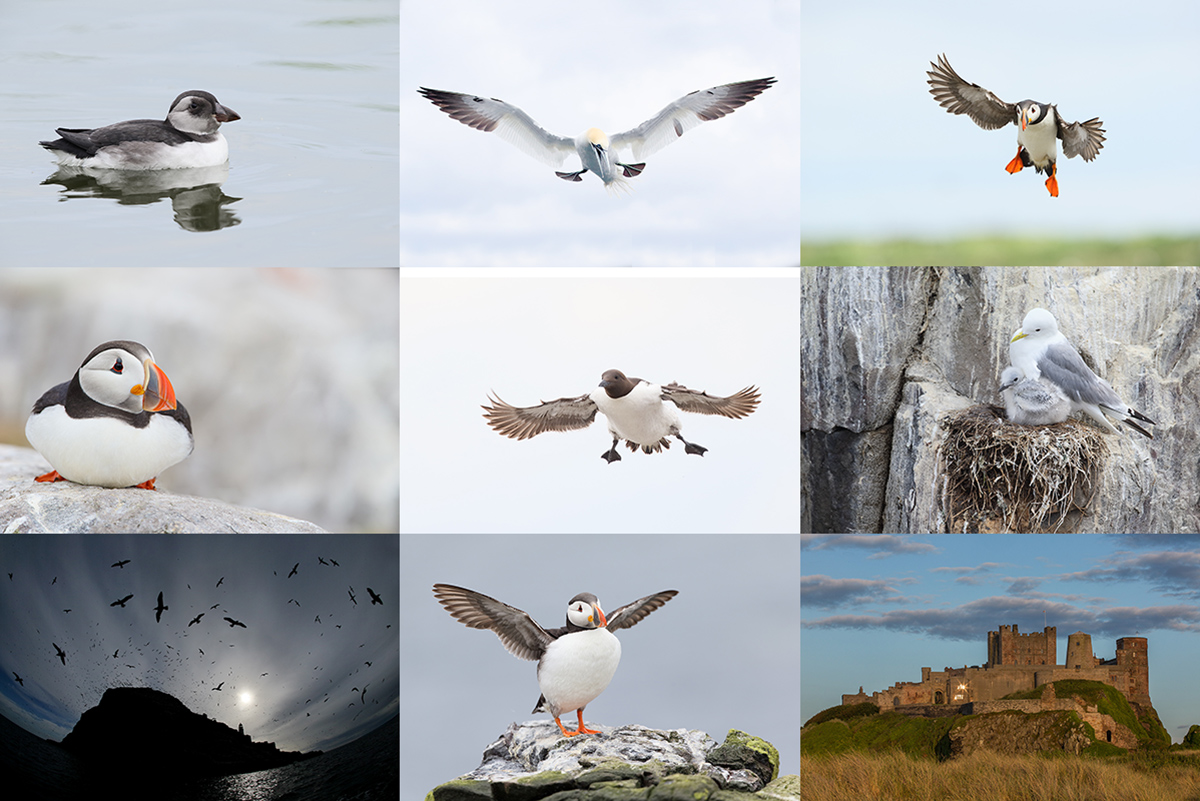 Images and card design copyright: Arthur Morris/BIRDS AS ART. Click on the card to enjoy a spectacular larger version. Scroll down to join us in the UK in 2016.
Deposit Info
If you are good to go sharing a room–couples of course are more than welcome–please send your non-refundable $2,000/person deposit check now to save a spot. Please be sure to check your schedule carefully before committing to the trip and see the travel insurance info below. Your balance will be due on March 29, 2017. Please make your check out to "Arthur Morris" and send it to Arthur Morris/BIRDS AS ART, PO Box 7245, Indian Lake Estates, FL, 33855. If we do not receive your check for the balance on or before the due date we will try to fill your spot from the waiting list. If your spot is filled, you will lose your deposit. If not, you can secure your spot by paying your balance.
Please shoot me an e-mail if you are good to go or if you have any questions.
Single Supplement Deposit Info
Single supplement rooms are available on a limited basis. To ensure yours, please register early. The single supplement fee is $1575. If you would like your own room, please request it when making your deposit and include payment in full for the single supplement; your single supplement deposit check should be for $3,575. As we will need to commit to renting the extra space, single supplement deposits are non-refundable so please be sure that check your schedule carefully before committing to the trip and see the travel insurance info below.
Please Remember to use my Affiliate Links and to Visit the New BAA Online Store 🙂
To show your appreciation for my continuing efforts here, we ask, as always, that you get in the habit of using my B&H affiliate links on the right side of the blog for all of your photo and electronics purchases. Please check the availability of all photographic accessories in the New BIRDS AS ART Online Store, especially the Mongoose M3.6 tripod head, Wimberley lens plates, Delkin flash cards and accessories, and LensCoat stuff.
As always, we sell only what I have used, have tested, and can depend on. We will not sell you junk. We know what you need to make creating great images easy and fun. And please remember that I am always glad to answer your gear questions via e-mail.
I would of course appreciate your using our B&H affiliate links for all of your major gear, video, and electronic purchases. For the photographic stuff mentioned in the paragraph above, and for everything else in the new store, we, meaning BAA, would of course greatly appreciate your business. Here is a huge thank you to the many who have been using our links on a regular basis and those who will be visiting the New BIRDS AS ART Online Store as well.
Facebook
Be sure to like and follow BAA on Facebook by clicking on the logo link upper right. Tanks a stack.
Typos
In all blog posts and Bulletins, feel free to e-mail or to leave a comment regarding any typos or errors. Just be right :).