Stuff
On Monday I started getting ready for Japan, not packing, just getting mentally ready. As usual, I had time to do some re-hab work on my right hip and my right shoulder along with a swim, a walk, and all of my core exercises. The pool, which was 84 degrees last week, was down to a not-so-balmy 76 degrees today …
Gear Questions and Advice
Too many folks attending BAA IPTs and dozens of folks whom I see in the field, and on BPN, are–out of ignorance–using the wrong gear, especially when it comes to tripods and more especially, tripod heads… Please know that I am always glad to answer your gear questions via e-mail.
The Streak: 445
Today's blog post marks a totally insane, irrational, illogical, preposterous, absurd, completely ridiculous, unfathomable, silly, incomprehensible, what's wrong with this guy?, makes-no-sense, 445 days in a row with a new educational blog post. As always–and folks have been doing a really great job for a long time now–please remember to use our B&H links for your major gear purchases. For best results use one of our many product-specific links; after clicking on one of those you can continue shopping with all subsequent purchases invisibly tracked to BAA. Your doing so is always greatly appreciated. Please remember: web orders only. And please remember also that if you are shopping for items that we carry in the BAA Online Store (as noted in red at the close of this post below) we would of course appreciate your business.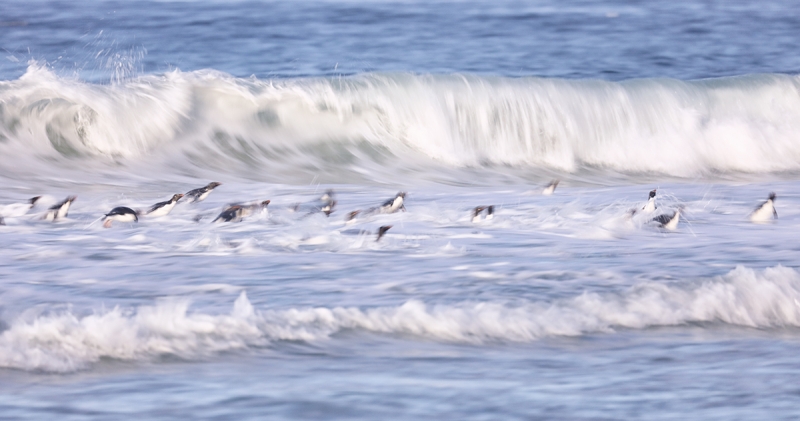 This image was created at The Neck, Saunders Island, The Falklands with the Canon EF 100-400mm f/4.5-5.6L IS II USM lens (at 400mm) with my very favorite bird photography camera body, the Canon EOS 5D Mark IV. ISO 400. Evaluative metering +2/3 stop: 1/15 sec. at f/7.1 in Tv mode. AWB.
A Singh Ray Thin 5-Stop ND Filter enabled me to get down to the slow shutter speed that I needed to execute my vision.
LensAlign/FocusTune micro-adjustment: -1.
One AF point below the center AF point/AI Servo/Expand/Shutter button AF as originally framed. Click on the image to enjoy a larger version.
Rockhopper Penguins heading to shore
Your browser does not support iFrame.
Envision It, Don't Give Up, and Then Execute Your Vision …
From the first afternoon that I saw the spectacle of dozens even hundreds of Rockhopper Penguins frantically emerging from the surf, I had a vision. A a pleasingly blurred vision. But the prospect of making a truly great sharp image kept me from my task most afternoons. And the first time I set up for blurs with the Singh Ray Thin 5-stop ND, I failed more than miserably. On my last afternoon, I decided to go for it in earnest. In retrospect, I wish that I had not lost my Singh Ray Thin 3-stop ND. The 5-stop focus just fine but is so dark that framing is difficult. Though I was pretty much flying blind, I got luck with today's featured image. Notice again that when the situation is right, Tv mode can do great stuff as long as you understand when, how, and why to use it to give you complete control over shutter speed.
While I love the two waves framing the birds, the curling wave in the upper left puts this one over the top for me. NIK Color Efex Pro White Neutralizer juiced up the BLUEs perfectly. Slight pano crop.
Like It? Love It? Hate It? Could Care Less!
Be sure to let us know why.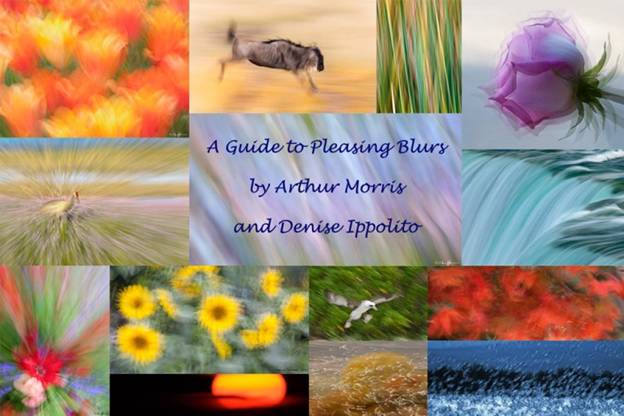 Learn the secrets of creating contest winning images in our "A Guide to Pleasing Blurs."
A Guide to Pleasing Blurs
In A Guide to Pleasing Blurs by Denise Ippolito and yours truly we discuss just about every technique ever used by mankind to create pleasingly blurred images. Ninety-nine point nine percent of pleasing blurs are not happy accidents. You can learn pretty much everything that there is to know about creating them in this instructive, well written, easy to follow guide. Pleasing blurs are consistently honored in the major natural history photographic competitions …
Singh-Ray ND Filters
I absolutely love the Singh-Ray 3-stop Resin and 5-stop Glass Neutral Density Filters. I use the 77mm versions of these filters on my intermediate telephoto lenses with the Xume system so that I can create blurs on sunny days without having to stop down to f/too-many dust spots…. With a 5-stop glass ND in place I can easily get down to shutter speeds of 1/2 second and slower on clear, bright sunny days. I used the 10-stop on sunny days with moving water.
Please remember that you will not get your 10% discount without mentioning the artie10 code. And I would not receive my affiliate commission. Thanks as always for remembering to use our discount/affiliate code with your Singh-Ray phone and web orders.

Singh-Ray Filters
Singh-Ray filters have been used by the world's top photographers for many decades. As always, I will have my 77mm Singh-Ray Warming Polarizer in my vest in case of rainbows. And I now travel (as above) with various Singh-Ray ND filters so that I can create pleasing blurs even with clear skies and bright sun. See here for a great example.
No other filter manufacturer comes close to matching the quality of Singh-Ray's optical glass, comparable to that used by NASA. And they continue to pioneer the most innovative products on the market like their ColorCombo polarizer, Vari-ND variable and Mor-Slo 15-stop neutral density filters. When you use their filters, you'll create better, more dramatic images and, unlike other filters, with absolutely no sacrifice in image quality. All Singh-Ray filters are handcrafted in the USA.
Best News: 10% Discount/Code at checkout: artie10
To shop — for example — for Singh-Ray's most popular solid ND filter, the 10-Stop Mor-Slo Glass Filter, click on the logo link above, click on "Neutral and color Solid Neutral Density Filters (glass), then click on "Mor-Slo™ 5, 10, 15 and 20-Stop Solid Neutral Density Filters (glass)," choose the size and model, add to cart, and then checkout. At checkout, type artie10 into the "Have a coupon? Click here to enter your code" box, and a healthy 10% discount will be applied to your total. In addition to enjoying the world's best filter at 10% off you will be supporting my efforts here on the blog. If you need to call Singh-Ray for any reason, please mention the artie10 code to receive your discount.
Xume Stuff!
A while back I tried the Xume stuff and loved it. But I do not recommend the system for all lenses; see below on that…. First I screw one XUME 77mm Lens Adapter onto the front of my 100-400 II and another onto the front of my 70-200 f/2.8 L IS II. Next I screw my Singh-Ray 77mm 3-Stop Resin Mor-Slo Neutral Density Filter, my Singh-Ray 77mm 5-Stop Glass Mor-Slo Neutral Density Filter, and my Singh-Ray 77mm LB Warming Circular Polarizer into their own individual XUME 77mm Filter Holders.
The lens adapters stay on the lenses. The ND filters and the polarizer stay screwed into their own filter holder. The filter/filter holder combos are stored in the lovely labeled leather pouches that come with each Singh-Ray filter purchase. They three of them fit perfectly into the small upper left zippered pocket of my Xtrahand vest. When I wish to mount a filter onto the front of one of my intermediate telephoto lenses I simply remove the lens hood, grab the filter that I need, and pop it securely into place in less than an instant. Ah, it's the magnetic thing!
Be sure to replace the lens hood so that you do not accidentally dislodge the filter by whacking it against some shrubbery. To remove the filter simply remove the lens hood, pop the filter off instantly, place it back in its leather case, and stow it. With the Xume system there are no more tears. You do not have to screw and unscrew the filters onto the front of the lens. There are no more jammed threads. The Xume lens adapters and the filter holders are precision-machined to guarantee fast and secure filter attachment every time.
It is an elegant system but I can recommend it only for intermediate telephoto lenses: when used with short lenses and short zoom lenses it some serious vignetting will occur at the wide(r) focal lengths.
If you own only one lens and two filters I would recommend the XUME 77mm Lens Adapter and Filter Holder Starter Kit. It contains one lens adapter and two filter holders.
The next step up is the XUME 77mm Lens Adapter and Filter Holder Pro Kit. It offers two lens adapters and four filter holders. That one was perfect for me.
If you need Xume stuff for front element sizes other than 77mm please use this link; you will find two pages of good stuff!
Falklands Cheap Land-based IPT DEC 22, 2018 thru JAN 5, 2019: Limit 7 photographers/Openings 4: $7499
I will be leading an innovative land-based Falklands IPT leaving from Stanley, The Falklands on SAT 22 DEC 2018 –yes, 2018 — and flying back to Santiago, Chile on SAT JAN 5, 2019. Why innovative? We will be spending six nights at The Neck on Saunders Island, one of the premier wildlife photography destinations on the planet. That followed by three nights on Sea Lion Island, and ending up with four nights on Bleaker. Note that most BBC Wildlife Photographer of the Year and Nature's Best contests usually honor multiple images made in The Falklands each year.
What else is innovative? Most two-week land-based photo trips have you visiting four or five or even six islands hopping on a FIGAS plane every two days or so. As you are at the mercy of the flight operations you may miss several mornings or afternoons of photography. Why not stay at three great locations, locations that offer the best photo opps without any long walks?. Saunders and Bleaker will get you close-up to the great species with ease. At The Neck we will be staying in rustic cabins right in the heart of the action. There is great stuff on Sea Lion a short walk from the lodge and we have a vehicle to use for the more distant locations. On Bleaker we will be enjoying near-luxury accommodations and great home-cooked meals. And there we will have two vehicles at our disposal.
What else? The first Black-browed Albatross chicks hatch every year on or about 12 DEC. If you visit in early January you will miss most of the tiny chicks. And worse yet, the Rockhopper Penguin chicks are leaving by the second week of January. This trip is timed to get you chances on tiny fluffy white albatross chicks, some of the larger fluffy white chicks, and the rockhopper chicks as well.
With several years of experience on the Falklands, more than six in fact, nobody knows how to read the sky conditions, the wind, and the light better than me and have the group in the best possible spot at all times. With lots of strong west winds, you will need someone who knows how to put you in position to make good images on near-impossible mornings.
If you are seriously interested, please shoot me an e-mail and I will get back to you during the second week of November. Happy campers only please.
ps: You can make a ton of great images on this trip with "just" an 80- or 100-400 lens.
Please Remember to use my Affiliate Links and to Visit the New BAA Online Store 🙂
To show your appreciation for my continuing efforts here, we ask, as always, that you get in the habit of using my B&H affiliate links on the right side of the blog for all of your photo and electronics purchases. Please check the availability of all photographic accessories in the New BIRDS AS ART Online Store, especially the Mongoose M3.6 tripod head, Wimberley lens plates, Delkin flash cards and accessories, and LensCoat stuff.
As always, we sell only what I have used, have tested, and can depend on. We will not sell you junk. We know what you need to make creating great images easy and fun. And please remember that I am always glad to answer your gear questions via e-mail.
I would of course appreciate your using our B&H affiliate links for all of your major gear, video, and electronic purchases. For the photographic stuff mentioned in the paragraph above, and for everything else in the new store, we, meaning BAA, would of course greatly appreciate your business. Here is a huge thank you to the many who have been using our links on a regular basis and those who will be visiting the New BIRDS AS ART Online Store as well.
Facebook
Be sure to like and follow BAA on Facebook by clicking on the logo link upper right. Tanks a stack.
Typos
In all blog posts and Bulletins, feel free to e-mail or to leave a comment regarding any typos or errors. Just be right :).