What's Up?
Not sure where I will be when this is published as the time and date changes from Florida to Japan baffle me. But at some point the group and the two leaders will be photographing Snow Monkeys, all hoping to create something new and different. I am hoping for snow 🙂
Gear Questions and Advice
Too many folks attending BAA IPTs and dozens of folks whom I see in the field, and on BPN, are–out of ignorance–using the wrong gear, especially when it comes to tripods and more especially, tripod heads… Please know that I am always glad to answer your gear questions via e-mail.
The Streak: 455
Today's blog post marks a totally insane, irrational, illogical, preposterous, absurd, completely ridiculous, unfathomable, silly, incomprehensible, what's wrong with this guy?, makes-no-sense, 455 days in a row with a new educational blog post. As always–and folks have been doing a really great job recently–please remember to use our B&H links for your major gear purchases. For best results use one of our many product-specific links; after clicking on one of those you can continue shopping with all subsequent purchases invisibly tracked to BAA. Your doing so is always greatly appreciated. Please remember: web orders only. And please remember also that if you are shopping for items that we carry in the new BAA Online Store (as noted in red at the close of this post below) we would of course appreciate your business.
Murphy's Law of Nests …
Murphy's Law of Nests: all bird's nest will have one stick or twig too many … In the image above, which stick or twig do you find most offensive. See the optimized image below to learn which stick bugged me the most.
Another Perspective Question
How would getting three inches higher have improved this image a bit?
Great Egret, 3-egg clutch, optimized
Your browser does not support iFrame.
The Image Optimization
The stick that really bugged me was the one the that overlapped with the adult's left foot. Aftr converting the Fuji RAC file in ACR I eliminated the offending twig using a variety of tools and techniques including the Clone Stamp Tool — often in conjunction with Divide and Conquer techniques and protective cloning on a layer, the Patch Tool, the Spot Healing Brush sparingly with this image, an a series of small Quick Masks refined by a Regular Layer Mask and the Transform Command. After additional clean-up work I applied my NIK Color Efex Pro 25/25 recipe to the eggs only and applied simplified NeatImage noise reduction to the entire image.
What Else?
What other changes did I make? You may need to enlarge both images and put on your reading spectacles. Or not.
Educational e-Guides
Everything mentioned above plus tons more is of detailed in my Digital Basics File, an instructional PDF that is sent via e-mail. It includes my complete (former PC) digital workflow, dozens of great Photoshop tips, details on using all of my image clean-up tools, the use of Contrast Masks, several different ways of expanding and filling in canvas, all of my time-saving Keyboard Shortcuts, the basics of Quick Masking, Layer Masking, and NIK Color Efex Pro, Digital Eye Doctor techniques, using Gaussian Blurs, Dodge and Burn, a variety of ways to make selections, how to create time-saving actions, and tons more.
Learn advanced Quick Masking and advanced Layer Masking techniques in APTATS I & II. You can save $15 by purchasing the pair.
You can learn to apply Neat Image noise reduction in The Professional Photographers Guide to Post Processing.
I am working on an all new Current Workflow e-guide that better reflects my Macbook Pro/Photo Mechanic/DPP 4/Photoshop workflow. It will include a section on ACR conversions and a simplified method of apply Neat Image noise reduction.
e-Guide and More Kudos
Via e-mail:
Hello, I recently placed several orders with you for various pdf files as well as for MP.4 videos and photo equipment. After some initial problems getting the files on the devices I wanted them on, I am extremely pleased with everything I have purchased from you. Thanks to Jim for his patience in helping me learn how to get the files where I needed them. Switching over to Apple has been, at times, frustrating. I've downloaded the DPP 4 RAW Conversion Guide and the Guide to Professional Post Processing along with Neat Image. I and am looking forward to getting better results with my Canon 7D Mark II thanks to your Camera User's Guide and your help with image processing. Thanks for offering these great learning tools and equipment!!
Best regards, Stephen Sinksen
With Any Luck …
With any luck, the three eggs above should be tiny chicks for the folks on the Gatorland Mini-IPT. And there was another photographable 3-egg clutch right next to this one …
Gatorland Mini-IPT: 1 1/2 days: AM and PM shooting sessions on Saturday, March 4 and a morning session on Sunday, March 5: $749. Limit 6/Openings 4.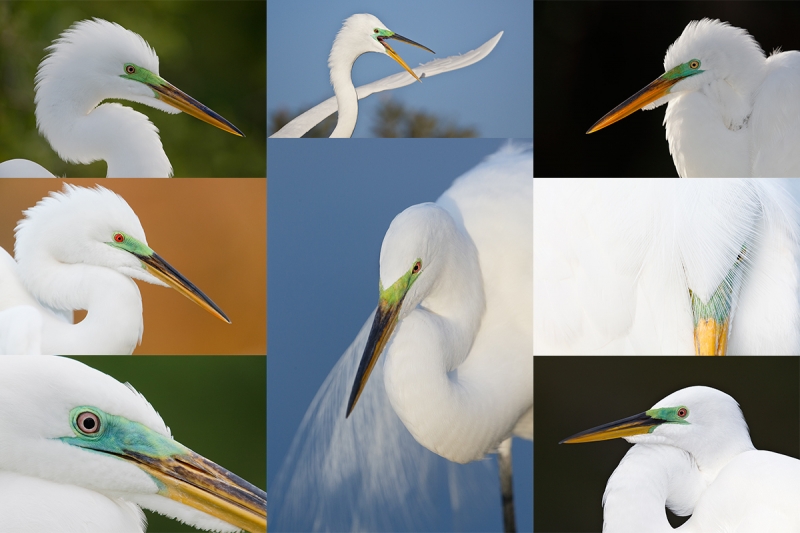 Great Egrets in breeding plumage are a beautiful sight …
Gatorland Mini-IPT: 1 1/2 days: AM and PM shooting sessions on Saturday, March 4 and a morning session on Sunday, March 5: $749. Limit 6/Openings 5.
Join me in Kissimmee, FL in early March, prime time to to photograph Great Egrets in breeding plumage. We should get to make lots of head portraits with most any lens and to photograph them building nests, displaying, copulating, and flying. Eggs for sure. Tiny chicks likely. And most likely breeding Wood Storks as well. Learn to see, find, and make the shot in cluttered settings. Learn exposure and how to handle the WHITEs. Learn fill flash and flash as main light. Includes a working lunch on me on Saturday with image review and Photoshop. We may see and photograph some early Snowy Egrets and Tricolored Herons. And of course, we will see and photograph the captive American Alligators. All of the birds are free and wild.
To pay in full via credit card, call Jim or Jen in the office weekdays at 863-692-0906. You will be responsible for the cost of your Gatorland Photographer's pass. Early entry both mornings and late stay on Saturday.
Please Remember to use my Affiliate Links and to Visit the New BAA Online Store 🙂
To show your appreciation for my continuing efforts here, we ask, as always, that you get in the habit of using my B&H affiliate links on the right side of the blog for all of your photo and electronics purchases. Please check the availability of all photographic accessories in the New BIRDS AS ART Online Store, especially the Mongoose M3.6 tripod head, Wimberley lens plates, Delkin flash cards and accessories, and LensCoat stuff.
As always, we sell only what I have used, have tested, and can depend on. We will not sell you junk. We know what you need to make creating great images easy and fun. And please remember that I am always glad to answer your gear questions via e-mail.
I would of course appreciate your using our B&H affiliate links for all of your major gear, video, and electronic purchases. For the photographic stuff mentioned in the paragraph above, and for everything else in the new store, we, meaning BAA, would of course greatly appreciate your business. Here is a huge thank you to the many who have been using our links on a regular basis and those who will be visiting the New BIRDS AS ART Online Store as well.
Facebook
Be sure to like and follow BAA on Facebook by clicking on the logo link upper right. Tanks a stack.
Typos
In all blog posts and Bulletins, feel free to e-mail or to leave a comment regarding any typos or errors. Just be right :).