Stuff
I am somewhere in Japan. I will be home late on 28 FEB but should have pretty good internet access every day.
Gear Questions and Advice
Too many folks attending BAA IPTs and dozens of folks whom I see in the field and on BPN, are–out of ignorance–using the wrong gear, especially when it comes to tripods and more especially, tripod heads… Please know that I am always glad to answer your gear questions via e-mail.
The Streak: 457
Today's blog post marks a totally insane, irrational, illogical, preposterous, absurd, completely ridiculous, unfathomable, silly, incomprehensible, what's wrong with this guy?, makes-no-sense, 457 days in a row with a new educational blog post. As always–and folks have been doing a really great for a long time now–please remember to use our B&H links for your major gear purchases. For best results use one of our many product-specific links; after clicking on one of those you can continue shopping with all subsequent purchases invisibly tracked to BAA. Your doing so is always greatly appreciated. Please remember: web orders only. And please remember also that if you are shopping for items that we carry in the BAA Online Store (as noted in red at the close of this post below) we would of course appreciate your business.
Getting More Comfortable With XT-2 for Flight Photography …
My busman's holiday morning at Gatorland on Saturday 3 FEB was my last outing with the Fuji gear, at least for a while. Likely for quite a while. It was a beautiful morning and I had hope to do lots of flight photography, but there was not much flying. I had one good chance. I looked at the lens, zoomed to 400mm, and as the bird got closer my brain remembered which way I needed to turn the zoom right to zoom out. That was a first. As I mentioned yesterday if you are going from Fuji to Canon the simple act of looking at the lens helps to break old habits. Someone new to photography would not be having the zoom direction problems that have frustrated me because they would not have been zooming the opposite way for several decades. After I acquired focus and framed I created three images. All were razor sharp on the bird's eye.
But buoyed by this bit of success it became a bit easier to envision going to the lighter, less expensive Fuji gear somewhere down the road. Maybe when even my 500 II gets too heavy … I've heard crazier things. Lot more good and bad on the Fuji stuff coming soon. When it is all done I will do a serious review of the Fuji gear that will include a comparison with the Canon 5D Mark IV and the 100-400 II. A more accurate comparison would be the XT-2 with the 7D II but I sold both my 7D II bodies quite some time ago and I am not going back. Besides, image quality with the XT-2 is much more comparable to the 5D IV than to the 7D II.
I should have noted earlier that Ser Cambr sent this link: http://fujifilm-dsc.com/en-int/manual/x-t2/x-t2_omw_en_s_f.pdf. There is some good solid info in the PDF; wish that I had seen it earlier in the game.
Your questions are of course most welcome.
Your Thoughts?
Like the tree, hate the tree, or don't give a rat's rear end about the tree?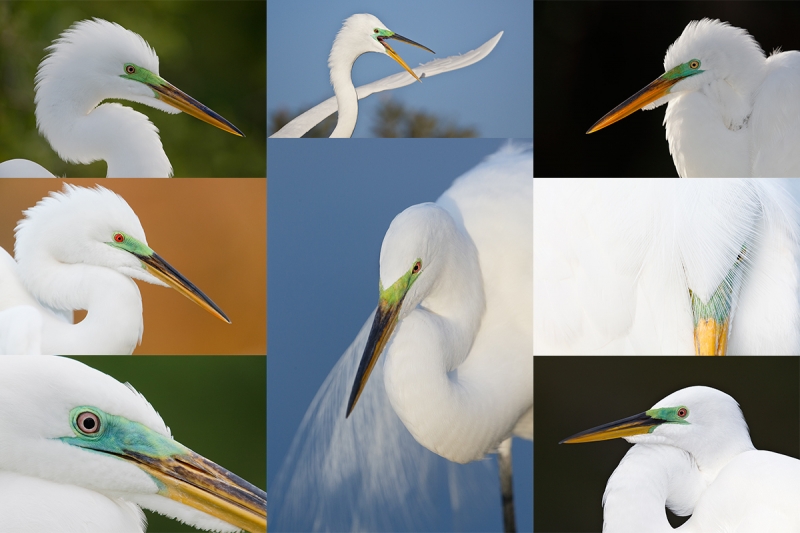 Great Egrets in breeding plumage are a beautiful sight …
Gatorland Mini-IPT: 1 1/2 days: AM and PM shooting sessions on Saturday, March 4 and a morning session on Sunday, March 5: $749. Limit 6/Openings 4.
Join me in Kissimmee, FL in early March, prime time to to photograph Great Egrets in breeding plumage. We should get to make lots of head portraits with most any lens and to photograph them building nests, displaying, copulating, and flying. Eggs for sure. Tiny chicks likely. And most likely breeding Wood Storks as well. Learn to see, find, and make the shot in cluttered settings. Learn exposure and how to handle the WHITEs. Learn fill flash and flash as main light. Includes a working lunch on me on Saturday with image review and Photoshop. We may see and photograph some early Snowy Egrets and Tricolored Herons. And of course, we will see and photograph the captive American Alligators. All of the birds are free and wild.
To pay in full via credit card, call Jim or Jen in the office weekdays at 863-692-0906. You will be responsible for the cost of your Gatorland Photographer's pass. Early entry both mornings and late stay on Saturday.
Please Remember to use my Affiliate Links and to Visit the New BAA Online Store 🙂
To show your appreciation for my continuing efforts here, we ask, as always, that you get in the habit of using my B&H affiliate links on the right side of the blog for all of your photo and electronics purchases. Please check the availability of all photographic accessories in the New BIRDS AS ART Online Store, especially the Mongoose M3.6 tripod head, Wimberley lens plates, Delkin flash cards and accessories, and LensCoat stuff.
As always, we sell only what I have used, have tested, and can depend on. We will not sell you junk. We know what you need to make creating great images easy and fun. And please remember that I am always glad to answer your gear questions via e-mail.
I would of course appreciate your using our B&H affiliate links for all of your major gear, video, and electronic purchases. For the photographic stuff mentioned in the paragraph above, and for everything else in the new store, we, meaning BAA, would of course greatly appreciate your business. Here is a huge thank you to the many who have been using our links on a regular basis and those who will be visiting the New BIRDS AS ART Online Store as well.
Facebook
Be sure to like and follow BAA on Facebook by clicking on the logo link upper right. Tanks a stack.
Typos
In all blog posts and Bulletins, feel free to e-mail or to leave a comment regarding any typos or errors. Just be right :).