What's Up?
After a great two-hour introductory program, the Fort DeSoto IPT got off to a horrible start with strong east winds and bright sun … Then things got a bit better but were still difficult. Then the wind shifted 90 degrees and we found a real treasure. Everyone was thrilled. Photo and the complete story to follow.
ps: I awoke at 3:30am on Wednesday morning so that we could make the drive over in time for sunrise at DeSoto. Sunrise was not great with the East wind but one we got on the sunny side of things we killed, especially on Marbled Godwits …
Gear Questions and Advice
Too many folks attending BAA IPTs and dozens of folks whom I see in the field, and on BPN, are–out of ignorance–using the wrong gear, especially when it comes to tripods and more especially, tripod heads… Please know that I am always glad to answer your gear questions via e-mail.
Loving Reminder
B&H re-opened for online ordering last night after the Passover closing. As always–and folks have been doing a really great for a long time now–please remember to use our B&H links for your major gear purchases. For best results use one of our many product-specific links; after clicking on one of those you can continue shopping with all subsequent purchases invisibly tracked to BAA. Your doing so is always greatly appreciated. Please remember: web orders only. And please remember also that if you are shopping for items that we carry in the BAA Online Store (as noted in red at the close of this post below) we would of course appreciate your business.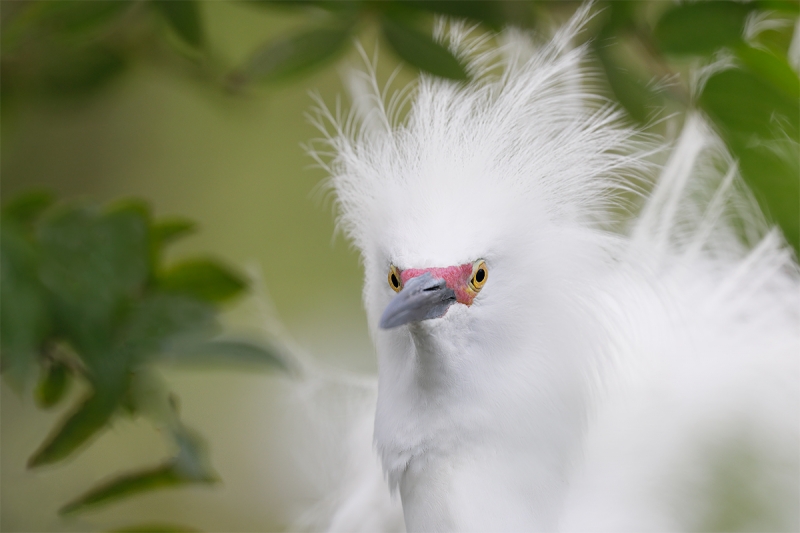 This image was created at Gatorland on April 15 with the hand held Canon EF 100-400mm f/4.5-5.6L IS II USM lens, the Canon Extender EF 1.4X III (at 560mm) and my favorite bird photography camera body, the Canon EOS 5D Mark IV. ISO 1000. Evaluative metering +2/3 stop: 1/320 sec. at f/9 in Manual mode (was just a bit of an underexposure). AWB.
LensAlign/FocusTune micro-adjustment: 1.
A single AF point one to the right of the center AF point/AI Servo/Expand/Shutter button AF was active at the moment of exposure. The selected AF point was right on the bird's left eye.
Snowy Egret in breeding plumage
Your browser does not support iFrame.
The Barely Existent Slot …
I had been photographing a pretty open (completely shaded) Great Egret nest with the handheld 100-400 when I noticed this pretty nice snowy in the opposite side of the big bush. At first glance it looked as if there was absolutely no shot, but moving well to my right (and away from the small crowd of photographers) and getting low allowed me to find a tiny opening to the bird, an almost non-existent slot. Wanting to keep the bird a bit on the right side of the frame I moved the AF point one to the right and created five images. This one was bingo; the rest were insta-deletes …
Remember, when working at cluttered rookeries, be sure to examine all possible angles in search of a clear slot at the shot.
The Image Optimization
After converting the RAW file in DPP 4 (see the DPP 4 RAW Conversion Guide), I brought the image into Photoshop, worked large, and used my usual cadre of tools, the Patch Tool, the Spot Healing Brush, the Clone Stamp Tool, and a series of small Quick Masks refined by Regular Layer Masks. In addition, I used Content Aware Fill on a number of occasions and it performed admirably; at times I was amazed. Everything that I did to clean up the lores and the bill is detailed in my Digital Basics File, an instructional PDF that is sent via e-mail. It includes my complete (former PC) digital workflow, dozens of great Photoshop tips, details on using all of my image clean-up tools, the use of Contrast Masks, several different ways of expanding and filling in canvas, all of my time-saving Keyboard Shortcuts, the basics of using BreezeBrowser and Downloader Pro, Quick Masking, Layer Masking, and NIK Color Efex Pro, Digital Eye Doctor techniques, using Gaussian Blurs, Dodge and Burn, a variety of other ways of making selections, how to create time-saving actions, and tons more.
Learn advanced Quick Masking and advanced Layer Masking techniques in APTATS I & II. You can save $15 by purchasing the pair. You can learn to apply Neat Image noise reduction in The Professional Photographers Guide to Post Processing.
I am still working on an all new Current Workflow e-guide that better reflects my Macbook Pro/Photo Mechanic/DPP 4/Photoshop workflow. It will include a section on ACR conversions and a simplified method of applying Neat Image noise reduction.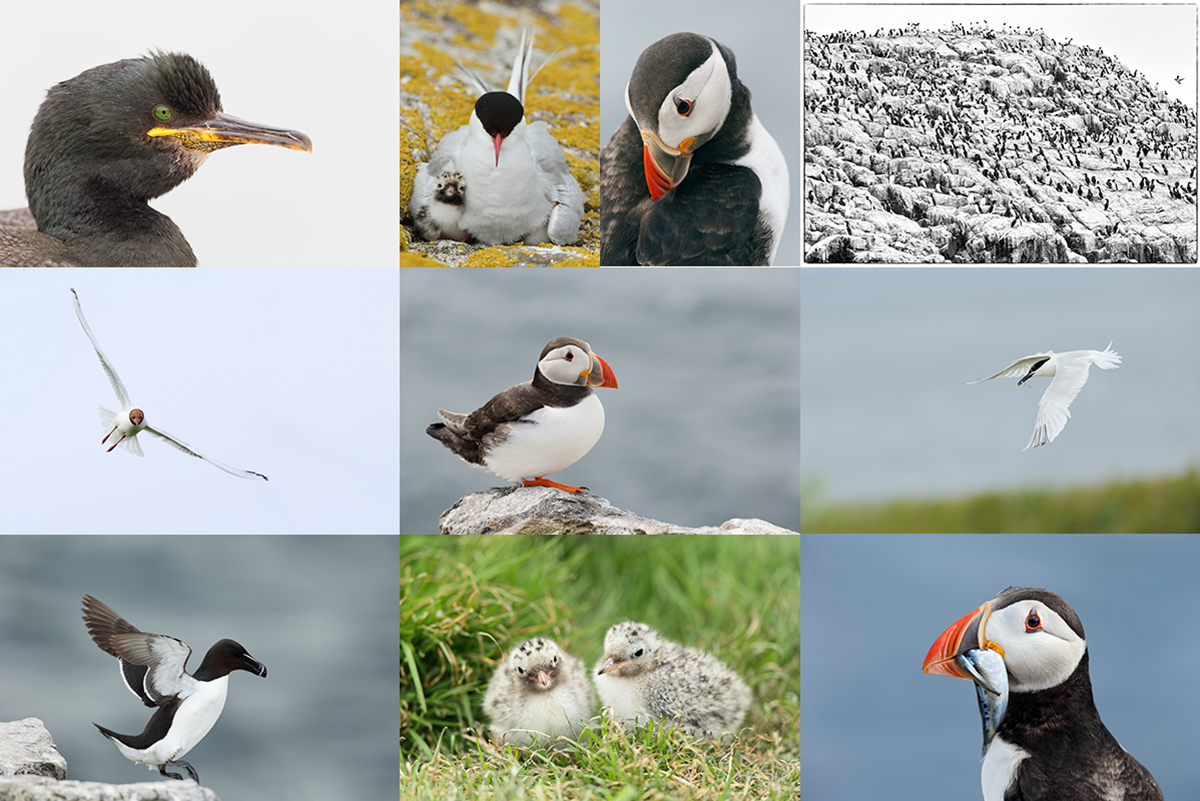 Images and card design copyright: Arthur Morris/BIRDS AS ART. Click on the card to enjoy a spectacular larger version.
2017 UK Puffins and Gannets IPT. Monday July 3 through Wednesday July 12, 2017: $5999 + $1499: Limit 10 photographers — Openings: 5).
All who register will be required to join the (really cheap) two-day Gannet/Bass Rock Add-on. See below for details. See below for details.
Here are the plans: take a red eye from the east coast of the US on July 2 and arrive in Edinburgh, Scotland on the morning of Monday July 3 no later than 10am (or simply meet us then at the Edinburgh Airport–EDI, or later in the day at our cottages if you are driving your own vehicle either from the UK or from somewhere in Europe). Stay 7 nights in one of three gorgeous modern country cottages.
There are five days of planned puffin/seabird trips and one morning of gannet photography, all weather permitting of course. In three years we have yet to miss an entire day because of weather… In addition, we will enjoy several sessions of photographing nesting Black-legged Kittiwakes at eye level.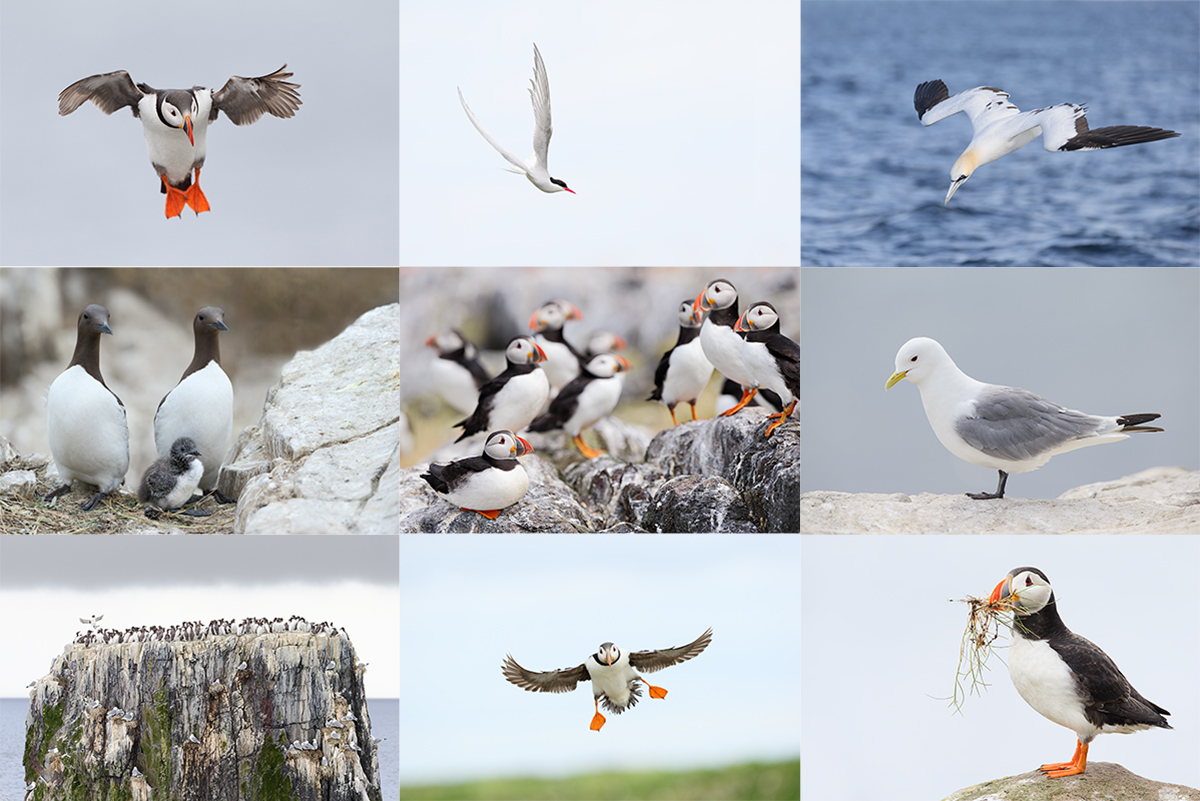 Images and card design copyright: Arthur Morris/BIRDS AS ART. Click on the card to enjoy a spectacular larger version.
The Details
We will get to photograph Atlantic Puffin, Common Murre, Razorbill, Shag, and Northern Gannet; Arctic, Sandwich, and Common Terns, the former with chicks of all sizes; Black-headed, Lesser-Black-backed, and Herring Gulls, many chasing puffins with fish; Black-legged Kittiwake with chicks. We will be staying in upscale country-side lodging that are beyond lovely with large living areas and lots of open space for the informal image sharing and Photoshop sessions. The shared rooms are decent-sized, each with a private bathroom. See the limited single supplement info below.
All breakfasts, lunches and dinners are included. All 5 puffins boat lunches will need to be prepared by you in advance, taken with, and consumed at your leisure. I usually eat mine on the short boat trip from one island to the other. Also included is a restaurant lunch on the gannet boat day.
If you wish to fly home on the morning of Monday July 10 we will get you to the airport. Please, however, consider the following tentative plans: enjoy a second Gannet boat trip on the afternoon of Monday July 10 and book your hotel room in Dunbar. If all goes as planned, those who stay on for the two extra days will make a morning landing at Bass Rock, one of the world's largest gannetries. We will get everyone to the airport on the morning of Wednesday July 12.
Great News on the UK Puffins and Gannets/Bass Rock Extension
On the morning of Jul 10, 2017, we will sleep late and head up to Dunbar Harbor for lunch and an afternoon Gannet boat chumming trip: flight photography until you cannot lift your camera. One gannet boat trip is included in the IPT but everyone always wants more.
Then, as a possible mega bonus — we are scheduled to make a Bass Rock landing on the morning of Tuesday July 12, 2017. I am hoping to go two for two! If not, we do another chumming trip for flying gannets.
Included will be two nights lodging at the wonderful Dunsmuir hotel, two fine dining meals there, any additional meals, all boat, guide, and landing fees, and all transportation including the early morning transfer to the Edinburg Airport on the morning of WED July 12.
So far all five sign-ups are maximizing their travel dollars by signing up for the extension in part because I priced it so cheaply at $1499 despite my greatly increased costs.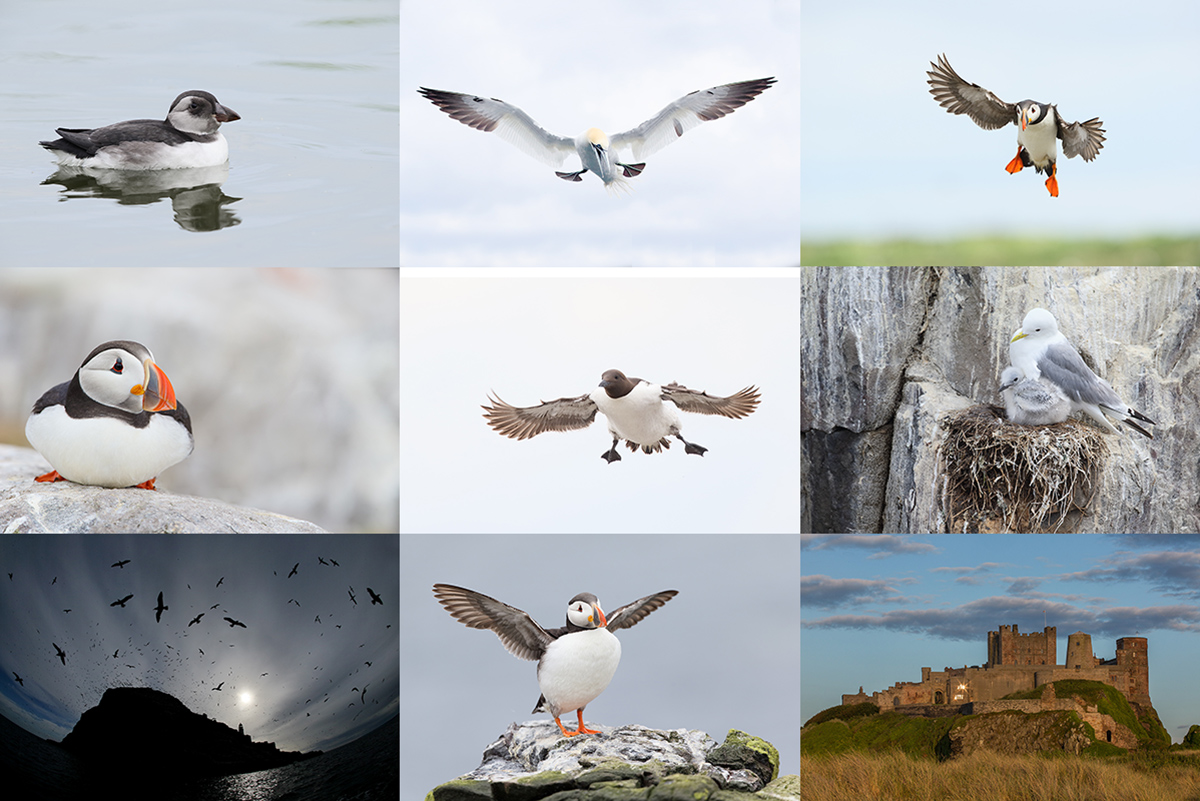 Images and card design copyright: Arthur Morris/BIRDS AS ART. Click on the card to enjoy a spectacular larger version. Scroll down to join us in the UK in 2016.
Deposit Info
If you are good to go sharing a room–couples of course are more than welcome–please send your non-refundable $2,000/person deposit check now to save a spot. Please be sure to check your schedule carefully before committing to the trip and see the travel insurance info below. Your balance will be due on March 29, 2017. Please make your check out to "Arthur Morris" and send it to Arthur Morris/BIRDS AS ART, PO Box 7245, Indian Lake Estates, FL, 33855. If we do not receive your check for the balance on or before the due date we will try to fill your spot from the waiting list. If your spot is filled, you will lose your deposit. If not, you can secure your spot by paying your balance.
Please shoot me an e-mail if you are good to go or if you have any questions.
Single Supplement Deposit Info
Single supplement rooms are available on a limited basis. To ensure yours, please register early. The single supplement fee is $1575. If you would like your own room, please request it when making your deposit and include payment in full for the single supplement; your single supplement deposit check should be for $3,575. As we will need to commit to renting the extra space, single supplement deposits are non-refundable so please be sure that check your schedule carefully before committing to the trip and see the travel insurance info below.
Travel Insurance
Travel insurance for big international trips is highly recommended as we never know what life has in store for us. I strongly recommend that you purchase quality insurance. Travel Insurance Services offers a variety of plans and options. Included with the Elite Option or available as an upgrade to the Basic & Plus Options you can also purchase Cancel for Any Reason Coverage that expands the list of reasons for your canceling to include things such as sudden work or family obligation and even a simple change of mind. My family and I use and depend on the great policies offered by TIS whenever we travel. You can learn more here: Travel Insurance Services. Do note that many plans require that you purchase your travel insurance within 14 days of our cashing your deposit check of running your credit card. Whenever purchasing travel insurance be sure to read the fine print careful even when dealing with reputable firms like TSI.
Please Remember to use my Affiliate Links and to Visit the New BAA Online Store 🙂
To show your appreciation for my continuing efforts here, we ask, as always, that you get in the habit of using my B&H affiliate links on the right side of the blog for all of your photo and electronics purchases. Please check the availability of all photographic accessories in the New BIRDS AS ART Online Store, especially the Mongoose M3.6 tripod head, Wimberley lens plates, Delkin flash cards and accessories, and LensCoat stuff.
As always, we sell only what I have used, have tested, and can depend on. We will not sell you junk. We know what you need to make creating great images easy and fun. And please remember that I am always glad to answer your gear questions via e-mail.
I would of course appreciate your using our B&H affiliate links for all of your major gear, video, and electronic purchases. For the photographic stuff mentioned in the paragraph above, and for everything else in the new store, we, meaning BAA, would of course greatly appreciate your business. Here is a huge thank you to the many who have been using our links on a regular basis and those who will be visiting the New BIRDS AS ART Online Store as well.
Facebook
Be sure to like and follow BAA on Facebook by clicking on the logo link upper right. Tanks a stack.
Typos
In all blog posts and Bulletins, feel free to e-mail or to leave a comment regarding any typos or errors. Just be right :).