What's Up?
I finally made it up to Gatorland on a cloudy, drizzly Saturday afternoon. I brought along my Wimberley head and my Umbrella Rig hoping for a downpour or two but all I got were a few sprinkles … In any case, it was much better than I expected with some wet Great Egret chicks, three workable Tricolored Heron nests — one with three small chicks and two with gorgeous large chicks, and several fledged Snowy Egrets.
I was glad to learn yesterday that Angela Houghton of League City, TX is joining us in the Palouse. That makes four.
Gear Questions and Advice
Too many folks attending BAA IPTs and dozens of folks whom I see in the field, and on BPN, are–out of ignorance–using the wrong gear, especially when it comes to tripods and more especially, tripod heads… Please know that I am always glad to answer your gear questions via e-mail.
Please Don't Forget …
As always–and folks have been doing a really great job for a long time now–please remember to use our B&H links for your major and minor gear purchases. For best results, use one of our many product-specific links; after clicking on one of those you can continue shopping with all subsequent purchases invisibly tracked to BAA. Your doing so is always greatly appreciated. Please remember: web orders only. And please remember also that if you are shopping for items that we carry in the BAA Online Store (as noted in red at the close of this post below) we would of course appreciate your business.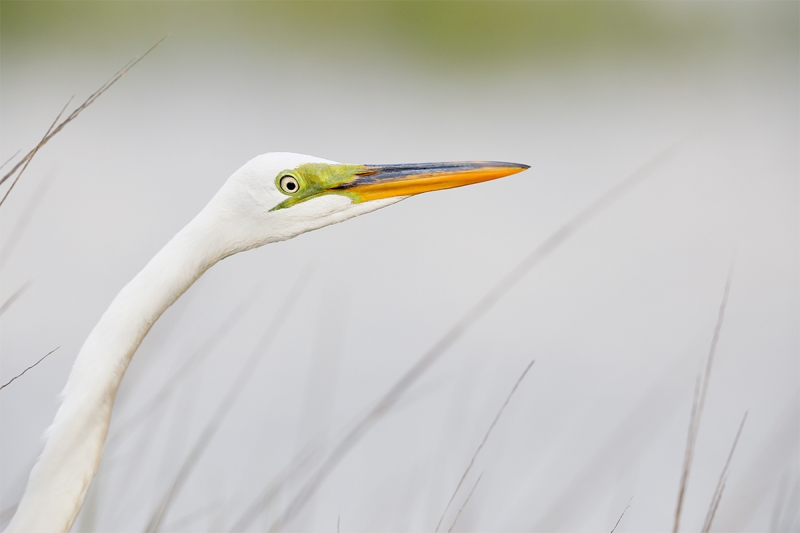 This image was created on the 2017 Spring For DeSoto IPT with the Induro GIT 304L/Mongoose M3.6-mounted Canon EF 600mm f/4L IS II USM lens, the Canon Extender EF 2X III, and
and my favorite bird photography camera body, the Canon EOS 5D Mark IV. ISO 800. Evaluative metering +1 2/3 stops: 1/250 sec. at f/9 in Manual mode. AWB.
LensAlign/FocusTune micro-adjustment: -5.
Center Large Zone AF/AI Servo/shutter button AF was active at the moment of exposure. The system activated a cluster of three AF points that caufht the bottom of the base of the bird's bill, right on the same plane as the bird's eye. Click on the image to enjoy a larger version.
Great Egret and marsh grasses
Your browser does not support iFrame.
Ignored 🙂
None of the eight folks in the 2017 Spring DeSoto IPT group opted to photograph this bird as it paraded along the edge of the marsh when I recommended that they do so. To further entice them I added, "It still has nice green lores." Still no takers. I think that they were all lamenting the spoonbill that had just left the scene. As the bird was quite near the edge of the marsh I liked that I would be able to include some strands of the marsh grasses along the bottom of the frame.
Tripod Basics and An Advanced Tripod Tip
Tripod Basics
It often goes unsaid that you should usually have one leg of your tripod pointing in the general direction of the subject. This leaves you standing between the two rear legs. That is true with one main exception: when you want to get as close as possible but are restricted by a fence, such as when working on the boardwalk at Gatorland, then you should have two legs against the fence, in front of you, with the third leg pointing away from the subject and somewhere between your legs. This approach will always get you about 6-12 inches closer to your subject.
An Advanced Tip
For today's image I had my tripod at the normal height with each of the two lower leg sections fully extended and each of the three upper leg sections extended about ten inches. To get lower quickly I simply pulled out the leg tab of the forward-facing leg and pulled the leg forward about 18 inches. That got me about 9 inches lower in 3 seconds, a lot faster than if I taken the time to shorten that same front leg …
Large Zone AF Info
As most regular reader know, I have become enamored with Large Zone AF both for horizontal and vertical orientations. With today's featured image it performed superbly. Do understand that while you gain a ton of compositional freedom with Large Zone AF, that AF accuracy suffers at time. AF Expand will almost always produce consistently sharp images but you have much more work to do in terms of moving the selected sensor around quickly as the bird moves. Trying to get and hold AF Expand on the bird's bill as it foraged would have been a huge challenge …
Image Questions
#1: Why did I want to get 9 inches lower (quickly)?
#2: Why, once I acquired and held focus, did I opt to create long series of images. In other words, why did I opt to make a lot of images in this specific situation?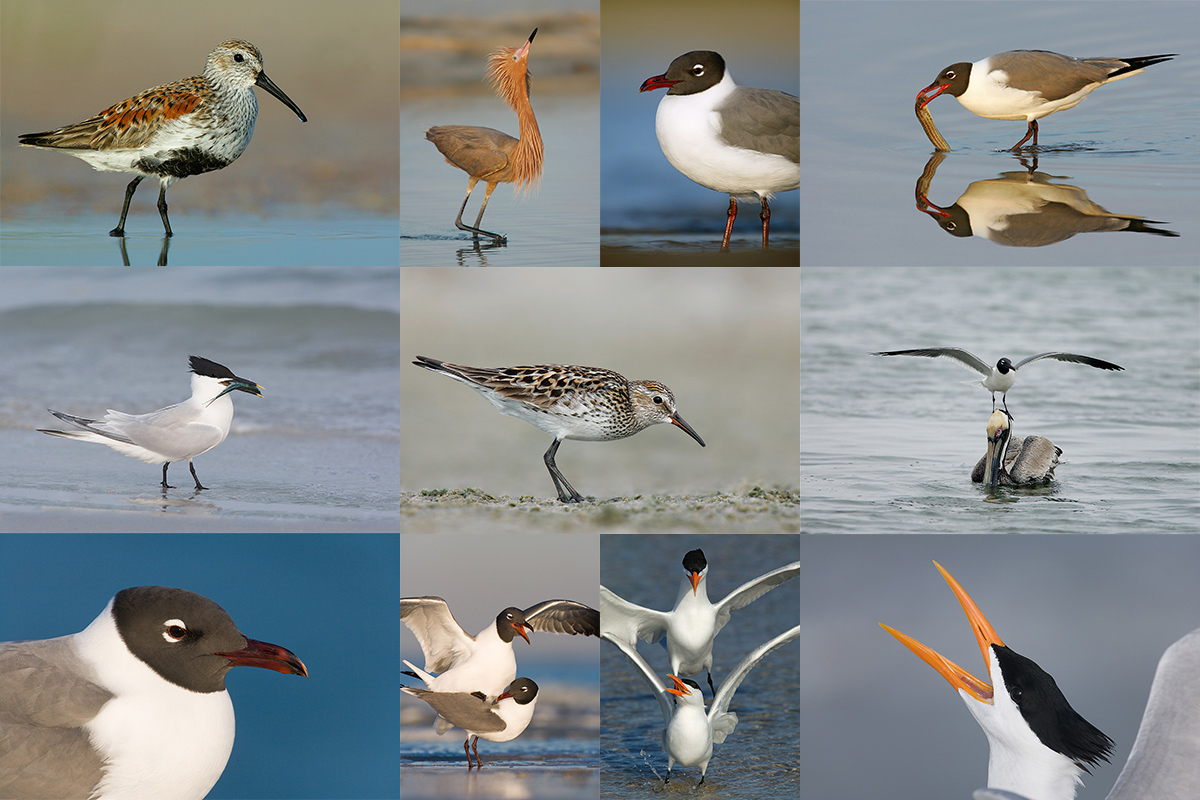 DeSoto in spring is rife with tame and attractive birds. From upper left clockwise to center: breeding plumage Dunlin, dark morph breeding plumage Reddish Egret displaying, breeding plumage Laughing Gull/front end vertical portrait, breeding plumage Laughing Gull with prey item, Laughing Gull on head of Brown Pelican, screaming Royal Tern in breeding plumage, Royal Terns/pre-copulatory stand, Laughing Gulls copulating, breeding plumage Laughing Gull/tight horizontal portrait, Sandwich Tern with fish, and a really rare one, White-rumped Sandpiper in breeding plumage, photographed at DeSoto in early May.
BIRDS AS ART May 20-21 Fort DeSoto In-the Field Instructional Meet-Up Sessions
Join me in Tierra Verde, FL for all or part of the weekend of May 20-21, 2017. Beginners are welcome. Lenses of 300mm or longer are recommended but even those with 70-200s should get to make some nice images. Teleconverters are always a plus. You will learn the basics of digital exposure and image design, autofocus basics, and how to get close to free and wild birds. We should get to photograph a variety of wading birds, shorebirds, terns, and gulls. These inexpensive sessions are designed to give folks a taste of the level and the quality of instruction that is provided on BIRDS AS ART Instructional Photo-tours. I hope to meet you there.
May 20-21, 2017 Schedule
Saturday May 20 Meet-up Morning: 6:30 till 10:00am: $99.
Lunch and Image Review: $99.
Saturday afternoon: 4pm till sunset: $99.
Sunday May 21 Meet-up Morning, Meet-up Morning: 6:30 till 10:00am: $99.
Cheap Canon lens rentals available: 600 II, 500 II, 400 DO II, or 200-400.
To pay for one or more sessions in full via credit card, call Jim or Jen in the office weekdays at 863-692-0906. You will be responsible for the cost of your park entry fee. Please shoot me an e-mail with questions.
Please Remember to use my Affiliate Links and to Visit the New BAA Online Store 🙂
To show your appreciation for my continuing efforts here, we ask, as always, that you get in the habit of using my B&H affiliate links on the right side of the blog for all of your photo and electronics purchases. Please check the availability of all photographic accessories in the New BIRDS AS ART Online Store, especially the Mongoose M3.6 tripod head, Wimberley lens plates, Delkin flash cards and accessories, and LensCoat stuff.
As always, we sell only what I have used, have tested, and can depend on. We will not sell you junk. We know what you need to make creating great images easy and fun. And please remember that I am always glad to answer your gear questions via e-mail.
I would of course appreciate your using our B&H affiliate links for all of your major gear, video, and electronic purchases. For the photographic stuff mentioned in the paragraph above, and for everything else in the new store, we, meaning BAA, would of course greatly appreciate your business. Here is a huge thank you to the many who have been using our links on a regular basis and those who will be visiting the New BIRDS AS ART Online Store as well.
Amazon.com
Those who prefer to support BAA by shopping with Amazon may use the logo link above.
Amazon Canada
Many kind folks from north of the border, eh, have e-mailed stating that they would love to help us out by using one of our affiliate links but that living in Canada and doing so presents numerous problems. Now, they can help us out by using our Amazon Canada affiliate link by starting their searches by clicking here.
Facebook
Be sure to like and follow BAA on Facebook by clicking on the logo link upper right. Tanks a stack.
Typos
In all blog posts and Bulletins, feel free to e-mail or to leave a comment regarding any typos or errors. Just be right :).