What's Up
I spent a good part of Tuesday fighting a quick-developing but nasty sore throat using a mega-gargling protocol from Dr. Oliver. Right now, Tuesday evening at 6:36 as I type, I seem to at least be holding me own. Time will tell.
Free Friday Afternoon Desoto In-the-Field Session
Sign up (details below) for the four DeSoto sessions and join Machine-gun Mike Hankes and me for a free Friday instructional outing from 4pm till sunset.
Black Grouse Hen Mystery Answers
From the Black Grouse Hen Mysteries blog post here:
I created Image #1. Multiple IPT participant Anita North created Image #2.
The focal length for Image #1 was 1200mm.
The shutter speed for Image #1 was 1/250 sec. (ISO 800 at f/9).
The focal length for Image #2 was 600mm.
The shutter speed for Image #2 was a surprising 1/500 sec. (ISO 800 at f/4).
The shutter speed for Image #2 was quite surprising. Most folks thought that it would have been a lot slower. The high shutter speed gives you an idea that that lady was really moving when the bird decided to split.
Though the seemingly simple Image #1 was one of my very favorites of the trip, I loved Anita's blur, mostly for the fact that she pushed the shutter button when most folks would not have thought to try. Hers is one accidental pleasing blur that turned out superbly. Thanks Anita for allowing me to share your image with the group here.
Gear Questions and Advice
Too many folks attending BAA IPTs and dozens of folks whom I see in the field, and on BPN, are–out of ignorance–using the wrong gear especially when it comes to tripods and more especially, tripod heads… Please know that I am always glad to answer your gear questions via e-mail.
Please Don't Forget …
As always–and folks have been doing a really great job for a long time now–please remember to use our B&H links for your major and minor gear purchases. For best results, use one of our many product-specific links; after clicking on one of those you can continue shopping with all subsequent purchases invisibly tracked to BAA. Your doing so is always greatly appreciated. Please remember: web orders only. And please remember also that if you are shopping for items that we carry in the BAA Online Store (as noted in red at the close of this post below) we would of course appreciate your business.
Somebody Listened …
After each IPT, the group is invited to submit five of their favorite images for an online critique. All of the image critiques are shared with the group. I was pleased to see that Ed Blanton opted to follow my advice and photograph the fine looking Great Egret foraging along the edge of the marsh. I like Ed's image design with the marsh grasses playing a big role in the success of the image. The bird is sharp and well back in the frame and the final tonality of the optimized photo was right on. Thanks Ed for joining us on the IPT and for allowing me to share your image here on the blog.
Notice …
Notice that there are grasses both in front of and behind the bird … That of course varied a bit as the bird foraged.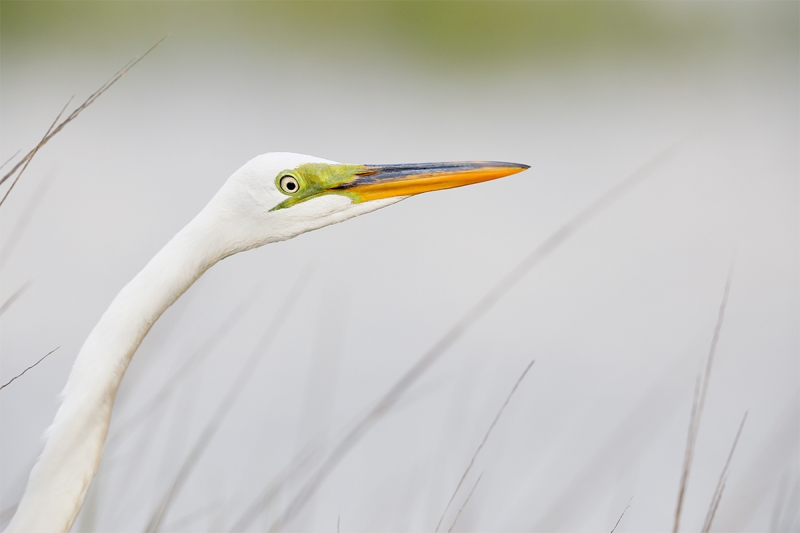 This image was created on the 2017 Spring For DeSoto IPT with the Induro GIT 304L/Mongoose M3.6-mounted Canon EF 600mm f/4L IS II USM lens, the Canon Extender EF 2X III, and
and my favorite bird photography camera body, the Canon EOS 5D Mark IV. ISO 800. Evaluative metering +1 2/3 stops: 1/250 sec. at f/9 in Manual mode. AWB.
LensAlign/FocusTune micro-adjustment: -5.
Center Large Zone AF/AI Servo/shutter button AF was active at the moment of exposure. The system activated a cluster of three AF points that caufht the bottom of the base of the bird's bill, right on the same plane as the bird's eye. Click on the image to enjoy a larger version.
Image #2: Great Egret and marsh grasses
Your browser does not support iFrame.
The Big Misconception
In the original Ignored … Tripod Basics and An Advanced Tripod Tip, Large Zone AF Info, and Image Questions blog post here, I posed two questions:
#1: Why did I want to get 9 inches lower (quickly)?
#2: Why, once I acquired and held focus, did I opt to create long series of images. In other words, why did I opt to make a lot of images in this specific situation?
Pretty much everyone who commented nailed #2; I created several long series of images in hopes of getting one where the arrangement of grasses around the bird's head and neck were pleasingly perfect. With Image #2, immediately above, I believe that I did just that. No grasses intersect with the bird's head or upper neck and the bird is framed just right (for me).
The answers to #2 revealed the big misconception: most folks thought that my wanting to get low had to do with the grasses around the bird's head. By taking a look at the situation revealed in Image #1 you can see or imagine that my being 9 inches higher or low would have little effect on the image as far as the juxtaposition of the bird's head and the marsh grasses. Why? Both were pretty much on the same plane with some grasses just in front of the bird and some just behind.
Elinor Osborn left this comment for #1: To get the grass up closer to the bird's head? To get the strip of green at the top? To get level with the bird's eye and bill? Her #1 did not make much sense to me. Her #2 was bingo. Her #3 was true but, due to the extremely long focal length (1200mm), it was true only to a very small degree.
Elinor added: The green oof background at the top matches the green on the bird so well. The grass and the OOF green make this a gorgeous composition.
So yes, the reason that I wanted to get lower was to include the strip of color at the top. The color came from the distant marsh grasses on the other side of the lagoon, perhaps 200 yards away.
Below, verbatim, is an excerpt from the Chapter II, Advanced Composition and Image Design, in The Art of Bird Photography II. It is quite on point. (ABP II: 900+ images, 918 pages, on CD only.)
Creative Vision
Are some folks born with an artistic eye? Can the skills needed to design photographs that are compositionally pleasing and those needed to create dynamic and powerful images be taught? If a group of photographers looks out on a grand scene and only one or two see the most powerful composition instantly, is there hope for the others? Is it possible for one person to teach another to see and think creatively? For the past two decades I have struggled with the answers to these questions. I believe that the answer to each of them is "Yes." Some folks are—for sure—born with an artistic eye while others are not, but the folks in the latter group can learn to design images that are both pleasing and powerful; they can learn to develop and improve their creative vision.
Folks with creative vision venture afield with eyes wide open, looking about in all directions. As they observe the natural world, much of it looks ordinary, but there is often something that catches their eye. Why? There are countless factors that come into play. Color (either bright hues or the more subtle earth tones) may provide the initial spark. Shapes, lines (especially diagonal and curved lines), textures, reflections, silhouettes, and movement often play a role, as can the quality and direction of the light. For bird photographers it can be a new species or a plumage they have not seen before, interesting behavior, or even a common bird in a wonderful setting that catches their eye. When you see something that sparks your interest, ask yourself, "Is what I see interesting enough or beautiful enough to photograph?" (When a situation is really good you will scarcely be able to contain your excitement…) Now visualize the image that you would like to create and decide which lens would best be used to capture it. In bird photography, the choice is often—but not always—your longest lens.
Do you need to change your position to make the image that you want? Do you need to get closer or move farther away? How would moving left or right or up or down affect the angle of the subject relative to the imaging sensor or the film plane, the arrangement of compositional elements within the frame, or the play of light upon the subject? Some may need to physically change their position in order to see how a change in perspective would affect the image. Others are able to imagine how the image would look if they were, for example, to move ten feet left and kneel (rather than stand) behind their (lowered) tripod. If you fit into the former category, the best advice that I can give is to begin by physically changing your position and noting how each new perspective affects the image. Do this often enough and one component of your creative vision will improve: you will find that in more and more situations you will be able to "see" from other vantage points without having to physically change your position. This is one big key to developing your creative vision.
In situations where there seems to be nothing exciting to photograph, or when low light levels are a problem, creative photographers may think about slow shutter speeds and the possibility of creating some intentional (or necessary) blurs. And in addition, they will sometimes think this way even when there is lots of light. In these cases, choosing and using a low ISO or a slow film can help you get a shutter speed that is slow enough to yield the blurred results that you want. For single birds flying close to the camera, a shutter speed in the range of 1/30 to 1/125 second will yield pleasing blurs, while shutter speeds as slow as 1/6 second (or even slower) will create pleasingly blurred images of distant flocks. An option for creating blurred bird-scapes is to move or shake the camera during relatively long exposures while hand-holding or by shaking the lens or panning with it when working on a tripod.
I tend to view the world "tele-photographically," that is, as if looking through a telephoto or super-telephoto lens. I see the world in small rectangular frames (either horizontal or vertical ones) at various focal lengths. Four of my favorites are 700, 840, 1000, and 1200mm. Walking down Broadway, most folks would be taken in by the grandeur, by the kaleidoscope of color and the tumult, and by the sheer height of the buildings. My eye would more likely be drawn to the reflections in a skyscraper's mirrored windows or the craggy features of a sleeping wino, this the result of years of looking through long lenses at a variety of natural history subjects. It is, for the most part, how I see the world.
The next section in ABP II's Chapter II is Guidelines for Advanced Composition and Image Design. It has been some time since I revisited ABP II but I must say with complete modesty that the writing is simple and straightforward (and brilliant) and the concepts covered and detailed are exactly what folks need to improve their nature photography. It is surely the most under-appreciated work in existence on how to become a better bird photographer.
As with many of the chapters in ABP II, the chapter on Advanced Composition and Image Design is followed by a gallery. The Composition and Image Design gallery features 81 images each with its own BAA legendary educational caption.
On a related topic, as far back as the original The Art of Bird Photography, I wrote something to this effect, "Wouldn't it be nice if we could simply walk up to our subjects and physically move the other elements in our images around in the frame. As that of course would be impossible the only way for us to do that is to change our perspective, to move left or right or up or down." That is as true today as it was two decades ago.
You can save $10 by ordering the two-book bundle here. Do just that and get to work.
BIRDS AS ART May 20-21 Fort DeSoto In-the Field Instructional Meet-Up Sessions
Sign up for the the four sessions below and Friday afternoon is free!
Join me in Tierra Verde, FL for all or part of the weekend of May 20-21, 2017. Beginners are welcome. Lenses of 300mm or longer are recommended but even those with 70-200s should get to make some nice images. Teleconverters are always a plus. You will learn the basics of digital exposure and image design, autofocus basics, and how to get close to free and wild birds. We should get to photograph a variety of wading birds, shorebirds, terns, and gulls. These inexpensive sessions are designed to give folks a taste of the level and the quality of instruction that is provided on BIRDS AS ART Instructional Photo-tours. I hope to meet you there.
May 20-21, 2017 Schedule
Saturday May 20 Meet-up Morning: 6:30 till 10:00am: $99.
Lunch and Image Review: $99.
Saturday afternoon: 4pm till sunset: $99.
Sunday May 21 Meet-up Morning, Meet-up Morning: 6:30 till 10:00am: $99.
Cheap Canon lens rentals available: 600 II, 500 II, 400 DO II, or 200-400.
To pay for one or more sessions in full via credit card, call Jim or Jen in the office weekdays at 863-692-0906. You will be responsible for the cost of your park entry fee. Please shoot me an e-mail with questions.
Please Remember to use my Affiliate Links and to Visit the New BAA Online Store 🙂
To show your appreciation for my continuing efforts here, we ask, as always, that you get in the habit of using my B&H affiliate links on the right side of the blog for all of your photo and electronics purchases. Please check the availability of all photographic accessories in the New BIRDS AS ART Online Store, especially the Mongoose M3.6 tripod head, Wimberley lens plates, Delkin flash cards and accessories, and LensCoat stuff.
As always, we sell only what I have used, have tested, and can depend on. We will not sell you junk. We know what you need to make creating great images easy and fun. And please remember that I am always glad to answer your gear questions via e-mail.
I would of course appreciate your using our B&H affiliate links for all of your major gear, video, and electronic purchases. For the photographic stuff mentioned in the paragraph above, and for everything else in the new store, we, meaning BAA, would of course greatly appreciate your business. Here is a huge thank you to the many who have been using our links on a regular basis and those who will be visiting the New BIRDS AS ART Online Store as well.
Amazon.com
Those who prefer to support BAA by shopping with Amazon may use the logo link above.
Amazon Canada
Many kind folks from north of the border, eh, have e-mailed stating that they would love to help us out by using one of our affiliate links but that living in Canada and doing so presents numerous problems. Now, they can help us out by using our Amazon Canada affiliate link by starting their searches by clicking here.
Facebook
Be sure to like and follow BAA on Facebook by clicking on the logo link upper right. Tanks a stack.
Typos
In all blog posts and Bulletins, feel free to e-mail or to leave a comment regarding any typos or errors. Just be right :).