What's Up?
Lots more e-mails and a bit of online shopping yesterday. After sleeping 9 hours from 10:30pm until 7:30am with just two pit stops on Thursday evening, I thought that I was over my jet-lag. Not. I was asleep at 11:30pm on Friday evening, woke at 3:25am, and never got back to sleep 🙂 Me think that my afternoon naps have been too long.
I did get in a full swim on Friday and am planning on doing the same today.
The Streak
Today marks seven days in a row with a new educational blog post. This blog post took more than 3 hours to create.
Selling Your Used Photo Gear Through BIRDS AS ART
Selling your used (or like-new) photo gear through the BAA Blog is a great idea. We charge only a 5% commission. One of the more popular used gear for sale sites charged a minimum of 20%. Plus assorted fees! Yikes. They went out of business. And e-Bay fees are now up to 13%. The minimum item price here is $500 (or less for a $25 fee). If you are interested please scroll down here or shoot us an e-mail with the words Items for Sale Info Request cut and pasted into the Subject line :). Stuff that is priced fairly — I offer pricing advice to those who agree to my terms — usually sells in no time flat. Over the past year, we have sold just about everything in sight. Do know that prices on some items like the EOS-1D Mark IV, the old Canon 500mm, the EOS-7D, and the original 400mm IS DO lens have been dropping steadily.
Used Gear Cautions
Though I am not in a position to post images of gear for sale here or elsewhere, prospective buyers are encouraged to request photos of the gear that they are interested in purchasing via e-mail. Doing so will help to avoid any misunderstandings as to the condition of the gear. Sellers are advised to photograph their used gear with care against clean backgrounds so that the stuff is represented accurately and in the best light; please pardon the pun :).
Important Note for Sellers on Cashier's Checks
Do understand that getting a cashier's check for your gear is no guarantee of anything. You need to get the check to the bank asap. Years ago I "sold" an EOS 1D Mark III for $3,000 to a guy in California. I tried Fed Ex collect. The driver handed the camera to the guy. The guy handed him what appeared to be a Bank of North America teller's check. When we brought the check to BONA they said, sorry, it's phony. I followed up with the Lake Wales police. They got in touch with the police in the guy's home town. They did nothing.
I was out 3,000 bucks. Getting a cashier's check for your gear is no guarantee of anything.
Used Gear Sales Testimonials
Unsolicited via e-mail from David Ramirez
Hi Artie, It's been a few weeks but I just wanted to thank you for your Used Gear Sales service. I sold my 5DIII in no time at all for the excellent price you recommended. Thanks again, David
Handwritten note from Dr. Gil Moe
Dear Artie, Enclosed is a check for $401.40. You do such a great job with the used gear sales and pricing and make it so easy. Thank you, thank you! Regards, Gil
Unsolicited via e-mail from Tom Phillips
Artie, Well, that was awesome for us all. Roger received the 300mm today and is happy, and James bought the 1Dx Mk II and the 400mm within minutes of it being listed on the first Saturday! I know you have a lot of readers and followers but your advice on pricing was right on to sell and also allowed me to get a good price, make the buyers happy, and make you some money too. I want to thank you very much! Tom
Unsolicited, via e-mail, from Gerry Keshka
Hi Artie, I wanted to share how much I appreciate your Used Gear "service." You have posted how you help sellers, but the other side of the equations is how much this service helps buyers. I have purchased three lenses (Canon 200-400, 500 f4 II, and 70-200 F2.8) all lovely experiences and I saved almost $5K over retail. Each of the sellers was delightful, willing to help me assess if the purchase was right for me by sharing their experience with the lens. Each lens was in the condition advertised (or better), and typically included several "add-ons" that would have cost several hundred dollars.
Thanks for all you do for the photographic community Artie. Gerry
Unsolicited, via e-mail, from Teresa Mabry Reed
Artie, Thanks for a positive experience in selling my used equipment. Best, Teresa
Unsolicited, via e-mail, from top BAA Used Gear seller Jim Keener
The BAA Used Gear Page is the best place I've found for selling my used cameras and lenses.
I used eBay and Craigslist until I began checking in at BIRDS AS ART. I saw the gear listed for sale at BAA and it struck me that the people who visit the site are like me in some important ways. We own high quality, often expensive gear. It's important to us, and we likely take care of it. In other words, a good market exists. And I noticed how Artie marketed each item. Informative, without too big a push. That's why I decided to try BAA.
The process was easy. I clearly accepted the terms of sale, fully and fairly described what I was selling and the good and bad. I listed the stuff to be included with in the sale. Then Artie came back with what he thought was a fair price, leaving it to me to determine the balance between urgency of the sale and receiving a high price. I've followed his lead.
The responses I've received from potential buyers have been reassuring. Each has been well informed and courteous. They have not expected perfection, but have fully expected fairness and clarity. I've found that providing many photographs of what I'm selling is very helpful in the completing the various transactions.
I'm writing this because of how glad I am to find a place where there is a good market for what I want to sell and what I want to buy — I just tried to buy a 300mm f/2.8 II, but it has sold. The buyers and sellers are informed and fair-minded. And artie offers friendly and experienced advice. I've enjoyed the process. The BAA Used Gear page is the best experience I've had buying and selling gear.
Unsolicited, via e-mail, from Owen Peller
I sold my 400 f/4 IS DO lens for the asking price. Thank you. Your service is truly better than any of the alternatives.
Artie, Thanks so much. I sent your check via my online banking. I never expected the 400 DO II and the 1DX II to sell within minutes of your posting the ad! I know that the 300 f/2.8 II is still up, but still, the results have been amazing. Another plus is that James McGrew is a professional artist and photographer and he was really looking and wanting that combo and is appreciative and excited to be able to find a great deal. Tom.
Recent Sales
Dwaine Tollefsrud sold his Canon EF 300mm f/2.8L IS II lens in excellent condition for the record-low BAA price of $3,799 in mid-July, 2017.
IPT veteran Stuart Hahn sold his Canon EOS-1D Mark IV in very good plus condition for $1099 and his Canon 70-200mm f/2.8L IS II lens $1549 in early July.
Multiple IPT veteran Brent Bridges sold his Sigma 150-600mm f/5-6.3 DG OS HSM Sports lens for Canon EF in near-mint condition for only $999, his Sigma Sigma TC-1401 1.4x teleconverter for Canon EF in near-mint condition for a ridiculously low $129, and his Induro CT 304 carbon fiber tripod in mint condition for only $199, all in early July.
Brooke Miller sold her Sigma 50-500mm f/4.5-6.3 APO DG OS (optical stabilizer) lens for Canon AF in like-new condition for the giving-it-away price of $749 in early July.
Erik Hagstrom sold a Sigma 150-600mm f/5-6.3 DG OS HSM Contemprary lens for Canon EF in excellent plus condition for $699 in early July.
Multiple IPT veteran Dr. Gil Moe sold an Xtrahand Vest, size XL Plus for $249 in late June.
Multiple IPT veteran Brent Bridges sold his Canon EOS 5D Mark III body in near-mint condition and a Canon EF 28-135mm f/3.5-5.6 IS USM lens in excellent condition for the very low price of $1499. He also sold a Canon EOS 7D Mark II body in very good plus condition for the record-low BAA price of $839, a used Canon EF 100-400mm f/4.5-5.6L IS USM lens (the old 1-4) in excellent condition with extras for $599, and a Canon EF Extender 1.4X III in near-mint condition for $329. All on the first day the items were listed.
Tom Phillips sold his Canon 300mm f/2.8L IS II USM lens in like-new condition for $4,199 the day it was listed in mid-June.
Brand New Listings
Canon EF 200-400mm f/4L IS USM Lens with Internal 1.4x Extender
IPT veteran Joe Messina is offering a Canon EF 200-400mm f/4L IS USM Lens with Internal 1.4x Extender in excellent plus condition for the BAA record-low price of $7,999. The sale includes the E-145C lens cover, the rear lens cap, the wide lens strap, the lens trunk with keys, and insured ground shipping via major courier to US addresses only. Your item will not ship until your check clears unless other arrangements are made.
Please contact Joe via e-mail or by phone at 1-415-238-7941 (Pacific time).
This is the world's best lens for a trip to Africa. It kills also in the Galapagos and in South Georgia, the Falklands, and Antarctica. And I use mine a lot at Bosque and other dusty places where the built-in TC helps to keep your sensor clean. And I love it in the Palouse for its versatility. Most recently, I often found myself wishing that I had taken the 200-400 rather than my 500 II on the Bear Boat Cubs IPT. Many nature photographers use it as their workhorse telephoto lens as it offers 884mm at f/8 with an external 1.4X TC added. The lens sells new at B&H right now for $10,999. You can save a slew of dollars by grabbing Joe's lens right now. artie
Tamron SP 150-600 f/5.6-6.5 Di VC USD G2
Ron Thill is offering a Tamron SP 150-600 f/5.6-6.5 Di VC USD G2 lens for Canon EF in like-new condition for $949. (Photos available upon request.) The sale includes the front and rear lens caps, the original product box, the cloth storage bag, the owners manual, and insured ground shipping via major courier to US addresses only; please specify UPS or Fed-Ex. Your item will not ship until your check clears unless other arrangements are made.
Please contact Ron via e-mail or by phone at 936-615-6026 (Central time).
Several folks on IPTs have used this lens and made lots of sharp images. The telling factor is that there are no used copies of this lens available on eBay or in the B&H Used Gear listings. artie
Canon EOS 5D Mark III with battery grip and extras
Eric Karl is offering a used Canon EOS 5D Mark III body in very good plus but for the very low price of $1,399. The sale includes a RRS B5D3-A plate ($55 value), the RRS BGE11-L Plate (approximately a $160 value), the warranty card, the strap, the battery charger, the manuals, the original product box, the CDs, one LP-E6 Battery,the BG-E11 Battery Grip (in excellent condition), and – No Original Box and insured ground shipping by major courier to US addresses only. Your item will not ship until your check clears unless other arrangements are made.
Please contact Eric via e-mail or by phone at 1-503-272-1055 (Pacific time).
I owned and used this superb, full frame, 22mp digital body for several years. It was always my first choice for scenic, Urbex, and flower photography until I fell in love for a while with the 5DS R (for a lot more money!). In addition, I loved my 5D III body for birds with my big lenses and both TCs. I used mine to create many saleable images. artie
Gear Questions and Advice
Too many folks attending BAA IPTs and dozens of folks whom I see in the field, and on BPN, are–out of ignorance–using the wrong gear especially when it comes to tripods and more especially, tripod heads… Please know that I am always glad to answer your gear questions via e-mail.
Please Don't Forget …
As always–and folks have been doing a really great job for a long time now–please remember to use the BAA B&H links for your major and minor gear purchases. For best results, use one of our many product-specific links; after clicking on one of those you can continue shopping with all subsequent purchases invisibly tracked to BAA. Your doing so is always greatly appreciated. Please remember: web orders only. And please remember also that if you are shopping for items that we carry in the BAA Online Store (as noted in red at the close of this post below) we would of course appreciate your business.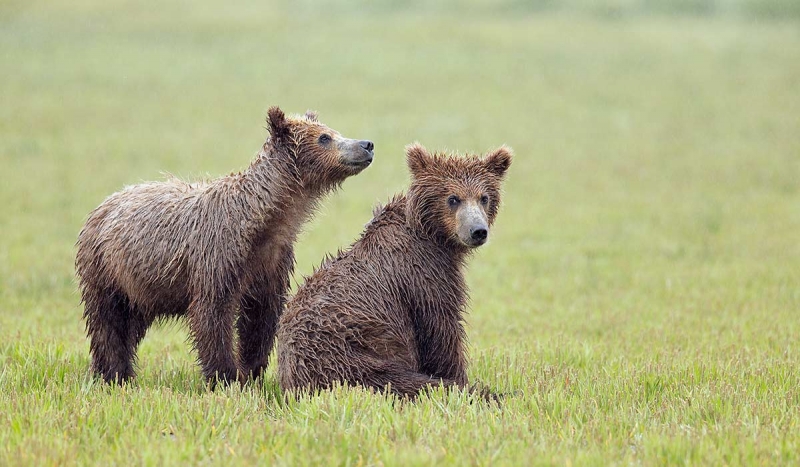 This image was created in a drizzle on the first morning of the 2017 Bear Boat IPT with the Induro GIT 304L/Mongoose M3.6-mounted Canon EF 500mm f/4L IS II USM lens, the Canon Extender EF 1.4X III, and my favorite bird photography camera body, the Canon EOS 5D Mark IV. ISO 800. Evaluative metering +1 1/3 stops as framed: 1/250 sec. at f/6.3 in Manual mode. Daylight WB.
LensAlign/FocusTune micro-adjustment: -2.
Center AF Point/AI Servo/Expand/Shutter button AF was active at the moment of exposure. See the illuminated AF point in the DPP 4 screen capture below.
Very wet Brown Bear yearling cubs
Your browser does not support iFrame.
Singing (and Photographing) in the Rain
Well, we did not do much singing, but we photographed for several hours in the light rain on our first 2017 Bear Boat Cubs IPT morning. I used a very simple lens cover, basically a long, skinny, opaque plastic bag with elastic drawstrings at each end. Great to protect the gear but to photograph effectively the camera needs to be exposed when you are actively shooting. On rainy days, I head into the field with several extra wool hats and keep one of them atop the camera body when I am working. Though this works fairly well, the camera will always get a bit wet. As it did that day.
One of the two bears in today's featured image is the same bear as the one holding the divining log in the blog post here.
The Magical Pillowcase/Hair Dryer Trick
By the next morning, one of the two 5D IV bodies that I had used in the rain had lost the rear LCD and, in addition, a few of the buttons and dials did not work. I removed the front body cap and the battery and placed the camera body in the far end of an empty pillow case. I turned a hair dryer to high –I probably should have tried low first — and put the hair dryer into the pillow case making sure to leave the vented end outside the pillowcase. I weighed down the sides of the pillow with two battery chargers. (If you place the hair dryer completely inside the pillow case you might start a fire.)
I ran it for 30 minutes. When I removed the camera it was too hot to touch. I put in a fresh battery and turned the camera body on. It did not light up. I waited another 30 minutes, turned the camera on, and it not only woke up but it worked perfectly for the rest of the trip. Yeah, I should have tried low first.
Please note that though I have used this trick successfully in the past that the best tack is to keep your camera body dry. I do not recommend that you try it and if you damage your camera, please do not come calling. On the bear boat, the Magical Pillowcase/Hair Dryer Trick did save the day. Your call. If you try this with your gear, do understand that you will assume any and all risks as far as damaging your camera. And do try the low setting first!
My Thoughts On Weather Sealing
An e-mail exchange with multiple IPT veteran Greg Ferguson
AM: Hi Greg, Good to hear from you.
re:
GF: I've been enjoying the BAA blog and am glad to see your health has improved recently.
AM: I have actually been doing pretty darned good for the last two decades 🙂
GF: I retired as of 5/31.
AM: Mazel tov.
GF: You may see me again next year as I now have more free time.
AM: Great.
GF: Is there any possibility of running your Bosque program after Thanksgiving?
AM: That is not likely as I the place has been seriously mis-managed for the past eight years at least. Each year has pretty much been worse than the one before. If I change my mind I will get in touch.
GF: I thought the information in your Four Camera Comparison blog post was great.
AM: Thank you.
GF: Here is my question about the relative merits of the 1DX Mark II versus the 5D Mark IV. I get your points about the advantages of the 5D Mark IV, but what about weather proofing? For example, when going to Alaska it may drizzle all day.
AM: We had several days of rain and my two 5D Mark IV's did pretty well, at least one of them did 🙂 I did need to put one in a pillowcase with the hair dryer for 30 minutes (as noted above0 but it was fine after that.
GF: Would the 5D Mark IV withstand that?
AM: Pretty much yes. But you do need to take some precautions even with a pro body.
GF: If you remember back in 2007 when I was with you on the South Georgia-Antarctica trip, everyone who was using a 5D or a 5DII had their cameras fail. That didn't happen to anyone using the 1D line and it was all because of the better weather sealing.
AM: That is likely but might not be totally accurate. On my next trip down there I trashed two 1D Mark IV bodies in the rain. (Note: it was pouring and I took no precautions at all; I thought that the pro bodies were invincible). And a few years ago I totaled a 1DX when I dunked the bottom of the camera (the battery and power winder) into salt water for less than one second … That did surprise me.
GF: Wouldn't the 1DX Mark II be significantly less prone to water damage than the 5D Mark IV?
AM: It might be less prone but perhaps not significantly. And there are certainly no guarantees whenever any camera body gets wet.
GF: I know I can use a raincoat for the camera, but I find I still get the camera wet even when using a raincoat.
AM: I agree. I have tried some of the fancy rain covers but find them so cumbersome as to be impossible to use …
As far as IPTs, have you been to San Diego?
More importantly, I am trying to recruit a few folks in advance so that I can do the UK Puffins and Gannets trip again. It was fantastic again this year.Please let me know if you have any interest for this early July 2018 trip. It will need six to run.
with love, artie
Your Thoughts on Weather Sealing …
If you have ever gotten your camera wet, please do share the details. Please specify the brand and the model. How wet did it get? Did you have any problems? If yes, what were they? Did the camera wind up needing repair or replacement?
In the same vein, if you use some type of rain coat or rain cover and love it and find it functional, please post the name of the product and which lens or lenses you use it for.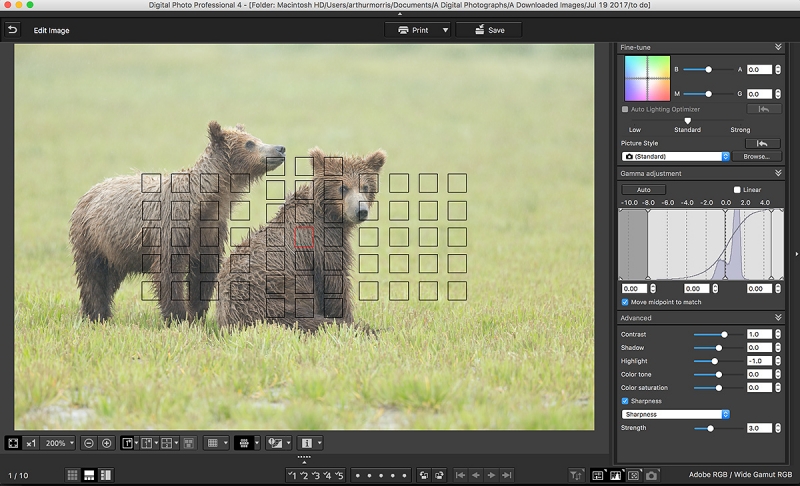 The DPP 4 Screen Capture for today's featured image
Click on the image to view a larger version.
Your browser does not support iFrame.
The DPP 4 Screen Capture
First note the position of the selected AF point. I was not very concerned that I did not have the selected AF point on the sitting bears face for the same reason that I was not very concerned with depth-of-field: I was a good distance from the bears. At 50 feet (approximately), the total d-o-f is about 6 inches, 3 inches in front of the point of focus and three inches behind the point of focus, more then enough to cover both bears (at that distance!)
Note that at 13 feet the total depth of field would be about 1/3 of one inch, 1/6 inch in front of the point of focus and 1/6 inch behind the point of focus. Hard to believe but true. The only time that stopping down is mandatory is when you are very close to the minimum focusing distance of your lens.
Note also that I increased the Contrast to +1, something that I usually do only in Photoshop.
The Image Optimization
After converting the image in DPP 4, I brought the image into Photoshop and cropped it only from the bottom to a pano. As I did with all of my bear images this year, I applied a layer of RGB Curves Adjustment Color Balancing (Concept by Denise Ippolito, expanded concept and text by Arthur Morris.) This technique worked magic on every single bear image that I processed. With this image and most others, I left the RGB Curves layer at 100% opacity. Next I selected the bears only with the Quick Selection Tool (W) and applied a layer of my NIK Color Efex Pro 30/30 recipe. Lastly I painted a Quick Mask of the faces of both young bears and selectively sharpened that layer with a Contrast Mask (15, 65, 0).
Everything above plus tons and tons more is detailed in the new BIRDS AS ART Current Workflow e-Guide (Digital Basics II), an instructional PDF that is sent via e-mail. Learn more and check out the free excerpt in the blog post here. Just so you know, the new e-Guide reflects my Macbook Pro/Photo Mechanic/DPP 4/Photoshop workflow. Do note that you will find the RGB Curves Adjustment Color Balancing tutorial only in the new e-guide.
You can learn how and why I and other discerning Canon shooters convert nearly all of their Canon digital RAW files in DPP 4 using Canon Digital Photo Professional in the DPP 4 RAW conversion Guide here. And you can learn advanced Quick Masking and advanced Layer Masking techniques in APTATS I & II. You can save $15 by purchasing the pair. Folks can learn sophisticated sharpening and (NeatImage) Noise Reduction techniques in the The Professional Post Processing Guide by Arash Hazeghi and yours truly.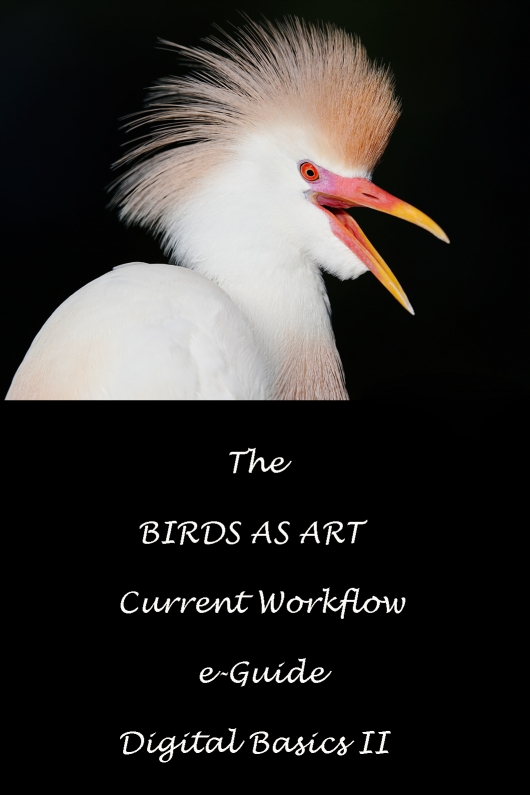 The BIRDS AS ART Current Workflow e-Guide (Digital Basics II) will teach you an efficient Mac/Photo Mechanic/Photoshop workflow that will make it easy for you to make your images better in Photoshop (rather than worse). That true whether you convert your images in DPP 4 or ACR. See the blog post here to learn lots more and to read a free excerpt.
You can order your copy from the BAA Online Store here, by sending a Paypal for $40 here, or by calling Jim or Jennifer weekdays at 863-692-0906 with your credit card in hand.
If In Doubt …
If in doubt about using the BAA B&H affiliate link correctly, you can always start your search by clicking here. Please note that the tracking is invisible. Please, however, remember to shoot me your receipt via e-mail.
Please Remember to use my Affiliate Links and to Visit the New BAA Online Store 🙂
To show your appreciation for my continuing efforts here, we ask, as always, that you get in the habit of using my B&H affiliate links on the right side of the blog for all of your photo and electronics purchases. Please check the availability of all photographic accessories in the New BIRDS AS ART Online Store, especially the Mongoose M3.6 tripod head, Wimberley lens plates, Delkin flash cards and accessories, and LensCoat stuff.
As always, we sell only what I have used, have tested, and can depend on. We will not sell you junk. We know what you need to make creating great images easy and fun. And please remember that I am always glad to answer your gear questions via e-mail.
I would of course appreciate your using our B&H affiliate links for all of your major gear, video, and electronic purchases. For the photographic stuff mentioned in the paragraph above, and for everything else in the new store, we, meaning BAA, would of course greatly appreciate your business. Here is a huge thank you to the many who have been using our links on a regular basis and those who will be visiting the New BIRDS AS ART Online Store as well.
Amazon.com
Those who prefer to support BAA by shopping with Amazon may use the logo link above.
Amazon Canada
Many kind folks from north of the border, eh, have e-mailed stating that they would love to help us out by using one of our affiliate links but that living in Canada and doing so presents numerous problems. Now, they can help us out by using our Amazon Canada affiliate link by starting their searches by clicking here.
Facebook
Be sure to like and follow BAA on Facebook by clicking on the logo link upper right. Tanks a stack.
Typos
In all blog posts and Bulletins, feel free to e-mail or to leave a comment regarding any typos or errors. Just be right :).