What's Up?
I have been without internet access since 8 AUG. I should be back online late today. I look forward to re-connecting with y'all soon.
Please call the office at 863-692-0906 on weekdays and speak to Jim and Jennifer about all things BAA Online Store- and IPT-related. And anything else that you might need help with or would like to chat about.
Please continue to patronize the BAA Online Store and to use my B&H affiliate links. Both are hugely appreciated.
with much love, artie
The Streak
Today marks twenty-nine days in a row with a new educational blog post. This blog post took about two hours to create.
Booking.Com
I could not secure the lodging that I needed for the UK Puffins and Gannets IPT in Dunbar, Scotland, so I went from Hotels.Com to Booking.Com and was pleasantly surprised. I found the rooms that I needed with ease at a hotel that was not even on Hotels.Com, and it was a nice hotel that I had seen in person. And the rates were great. If you'd like to give Booking.Com a shot, click here and you will earn a $25 reward.
Thanks to the many who have already tried and used this great service.
Revamped
I finally updated the IPT page to properly reflect the recently completed trips. If you doubt that I am really slowing down do click here to see the meager IPT schedule. Right now there are only two US-based IPTs on the schedule. Best news is that I turned up the missing registrant for the Fort DeSoto IPT so that will run. Do consider joining us if you would like to learn from the best.
Photographers Wanted
If you would like to learn to be a better bird photographer, consider joining me on either the Fort DeSoto IPT in late September or the San Diego IPT in January, 2018. With just one person signed up, DeSoto will offer practically private instruction. And you can tack on the In-the-Field/Meet-up Workshop Session on the morning of Tuesday September 26, 2017 for free. Click here for IPT info and the current but abbreviated schedule.
Gear Questions and Advice
Too many folks attending BAA IPTs and dozens of folks whom I see in the field, and on BPN, are–out of ignorance–using the wrong gear especially when it comes to tripods and more especially, tripod heads… Please know that I am always glad to answer your gear questions via e-mail.
Please Don't Forget …
As always–and folks have been doing a really great job for a long time now–please remember to use the BAA B&H links for your major and minor gear purchases. For best results, use one of our many product-specific links; after clicking on one of those you can continue shopping with all subsequent purchases invisibly tracked to BAA. Your doing so is always greatly appreciated. Please remember: web orders only. And please remember also that if you are shopping for items that we carry in the BAA Online Store (as noted in red at the close of this post below) we would of course appreciate your business.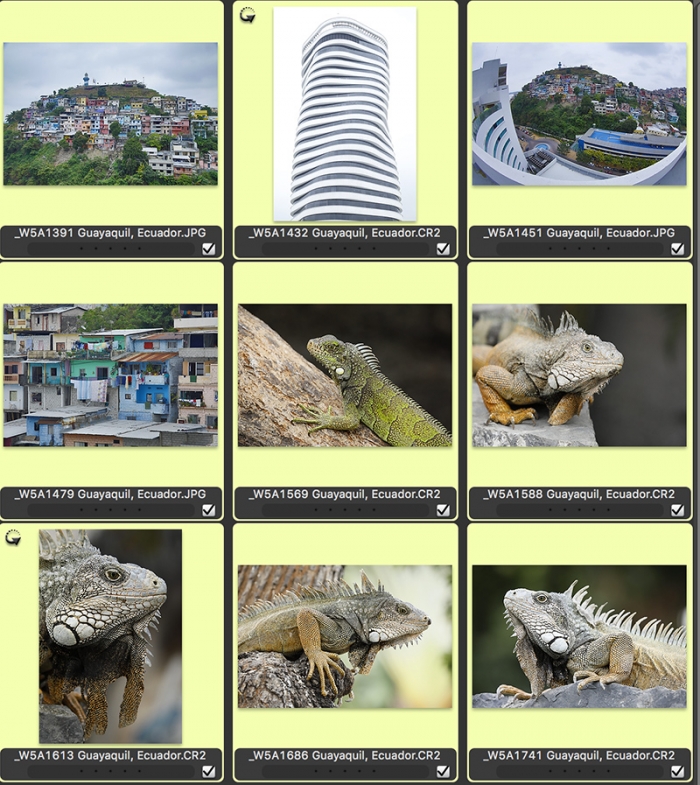 Guayaquil: DAY 1
A Fabulous DAY 1 in Guayaquil, Ecuador
IPT veterans Frank and Laurie Sheets arrived several days early, did some photo scouting, and shared what they found much to the groups benefit. The Sheets had spotted a hillside right behind the hotel covered with colorful houses. They thought that we might have been able to photograph it from the pool level but the great view was blocked completely by a slatted glass wall. Then hotel staff member Charles came to the rescue. He showed me a wide open sub-roof one floor up from the swimming pool with a completely clear view. The group — all but Merle Greenway that is — assembled there at 9:30am for an introductory session. Wow, did we have fun. Kathy Tyson looked behind us and inspired us with her architectural images.
After lunch — the food at your hotel was consistently superb — we grabbed a few cabs and headed to the Parque de las Iguanas to photograph the iguanas. Again we had a blast. Though we were the only photographers getting a few good images was a challenge for three main reasons: the environment was cluttered, hundreds of local families were out enjoying the iguanas (most feeding them lettuce leaves), and the animals did not stay in one spot for very long.
The images above, just nine of my 71 keepers, were all made on our layover day, Monday August 6th, with one of my three Canon EOS 5D Mark IV bodies with the following lenses: the Canon EF 70-200mm f/4L IS, Canon EF 8-15mm f/4L Fisheye USM and the amazingly versatile Canon EF 100-400mm f/4.5-5.6L IS II (that was used for all of the iguana images).
We flew to the archipelago on Tuesday, August 8 to begin our great adventure.
The story of Miracle Merle …
IPT newbie Merle Greenway was one of the very first to sign up for the trip nearly two years ago. He was supposed to be on the last flight out of Miami on Sunday August 6. That evening I received this e-mail from him at 10:49 that day.
Hi, It's now 11:45 p.m. And I'm stuck in Miami. Flight AA927 has been delayed repeatedly since 6:05 p.m and they just announced another 2-hour delay. Any advice? Next one is tomorrow evening, and I am not sure I can get on it. Merle
And then the next one at 3:16am on the 7th:
They stuck me in a Sheraton. Yesterday's flight is supposed to be go at 11:00am this morning. Merle
And then at 11:00am on Tuesday AUG 7:
During the hours-long delay last night, it appears my passport was stolen, along with my other ID, credit cards, cash, etc. The Miami passport office is closed due to flooding. It's doubtful I'll be joining you. Merle
That seemed to be about the end of the line for Merle. The key phrases being "appears my passport was stolen …" and "seemed to be."
Then, at 2:39pm that day:
New news. I'm on AA933 arriving this evening and my bag is on the next flight this evening, I believe AA927 (not sure of number), arriving at 9:30- something. Will explain later. Merle
Merle made it. His bags made it. How? He was on his way to the airport to get tickets for his flights home. Then he decided to make one last-ditch effort to find his passport. He made a list of all the possibilities. He had already asked at the Sheraton if they had found his passport. "Nope." After all the other possibilities were exhausted, he called the Sheraton back. "Yes, we have your passport. It was in the manager's office. Sorry."
And thus began the tale of Miracle Merle.
If In Doubt
If in doubt about using the BAA B&H affiliate link correctly, you can always start your search by clicking here. Please note that the tracking is invisible. Please, however, remember to shoot me your receipt via e-mail.
Please Remember to use my Affiliate Links and to Visit the New BAA Online Store 🙂
To show your appreciation for my continuing efforts here, we ask, as always, that you get in the habit of using my B&H affiliate links on the right side of the blog for all of your photo and electronics purchases. Please check the availability of all photographic accessories in the New BIRDS AS ART Online Store, especially the Mongoose M3.6 tripod head, Wimberley lens plates, Delkin flash cards and accessories, and LensCoat stuff.
As always, we sell only what I have used, have tested, and can depend on. We will not sell you junk. We know what you need to make creating great images easy and fun. And please remember that I am always glad to answer your gear questions via e-mail.
I would of course appreciate your using our B&H affiliate links for all of your major gear, video, and electronic purchases. For the photographic stuff mentioned in the paragraph above, and for everything else in the new store, we, meaning BAA, would of course greatly appreciate your business. Here is a huge thank you to the many who have been using our links on a regular basis and those who will be visiting the New BIRDS AS ART Online Store as well.
Amazon.com
Those who prefer to support BAA by shopping with Amazon may use the logo link above.
Amazon Canada
Many kind folks from north of the border, eh, have e-mailed stating that they would love to help us out by using one of our affiliate links but that living in Canada and doing so presents numerous problems. Now, they can help us out by using our Amazon Canada affiliate link by starting their searches by clicking here.
Facebook
Be sure to like and follow BAA on Facebook by clicking on the logo link upper right. Tanks a stack.
Typos
In all blog posts and Bulletins, feel free to e-mail or to leave a comment regarding any typos or errors. Just be right :).