What's Up?
The 2017 Galapagos IPT was the best ever. We had memorable photographic opportunities for virtually 15 straight days, a group of 12 eager to learn nature photographers, and the world's greatest-by-far Galapagos leader. Aside from Juan Salcedo's encyclopedic knowledge of everything Galapagos (and more), his pleasant manner, his understanding of photography and photographic situations, his ability to spot even distant situations that might be worth exploring added tremendously to the group's experience. I will be returning in late-July 2019. Those dates are firm and will be announced here soon. Please shoot me an e-mail if you are interested in joining us. The trip will need eight photographers signed up by next spring to run. Right now it looks as if two of the folks on this year's trip will be returning …
After a great landing at North Seymour we flew back to Guayaquil yesterday, Tuesday, August 22 and were in the hotel at about 4:30pm. Most of us met for an early dinner. I was in bed and asleep by 7:30pm and up working on this blog post at 2:00 am. Those (including me) on AA 948 to Miami will be on the 4:00am shuttle. Jim will be picking me up at MCO at about 3:00pm. After a refueling stop at Publix in Lake Wales we should be home at about 5:00pm.
As I have a ton to share with you, expect lots of great images from the trip in coming weeks. I will be catching up on e-mails and Used Gear stuff in the next few days and will then be working on my 2016 tax return. Right now the only thing that I have scheduled before San Diego is the DeSoto Fall IPT and the ITF Morning Meet-up Workshop that follows it.
with love, artie
The Streak
Today marks thirty days in a row with a new educational blog post. This blog post took about an hour to create. My plan right now with all of my free time is to break the current record streak of four hundred eighty something … Good health and good internet connections willing.
Booking.Com
I could not secure the lodging that I needed for the UK Puffins and Gannets IPT in Dunbar, Scotland, so I went from Hotels.Com to Booking.Com and was pleasantly surprised. I found the rooms that I needed with ease at a hotel that was not even on Hotels.Com, and it was a nice hotel that I had seen in person. And the rates were great. If you'd like to give Booking.Com a shot, click here and you will earn a $25 reward.
Thanks to the many who have already tried and used this great service.
Revamped
I finally updated the IPT page to properly reflect the recently completed trips. If you doubt that I am really slowing down do click here to see the meager IPT schedule. Right now there are only two US-based IPTs on the schedule. Best news is that I turned up the missing registrant for the Fort DeSoto IPT so that will run. Do consider joining us if you would like to learn from the best.
Photographers Wanted
If you would like to learn to be a better bird photographer, consider joining me on either the Fort DeSoto IPT in late September or the San Diego IPT in January, 2018. With just one person signed up, DeSoto will offer practically private instruction. And you can tack on the In-the-Field/Meet-up Workshop Session on the morning of Tuesday September 26, 2017 for free. Click here for IPT info and the current but abbreviated schedule.
Gear Questions and Advice
Too many folks attending BAA IPTs and dozens of folks whom I see in the field, and on BPN, are–out of ignorance–using the wrong gear especially when it comes to tripods and more especially, tripod heads… Please know that I am always glad to answer your gear questions via e-mail.
Please Don't Forget …
As always–and folks have been doing a really great job for a long time now–please remember to use the BAA B&H links for your major and minor gear purchases. For best results, use one of our many product-specific links; after clicking on one of those you can continue shopping with all subsequent purchases invisibly tracked to BAA. Your doing so is always greatly appreciated. Please remember: web orders only. And please remember also that if you are shopping for items that we carry in the BAA Online Store (as noted in red at the close of this post below) we would of course appreciate your business.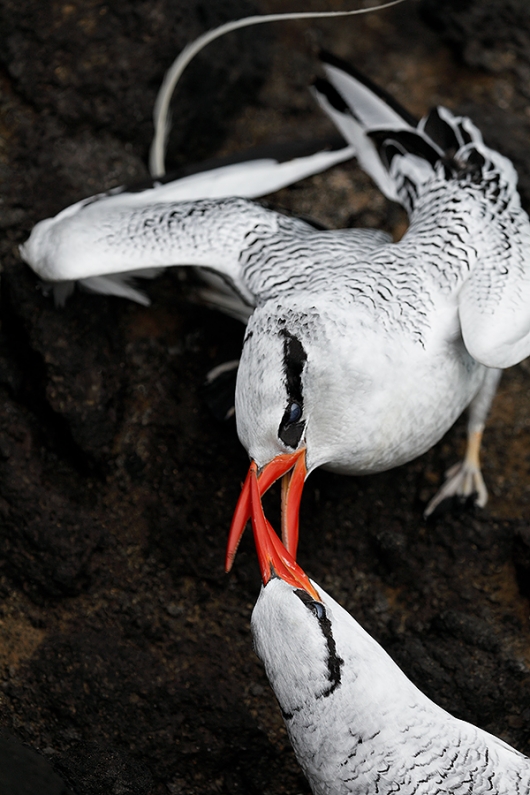 This image was created on the 2017 Galapagos IPT with the hand held Canon EF 100-400mm f/4.5-5.6L IS II USM lens (at 241mm) and my favorite bird photography camera body, the Canon EOS 5D Mark IV. ISO 800. Evaluative metering (probably at about -1/3 stop as framed: 1/2000 sec. at f/5.6 in Manual mode. The EXIF shows Custom WB; I have no idea where that came from …
LensAlign/FocusTune micro-adjustment: -3.
Bottom Large Zone/AI Servo/Shutter button AF as presented was active at the moment of exposure. The system selected two AF points that fell on the eye and the base of the bill of the bird on the bottom of the frame.
Red-billed Tropicbirds (probably at pair) squabbling on a cliff ledge. South Plaza Island, Galapagos, Ecuador.
Your browser does not support iFrame.
The Situation
Photographing Red-billed Tropicbirds in the Galapagos is a huge challenge. They are a bit easier on Hood Island where the cliffs are a lot lower and the flight patterns are more predictable than on South Plaza. We struggled in high winds photographing backlit birds overhead. I continued along the high cliffs and finally found a spot where a few tropicbirds were angling in trying to land. I made a few decent flight images but failed miserably on some spectacular chances at point blank range. I noticed one bird land successfully (and and out of sight) high on the vertical rock face about fifteen feet to my right. I gingerly made my way over to the edge of the cliff. I had been photographing the birds in flight at 1/3200 second at f/5.6 in Manual mode so as I approached the spot where I might be able to get a peek at the bird I lowered the shutter speed two clicks as I knew that there would be less light on the cliffs than there had been in the sky. That guesstimate turned out to be perfect.
When I looked over the cliff I was excited to see a tropicbird almost directly below me, perhaps a foot or two to my left. I struggled to frame an image of the whole bird and fired off two images but they failed as the cliff had slightly blocked my view of the bird's head. Then another tropicbird, probably the bird's mate, landed. Instinctively I acquired focus and fired off two quick frames. The second was completely mis-framed but the first resulted in a unique image (to say the least). Images of perched Red-billed Tropicbirds are extremely rare and I have never seen an image anywhere similar to this one.
As is typical of birds when they are fighting, both tropicbirds had their nictitating membranes in place. As I had my lens pointed almost straight down I was unsure at first of whether to present this image as a horizontal or a vertical but as it did not make much sense visually as a horizontal the decision turned out to be an easy one.
The Absolutely Amazingly Versatile Canon 100-400mm II
I took the 1-4 II ashore on every landing and on every panga (zodiac) ride. I used it to create probably 80% of my keepers (roughly half the time with the Canon Extender EF 1.4X III and almost always hand held). I used it as a flight and action lens, as a portrait lens, as a macro lens, and as scenic lens. And I used to to create more than a few pleasing blurs. I made many landings with only the 100-400 II (with the 1.4X III TC in my fanny pack). It would be entirely conceivable to make a Galapagos trip with only this great lens. As I left my 1DX II at home all of my Galapagos images were created with one of my three Canon EOS 5D Mark IV bodies.
If In Doubt
If in doubt about using the BAA B&H affiliate link correctly, you can always start your search by clicking here. Please note that the tracking is invisible. Please, however, remember to shoot me your receipt via e-mail.
Please Remember to use my Affiliate Links and to Visit the New BAA Online Store 🙂
To show your appreciation for my continuing efforts here, we ask, as always, that you get in the habit of using my B&H affiliate links on the right side of the blog for all of your photo and electronics purchases. Please check the availability of all photographic accessories in the New BIRDS AS ART Online Store, especially the Mongoose M3.6 tripod head, Wimberley lens plates, Delkin flash cards and accessories, and LensCoat stuff.
As always, we sell only what I have used, have tested, and can depend on. We will not sell you junk. We know what you need to make creating great images easy and fun. And please remember that I am always glad to answer your gear questions via e-mail.
I would of course appreciate your using our B&H affiliate links for all of your major gear, video, and electronic purchases. For the photographic stuff mentioned in the paragraph above, and for everything else in the new store, we, meaning BAA, would of course greatly appreciate your business. Here is a huge thank you to the many who have been using our links on a regular basis and those who will be visiting the New BIRDS AS ART Online Store as well.
Amazon.com
Those who prefer to support BAA by shopping with Amazon may use the logo link above.
Amazon Canada
Many kind folks from north of the border, eh, have e-mailed stating that they would love to help us out by using one of our affiliate links but that living in Canada and doing so presents numerous problems. Now, they can help us out by using our Amazon Canada affiliate link by starting their searches by clicking here.
Facebook
Be sure to like and follow BAA on Facebook by clicking on the logo link upper right. Tanks a stack.
Typos
In all blog posts and Bulletins, feel free to e-mail or to leave a comment regarding any typos or errors. Just be right :).