Stuff
Saturday was a fun day on Long Island. In the morning I went with younger daughter Alissa to her younger son Idris's little league game. It was thunder-stormed out when a huge black cloud came in from the north. Next I visited my sister Arna. Then Lissy and I headed into the city on the 5:40 LIRR train out of Ronkonkoma to Penn Station to see Billy Joel at Madison Square Garden.
The Streak
Today makes sixty-seven days in a row with a new educational blog post! This one took about an hour to prepare (including the time spent on the image optimization). With all of my upcoming free time (or not …), the plan right now is to break the current record streak of (I think) four hundred eighty something … Good health and good internet connections willing.
Booking.Com
Booking.Com came through for me once again with both my DeSoto IPT and next July's UK Puffins, Gannets, and Bempton Pre-trip room reservations. And all the rates were great. If you'd like to give Booking.Com a shot, click here and you will earn a $25 reward. Thanks to the many who have already tried and used this great service.
Gear Questions and Advice
Too many folks attending BAA IPTs and dozens of folks whom I see in the field, and on BPN, are–out of ignorance–using the wrong gear especially when it comes to tripods and more especially, tripod heads… Please know that I am always glad to answer your gear questions via e-mail.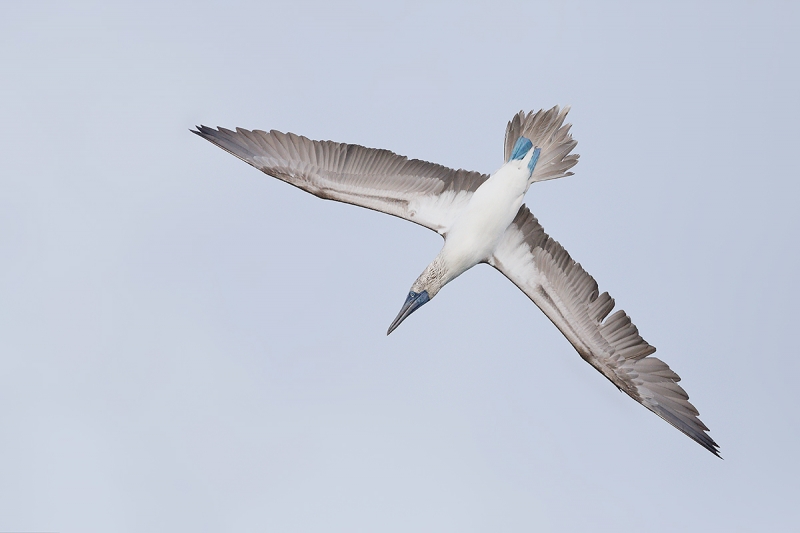 This image was created on the 2017 Galapagos Photo-Cruise of a Lifetime IPT with the hand held Canon EF 400mm f/4 DO IS II USM lens and my favorite diving booby photography camera body, the Canon EOS 5D Mark IV. ISO 3200. Evaluative metering +2 1/3 stops off the gray sky: 1/4000 sec. at f/4.5 in Manual mode. AWB.
Center AF point/AI Servo/Expand/Shutter Button AF was active at the moment of exposure. The selected AF point was on the center of the bird's far wing, pretty much on the same plane as the bird's eye. Be sure to click on the image to enjoy a larger version.
LensAlign/FocusTune micro-adjustment: -5.
The Optimized Image: Blue-footed Booby diving #1
Your browser does not support iFrame.
Blue-footed Booby Diving #1
On every Galapagos photo trip you hope that you will get to enjoy at least one Blue-footed Booby feeding/diving spree as they can be spectacular. On the 2017 IPT, we got to enjoy two. On the same day! As always, we were on the water early; today's image was created at 6:59am. We enjoyed frantic action for more than two hours. Then the skies cleared and the sun came out with a vengeance so we headed back to the Samba. Within an hour it had clouded up again so when my guide, Juan, spotted a second feeding spree with his bins we all got back into the pangas and went to work for another good hour. All BAA IPTs include complete flexibility based on the current local, weather, wind, sky, and tidal conditions.
Note that in the very low light of early morning I went to ISO 3200 (though I could have easily gotten by with ISO 1600). I took the 400 DO II along specifically to use in very low light situations; though it is a lot heavier than the 100-400 II, that decision paid off nicely on several occasions. At f/4, the DO II is one full stop faster than my beloved 100-400 II. Noise in the brown tones was not a problem as the RAW file (see the DPP 4 screen capture below for more on that) was exposed way, way to the right.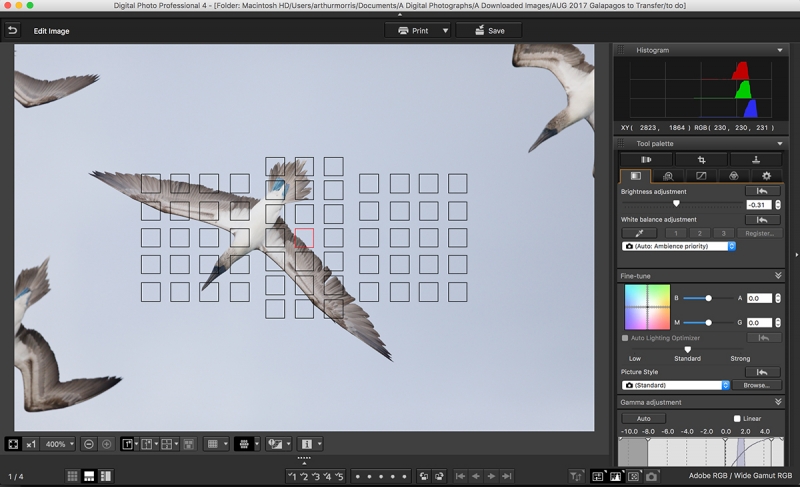 The DPP 4 Screen Capture for today's featured image
What Would You Think?
What would you think of a near-square crop that included the main subject and the two partial boobies in the upper and lower left corners of the frame?
What's to learn from the DPP 4 screen capture for today's featured image?
Lots. Note the position of the selected AF point illuminated in red. In an ideal world, I would have gotten that right in the bird's head, face, or neck. In any case, the bird's eye is relatively sharp. Notice that I must have really pushed the RAW exposure to the right. How can you tell? Even though I reduced the Brightness nearly 1/3 full stop (as seen) and moved the Highlight slider to -3 (off screen). Note also that although the BLUE histogram is further to the right than the RED and the GREEN histograms, the RGB values for the brightest WHITEs are relatively neutral at 230, 230, 231.
The Image Optimization
Eliminating the three extraneous diving boobies was pretty much a piece of cake; I used a combination of the Clone Stamp Tool, the Patch Tool, and Content Aware Fill. To add the bit of extra canvas needed in front of the bird, I simply pulled out the love handle on the Crop Too and then used John Heado Content Aware Fill to fill in the added canvas. Next I cropped from three sides to position the bird well back in the frame.
Notice how in the DPP 4 Screen Capture that the bird's face was very dark. There were two reasons for this. As the birds began to dive they were angling slightly away from us so that their heads were angled away from the light (that was properly behind us). In addition — and this is a fine point that folks often miss — when you get the correct exposure for the WHITEs the middle tones are about one stop too dark and the dark tones are close to two stops under-exposed. If this concept seems foreign to you I would strongly advise getting yourself a copy of the original The Art of Bird Photography and studying and mastering the section on Exposure theory.
Whether or not you understand that concept, you still need to bring up (lighten) both the middle and dark tones so that the exposure looks both uniform and natural. To do just that I used a combination of my NIK Color Efex Pro Detail Extractor/Tonal Contrast recipes, Curves adjustments, Tim Grey Dodge and Burn. When needed, each was refined by adding a Regular Layer Mask and painting away the effects with soft brushes of varying opacities. Last was a bit of Eye Doctor work to darken the pupil and lighten the iris.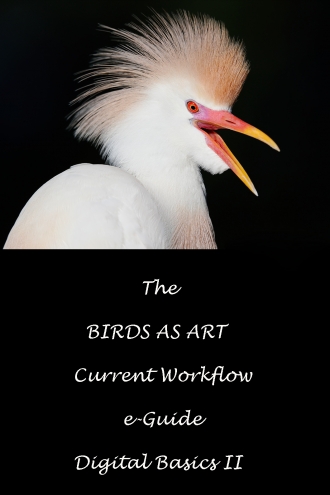 The BIRDS AS ART Current Workflow e-Guide (Digital Basics II) will teach you an efficient Mac/Photo Mechanic/Photoshop workflow that will make it easy for you to make your images better in Photoshop (rather than worse). That true whether you convert your images in DPP 4 or ACR. See the blog post here to learn lots more and to read a free excerpt.
You can order your copy from the BAA Online Store here, by sending a Paypal for $40 here, or by calling Jim or Jennifer weekdays at 863-692-0906 with your credit card in hand.
The BIRDS AS ART Current Workflow e-Guide (Digital Basics II)
Everything mentioned above is covered in detail in the BIRDS AS ART Current Workflow e-Guide (Digital Basics II), an instructional PDF that is sent via e-mail. Learn more and check out the free excerpt in the blog post here. The new e-Guide reflects my Macbook Pro/Photo Mechanic/DPP 4/Photoshop workflow. Do note that you will find the RGB Curves Adjustment Color Balancing tutorial only in the new e-guide. Note: folks working on a PC and/or those who do not want to miss anything Photoshop may wish to purchase the original Digital Basics along with DB II while saving $15 by clicking here to buy the DB Bundle.
The two most recent and many of the older MP4 Photoshop Tutorial videos releases go hand and hand with the information in DB II):
Folks who learn well by following along rather than by reading can check out the complete collection of MP 4 Photoshop Tutorial Videos by clicking here.
You can learn how and why I and other discerning Canon shooters convert nearly all of their Canon digital RAW files in DPP 4 using Canon Digital Photo Professional in the DPP 4 RAW conversion Guide here. And you can learn advanced Quick Masking and advanced Layer Masking techniques in APTATS I & II. You can save $15 by purchasing the pair. Folks can learn sophisticated sharpening and (NeatImage) Noise Reduction techniques in the The Professional Post Processing Guide by Arash Hazeghi and yours truly.
If In Doubt …
If in doubt about using the BAA B&H affiliate link correctly, you can always start your search by clicking here. Please note that the tracking is invisible. Web orders only. Please, however, remember to shoot me your receipt via e-mail.
Please Remember to use my Affiliate Links and to Visit the New BAA Online Store 🙂
To show your appreciation for my continuing efforts here, we ask, as always, that you get in the habit of using my B&H affiliate links on the right side of the blog for all of your photo and electronics purchases. Please check the availability of all photographic accessories in the New BIRDS AS ART Online Store, especially the Mongoose M3.6 tripod head, Wimberley lens plates, Delkin flash cards and accessories, and LensCoat stuff.
As always, we sell only what I have used, have tested, and can depend on. We will not sell you junk. We know what you need to make creating great images easy and fun. And please remember that I am always glad to answer your gear questions via e-mail.
I would of course appreciate your using our B&H affiliate links for all of your major gear, video, and electronic purchases. For the photographic stuff mentioned in the paragraph above, and for everything else in the new store, we, meaning BAA, would of course greatly appreciate your business. Here is a huge thank you to the many who have been using our links on a regular basis and those who will be visiting the New BIRDS AS ART Online Store as well.
Amazon.com
Those who prefer to support BAA by shopping with Amazon may use the logo link above.
Amazon Canada
Many kind folks from north of the border, eh, have e-mailed stating that they would love to help us out by using one of our affiliate links but that living in Canada and doing so presents numerous problems. Now, they can help us out by using our Amazon Canada affiliate link by starting their searches by clicking here.
Facebook
Be sure to like and follow BAA on Facebook by clicking on the logo link upper right. Tanks a stack.
Typos
In all blog posts and Bulletins, feel free to e-mail or to leave a comment regarding any typos or errors. Just be right :).