Stuff
On Wednesday I woke early and left Ronkonkoma at 5:15am. The navigation system on my phone indicated that I would arrive at Jamaica Bay at 6:21am. Traffic was horrific and I eventually made it at 7:15 am. Isaac Grant who lives in Staten Island arrived a bit after I did but good friend Tom Pfeifer
driving from Northport got slaughtered on the Northern State and did not make it to the pond until 8:30. He left his gear in the car and walked out to visit us. We hung out for a while and then enjoyed brunch at the Cross Bay Diner. Ah, I almost forgot to mention that Isaac and I had lucked out again. On Tuesday there were very few shorebirds but two of them posed in gorgeous habitat in sweet light right in front of us at close range for more than an hour.
There is just one slot open on the San Diego IPT; scroll down here for details.
The Streak
Today makes seventy-one days in a row with a new educational blog post! This blog post took less than two hours to prepare (including the short time spent on the image optimization). With all of my upcoming free time (or not …), the plan right now is to break the current record streak of (I think) four hundred eighty something … Good health and good internet connections willing.
Booking.Com
Booking.Com came through for me once again with both my DeSoto IPT and next July's UK Puffins, Gannets, and Bempton Pre-trip room reservations. And all the rates were great. If you'd like to give Booking.Com a shot, click here and you will earn a $25 reward. Thanks to the many who have already tried and used this great service.
Gear Questions and Advice
Too many folks attending BAA IPTs and dozens of folks whom I see in the field, and on BPN, are–out of ignorance–using the wrong gear especially when it comes to tripods and more especially, tripod heads… Please know that I am always glad to answer your gear questions via e-mail.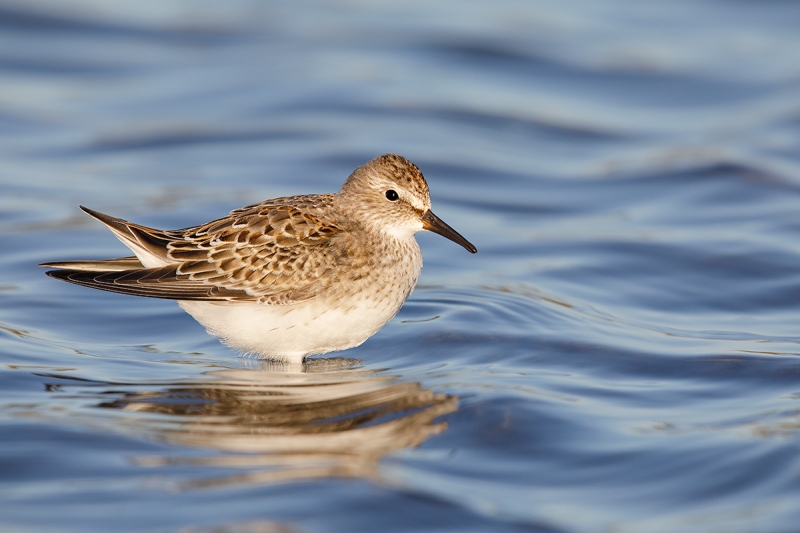 This image was created at the East Pond, Jamaica Bay Wildlife Refuge, Queens, NY CA with the Induro GIT304L Grand Series 3 Stealth Carbon Fiber Tripod/Mongoose M3.6-mounted Canon EF 600mm f/4L IS II USM lens, the Canon Extender EF 2X III, and my favorite shorebird photography camera, the Canon EOS 5D Mark IV. ISO 800. Evaluative metering +1 stop: 1/800 sec. at f/10 in Manual mode. AWB.
Center AF point/AI Servo Expand/Shutter Button AF as originally framed was active at the moment of exposure. The selected AF point just caught the base of the lower mandible. Note the location of the four assist points in the AF Expand image below. Click on the image to see a larger version.
FocusTune/LensAlign Micro Adjustment: zero.
White-rumped Sandpiper, worn juvenile
Your browser does not support iFrame.
Celebrating 40 Years in the Mud: Part I
When visiting the north end of the East Pond on Tuesday afternoon with BirdPhotographer's.Net regular Isaac Grant I realized that it had been forty years since I first set foot on the shores of the pond, and forty years since I had seen two orange-flagged (color banded) Sanderlings at the north end. I learned soon after that the orange leg flags indicated that the two birds had been banded in Argentina during our winter. And that they flew to their breeding grounds near the Arctic Circle each spring. The ones that I had seen were on their way back to South America. I was amazed, and that sighting (along with several others at JBWR) would influence the remainder of my adult life and spur a forty year love affair with all things Calidrid (related to shorebirds). Memories of birds and flocks and peregrines and friends flooded my mind as we slogged through the mud. Most notable was my discovery of New York State's first breeding plumage Rufous-necked Stint about 30 years ago. The bird remained on the pond for about three weeks and was seen by visitors from 37 states. It was the last life bird of my friend and shorebird mentor Thomas H.Davis Jr. who was twice carried through the mud on a stretcher to finally "get" the bird through a scope. Tom had suffered a cerebral aneurism at age 39, was completely paralyzed on one side, and died of a series of strokes several years later.
Mission Accomplished (in part)
When I decided to visit family in New York in late/September/early October, I was hoping that the water levels at the East Pond would be conducive for shorebird photography. Initial reports, however, indicated that the pond was pretty much flooded. I learned after I arrived on Long Island the conditions had improved somewhat miraculously. I visited the north end on Tuesday afternoon, October 3 and then visited the south end the next morning. Both days Isaac and I lucked out; there are not a lot of birds but we wound up with a great situation during each session.
One of my targets was juvenal White-rumped Sandpiper. They begin to arrive in the NYC region about four to six weeks after the first influx of juvie shorebirds in mid-August. With the high water levels my hopes were somewhat dashed. But as Isaac and I were photographing a group of nine fairly cooperative Dunlin, six juvenile white-rumps flew in. The one pictured in today's featured image stopped feeding and posed for me for about one second with it's tail cocked nicely and a perfect head angle. The Dunlin were much more difficult subjects as they poked their much longer bills into the mud while foraging in about an inch of water. I drove back to Alissa's house a very happy man.
Juvenal White-rumped Sandpiper ID
White-rumpeds are one of two regularly occurring small shorebirds that at any age have their wings projecting well past the tail (the other being Baird's Sandpiper). The long wings of both species power them in flight to the bottom of South America each fall where they winter on the Pampas. White-rumpeds always show a bit of pale orange at the base of the lower mandible and a strong eye-line. The greater coverts exhibit rufous fringing that can be seen on this individual even though its feathers are moderately worn. The upperparts' feathers of young Baird's are also neatly fringed but always in off-white; this gives the bird a much browner overall appearance.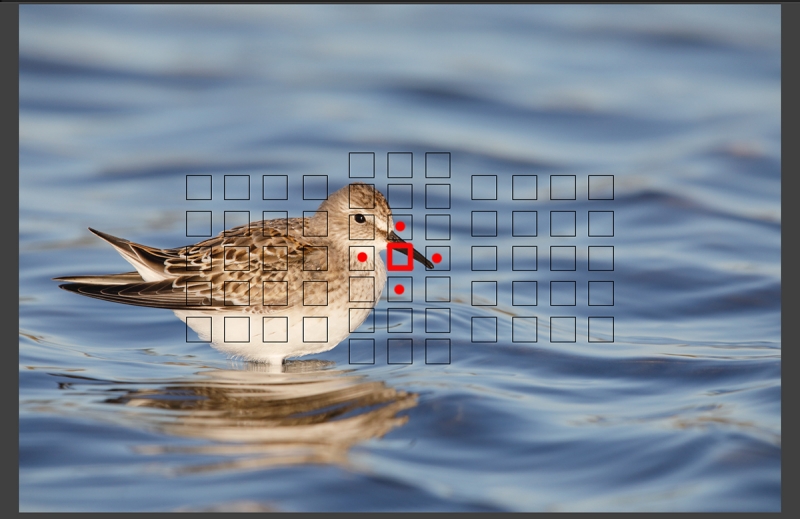 AF Expand Image
Note that I added the four assist points in red in Photoshop and enhanced the selected AF point; there is no software that will allow you to view either the assist points or the active assist points.
Your browser does not support iFrame.
Common AF Expand Theme
Note that the placement of the selected AF point in today's featured image and in the Ring-necked Duck image in the Sitting Ducks blog post here is quite similar. For years I have been using AF Expand (the selected AF point plus four assist points) for much of my whole bird photography. Do understand that I often move the selected point depending on the size and placement of the subject in the frame and the desired image design. And for years I have been teaching folks to try to place the selected AF point on the bird's neck or upper breast. In both the Ring-necked Duck drake image and the juvie white-rumped image here today this technique worked to perfection. Though we will never know for sure, it is likely that the assist points help us more than we realize; do try AF expand; you just might like it.
I am so confident in AF Expand that I have deselected AF Surround as an available AF Area Selection mode.
Image Design Question
Do you like the cropped version that opens this blog post or the wider version depicted in the AF Expand image?
Selected AF Point Question
After the fact I realized that the image might have been better if I had selected an AF point that was one to the right of center. Why?
Shorebirds; Beautiful Beachcombers
My Shorebirds: Beautiful Beachcombers, written for naturalists and birders, will teach you everything you've always wanted to know about the aging, identification, behavior, feeding habits and strategies, and the timing and routes of migration of North America's sandpipers, godwits, yellowlegs, phalaropes, plovers, avocets, stilts, and oystercatchers.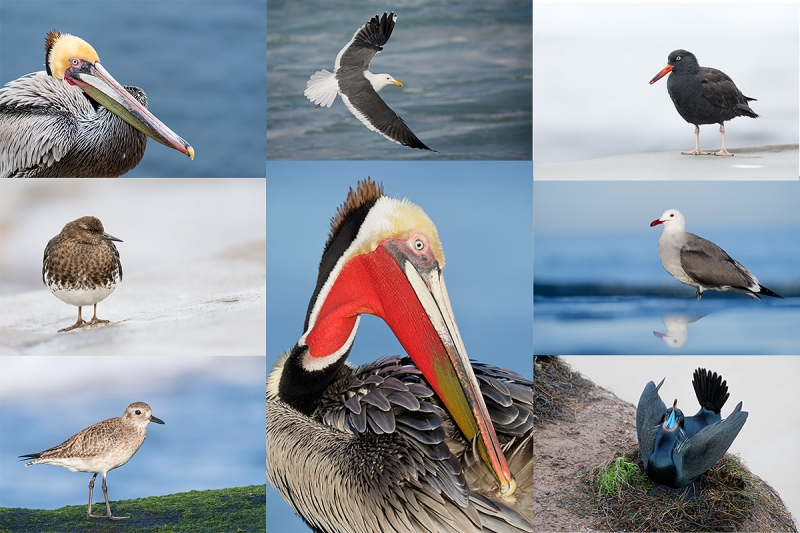 2017 in San Diego was a very good year ….
2018 San Diego 4 1/2-DAY BIRDS AS ART IPT: Monday, JAN 15 thru and including the morning session on Friday, JAN 19, 2018: 4 1/2 days: $2099.
Limit: 8: Openings: 1
Meet and Greet at 6:30pm on the evening before the IPT begins; Sunday, Jan 14, 2018.
Join me in San Diego to photograph the spectacular breeding plumage Brown Pelicans with their fire-engine red and olive green bill pouches; Brandt's (usually nesting and displaying) and Double-crested Cormorants; breeding plumage Ring-necked Duck; other duck species possible including Lesser Scaup, Redhead, Wood Duck and Surf Scoter; a variety of gulls including Western, California, and the gorgeous Heerman's, all in full breeding plumage; shorebirds including Marbled Godwit, Whimbrel, Willet, Sanderling and Black-bellied Plover; many others possible including Least, Western, and Spotted Sandpiper, Black and Ruddy Turnstone, Semipalmated Plover, and Surfbird; Harbor Seal (depending on the current regulations) and California Sea Lion; and Bird of Paradise flowers. And as you can see by studying the two IPT cards there are some nice bird-scape and landscape opportunities as well. Please note: formerly dependable, both Wood Duck and Marbled Godwit have been declining at their usual locations for the past two years …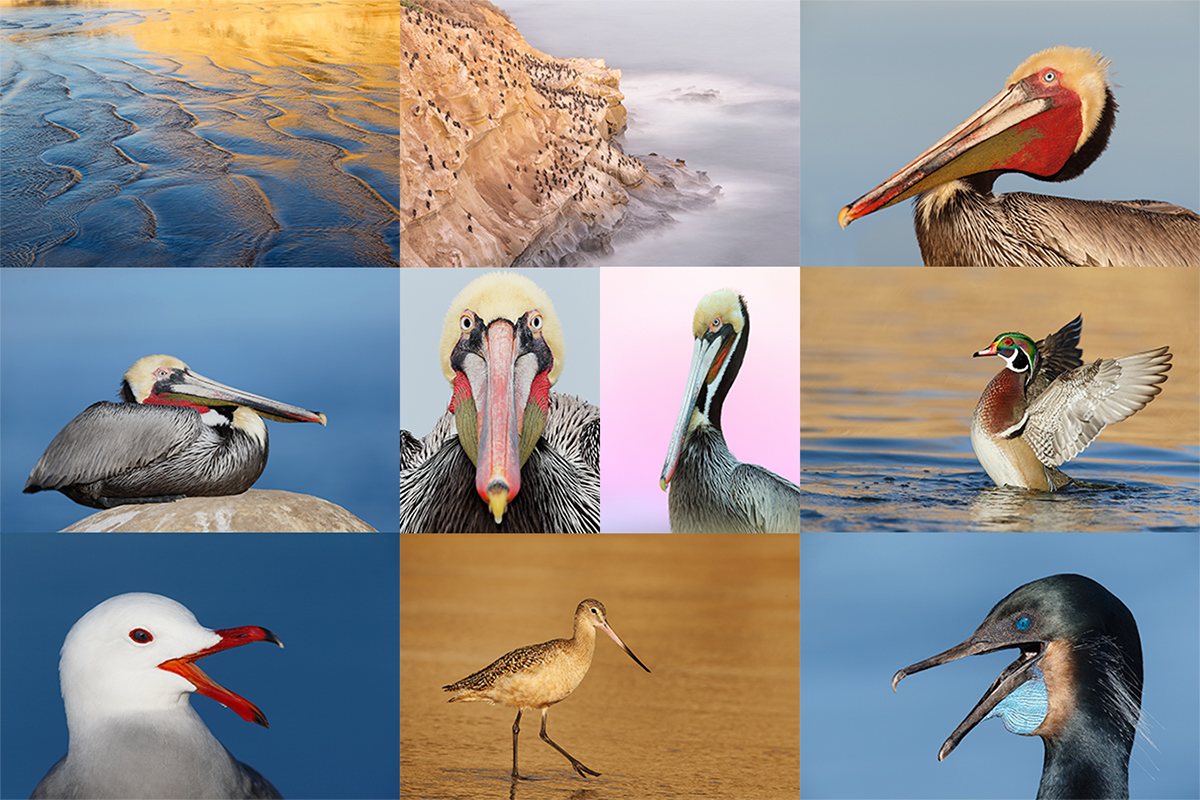 San Diego offers a wealth of very attractive natural history subjects. With annual visits spanning more than three decades I have lot of experience there….
With gorgeous subjects just sitting there waiting to have their pictures taken, photographing the pelicans on the cliffs is about as easy as nature photography gets. With the winds from the east almost every morning there is usually some excellent flight photography. And the pelicans are almost always doing something interesting: preening, scratching, bill pouch cleaning, or squabbling. And then there are those crazy head throws that are thought to be a form of intra-flock communication. You can do most of your photography with an 80- or 100-400 lens …
Did I mention that there are wealth of great birds and natural history subjects in San Diego in winter?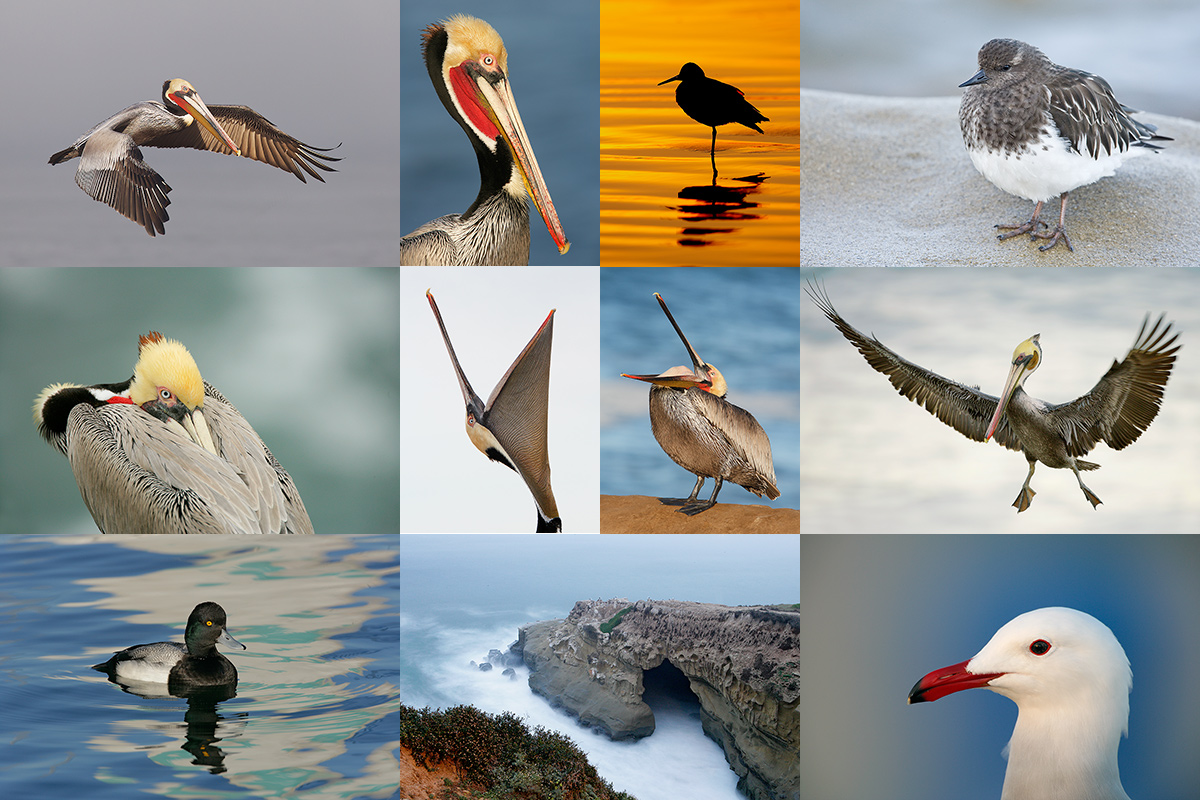 Though the pelicans will be the stars of the show on this IPT there will be many other handsome and captivating subjects in wonderful settings.
The San Diego Details
This IPT will include five 3 1/2 hour morning photo sessions, four 2 1/2 hour afternoon photo sessions, four lunches, and after-lunch image review and Photoshop sessions. To ensure early starts, breakfasts will be your responsibility. Dinners are on your own so that we can get some sleep.
A $599 non-refundable deposit is required to hold your slot for this IPT. You can send a check (made out to "Arthur Morris) to us at BIRDS AS ART, PO Box 7245, Indian Lake Estates, FL, 33855. Or call Jim or Jennifer at the office with a credit card at 863-692-0906. Your balance, payable only by check, will be due on 9/11//2016. If we do not receive your check for the balance on or before the due date we will try to fill your spot from the waiting list. Please print, complete, and sign the form that is linked to here and shoot it to us along with your deposit check. If you register by phone, please print, complete and sign the form as noted above and either mail it to us or e-mail the scan. If you have any questions, please feel free to contact me via e-mail.
If In Doubt …
If in doubt about using the BAA B&H affiliate link correctly, you can always start your search by clicking here. Please note that the tracking is invisible. Web orders only. Please, however, remember to shoot me your receipt via e-mail.
Please Remember to use my Affiliate Links and to Visit the New BAA Online Store 🙂
To show your appreciation for my continuing efforts here, we ask, as always, that you get in the habit of using my B&H affiliate links on the right side of the blog for all of your photo and electronics purchases. Please check the availability of all photographic accessories in the New BIRDS AS ART Online Store, especially the Mongoose M3.6 tripod head, Wimberley lens plates, Delkin flash cards and accessories, and LensCoat stuff.
As always, we sell only what I have used, have tested, and can depend on. We will not sell you junk. We know what you need to make creating great images easy and fun. And please remember that I am always glad to answer your gear questions via e-mail.
I would of course appreciate your using our B&H affiliate links for all of your major gear, video, and electronic purchases. For the photographic stuff mentioned in the paragraph above, and for everything else in the new store, we, meaning BAA, would of course greatly appreciate your business. Here is a huge thank you to the many who have been using our links on a regular basis and those who will be visiting the New BIRDS AS ART Online Store as well.
Amazon.com
Those who prefer to support BAA by shopping with Amazon may use the logo link above.
Amazon Canada
Many kind folks from north of the border, eh, have e-mailed stating that they would love to help us out by using one of our affiliate links but that living in Canada and doing so presents numerous problems. Now, they can help us out by using our Amazon Canada affiliate link by starting their searches by clicking here.
Facebook
Be sure to like and follow BAA on Facebook by clicking on the logo link upper right. Tanks a stack.
Typos
In all blog posts and Bulletins, feel free to e-mail or to leave a comment regarding any typos or errors. Just be right :).