Stuff
I finished and scheduled this blog post on Saturday morning. Younger daughter Alissa, her husband Ajiniyas, and I left at 10:30 for the drive into Manhattan to see Beautiful, the Carole King musical on Broadway. Fourth row center 🙂
I take the 6:20am non-stop from Islip to Orlando on Sunday morning.
The Streak
Today makes seventy-four days in a row with a new educational blog post! This blog post took less than two hours to prepare (including the short time spent on the image optimization). With all of my upcoming free time (or not …), the plan right now is to break the current record streak of (I think) four hundred eighty something … Good health and good internet connections willing.
Booking.Com
Booking.Com came through for me once again with both my DeSoto IPT and next July's UK Puffins, Gannets, and Bempton Pre-trip room reservations. And all the rates were great. If you'd like to give Booking.Com a shot, click here and you will earn a $25 reward. Thanks to the many who have already tried and used this great service.
Gear Questions and Advice
Too many folks attending BAA IPTs and dozens of folks whom I see in the field, and on BPN, are–out of ignorance–using the wrong gear especially when it comes to tripods and more especially, tripod heads… Please know that I am always glad to answer your gear questions via e-mail.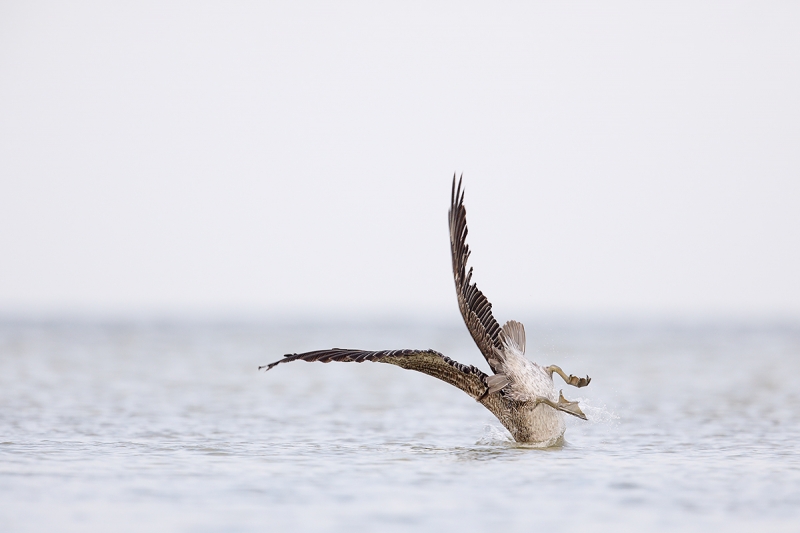 This image was created on the 2017 Fort DeSoto Fall IPT with the Induro GIT304L Grand Series 3 Stealth Carbon Fiber Tripod/Mongoose M3.6-mounted Canon EF 600mm f/4L IS II USM lens, the Canon Extender EF 1.4X III, and my favorite flight photography camera, the Canon EOS 5D Mark IV. ISO 800. Evaluative metering +2 1/3 stops off the sky: 1/800 sec. at f/6.3 in Manual mode. AWB.
Center AF point/AI Servo/Expand Shutter Button AF as originally framed (see below) was active at the moment of exposure. The selected AF point was just above but missed the center of the bird's left wing. The lower assist point was surely active and likely responsible at least in part for the subject being in sharp focus. Take it where and when you can get it 🙂 Click on the image to enjoy a larger version.
FocusTune/LensAlign Micro Adjustment: -2.
Brown Pelican immature hitting the water
Your browser does not support iFrame.
Hitting the Water!
It is a big challenge to photograph diving birds as they hit the water as the tendency is to keep following the the trajectory of their flight paths. The best advice I can give is to take lots of photographs and try to time the shutter release to coincide with the instant just before they hit the water.
Good Timin"
Working on this blog post brought back junior high school memories of Jimmy Jones' hit "Good Timin." He had one other bigger hit, "Handy Man."
Getting Close Physically
Many bird photographers do not realize that the advantages of getting close physically are huge. You can gain a stop of ISO or shutter speed if you are able to avoid adding the 1.4X TC, and two stops if you are able to avoid adding a 2X TC. When working with small birds at relatively close range even a single step closer can result in increasing the size of the subject in the frame by 5 or 10% or more. If you are on a boardwalk and need to get a bit closer you can put two legs of the tripod against the edge of the boardwalk or the fence rather than have one leg pointing forward as we usually do; that gets you about a foot closer. A more drastic measure would be to shorten one or even two legs and place them on top of the fence. At times I have placed the tripod itself on the top of the fence with two legs still on the boardwalk.
At DeSoto a group of young pelicans were diving consistently well offshore. Going to the 2X TC would have been a bad idea so I went into the water instead and stuck with the 1.4X TC. Thanks to Muhammed who created this image of me upon request with the 100 macro that I had loaned him 🙂
Current Question
Looking closely at the image above, can you tell that the current was strong? If yes, how?
Via e-mail from Muhammed Arif
Hi, Artie. I had a great time at Fort De Soto. Thank you for all the instruction, help and pointers – my photography has already improved tremendously and I've never taken such good bird photos before. I wish I could've joined you on Monday and Tuesday morning as well but work got in the way. It was also nice to meet everyone at the IPT; sorry, I missed you Ray.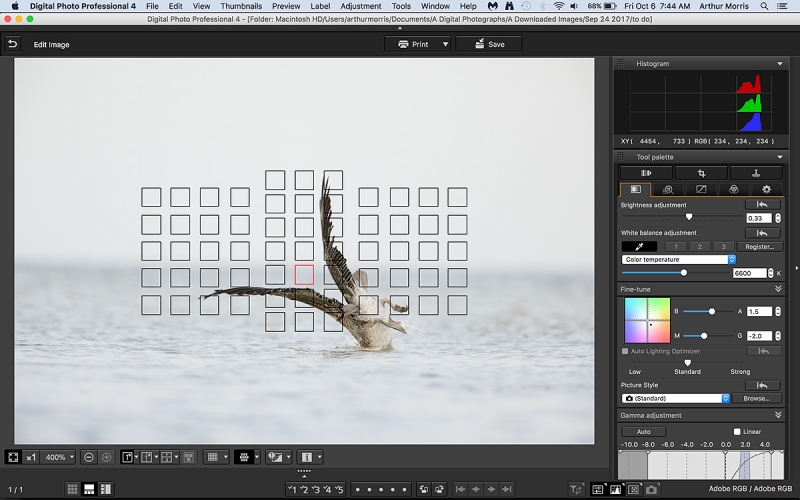 The DPP 4 screen capture for today's featured image.
The Color Balance
With today's image I first tried Click White Balance in DPP 4 but the results were too warm so decided to see if I could come up with a perfectly neutral sky by first adjusting the Color Temperature and then working with the Color fine tune dot. The RGB values of 234, 234, 234 and the histogram with all three color channels lined up quite nicely indicate that I succeeded.
After leveling the image using the Ruler Tool and my personal Image > Rotate > Arbitrary shortcut (Command + /) the rest of the optimization (after
a small crop) was straightforward: I selected the bird and a bit of the splash with the Quick Selection Tool (my shortcut W) and applied my NIK 40-40 recipe. I added a Regular Layer Mask and used a 50% opacity brush to fine tune the 40-40 recipe in the darker areas. Last I increased the Contrast using the RGB Curves Color Balance technique; even though the color was already perfect this gave the image some additional pop.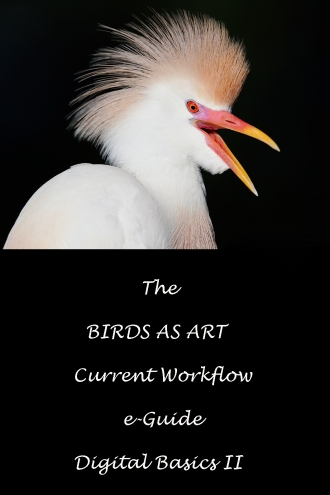 The BIRDS AS ART Current Workflow e-Guide (Digital Basics II) will teach you an efficient Mac/Photo Mechanic/Photoshop workflow that will make it easy for you to make your images better in Photoshop (rather than worse). That true whether you convert your images in DPP 4 or ACR. See the blog post here to learn lots more and to read a free excerpt.
You can order your copy from the BAA Online Store here, by sending a Paypal for $40 here, or by calling Jim or Jennifer weekdays at 863-692-0906 with your credit card in hand.
The BIRDS AS ART Current Workflow e-Guide (Digital Basics II)
Everything mentioned above is covered in detail in the BIRDS AS ART Current Workflow e-Guide (Digital Basics II), an instructional PDF that is sent via e-mail. Learn more and check out the free excerpt in the blog post here. The new e-Guide reflects my Macbook Pro/Photo Mechanic/DPP 4/Photoshop workflow. Do note that you will find the RGB Curves Adjustment Color Balancing tutorial only in the new e-guide. Note: folks working on a PC and/or those who do not want to miss anything Photoshop may wish to purchase the original Digital Basics along with DB II while saving $15 by clicking here to buy the DB Bundle.
The two most recent and many of the older MP4 Photoshop Tutorial videos releases go hand and hand with the information in DB II):
Folks who learn well by following along rather than by reading can check out the complete collection of MP 4 Photoshop Tutorial Videos by clicking here.
You can learn how and why I and other discerning Canon shooters convert nearly all of their Canon digital RAW files in DPP 4 using Canon Digital Photo Professional in the DPP 4 RAW conversion Guide here. And you can learn advanced Quick Masking and advanced Layer Masking techniques in APTATS I & II. You can save $15 by purchasing the pair. Folks can learn sophisticated sharpening and (NeatImage) Noise Reduction techniques in the The Professional Post Processing Guide by Arash Hazeghi and yours truly.
If In Doubt …
If in doubt about using the BAA B&H affiliate link correctly, you can always start your search by clicking here. Please note that the tracking is invisible. Web orders only. Please, however, remember to shoot me your receipt via e-mail.
Please Remember to use my Affiliate Links and to Visit the New BAA Online Store 🙂
To show your appreciation for my continuing efforts here, we ask, as always, that you get in the habit of using my B&H affiliate links on the right side of the blog for all of your photo and electronics purchases. Please check the availability of all photographic accessories in the New BIRDS AS ART Online Store, especially the Mongoose M3.6 tripod head, Wimberley lens plates, Delkin flash cards and accessories, and LensCoat stuff.
As always, we sell only what I have used, have tested, and can depend on. We will not sell you junk. We know what you need to make creating great images easy and fun. And please remember that I am always glad to answer your gear questions via e-mail.
I would of course appreciate your using our B&H affiliate links for all of your major gear, video, and electronic purchases. For the photographic stuff mentioned in the paragraph above, and for everything else in the new store, we, meaning BAA, would of course greatly appreciate your business. Here is a huge thank you to the many who have been using our links on a regular basis and those who will be visiting the New BIRDS AS ART Online Store as well.
Amazon.com
Those who prefer to support BAA by shopping with Amazon may use the logo link above.
Amazon Canada
Many kind folks from north of the border, eh, have e-mailed stating that they would love to help us out by using one of our affiliate links but that living in Canada and doing so presents numerous problems. Now, they can help us out by using our Amazon Canada affiliate link by starting their searches by clicking here.
Facebook
Be sure to like and follow BAA on Facebook by clicking on the logo link upper right. Tanks a stack.
Typos
In all blog posts and Bulletins, feel free to e-mail or to leave a comment regarding any typos or errors. Just be right :).