Stuff
I am home safely. My flight from Islip to Orlando was the proverbial piece of cake.
Beautiful — the Carole King Musical
Sunday was a day to remember. The show was fabulous. The music, the story, the humor, the staging, all wonderful.
Before She Was Carole King, Superstar-She Was Carol Klein, Teenage Songwriter.
She fought her way into the record business as a teenager and, by the time she reached her twenties, had the husband of her dreams and a flourishing career writing hits for the biggest acts in rock 'n' roll. But it wasn't until her personal life began to crack that she finally managed to find her true voice.
BEAUTIFUL tells the inspiring true story of King's remarkable rise to stardom, from being part of a hit songwriting team with her husband Gerry Goffin, to her relationship with fellow writers and best friends Cynthia Weil and Barry Mann, to becoming one of the most successful solo acts in popular music history. Along the way, she made more than BEAUTIFUL music, she wrote the soundtrack to a generation.
Click here for the "Beautiful" discography. The number or hits penned by the King/Goffin and Weil/Mann teams truly is astounding. Enjoy a great collection of "Beautiful" sights and sounds here.
Thanks Brendan!
Brendan Quigley has attended several IPTs. I think that his first was a Jamaica Bay Wildlife Refuge IPT. In the days of film. In any case, we have always stayed in touch. Brendan has been the Lighting Director on various iterations of the Broadway show "Wicked" for a long, long time. When I mentioned that we were going to see "Beautiful" he offered to arrange a backstage tour for us after the show. We accepted. As the theater emptied we were met by Josh Weitzman, the House Head Electrician at the Stephen Sondheim Theater. The main thrust of the tour was to see the behind the scenes stuff, the dressing rooms, the wardrobe, the lighting, the props, and the machinery that moves everything into place. We did all that and enjoyed it.
First we ran into Kara Lindsay who plays Carole King's good friend, songwriter Cynthia Weil. She was in a robe and had her hair up in curlers. I was a bit non-plussed and unsure of which role she had played. As fate would have it, we ran into her again as she was getting ready to leave for home. By this time I had figured out who she was. We chatted for a bit as we all gushed over her performance. I got to give her a hug. She was 100% gracious, sweet, and appreciative. So who shows up in a robe just before we were going to leave? The amazing Chilina Kennedy, the star of the show as Carole King. We were all amazed at how tiny she is. Again we gushed, and again this Broadway star, a singer/songwriter in her own right, was sweet and nice and gracious and and appreciative. And I got to give her a hug as well. While the show had been fantastic, serendipitously meeting the two female leads really put the icing on the cake.
The Streak
Today makes seventy-five days in a row with a new educational blog post! This blog post took about three hours to prepare. With all of my upcoming free time (or not …), the plan right now is to break the current record streak of (I think) four hundred eighty something … Good health and good internet connections willing.
Booking.Com
Booking.Com came through for me once again with both my DeSoto IPT and next July's UK Puffins, Gannets, and Bempton Pre-trip room reservations. And all the rates were great. If you'd like to give Booking.Com a shot, click here and you will earn a $25 reward. Thanks to the many who have already tried and used this great service.
Gear Questions and Advice
Too many folks attending BAA IPTs and dozens of folks whom I see in the field, and on BPN, are–out of ignorance–using the wrong gear especially when it comes to tripods and more especially, tripod heads… Please know that I am always glad to answer your gear questions via e-mail.
An Elegant End to your BIRDS AS ART Blog-subscription Problems
As some of you know, att and more than a few related e-mail providers (such as sbcglobal and bellsouth) have been black-listing the sending IP address for BirdPhotographer's.Net for a very long time. Once we moved the blog to the same service provider we inherited the problem. I have tried unsuccessfully for many years to have our IP address de-blacklisted. If you have some pull with att or have a good customer service number and would like to try, that IP address 199.193.247.14.
I forgot who turned me on to this simple and elegant solution but whoever you are, thanks! I have been using it for a month and have been receiving every single BPN Reply to Thread notice and every single BAA Blog Notification in my samandmayasgrandpa@att.net Inbox in a timely fashion from the moment that I tried the work-around. Despite my black-listed att address.
Step I
If you do not have a gmail account, open one. If you do have a gmail account, open it.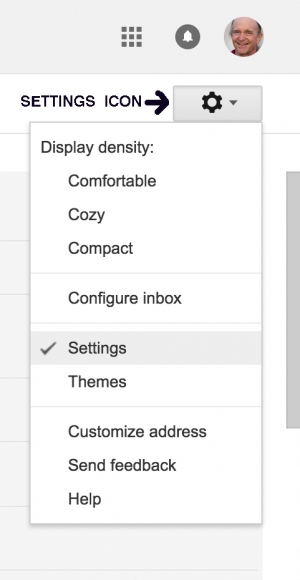 Step II
Step II
Click on the Settings icon near the top right of the page. Then, in the drop-down menu, click on Settings.
When the Settings page opens, click on Add a forwarding address and then carefully type your black-listed e-mail address into the empty box that pops up. Click Next and then Proceed and then OK. A verification message will be sent to that address. Click the verification link in that message.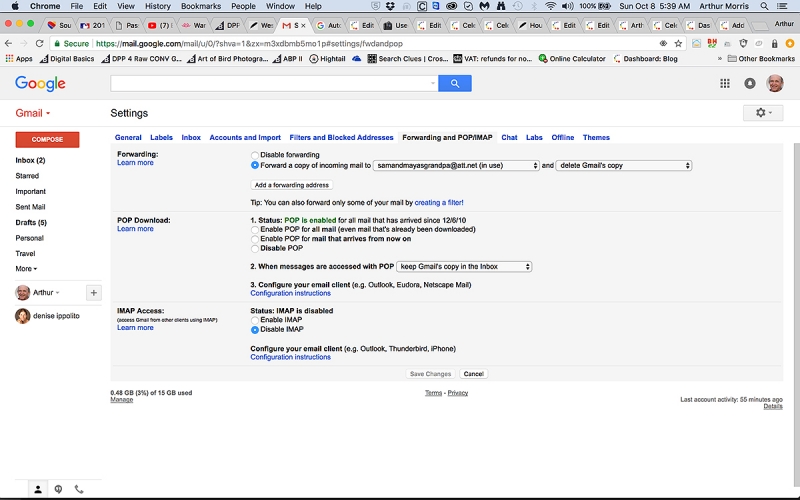 Step III
Step III
Then Go back to the settings page for the Gmail account you want to forward messages from, and refresh your browser. Select Forward a copy of incoming mail to. Choose what you want to happen with the Gmail copy of your emails. As you can see, I choose delete Gmail's copy.
You will begin receiving your Arthur Morris/BIRDS AS ART has posted a new item e-mails in the Inbox of the account that you designated. Though the directions might seem a bit complicated they are actually quite simple. If you follow the simple directions the whole process should take a minute or two at most.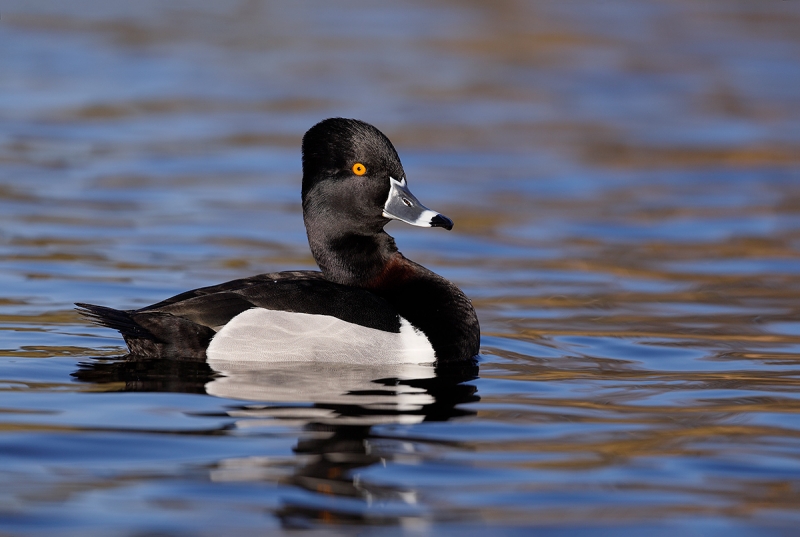 This image was created on the 2017 San Diego IPT with the Induro GIT304L Grand Series 3 Stealth Carbon Fiber Tripod/Mongoose M3.6-mounted Canon EF 500mm f/4L IS II USM lens, the Canon Extender EF 1.4X III, and my favorite sitting duck photography camera body, the Canon EOS 5D Mark IV. ISO 800. Evaluative metering -2/3 stop off the water: 1/1600 sec. at f/6.3 in Manual mode. AWB.
LensAlign/FocusTune micro-adjustment: +2.
One AF point up and one to the right of the center AF point/AI Servo/Expand/Shutter Button AF was active at the moment of exposure. As seen in the DPP 4 screen capture below, the selected AF point was on the space below the base of the bill and just caught the spot where the base of the neck meets the top of the breast. Click on the image to enjoy a larger version.
Ring-necked Duck drake floating
Your browser does not support iFrame.
Ring-necked Duck Drake Exposure Quiz Answer
In the Sitting Ducks blog post here, I wrote, If you were behind the camera at the moment of exposure and were working in Av mode what EC (exposure compensation) would have dialed in? Why?
Many folks responded. Some of the answers were great. Some not so great. Here is what I did. Working in Manual mode I set an exposure that was 1/3 stop darker than the water: 1/1250 sec. at f/6.3. Why? I was was worried about burning the bright WHITEs on the forward flank just behind the breast. I made a test exposure and saw more than a few blinkies on the WHITEs so I went one click faster on the shutter speed to 1/1600 sec. This would likely have worked out to -1/3 or -2/3 stop as framed.
Multiple IPT veteran Kent Downing gave the best answer when he posted (in part):
The overall scene lends itself towards a slightly darker than average mid-tone. It is a difficult image to correctly expose given the high contrast between the whites and blacks. Therefore, I would first start with a slightly negative EC and then check the histogram and the (highlight) blinkies and adjust exposure accordingly. This is a wonderful image. I love the position of the bird, the lighting, and the detail in the blacks and the whites. Well done.
He went on to suggest as I often do that folks who really want to understand exposure should get themselves a copy of his "go-to reference book," http://birdsasart-shop.com/the-art-of-bird-photography-soft-cover/, and study the section on Exposure Theory.
IPT veteran Krishna Prasad Kotti gave the perfect answer for Nikon-users: Hi Artie, I think I will go with -1 EV.
On Sunday afternoon I responded to all the comments in the original blog post. You might wish to review those by scrolling down here to maximize your understanding.
If In Doubt …
If in doubt about using the BAA B&H affiliate link correctly, you can always start your search by clicking here. Please note that the tracking is invisible. Web orders only. Please, however, remember to shoot me your receipt via e-mail.
Please Remember to use my Affiliate Links and to Visit the New BAA Online Store 🙂
To show your appreciation for my continuing efforts here, we ask, as always, that you get in the habit of using my B&H affiliate links on the right side of the blog for all of your photo and electronics purchases. Please check the availability of all photographic accessories in the New BIRDS AS ART Online Store, especially the Mongoose M3.6 tripod head, Wimberley lens plates, Delkin flash cards and accessories, and LensCoat stuff.
As always, we sell only what I have used, have tested, and can depend on. We will not sell you junk. We know what you need to make creating great images easy and fun. And please remember that I am always glad to answer your gear questions via e-mail.
I would of course appreciate your using our B&H affiliate links for all of your major gear, video, and electronic purchases. For the photographic stuff mentioned in the paragraph above, and for everything else in the new store, we, meaning BAA, would of course greatly appreciate your business. Here is a huge thank you to the many who have been using our links on a regular basis and those who will be visiting the New BIRDS AS ART Online Store as well.
Amazon.com
Those who prefer to support BAA by shopping with Amazon may use the logo link above.
Amazon Canada
Many kind folks from north of the border, eh, have e-mailed stating that they would love to help us out by using one of our affiliate links but that living in Canada and doing so presents numerous problems. Now, they can help us out by using our Amazon Canada affiliate link by starting their searches by clicking here.
Facebook
Be sure to like and follow BAA on Facebook by clicking on the logo link upper right. Tanks a stack.
Typos
In all blog posts and Bulletins, feel free to e-mail or to leave a comment regarding any typos or errors. Just be right :).