Stuff
I finished watching both Thursday games on Tivo on Friday the morning. The Cubs beat the still hapless Nats in a crazy game in which an umpiring error led directly to several Cubs runs and the loss of the game. The Panthers had many chances to beat the Eagles but simply did not come through. I worked on several blog posts and began reviewing a book for a friend. I swam a full mile in one sitting at midday; I started in a full downpour and ended in bright sun.
I am still looking for a few more folks for San Diego #2. If you are considering this trip and might be interested in adding on a free day of instruction before the IPT begins please shoot me an e-mail.
The Streak
Today makes seventy-nine days in a row with a new educational blog post! This blog post took less than an hour to prepare. With all of my upcoming free time (or not …), the plan right now is to break the current record streak of (I think) four hundred eighty something … Good health and good internet connections willing.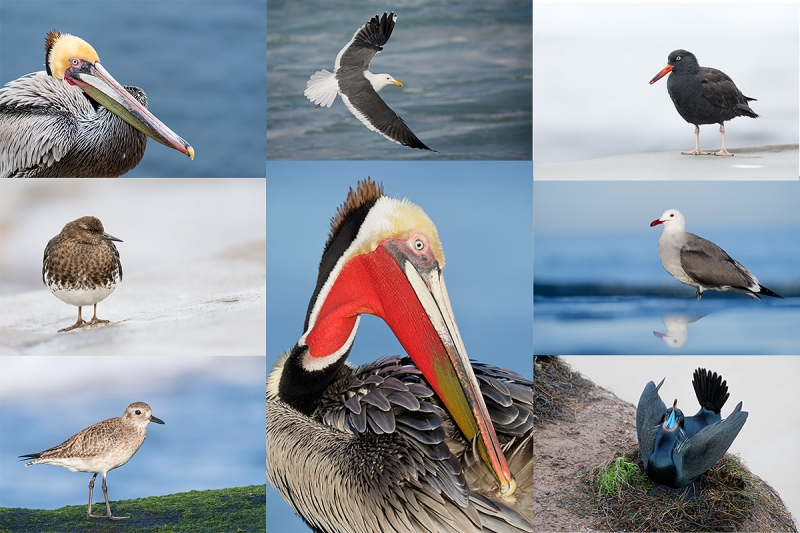 2017 in San Diego was a very good year ….
2018 San Diego 3 1/2-DAY BIRDS AS ART IPT #2: Sunday, JAN 28 thru and including a morning session on Wednesday, JAN 31, 2018: 3 1/2 days: $1699. Limit: 8: Openings: 7
Meet and Greet at 6:30pm on the evening before the IPT begins; Saturday, Jan 27, 2018.
San Diego IPT #2: Shorter and Less Expensive!
Please remember: I go with one.
Click here for details.
Booking.Com
Booking.Com came through for me twice again recently with both the DeSoto Fall IPT and next July's UK Puffins, Gannets, and Bempton Pre-trip room reservations. And all the rates were great. If you'd like to give Booking.Com a shot, click here and you will earn a $25 reward. Thanks to the many who have already tried and used this great service.
Gear Questions and Advice
Too many folks attending BAA IPTs and dozens of folks whom I see in the field, and on BPN, are–out of ignorance–using the wrong gear especially when it comes to tripods and more especially, tripod heads… Please know that I am always glad to answer your gear questions via e-mail.
Kenko Extension Tube Set DG for Canon EOS Lenses
In the What Lens and Accessories? blog post here two weeks ago I posted:
You Tell Me …
Take a close look at the image caption above and then make an educated guess and let me know what lens, what focal length, and what accessory or accessories you think I used to create today's featured image of a relatively small (3/4 inch) flower. Trust me, there is a clue, at least to the lens used. After that, you might be able to figure the rest out. But it won't be easy.
The Somewhat Strange Answer …
While there were some good guesses, nobody came up with my work-around. Two folks got the lens right; I used the obviously amazingly versatile Canon EF 100-400mm f/4.5-5.6L IS II USM lens with the Canon Extender EF 1.4X III. The clue to the lens/TC combo was the f/9 aperture. As noted above, the rest of the rig consisted of all three extension tubes in the Kenko Auto Extension Tube Set DG for Canon EOS lenses,, and my favorite flower photography body, the Canon EOS 5D Mark IV.
Extension Tube Basics
Extension tubes are primarily used so that you can get closer to the subject than the minimum focusing distance of the lens normally allows. They are often used with various macro lenses. I began using them with telephoto lenses more than thirty years ago with my Canon FD 400mm f/4.5 (manual focus) lens. Once I started crawling in the mud to get close to shorebirds I found that it was easy to get within nine or ten feet of the birds using the super low approach. The problem was that the lens only focused down to 12 feet. Once I added an FD 25mm extension tube, I was able to focus to less than ten feet and easily fill 3/4 of the frame with a Least Sandpiper. Do understand that once you add an extension tube to the mix that you will not be able to focus on relatively distant subjects. I almost forgot to mention that if you are outside of the lens's MFD, an extension tube can be used to increase the size of the subject in the frame; they can actually serve as mini-teleconverters.
As the decades progressed, I wound up using both the EF 12mm and the EF 25mm Canon Extension tubes with all of my telephoto lenses up to and including the old 800mm f/5.6L IS. Over the past few years I have not often needed to add an extension tube as the newer telephoto lenses have such remarkable minimum focusing distances; the 600 II focuses down to less than 15 feet, the 500 II to 12.14 feet, and the 100-400 II down to an amazing 3.2 feet. The latter MFD gives the 100-400 the greatest magnification of any Canon telephoto lens: .31X.
Today, I always travel with two EF 12mm Extension Tubes. While I use them on occasion for closer focusing, their main function is to serve as a spacer so that I can stack my 1.4X III TCs with my 2X III TCs. I usually travel with at least two of each TC.
Canon or Kenko Extension Tubes?
The Canon EF 12mm Extension Tube sells for $82.00. The Canon EF 25mm Extension Tube sells for $139.95. The Kenko Auto Extension Tube Set DG for Canon EOS lenses consists of three extension tubes, a 12mm, a 20mm, and a 36mm. All autofocus and metering functions remain functional. When you first use the Kenko tubes you will likely find the fit snugger than with the Canon tubes. This takes a bit of getting used to but is actually a plus as the Canon lens mounts often get sloppy over time. Oh, the good news, the Kenko set costs $109.00.
Which are sharper, the Canon tubes or the Kenko tubes? Neither. Extension tubes are hollow and do not affect sharpness in any way. Do remember to stop down some when using extension tubes to prevent vignetting.
Nikon Extension Tubes
For decades Nikon did not offer any extension tubes. I knew several Nikon pros who were so frustrated by this that they ripped the guts out of their Nikon TCE 14 teleconverters so that they could use them as extension tubes. Nikon now offers three extension tubes as follows:
Amazingly, none of the Nikon tubes support autofocus …
The Kenko Auto Extension Tube Set DG (12, 20 & 36mm Tubes) for Nikon Digital and Film Cameras
Amazingly, the Kenko Auto Extension Tube Set DG (12, 20 & 36mm Tubes) for Nikon Digital and Film Cameras offers both functional metering and functional autofocus as noted here:
The Kenko Auto Extension Tube Set DG is compatible with Nikon DSLR cameras and F mount lenses and is optimized to work with Autofocus lenses. Kenko's Auto Focus extension tubes are designed with all the circuitry and mechanical coupling to maintain auto focus and TTL auto exposure with most Nikon lenses given there is enough light (at f/5.6 or brighter) to activate the cameras AF system properly.
Owning a set of these completely Nikon compatible extension tubes would be a huge plus for all Nikon folks.
Extension Tube Questions …
If you have a question about extension tubes you are invited to leave a comment to that effect.
If In Doubt …
If in doubt about using the BAA B&H affiliate link correctly, you can always start your search by clicking here. Please note that the tracking is invisible. Web orders only. Please, however, remember to shoot me your receipt via e-mail.
Please Remember to use my Affiliate Links and to Visit the New BAA Online Store 🙂
To show your appreciation for my continuing efforts here, we ask, as always, that you get in the habit of using my B&H affiliate links on the right side of the blog for all of your photo and electronics purchases. Please check the availability of all photographic accessories in the New BIRDS AS ART Online Store, especially the Mongoose M3.6 tripod head, Wimberley lens plates, Delkin flash cards and accessories, and LensCoat stuff.
As always, we sell only what I have used, have tested, and can depend on. We will not sell you junk. We know what you need to make creating great images easy and fun. And please remember that I am always glad to answer your gear questions via e-mail.
I would of course appreciate your using our B&H affiliate links for all of your major gear, video, and electronic purchases. For the photographic stuff mentioned in the paragraph above, and for everything else in the new store, we, meaning BAA, would of course greatly appreciate your business. Here is a huge thank you to the many who have been using our links on a regular basis and those who will be visiting the New BIRDS AS ART Online Store as well.
Amazon.com
Those who prefer to support BAA by shopping with Amazon may use the logo link above.
Amazon Canada
Many kind folks from north of the border, eh, have e-mailed stating that they would love to help us out by using one of our affiliate links but that living in Canada and doing so presents numerous problems. Now, they can help us out by using our Amazon Canada affiliate link by starting their searches by clicking here.
Facebook
Be sure to like and follow BAA on Facebook by clicking on the logo link upper right. Tanks a stack.
Typos
In all blog posts and Bulletins, feel free to e-mail or to leave a comment regarding any typos or errors. Just be right :).