Stuff
On Monday I began re-micro-adjusting my 600 II with both my 1.4X III i and my 2X III i teleconverters. I am not sure how but my AFA values disappeared both from my #1 5D Mark IV and from my Excel file 🙂 In addition, I answered lots of e-mails, prepared this blog post, and swam twice totaling one mile.
The LensAlign/FocusTune Micro-Adjusting Tutorial e-Guide
If you missed the announcement of the The LensAlign/FocusTune Micro-Adjusting Tutorial e-Guide, click here.
Below are ome MA/FT e-Guide follow-ups.
Via e-mail from Richard Gollar:
First off I want to say thank you for the great detailed guide you did on Focus Tune. I tried it a year ago when I purchased it and could never get it to work. After going thru you guide and following along carefully it worked perfectly. Before, I didn't have all the settings in the camera right but after reading your guide and doing it step by step it worked great. To be honest with you Focus Tune should be including this guide away with each sale!
I attached my final adjustment could you look at it and tell me if you think its dialed in close enough. The only thing I really need to get now is the lighting you suggest because outdoors the lighting was variable but it worked with no problem. One important thing I did learn from the guide was that I had been working too close. Now I set everything up, take one shot, load it into Focus Tune, and verify the distance is right before I go through all the steps. FocusTune gave me consistent values every time I ran it. That was great. Before I had been using FoCal and could never get consistent results; they were different each time. Thanks again for the tutorial.I will be recommending LensAlign/FocusTune to my photography friends only if they plan on buying your guide because with out it, I do not think they will be able to figure it out.
Best, Richard
A Note on the MA/FT Lighting
LED Light Panel for Micro-adjusting
I use the Fancierstudio 500 LED light Panel With Dimmer Switch Led Video lighting Led Lite Panel by Fancierstudio VL500 for all of my micro-adjusting. Even when working outdoors. As is stated clearly in the guide, many factors including the quality and strength of the light will affect AFA settings; using this daylight balanced LED light will ensure your getting consistent and accurate results.
The Streak
Today makes eighty-nine days in a row with a new educational blog post! This blog post took less than an hour to prepare. With all of my upcoming free time (or not…), the plan right now is to break the current record streak of exactly four hundred eighty … Good health and good internet connections willing.,
Booking.Com
Booking.Com came through for me twice again recently with both the DeSoto Fall IPT and next July's UK Puffins, Gannets, and Bempton Pre-trip room reservations. And all the rates were great. If you'd like to give Booking.Com a shot, click here and you will earn a $25 reward. Thanks to the many who have already tried and used this great service.
Gear Questions and Advice
Too many folks attending BAA IPTs and dozens of folks whom I see in the field, and on BPN, are–out of ignorance–using the wrong gear especially when it comes to tripods and more especially, tripod heads… Please know that I am always glad to answer your gear questions via e-mail.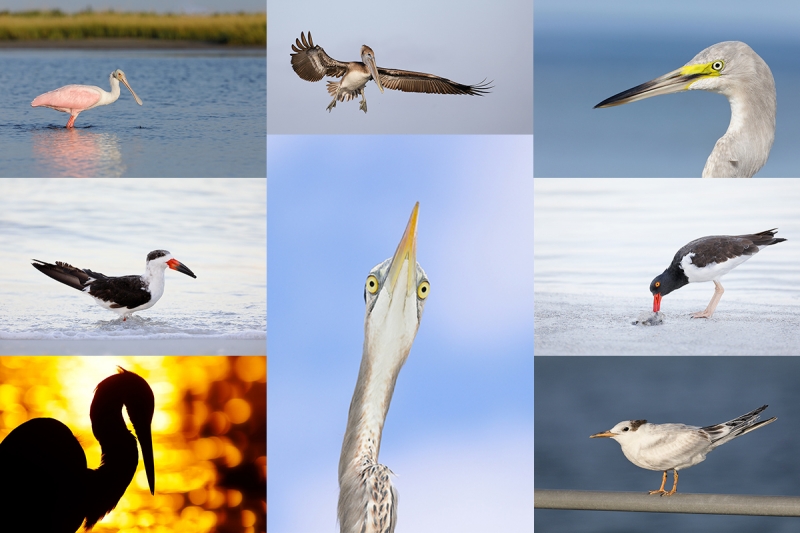 Very Recent Fort DeSoto Images
From bottom left clockwise back to center: Great Egret, blasting sunrise highlights; Black Skimmer, winter plumage in pre-dawn light; Roseate Spoonbill foraging; Brown Pelican, juvenile landing; hybrid heron X egret; American Oystercatcher feeding; Royal Tern, worn juvenile; Great Blue Heron from below.
Cheap Weekend Fort DeSoto In-the-Field Instruction
Saturday, October 28, 2017: Morning session — 6:45am for 3 1/2 hours: $149. Add lunch, image review, and Photoshop session: $249 (total).

Saturday, October 28, 2017: Afternoon session — 4:00pm for 3 1/2 hours: $99.

Saturday October 28, 2017, both sessions including lunch: $329.

Sunday, October 29, 2017: Morning session — 6:45am for 3 1/2 hours: $149.
Learn to see the great situations, get the right exposure every time (even when photographing into the blasting highlights!), to approach free and wild (and often tame!) birds, and to design pleasing images. Learn the location of my new Fort DeSoto hotspot and my favorite sunset spot. To register call Jim or Jen at 863-692-0906.
Canon lens rentals are available on a limited basis. Cheap but great instruction.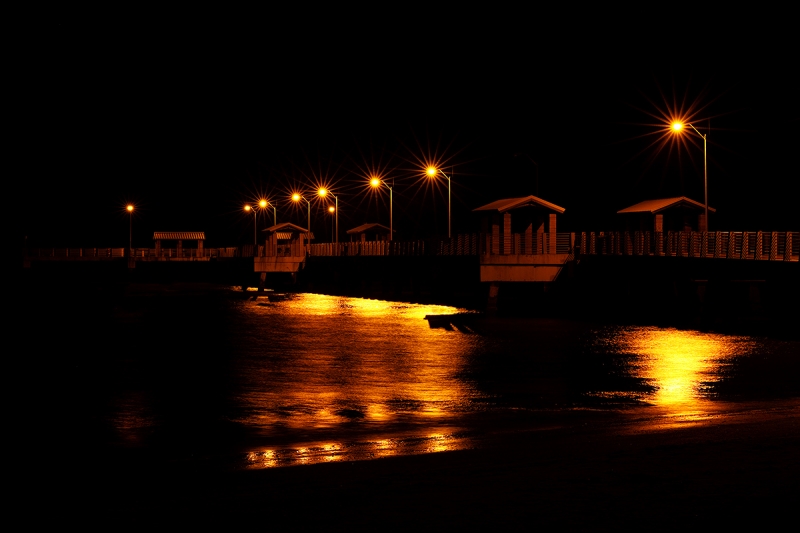 This image was created at Fort DeSoto in the pitch dark of early morning on Saturday, October 27 with the Induro GIT304L Grand Series 3 Stealth Carbon Fiber Tripod/Mongoose M3.6-mounted Canon EF 100-400mm f/4.5-5.6L IS II USM lens (at 100mm), and my favorite pier photography camera body, the Canon EOS 5D Mark IV. ISO 400. Evaluative metering ??? 2 1/2 seconds at f/22 in Av mode. WB: 5500.
I used my still flower technique: Live View (for mirror lock) and 2-second timer. Flexi-Sone Single rear focus AF. I selected a point 1/3 of the way out onto the pier. LensAlign/FocusTune micro-adjustment: zero (extrapolated). Please click on the image to see the spectacular larger version.
Pier at night, Fort DeSoto Park, Pinellas County, FL
Your browser does not support iFrame.
Why Stand Around Doing Nothing When It Is Too Dark To Shoot?
Because the park roads were going to be closed from 7am to 9am (9:30am as it turned out) I arrived at DeSoto way early at about 6:30. Rather than stand around doing nothing I decided to experiment. I began by mounting the lens foot with a Wimberley P-10 plate on it. When I am hand holding I remove it to save a bit of weight. Then I grabbed the tripod and went to work. I started by framing too tight so I zoomed out to 100mm and got more of the near-end of the pier. Then it was a matter of experimenting with both the apertures and the White Balance. When I was going through the images in Photo Mechanic I gasped when this one opened up to full frame. From the color to the blurred waves to the amazing starbursts atop each light pole everything was beyond perfect.
Starburst Aperture Basics
Some lenses, in some lighting conditions, may produce starbursts of pinpoint (or larger as here) light sources if you choose an aperture of f/22 or smaller. I would caution you to beware of diffraction at tiny apertures if I knew what it was and had ever seen it … But alas, I have not.
Exposure Question
What exposure compensation do you think that I set to come up with the perfect exposure?
Technique Question
Why were both Live View and the 2-second timer both unnecessary precautions?
The Image Optimization
After converting the RAW file pretty much straight up in DPP 4 the image optimization too was fairly straightforward. I used the Patch Tool, the Clone Stamp Tool, and some Content Aware Fill to eliminate some specular highlights, some unwanted reflections,n and about a half dozen early-arriving fishermen.
To learn how and why I and other discerning Canon shooters convert nearly all of their Canon digital RAW files in DPP 4 using Canon Digital Photo Professional in the DPP 4 RAW conversion Guide, click here. You can learn everything about my workflow and exactly how I optimize my images in The BIRDS AS ART Current Workflow e-Guide (Digital Basics II), an instructional PDF that is sent via e-mail.
If In Doubt …
If in doubt about using the BAA B&H affiliate link correctly, you can always start your search by clicking here. Please note that the tracking is invisible. Web orders only. Please, however, remember to shoot me your receipt via e-mail.
Please Remember to use my Affiliate Links and to Visit the New BAA Online Store 🙂
To show your appreciation for my continuing efforts here, we ask, as always, that you get in the habit of using my B&H affiliate links on the right side of the blog for all of your photo and electronics purchases. Please check the availability of all photographic accessories in the New BIRDS AS ART Online Store, especially the Mongoose M3.6 tripod head, Wimberley lens plates, Delkin flash cards and accessories, and LensCoat stuff.
As always, we sell only what I have used, have tested, and can depend on. We will not sell you junk. We know what you need to make creating great images easy and fun. And please remember that I am always glad to answer your gear questions via e-mail.
I would of course appreciate your using our B&H affiliate links for all of your major gear, video, and electronic purchases. For the photographic stuff mentioned in the paragraph above, and for everything else in the new store, we, meaning BAA, would of course greatly appreciate your business. Here is a huge thank you to the many who have been using our links on a regular basis and those who will be visiting the New BIRDS AS ART Online Store as well.
Amazon.com
Those who prefer to support BAA by shopping with Amazon may use the logo link above.
Amazon Canada
Many kind folks from north of the border, eh, have e-mailed stating that they would love to help us out by using one of our affiliate links but that living in Canada and doing so presents numerous problems. Now, they can help us out by using our Amazon Canada affiliate link by starting their searches by clicking here.
Facebook
Be sure to like and follow BAA on Facebook by clicking on the logo link upper right. Tanks a stack.
Typos
In all blog posts and Bulletins, feel free to e-mail or to leave a comment regarding any typos or errors. Just be right :).