More Blog Subscription Problems 🙂
It appears that our server was recently spammed by AOL and possibly by several other (AOL-related?) e-mail providers. AOL was the first to do that to BPN more than a decade ago and we eventually solved the problem. But, they are back on our case. If you suddenly stopped receiving BAA Blog notices please click here to learn the easy work-around.
Stuff
If you did not chime in on yesterday's blog post, please do so now as the blog is designed to be interactive. As always, the more folks who participate, the more everyone will learn. And yes, that includes me 🙂
I was glad to learn early on Thursday that Peter Noyes' Nikon D-810 Digital SLR sold for $1499 just two hours after it was listed and that Multiple IPT veteran Shelly Goldstein sold his Canon EF 500mm f/4L IS USM Super Telephoto Lens (the "old five") in excellent condition for the $3899 a week after it was listed. I did lots more work on the 5D IV Guide on Thursday. I swam 3/4 mile. Did lots of positional exercises and cardio stuff and answered lots of e-mails; business as usual.
The Streak
Today makes one hundred five days in a row with a new educational blog post! This one took more than two hours to prepare. With all of my upcoming free time (or not …), the plan right now is to break the current record streak of 480 … Good health and good internet connections willing.
Booking.Com
Booking.Com came through for me twice again recently with both the DeSoto Fall IPT and next July's UK Puffins, Gannets, and Bempton Pre-trip room reservations. And all the rates were great. If you'd like to give Booking.Com a shot, click here and you will earn a $25 reward. Thanks to the many who have already tried and used this great service.
Gear Questions and Advice
Too many folks attending BAA IPTs and dozens of folks whom I see in the field, and on BPN, are–out of ignorance–using the wrong gear especially when it comes to tripods and more especially, tripod heads… Please know that I am always glad to answer your gear questions via e-mail.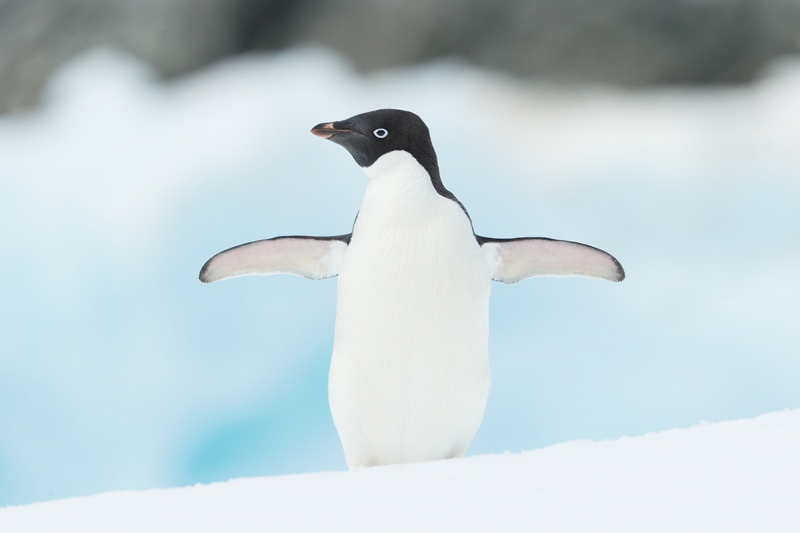 This image was created on a zodiac photo-cruise at Hope Bay, Antarctica with the hand held Canon EF 300mm f/2.8L IS II USM lens, the Canon Extender EF 2X III, and the EOS-1DX (now replaced by the blazingly fast Canon EOS-1D X Mark II.) ISO 400. Evaluative metering +1 2/3 stops as framed: 1/1250 sec. at f/6.3 in Manual mode. AWB in slightly overcast conditions.
LensAlign/FocusTune micro-adjustment: +5.
Two AF points above the center AF point/AI Servo/Expand/Rear Button AF was active at the moment of exposure. The selected AF point fell on bird's face below and to the right of it's eye where the white and black meet.
Adelie Penguin on ice floe with wings raised, Hope Bay, Antarctica
Be sure to enjoy an enlarged version by clicking on the image.
Your browser does not support iFrame.
Why and How to Stand Up in a Zodiac …
Why is it often necessary to stand up in a Zodiac? The most common reason is so that you can have a clear line of sight to the subject over the folks kneeling in front of you. On well-run zodiac photo-cruises, most of the folks on the subject side of the zodiac will be kneeling (if it is physically possible for them to do that). Folks on the opposite side, the side away from the subject, will usually need to stand so that they can enjoy good photographic opportunities. On well-run zodiac photo-cruises experienced drivers will turn the boat around completely after a good pass so that the standing folks kneel and the kneeling folks stand.
With today's image, there was another big reason for me to stand. What was it?
If you are in decent shape with relatively good balance, the physical process of standing up in a zodiac is not a big challenge. Before standing make sure that the area around your feet is clear of any gear that has been placed on the floor, and most importantly, ask the zodiac driver for permission to stand. This ensures that the driver will not move the zodiac unexpectedly. Have fun. And be safe.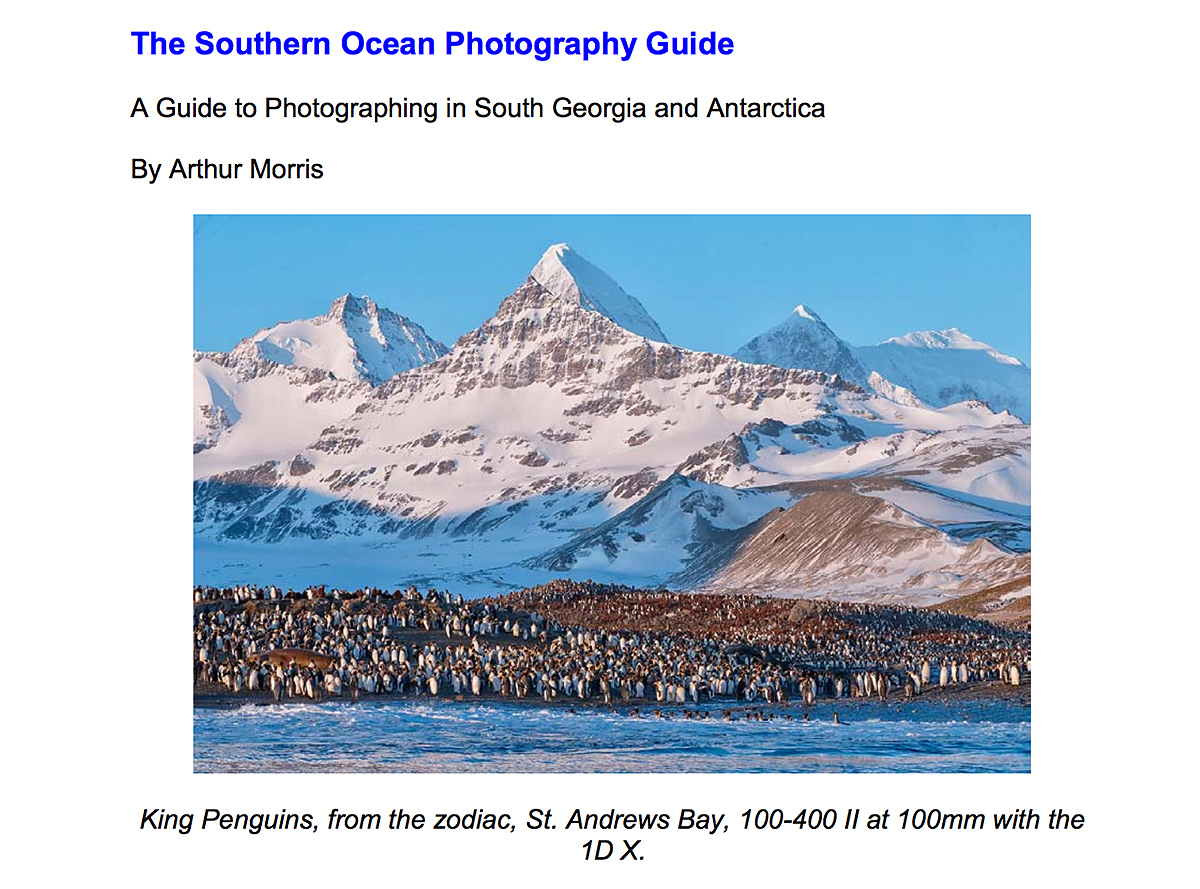 May I be frank? If you are making a trip to Antarctica, South Georgia, and even the Falklands without having a copy of the Southern Ocean Photography Guide on your laptop and studying it at length, you are making a huge mistake. 🙂
The Southern Ocean Photography Guide: $100, via download link
The Southern Ocean Photography Guide (SOPG) e-book is complete and is available for purchase here for $100.00. Or, you can call us at 863-692-0906 Mondays through Fridays with your credit card in hand. A link to your PDF will be sent ASAP (Monday through Friday). This guide is one hundred twenty-eight pages, 21,500 words, and contains 158 inspirational photographs each accompanied by an educational caption.
Why a Photography Guide rather than a Site Guide? The SOPG includes a ton of information on the complex logistics of a voyage to South Georgia and/or Antarctica. The information in this guide will help you select the right trip, to prepare for your trip properly in terms of clothing and photography gear, and will teach you about the various forms of photographic opportunities that you will have including landings, zodiac cruises, photographing from the ship while underway, and ship cruising. The logistics of getting your gear and yourself safely ashore are covered in detail. For those considering such an expedition, there is a frank discussion about the physical demands of a Southern Ocean voyage.
The new guide does include specific tips for many of the popular landings. In South Georgia these include the landings at Elsehul, Fortuna Bay, Right Whale Bay, Hercules Bay, Grytviken, Stromness Harbor, Godthul, Undine Harbor, and Cooper Bay, as well as the famed landing sites at Salisbury Plain, Gold Harbor, and the mind-boggling St. Andrews Bay. In Antarctica you will–weather permitting–likely land at Brown Bluff, Jougla Point, Petermann Island, Neko Harbor, Danco Harbor, Hannah Point, and for the extremely lucky, Bailey Head. There is lots of zodiac cruising down by the continent at locations that include the ice- and Humpback Whale-filled Cierva Cove, Paulet Island (where landings are possible but not likely), Hope Bay, and lots more. You will learn what to expect on a zodiac cruise and how best to maximize your opportunities while protecting your gear.
Scroll down here for a free excerpt.
Why So Expensive?
Actually, if you consider the value of the information in the PDF that you will receive, the SOPG is cheap. I have spent well more than $70,000 out of pocket on my five Southern Ocean trips. You will likely be spending $10 to $20K or more on your trip. And you will likely be bringing $10 to $20K or more worth of gear on your trip. $100? That is a huge bargain.
As above, the info in this guide will prove invaluable. It will help you be prepared; it will help you to dress properly so that you can stay as warm and as dry as possible; it will help you keep your gear safe and dry; it will help you to maximize your photographic opportunities. And, if you follow the safety tips, it might even save your life.
From Ted Cheeseman
Ted Cheeseman was the Expedition Leader on two of my three Cheesemans' Ecology Safari voyages. He is skillful, dedicated, and extremely knowledgeable. He is as passionate about ice and penguins as I am about bird photography. I recently sent him a review copy of the SOPG. Here is what he had to say:
Thank you for sharing this. I had no idea you were putting so much work into the guide. It was really fun to see your images. I have, of course, seen many of them, but many more I had not. I read a lot of it, not comprehensively but spent about an hour. Great stuff Artie. Your introduction is solid, honest, appropriate, and I thoroughly enjoyed seeing the experience from your perspective. Ted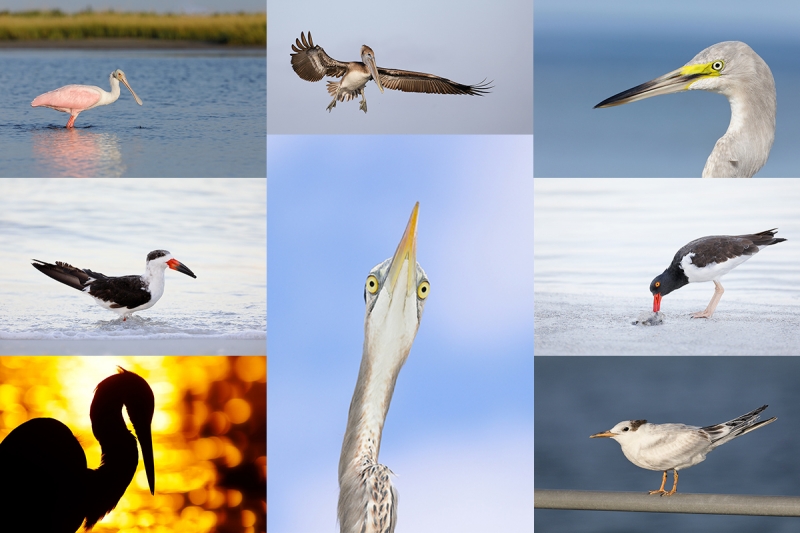 Recent Fort DeSoto Images
From bottom left clockwise back to center: Great Egret, blasting sunrise highlights; Black Skimmer, winter plumage in pre-dawn light; Roseate Spoonbill foraging; Brown Pelican, juvenile landing; hybrid heron X egret; American Oystercatcher feeding; Royal Tern, worn juvenile; Great Blue Heron from below.
Fort DeSoto Early Winter IPT. 3 1/2 days: $1599
Saturday DEC 2 (afternoon session) through the full day on Tuesday DEC 5, 2017. Meet and Greet Introduction on SAT DEC 2, 2017
With no water in Estero Lagoon, Corkscrew Swamp and Anhinga Trail total busts for many years, and Ding Darling NWR managed into oblivion, Fort DeSoto has emerged as the premier bird photography location in the state. Join me in early winter to escape the cold weather and photograph lots of tame terns, gulls, herons, egrets (including Reddish Egret), shorebirds (including and especially Marbled Godwit), Osprey, and Brown Pelican. Long-billed Curlew, Wood Stork, and Roseate Spoonbill all range somewhere between likely and possible.
Learn to get the right exposure every time, to approach free and wild (and often tame!) birds, and to design a pleasing image. And learn the location of my new Fort DeSoto hotspot along with my favorite sunset location (sky conditions permitting). To register call Jim or Jen at the office at 863-692-0906 or shoot me an e-mail.
DeSoto IPT Details
This IPT will include four 3 hour afternoon sessions, three 3 1/2 hour morning sessions, three lunches, and after-lunch image review and Photoshop sessions. To ensure early starts, breakfasts will be your responsibility. Dinners are on your own so that we can get some sleep.
Because of the narrow time frame, your $499 non-refundable deposit can be paid not by credit card. Call Jim or Jennifer at the office with a credit card at 863-692-0906 to register. Your balance must be paid by check once you sign up. The balance check (made out to "BIRDS AS ART) should me mailed to us at BIRDS AS ART, PO Box 7245, Indian Lake Estates, FL, 33855. Please print, complete, and sign the form that is linked to here and shoot it to us along with your balance check. If you have any questions, please feel free to contact me via e-mail.
Canon lens rentals are available on a limited basis: 600 II, 500 II, 400 DO II, and 200-400 f/4 with Internal TC.
If In Doubt …
If in doubt about using the BAA B&H affiliate link correctly, you can always start your search by clicking here. Please note that the tracking is invisible. Web orders only. Please, however, remember to shoot me your receipt via e-mail.
Please Remember to use my Affiliate Links and to Visit the New BAA Online Store 🙂
To show your appreciation for my continuing efforts here, we ask, as always, that you get in the habit of using my B&H affiliate links on the right side of the blog for all of your photo and electronics purchases. Please check the availability of all photographic accessories in the New BIRDS AS ART Online Store, especially the Mongoose M3.6 tripod head, Wimberley lens plates, Delkin flash cards and accessories, and LensCoat stuff.
As always, we sell only what I have used, have tested, and can depend on. We will not sell you junk. We know what you need to make creating great images easy and fun. And please remember that I am always glad to answer your gear questions via e-mail.
I would of course appreciate your using our B&H affiliate links for all of your major gear, video, and electronic purchases. For the photographic stuff mentioned in the paragraph above, and for everything else in the new store, we, meaning BAA, would of course greatly appreciate your business. Here is a huge thank you to the many who have been using our links on a regular basis and those who will be visiting the New BIRDS AS ART Online Store as well.
Amazon.com
Those who prefer to support BAA by shopping with Amazon may use the logo link above.
Amazon Canada
Many kind folks from north of the border, eh, have e-mailed stating that they would love to help us out by using one of our affiliate links but that living in Canada and doing so presents numerous problems. Now, they can help us out by using our Amazon Canada affiliate link by starting their searches by clicking here.
Facebook
Be sure to like and follow BAA on Facebook by clicking on the logo link upper right. Tanks a stack.
Typos
In all blog posts and Bulletins, feel free to e-mail or to leave a comment regarding any typos or errors. Just be right :).