Stuff
I will be away for almost a month while leading the 2018/2019 Falklands land-based IPT. I should be back in the office (and back in the pool) on the afternoon of Monday, January 14, 2019. Happy new year! I should have good internet access until Friday December 21 and then again on the weekend of January 12/13. I will surely not be online from December 23-27 and then again from January 4-7. I may or may not have limited internet access at other times.
Jim and Jen will be in the office weekdays to help you with your online orders and with IPT registrations.
I was thrilled recently to learn that first-timer Shonagh Adelman of Chattanooga, TN signed up for the 2019 Puffins and Gannets and Red Kites IPT. As he is the first registrant, we need three more for the trip to go. I am counting on it and hope for a sellout with ten plus the two leaders; there are lots of puffins and gannets. 🙂
I still need three or four folks for the Galapagos trip. If you would like to explore the possibilities, please get in touch via e-mail. No reasonable offer will be turned down.
2019 San Diego 4 1/2-DAY BIRDS AS ART Instructional Photo-Tour (IPT) SUN JAN 20, 2019 thru and including the morning session on THURS JAN 24: 4 1/2 days: $2099. (Limit: 10/Openings: 4) Introductory Meet and Greet at 7:00pm on the evening before the IPT begins: THURS, 6 DEC.
The 2019 Hooptie Deux/Roseate Spoonbill Boat 3 1/2 DAY IPT — FEB 16 thru 19, 2019: $2599.00. Limit: 5 photographers/Openings: 2.
The New, Expanded 2019 UK Puffins, Gannets, & Red Kites IPT. Thursday June 27 (from EDI) through Tuesday, July 9, 2019 (on the ground; fly home on Wednesday July 10.): $9,999. Limit 10 photographers/Openings: 9. This trip needs four to run. Co-leader: Peter Kes.
The GALAPAGOS Photo Cruise of a Lifetime IPT/The Complete Galapagos Photographic Experience. July 23 to August 6, 2019 on the boat. 13 FULL and two half-days of photography: $14,499. Limit: 12 photographers/Openings: 4.
BIRDS AS ART
BIRDS AS ART is registered in the U.S. Patent and Trademark Office.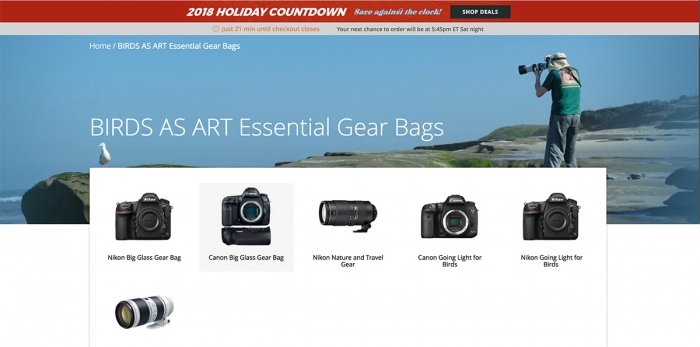 BIRDS AS ART B&H Essential Gear Bags
BIRDS AS ART B&H Essential Gear Bags
Click here or on the logo-link above to check out some great B&H year-end deals in the category that best suits you and your photography.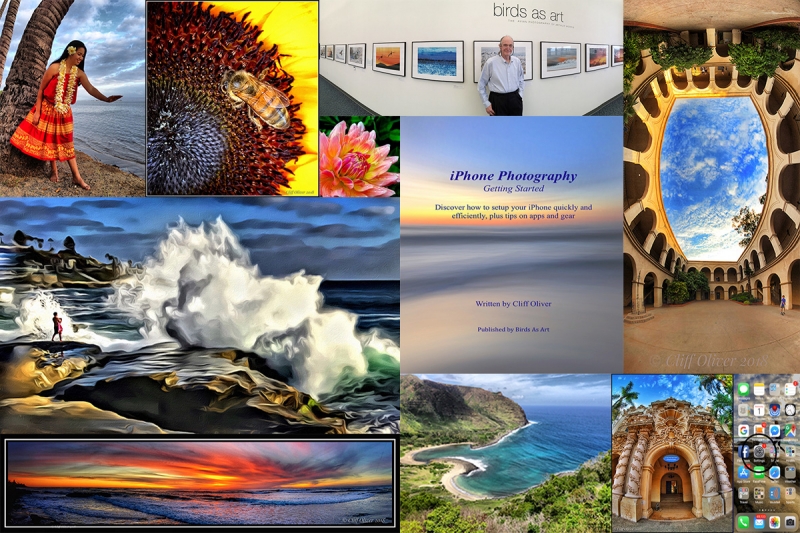 The iPhone Photography e-Guide
If you missed the long-awaited announcement yesterday, click here to learn about Cliff Oliver's great new iPhone e-Guide. To order your copy of the The iPhone Photography e-Guide, please click here. The PDF is sent link by e-mail for downloading: the file is relatively huge at 216 MB.
Selling Your Used Photo Gear Through BIRDS AS ART
Selling your used (or like-new) photo gear through the BAA Blog is a great idea. We charge only a 5% commission. One of the more popular used gear for sale sites charged a minimum of 20%. Plus assorted fees! Yikes. They went out of business. And e-Bay fees are now up to 13%. The minimum item price here is $500 (or less for a $25 fee). If you are interested please scroll down here or shoot us an e-mail with the words Items for Sale Info Request cut and pasted into the Subject line :). Stuff that is priced fairly — I offer pricing advice to those who agree to the terms — usually sells in no time flat. Over the past year, we have sold many dozens of items. Do know that prices on some items like the EOS-1D Mark IV, the old Canon 100-400, the old 500mm, the EOS-7D and 7D Mark II and the original 400mm DO lens have been dropping steadily. You can always see the current listings by clicking here or on the Used Photo Gear tab on the orange-yellow menu bar near the top of each blog post page.
Money Saving Reminder
If you need a hot photo item that is out of stock at B&H, would enjoy free overnight shipping, and would like a $50 discount on your first purchase, click here to order and enter the coupon code BIRDSASART at checkout. If you are looking to strike a deal on Canon or Nikon gear (including the big telephotos) or on a multiple item order, contact Steve Elkins via e-mail or on his cell at (479) 381-2592 (Eastern time) and be sure to mention your BIRDSASART coupon code and use it for your online order. Steve currently has several D850s in stock along with a Nikon 600mm f/4 VR. He is taking pre-orders for the new Nikon 500 P and the Nikon Z6 mirrorless camera body.
Gear Questions and Advice
Too many folks attending BAA IPTs and dozens of photographers whom I see in the field and on BPN, are–out of ignorance–using the wrong gear especially when it comes to tripods and more especially, tripod heads… Please know that I am always glad to answer your gear questions via e-mail. Those questions might deal with systems, camera bodies, accessories, and/or lens choices and decisions.
This image was created at Coronado, California on the 2016 San Diego IPT with the hand held Canon EF 70-200mm f/4L IS USM lens, the Canon Extender EF 1.4X III (at 280mm), and the Canon EOS 7D Mark II. ISO 400. Evaluative metering -1/3 stop: 1/4000 sec. at f/5.6 in Av mode. Color Temperature: 8000K.
Left Large Zone AF/AI Servo Expand/Rear Focus AF as framed was active at the moment of exposure (as is always best when hand holding). The AF system activated two AF points by the near the bird's rear leg. Click here to see the latest version of the Rear Focus Tutorial. Click on the image to see a larger version.
Willet sunset silhouette
Your browser does not support iFrame.
Sunset Silhouette Shorebird Tips and Opportunities …
If you are in the habit of staying at the beach until the sun sets do consider the following:
1-The more gentle the surf the more good opportunities you will have. You are more likely to lose the bird's head against dark parts of the image if there are lots of waves.
2-Light clouds or fog on the western horizon usually bode well for sunset color …
3-Low tide usually leaves long stretches of smooth clean sand the will reflect the sunset colors.
4-Those colors will almost always be richest if you are directly opposite the sun or the spot where the sun went down.
5-Be patient: the best colors may occur 20-30 minutes after the time of sunset.
On most San Diego IPTs we usually enjoy at least two evenings of shorebird and gull sunset silhouette opportunities.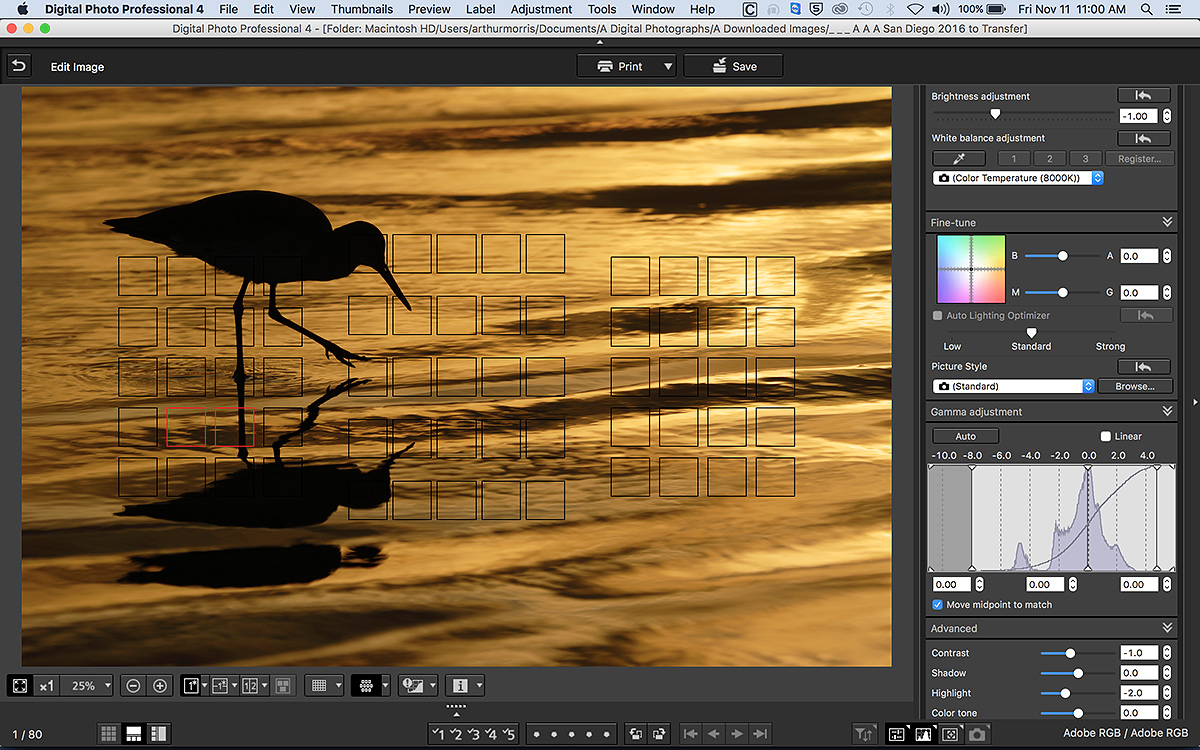 DPP 4 Willet sunset silhouette Screen Capture
DPP 4 Willet sunset silhouette Screen Capture
The brightest highlights when I opened the RAW file in DPP 4 to convert it were on the right side of the image where the sun hit the water. The original RGB #s there were 255, 255, 227. By underexposing the image one full stop by moving the Brightness slider to the left to -1, I got those down to 254, 244, 194. Next I moved the Highlight slider to -2 I got down to 254, 240, 184. Note that the image overall is much too dark. But I wanted to try to control the brightest highlights.
Once I brought the image into Photoshop, I used a Curves Adjustment to lighten the middle tones by pinning the curve by putting three points along the top right (the highlights) and three points along the bottom left (the dark tones) and then pulling up the curve in the middle. Then a small pano crop from the bottom and the image was good to go.
Canon 7D Mark II
There are still lots of folks around making great images with the 7D II — can you say Daniel Cadeux? New folks here should know about the 7D Mark II User's Guide and Canon AF Settings for Birds in Flight. You can check out all of our camera user's guides here. If I live long enough I will publish a D5/D850 guide …
The San Diego Site Guide
If you would like to learn all the great spots in and around San Diego and La Jolla, get yourself a copy of the BAA San Diego Site guide here. It is the next best thing to being on an IPT.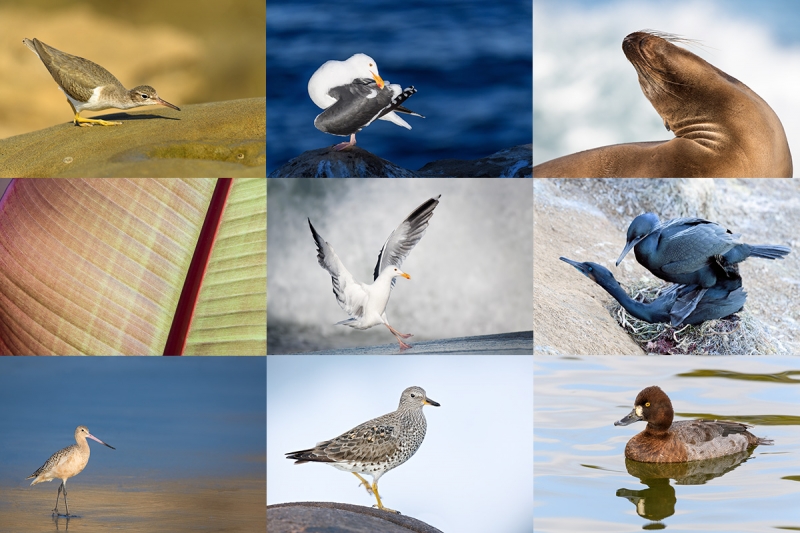 Though the pelicans will be the stars of the show on this IPT, there will be many other handsome and captivating subjects in wonderful settings. Click on the composite to enjoy a larger version.
It Ain't Just Pelicans
With gorgeous subjects just sitting there waiting to have their pictures taken, photographing the pelicans on the cliffs is about as easy as nature photography gets. With the winds from the east almost every morning there is usually some excellent flight photography as well. And the pelicans are almost always doing something interesting: preening, scratching, bill pouch cleaning, or squabbling. And then there are those crazy head throws that are thought to be a form of intra-flock communication. You will be guided as to how to make the best of all of those opportunities. And depending on the weather and local conditions and tides, there are a variety of fabulous photo chances available in and around San Diego.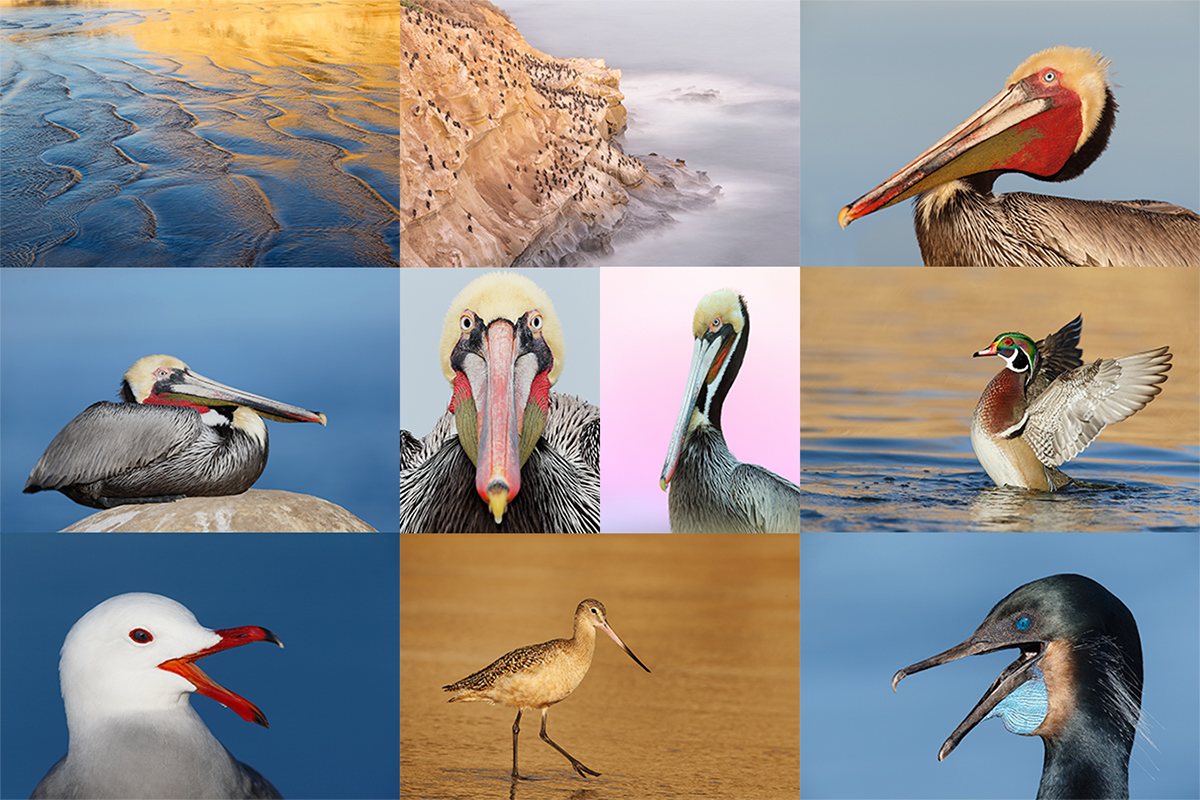 Did I mention that there are wealth of great birds and natural history subjects in San Diego in winter? Click on the composite to enjoy a larger version.
The San Diego Details
This IPT will include five 3 1/2 hour morning photo sessions, four 2 1/2 hour afternoon photo sessions, four lunches, and after-lunch image review and Photoshop sessions. To ensure early starts, breakfasts will be your responsibility. An so that we can get some sleep, dinners will be on your own.
A $599 non-refundable deposit is required to hold your slot for this IPT. You can send a check (made out to "Arthur Morris) to us at BIRDS AS ART, PO Box 7245, Indian Lake Estates, FL, 3385, or call Jim or Jennifer at the office with a credit card at 863-692-0906. Your balance, payable only by check, will be due on 10/11//2018. If we do not receive your check for the balance on or before the due date we will try to fill your spot from the waiting list. Please print, complete, and sign the form that is linked to here and shoot it to us along with your deposit check. If you register by phone, please print, complete and sign the form as noted above and either mail it to us or e-mail the scan. If you have any questions, please feel free to contact me via e-mail.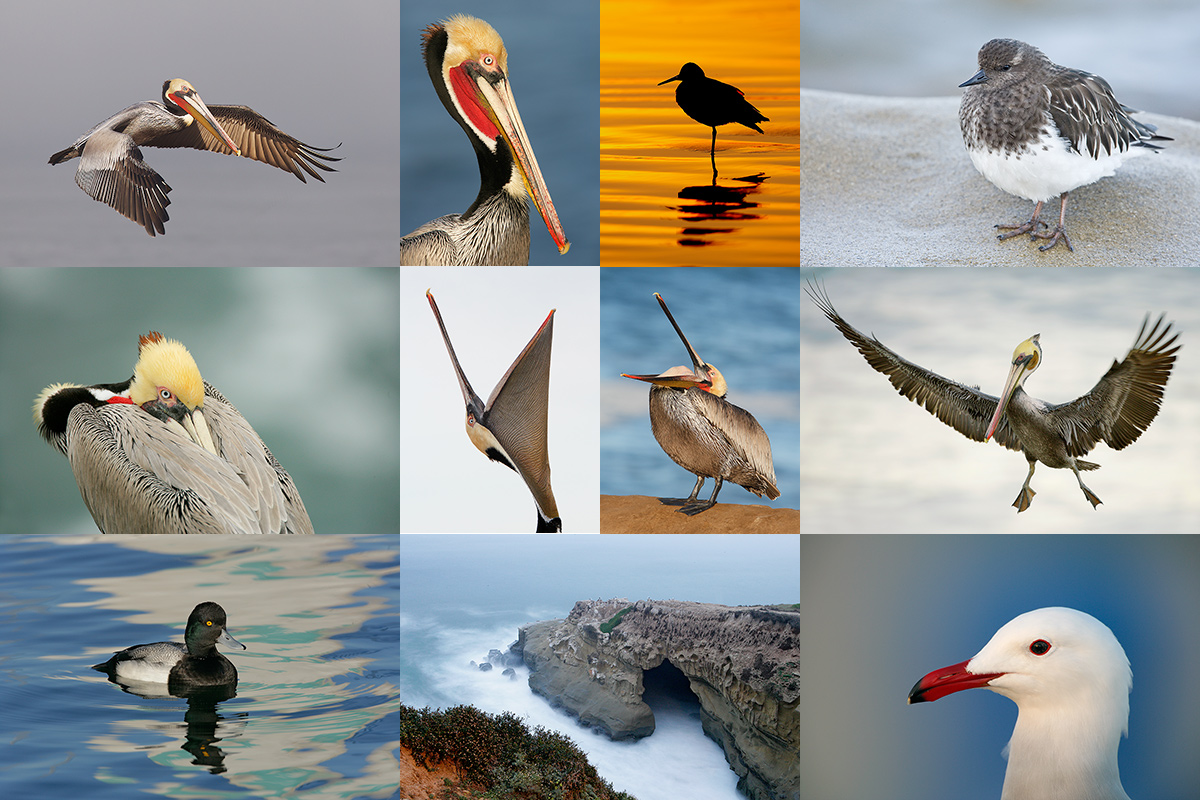 Variety is surely the spice of life in San Diego. Click on the composite to enjoy a larger version.
Getting Up Early and Staying Out Late
On all BIRDS AS ART IPTS including and especially the San Diego IPT, we get into the field early to take advantage of unique and often spectacular lighting conditions and we stay out late to maximize the chances of killer light and glorious sunset silhouette situations. We often arrive at the cliffs a full hour before anyone else shows up to check out the land/sea-scape opportunities.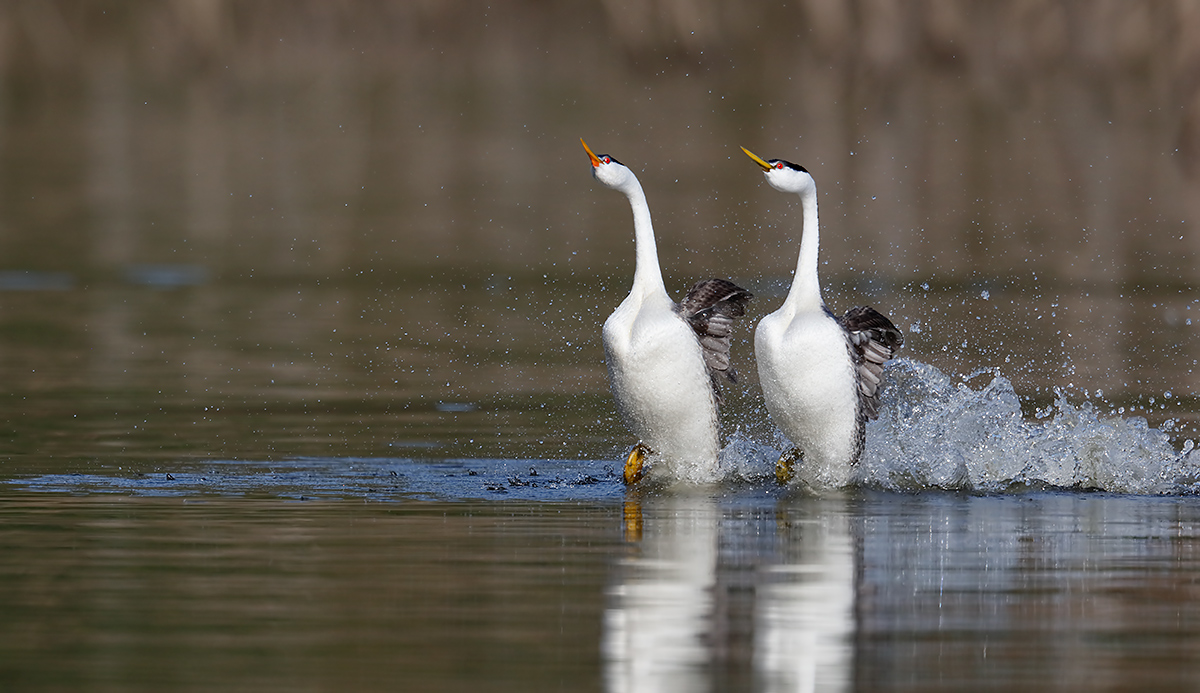 This image was created in San Diego, CA with the Induro GIT 304L/Mongoose M3.6-mounted Canon EF 500mm f/4L IS II USM lens, the Canon Extender EF 1.4X III, and the simply amazing, astounding, mega mega-pixel Canon EOS 5DS R. ISO 500. Evaluative metering -2/3 stop: 1/2500 sec. at f/6.3 in Av mode. AWB.
61-Point (Automatic selection)/AI Servo/Shutter Button AF as originally framed was active at the moment of exposure (as is always best when photographing moving subjects). Though the optimized image above was a healthy crop from the original the result was a high quality 148+ MB 16-bit file. Click on the image to see a larger version. The AF system selected two AF points, one above the other, between the two birds;the eye of the bird on our right is razor sharp.
Clarke's X Western Grebe courtship rush
Your browser does not support iFrame.
The Dancing Grebes Add-On. FRI JAN 25, 2019: $399.
Those registering for the 2019 San Diego IPT might wish to join me for the Dancing Grebe Add-On Morning as above. Please read the details carefully. You will need to wade at least mid-thigh deep with your tripod over an uneven bottom. Lightweight chest waders are advised. Long lenses are needed; a 100-400 will not cut it at this spot, even with a TC. Chances at this location (easily accessible from the IPT hotel), vary from day to day so there will be no guarantees. But when those grebes dance, it can be an amazing rush. We may also enjoy chances to photograph both species, Western and Clarke's Grebes, at fairly close range.
Help Support the Blog
Please help support my efforts here on the blog by remembering to click on the logo link above each time that you shop Amazon. That would be greatly appreciated. There is no problem using your Prime account; just click on the link and log into your Prime account. With love, artie
If In Doubt …
If in doubt about using the BAA B&H affiliate link correctly, you can always start your search by clicking here. Please note that the tracking is invisible. Web orders only. Please, however, remember to shoot me your receipt via e-mail.
Please Remember to use my Affiliate Links and to Visit the New BAA Online Store 🙂
To show your appreciation for my continuing efforts here, we ask, as always, that you get in the habit of using my B&H affiliate links on the right side of the blog for all of your photo and electronics purchases. Please check the availability of all photographic accessories in the New BIRDS AS ART Online Store, especially the Mongoose M3.6 tripod head, Wimberley lens plates, Delkin flash cards and accessories, and LensCoat stuff.
As always, we sell only what I have used, have tested, and can depend on. We will not sell you junk. We know what you need to make creating great images easy and fun. And please remember that I am always glad to answer your gear questions via e-mail.
I would of course appreciate your using our B&H affiliate links for all of your major gear, video, and electronic purchases. For the photographic stuff mentioned in the paragraph above, and for everything else in the new store, we, meaning BAA, would of course greatly appreciate your business. Here is a huge thank you to the many who have been using our links on a regular basis and those who will be visiting the New BIRDS AS ART Online Store as well.
Facebook
Be sure to like and follow BAA on Facebook by clicking on the logo link upper right. Tanks a stack.
Typos
In all blog posts and Bulletins, feel free to e-mail or to leave a comment regarding any typos or errors. Just be right :).