What's Up
I am on my way to the airport for my nonstop Southwest flight to San Diego for the IPT and more. I hope that I did not forget anything important 🙂
Contest News
As below, the deadline for contest entries has been extended until February 7, 2019.
The 2018 B&H/BAA Bird Photography Holiday Contest!
Thanks to the generosity of the great folks at B&H, I am proud to announce the first-ever B&H/BAA Bird Photography Holiday Contest. The rules are simple:
1-Anyone can enter one or two of their favorite avian images that were created in 2018. As below, each image must be sent in a separate e-mail.
2-Image clean-up and repair is permitted.
3-Send you JPEGs in two separate e-mails only by clicking on this link: Contest Entry e-mail.
4-Please size your properly sharpened JPEGs as follows: 1200 high or wide less than 600 kb.
5-If you do not follow the instructions above to the letter your images will not be judged and you will not receive any notification.
6-There is one judge and you can guess who it is.
7-Here are the five prizes:
1st place: a $100 B&H gift certificate
2nd through 4th place: a $50 B&H gift certificate
All prizes will be awarded.
8- Entries my be submitted from now until February 7, 2019. Please remember to do your holiday shopping at B&H using a BAA affiliate link or by clicking here or on any B&H affiliate banner here on the blog.
Amazon
If like me you purchase lots of household stuff from Amazon every month, please consider getting in the habit of clicking on the logo link above the Help Support the Blog feature below or the Amazon logo link on the right side of each blog post. Doing so is a great way to help support my efforts here on the blog. This post took three hours to prepare. Thanks with love, artie
ps: There is no problem using your Prime account; just click on one of our Amazon links and log into your Prime account if it does not pop up immediately.
IPT Updates
I still need three or four folks for the Galapagos trip and two more for the Spoonbill IPT. If you would like to explore the possibilities, please get in touch via e-mail. For the Galapagos trip, no reasonable offer will be turned down.
2019 San Diego 4 1/2-DAY BIRDS AS ART Instructional Photo-Tour (IPT) SUN JAN 20, 2019 thru and including the morning session on THURS JAN 24: 4 1/2 days: $2099. (Limit: 10/Openings: 4) Introductory Meet and Greet at 7:00pm on the evening before the IPT begins: SAT DEC 19, 2019.
The 2019 Hooptie Deux/Roseate Spoonbill Boat 3 1/2 DAY IPT — FEB 16 thru 19, 2019: $2599.00. Limit: 5 photographers/Openings: 2.
The New, Expanded 2019 UK Puffins, Gannets, & Red Kites IPT. Thursday June 27 (from EDI) through Tuesday, July 9, 2019 (on the ground; fly home on Wednesday July 10.): $9,999. Limit 10 photographers/Openings: 9. This trip needs four to run. Co-leader: Peter Kes.
The GALAPAGOS Photo Cruise of a Lifetime IPT/The Complete Galapagos Photographic Experience. July 23 to August 6, 2019 on the boat. 13 FULL and two half-days of photography: $14,499. Limit: 12 photographers/Openings: 4.
BIRDS AS ART
BIRDS AS ART is registered in the U.S. Patent and Trademark Office.
Selling Your Used Photo Gear Through BIRDS AS ART
Selling your used (or like-new) photo gear through the BAA Blog is a great idea. We charge only a 5% commission. One of the more popular used gear for sale sites charged a minimum of 20%. Plus assorted fees! Yikes. They went out of business. And e-Bay fees are now up to 13%. The minimum item price here is $500 (or less for a $25 fee). If you are interested please scroll down here or shoot us an e-mail with the words Items for Sale Info Request cut and pasted into the Subject line :). Stuff that is priced fairly — I offer pricing advice to those who agree to the terms — usually sells in no time flat. Over the past year, we have sold many dozens of items. Do know that prices on most everything dSLR are dropping steadily. You can always see the current listings by clicking here or on the Used Photo Gear tab on the orange-yellow menu bar near the top of each blog post page.
My Listing
Nikon AF-S NIKKOR 200-500mm f/5.6E ED VR Lens (with a great and necessary extra)
Price Reduced $100 on January 18, 2019.
Having quickly and completely fallen in love with my much more expensive Nikon AF-S NIKKOR 500mm f/5.6E PF ED VR lens, I am offering my Nikon 200-500mm f/5.6 lens in pretty close to near-mint condition for only $1199.00 (was $1299.00). The sale includes the original product box and everything that came in it, the crappy original tripod collar, the RRS Collar Foot Package for Nikon AF-S 200-500mm f/5.6E ED VR Lens (a $250 plus the shipping) value, and insured ground shipping via UPS.
Please contact me via e-mail or on my cell at 863-221-2372 (before next Wednesday, 19 DEC).
This is the lens that hooked me on Nikon and its great AF system. It is sharp and versatile and though AF is a bit sluggish away from the center AF point with a teleconverter, I made some great images with the TC-E14. As the lens sells new right now for $1,396.95 you can save you a cool $346.95 by grabbing my almost like-new lens today. artie
Money Saving Reminder
If you need a hot photo item that is out of stock at B&H, would enjoy free overnight shipping, and would like a $50 discount on your first purchase, click here to order and enter the coupon code BIRDSASART at checkout. If you are looking to strike a deal on Canon or Nikon gear (including the big telephotos) or on a multiple item order, contact Steve Elkins via e-mail or on his cell at (479) 381-2592 (Eastern time) and be sure to mention your BIRDSASART coupon code and use it for your online order. Steve currently has several D850s in stock along with a Nikon 600mm f/4 VR. He is taking pre-orders for the new Nikon 500 P and the Nikon Z6 mirrorless camera body.
Gear Questions and Advice
Too many folks attending BAA IPTs and dozens of photographers whom I see in the field and on BPN, are–out of ignorance–using the wrong gear especially when it comes to tripods and more especially, tripod heads… Please know that I am always glad to answer your gear questions via e-mail. Those questions might deal with systems, camera bodies, accessories, and/or lens choices and decisions.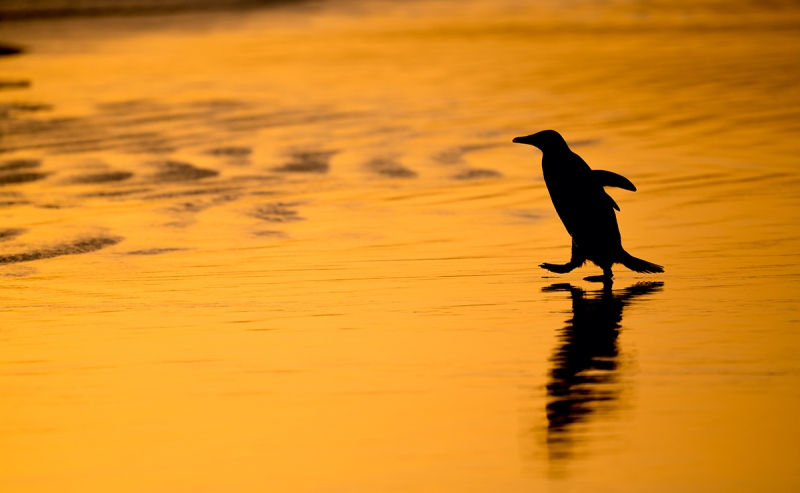 This image was created on January 11, 2019 at Volunteer Point, the Falklands. I used the Induro GIT 204/Mongoose M3.6-mounted Nikon AF-S NIKKOR 500mm f/5.6E PF ED VR lens and my souped up Nikon D850. ISO 400. Matrix metering plus about 1/3rd stop: 1/2500 sec. at f/6.3 NATURAL AUTO WB at 5:13am with some light clouds on the horizon.
Nikon Focus Peaking fine-tune value: +3. See the Nikon AF Fine-tune e-Guide here.
One up and one to the right of the center Group (grp) AF point/Continuous (C in Nikon/AI Servo with Canon) AF was active at the moment of exposure. The array was on the penguin's upper body. The trick here to to focus in such a manner that you have included the complete reflection.
Gentoo Penguin heading into the surf at dawn
Your browser does not support iFrame.
Your browser does not support iFrame.
On Getting Up Early
I am glad that I am a morning person. I often wake at 4:00am or so and usually put in almost a full day of work while most folks are just getting to work. When I am photographing, nothing changes. On the recently concluded Falklands land-based IPT we all woke very early almost every day. There are several advantages of getting into the field early:
1-You can often find situations where you can put yourself in position to take advantage of nice sky color.
2-Birds and wildlife are often more active at dawn than at any other time of day.
Crowds of bird photographers are usually not a problem early in the day. This is never a problem in the Falklands unless you land by zodiac from a big cruise ship 🙂
On some of the islands we got out really early, came back to be served breakfast at a "normal" hour, and, if it was not full sun, headed back out for a few more hours. At some point we had time for long naps, image review sessions, Photoshop sessions, and even a formal instructional program or two. The it was back out between 3:30 and 5pm depending on the sky conditions. Sometimes we made it back in time for dinner, and sometimes we ate cold food. On our two visits to Saunders Island we self-catered and were thus free to set our own schedules and eat whenever we wanted to.
All in all the days were long and we would put in eight to ten hours of more in the field and still have lots of time for napping and the rest. Of our close to forty photo sessions I opted to stay in on only twice. We walked more at Volunteer Point than at any other location as it was more than a mile to get to the King Penguin colony. I almost always took the longer beach route because I love beaches so much. On the morning of January 11th, getting out early and heading down to the beach paid off handsomely.
I am look forward to getting out early and staying out late on the San Diego IPT.
Are you an early riser or do you like to sleep late?
Help Support the Blog
Please help support my efforts here on the blog by remembering to click on the logo link above each time that you shop Amazon. That would be greatly appreciated. There is no problem using your Prime account; just click on the link and log into your Prime account. With love, artie
If In Doubt …
If in doubt about using the BAA B&H affiliate link correctly, you can always start your search by clicking here. Please note that the tracking is invisible. Web orders only. Please, however, remember to shoot me your receipt via e-mail.
Please Remember to use my Affiliate Links and to Visit the New BAA Online Store 🙂
To show your appreciation for my continuing efforts here, we ask, as always, that you get in the habit of using my B&H affiliate links on the right side of the blog for all of your photo and electronics purchases. Please check the availability of all photographic accessories in the New BIRDS AS ART Online Store, especially the Mongoose M3.6 tripod head, Wimberley lens plates, Delkin flash cards and accessories, and LensCoat stuff.
As always, we sell only what I have used, have tested, and can depend on. We will not sell you junk. We know what you need to make creating great images easy and fun. And please remember that I am always glad to answer your gear questions via e-mail.
I would of course appreciate your using our B&H affiliate links for all of your major gear, video, and electronic purchases. For the photographic stuff mentioned in the paragraph above, and for everything else in the new store, we, meaning BAA, would of course greatly appreciate your business. Here is a huge thank you to the many who have been using our links on a regular basis and those who will be visiting the New BIRDS AS ART Online Store as well.
Facebook
Be sure to like and follow BAA on Facebook by clicking on the logo link upper right. Tanks a stack.
Typos
In all blog posts and Bulletins, feel free to e-mail or to leave a comment regarding any typos or errors. Just be right :).