What's Up?
I have really been enjoying my swims each afternoon along with Florida's gorgeous weather.
Being open to seemingly serendipitous encounters and following through on them can have some wonderful results. IPT participant Luis Alberto Grunauer is in the process of experiencing just that. You will surely find his story below interesting and possibly inspiring. Feel free to leave a comment for Luis. Also, let us know which of Luis's images is your favorite. And why.
If you would like a copy of the Health Basics File, please get in touch via e-mail.
IPT Updates
$200 late registration discount on the Spoonbill Boat IPT! Scroll down for the details.
Unsolicited via e-mail from multiple IPT veteran Donna Bourdon
Thank you Artie for another amazing trip! The setting and the access to such spectacular wildlife was more than we could have hoped for. And you, yourself are remarkable. I am always touched by your selflessness in sharing your professional talent and knowledge. Not many working pros would be willing to share their intellectual property as you do. And the group experience was such fun. It was good to make new friends and enjoy food, fun and fellowship together! I hope to meet up with everyone again soon for another "over the top" adventure. with love, Donna
Unsolicited via e-mail from IPT veteran Eugen Dolan
Arthur, Thank you very much for your overwhelming infectious enthusiasm that helped get me up on some mornings. Also, your ability to express yourself- and explain in great detail why you like or may not like an image – was very helpful in allowing me to better analyze my images. Eugen
I have room for two folks on the spoonbill boat and still need three or four folks for the Galapagos trip. Please shoot me an e-mail to learn about late registration discounts for both the Spoonbill Boat and Galapagos trips.
The 2019 Hooptie Deux/Roseate Spoonbill Boat 3 1/2 DAY IPT — FEB 16 thru 19, 2019: $2599.00. Limit: 5 photographers/Openings: 2. $200 late registration discount
The 2019 Fort DeSoto Spring IPT/THURS 18 APRIL through the morning session on SUNDAY APRIL 21, 2019: 3 1/2 DAYS: $1549. Limit 8/Openings: 4. Meet and greet at 7PM on the evening of WED 17 APRIL.
The New, Expanded 2019 UK Puffins, Gannets, & Red Kites IPT. Thursday June 27 (from EDI) through Tuesday, July 9, 2019 (on the ground; fly home on Wednesday July 10.): $9,999. Limit 10 photographers/Openings: 9. This trip needs four to run. Co-leader: Peter Kes.
The GALAPAGOS Photo Cruise of a Lifetime IPT/The Complete Galapagos Photographic Experience. July 23 to August 6, 2019 on the boat. 13 FULL and two half-days of photography: $14,499. Limit: 12 photographers/Openings: 4. Please e-mail to learn about the huge late registration discount for this trip.
BIRDS AS ART
BIRDS AS ART is registered in the U.S. Patent and Trademark Office.
Selling Your Used Photo Gear Through BIRDS AS ART
Selling your used (or like-new) photo gear through the BAA Blog is a great idea. We charge only a 5% commission. One of the more popular used gear for sale sites charged a minimum of 20%. Plus assorted fees! Yikes. They went out of business. And e-Bay fees are now up to 13%. The minimum item price here is $500 (or less for a $25 fee). If you are interested please scroll down here or shoot us an e-mail with the words Items for Sale Info Request cut and pasted into the Subject line :). Stuff that is priced fairly — I offer pricing advice to those who agree to the terms — usually sells in no time flat. Over the past year, we have sold many dozens of items. Do know that prices on some items like the EOS-1D Mark IV, the old Canon 100-400, the old 500mm, the EOS-7D and 7D Mark II and the original 400mm DO lens have been dropping steadily. Most recently the price of used Canon 600mm f/L IS II lenses have been dropping like a rock with the introduction of the 600 III. You can always see the current listings by clicking here or on the Used Photo Gear tab on the orange-yellow menu bar near the top of each blog post page.
Price Reduction
Canon EF 500mm f/4L IS II USM Lens/with Extras!
$300.00 Price Drop! New BAA Record-low Price
Multiple IPT veteran and good friend Paul Reinstein is offering a Canon EF 500mm f/4L IS II USM in excellent plus condition — it would be near-mint but for a few small paint chips on the bottom of the lens foot — for the BAA record-low price of $6,799.00. (was $7099.00). The sale includes the rear lens cap, the lens trunk, the original tough front lens cover, the lens strap, the instruction manual, the original product box, a LensCoat,a LensCoat Hoodie that has been modified to make it easier to install over the LensCoat, and insured ground shipping via major courier to US addresses only. Photos are available upon request. Your item will not ship until your check clears unless other arrangements are made.
Please contact Paul e-mail or by phone or text message at 1-310-946-9031 (Pacific time zone).
The 500 f/4 super telephoto lenses have long been the world's most popular for birds,nature, wildlife, and sports for many decades. Canon's Series II version is light, fast, super-sharp, and produces amazing images with both the 1.4X and 2X III TCs. The 500 II is relatively small, easily hand holdable for some folks, and is much easier travel with, focuses closer than, and costs a lot less than the 600 II. Lastly, and you might find this amazing, the magnification for the 500 II is the same as it is for the 600 II: .15X. How is that possible? Magnification is calculated at the minimum focusing distance of the lens — 12.14 feet (3.7 meters) for the 500 II and 14.77 feet (4.5 meters) for the 600 II. Simply put, the 500 II focuses more than two feet closer than the 600 II. The seller for the last one that sold here had five calls the first day; the first four folks quibbled on price. The fifth one jumped right on it … Please do not tarry if you are seriously interested in Paul's lens as it should sell almost instantly. Or not 🙂 As the 500 II goes for $8999 new you will be getting an almost new lens while saving $1900.00. I loved my 500 II 🙂 artie

Orlando Camera Club Program Sponsored By Bedford Camera
On February 25, 2019, I will be presenting "Lessons from the Field – BIRDS AS ART Style" for the Orlando Camera Club. They told me that they did not want to see beautiful images as they would rather learn. I told them that I would need to show them lots of beautiful images during the course of the lessons. 🙂 I will be working hard on this brand new program for the next three weeks. The program is scheduled for 6:15 – 8:00pm at the Marks Senior Center, 99 E Marks Street, Orlando, FL 32803. The meeting is free and open to the public. If you learned about the program through the blog be sure to come up for a hug.
Huge thanks to Steve Elkins at Bedford Camera for sponsoring my appearance and to Holly Manus for the invitation. Click on the logo-link above or check out the Money Saving Reminder feature immediately below to get acquainted with Bedford.
From the OCC website here:
Arthur Morris will present "Lessons from the Field – BIRDS AS ART Style". This slide-illustrated lecture will feature hundred's of Artie's spectacular photographs. As he shares images from his favorite locations around the globe he will be telling us about the birds and other creatures that he photographs and about the equipment and techniques that he uses to create his images. Topics to be covered include getting close to free and wild birds, flight photography, getting the right exposure, and image design. A selection of books and CDs will be available.
Money Saving Reminder
If you need a hot photo item that is out of stock at B&H, would enjoy free overnight shipping, and would like a $50 discount on your first purchase, click here to order and enter the coupon code BIRDSASART at checkout. If you are looking to strike a deal on Canon or Nikon gear (including the big telephotos) or on a multiple item order, contact Steve Elkins via e-mail or on his cell at (479) 381-2592 (Eastern time) and be sure to mention your BIRDSASART coupon code and use it for your online order. Steve currently has several D850s in stock along with a Nikon 600mm f/4 VR. He is taking pre-orders for the new Nikon 500 P and the Nikon Z6 mirrorless camera body.
SONY A9 On Sale!
The SONY A9 went on sale at both B&H and Bedford yesterday with a $500 instant rebate. Please consider purchasing your A9 from a BAA affiliate.
Gear Questions and Advice
Too many folks attending BAA IPTs and dozens of photographers whom I see in the field and on BPN, are–out of ignorance–using the wrong gear especially when it comes to tripods and more especially, tripod heads… Please know that I am always glad to answer your gear questions via e-mail. Those questions might deal with systems, camera bodies, accessories, and/or lens choices and decisions.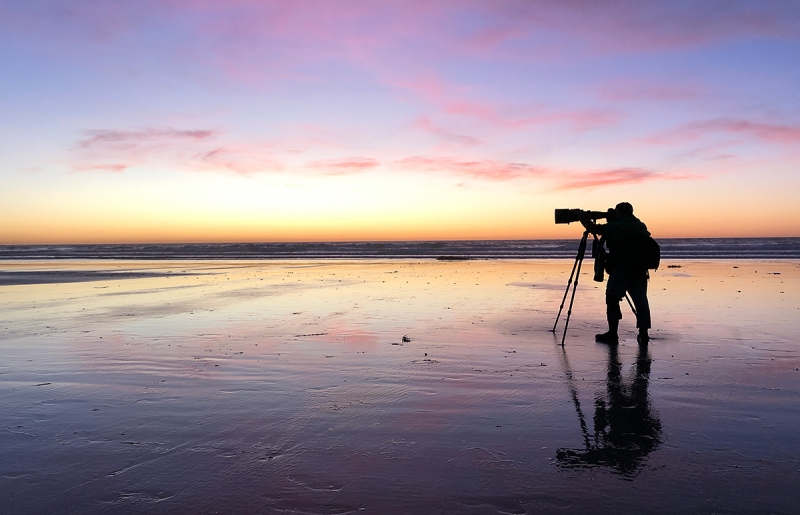 This image was created on January 22, 2019 on an afternoon San Diego IPT photo session. I used the hand held i-Phone 8+.
Luis Alberto Grunauer at the beach at sunset
Scroll down to learn about Cliff Oliver's The iPhone Photography e-Guide.
Luis "Louie" Alberto Grunauer
Luis's first contact with BIRDS AS ART was in April 2018 when he wrote for info regarding the right Induro tripod for him and his Canon 800. Soon thereafter he expressed an interest in making this summer's Galapagos Photo Cruise of a Lifetime. I am still working on him on that one. 🙂 In October he signed up for the San Diego IPT.
All of the e-mails below (including the somewhat personal ones and my commentary) are printed here with Luis's permission and my sincere appreciation.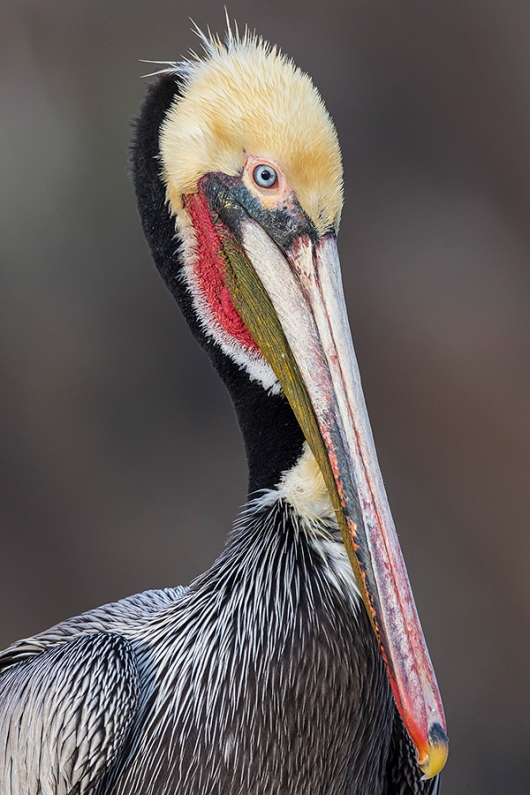 This image was created on January 20 on the first afternoon of the 2019 San Diego IPT. Luis used the tripod-mounted Canon EF 800mm f/5.6L IS USM lens with the blazingly fast Canon EOS-1D X Mark II DSLR. ISO 1250. Evaluative metering at zero: 1/800 sec. at f/8 in Av (Aperture Priority, A in Nikon) Mode.
Pacific Race Brown Pelican vertical head portrait with dark background
Image courtesy of and copyright 2019:
Luis Alberto Grunauer/Silvia's Jovial Photography
Your browser does not support iFrame.
Louie's Canon 800
An 800 is a very long lens when working on the cliffs at La Jolla. For the image above, Luis moved back as far as he could but his technically perfect image is a bit too tight in the frame. Luis liked to work in both Av and Tv modes; I am still working on getting him to use the much more reliable Manual mode …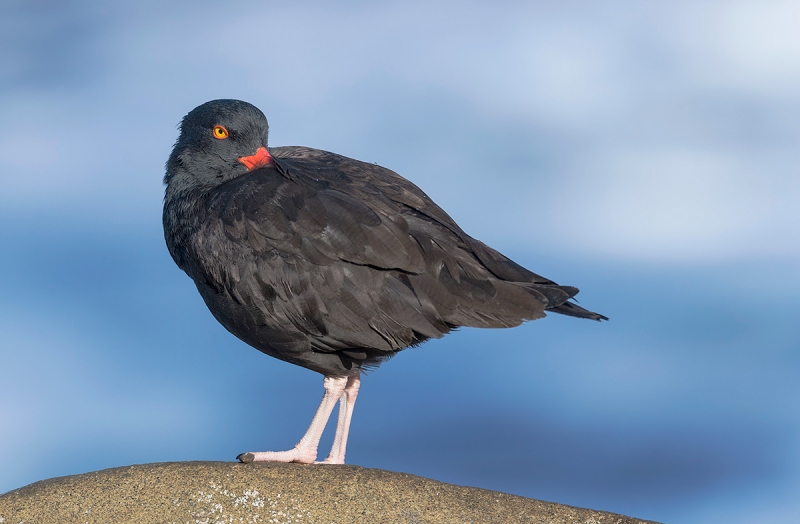 This image was created on the morning of January 21 on the 2019 San Diego IPT. Luis used the tripod-mounted Canon EF 800mm f/5.6L IS USM lens with the blazingly fast Canon EOS-1D X Mark II DSLR. ISO 100. Evaluative metering -2/3 stop: 1/500 sec. at f/7.1 in Av (Aperture Priority, A in Nikon) Mode.
Minus .7 stops EC was needed to keep from burning the light pink legs.
Black Oystercatcher sleeping on rock
Image courtesy of and copyright 2019:
Luis Alberto Grunauer/Silvia's Jovial Photography
Your browser does not support iFrame.
Luis's Intermediate Zoom Lens
Intermediate telephoto zoom lenses are deadly on the pelicans with or with a 1.4X TC. Luis really concentrated on executing the principles that we were working on every day. In the image above the framing and the head and bill angle are dead-solid perfect with the pelican's bill parallel to the back of the camera.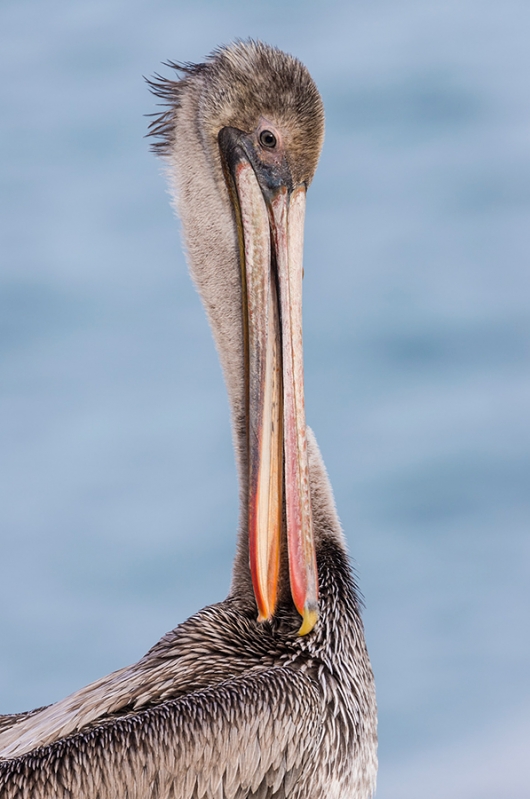 This image was created on the morning of January 20 on the 2019 San Diego IPT. Luis used the hand held Canon EF 100-400mm f/4.5-5.6L IS II USM lens with the Canon Extender EF 1.4X III (at 560mm) and the Canon EOS 6D Mark II DSLR. ISO 400. Evaluative metering +1 stop: 1/400 sec. at f/8 (wide open) in Av (Aperture Priority, A in Nikon) Mode.
Sub-adult Pacific race Brown Pelican preening
Image courtesy of and copyright 2019:
Luis Alberto Grunauer/Silvia's Jovial Photography
Your browser does not support iFrame.
Luis's Thoughts (via e-mail) after the IPT
Artie…
My first IPT experience with you was nothing short of an amazing and extraordinary experience; it will be with me for the rest of my life.
On just one IPT (San Diego – La Jolla) I learned so much more about bird photography than I learned in all the years I tried it on my own. I can't thank you enough for your teachings, your professionalism, your wisdom, your relentless enthusiasm, and for helping us to get better and better in doing what we love. I loved those times that you came to my tripod and worked with me one-on-one to help me to get better sun angles, better compositions and framing, and the right camera settings (among others). And thanks for all the times you called my attention (busted me!) for either staying in just one spot without moving of for not listening! I loved every single second of it!
When you mentioned the words: "You will learn exposure, whether you like it or not" you were 1000% exactly right. After the San Diego IPT I not only learned exposure, but also learned the meaning of the words "You nailed it!" For all of you reading this message, if you are extremely serious about improving your bird and wildlife photography, if you want to take your photography to the next level and learn from the very best in the business, this is where you need to be: on an IPT as soon as possible!
Lastly, I can only wish I still have that magic energy and that endless will that keeps you going on strong when, if God allows me, I grow older. You are truly so blessed!
With lots of Love and sincere appreciation and already looking forward to my next IPT!
Luis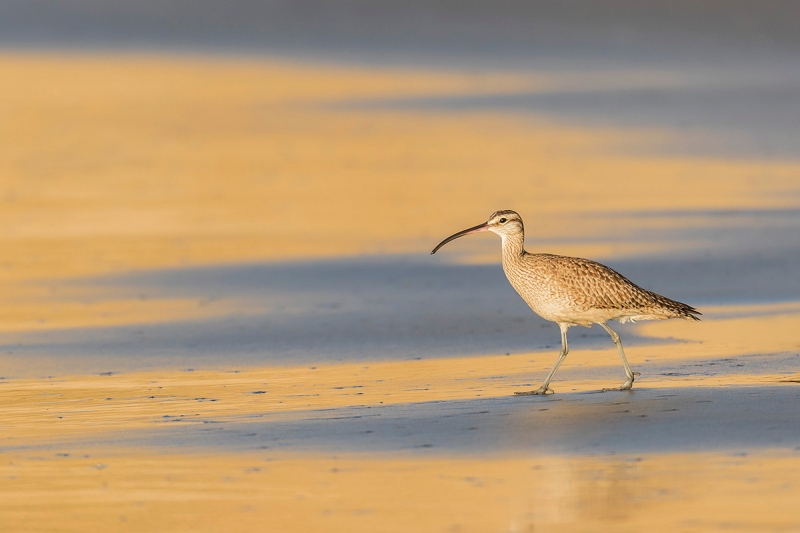 This image was created on the afternoon of January 22 on the 2019 San Diego IPT. Luis used the tripod-mounted Canon EF 800mm f/5.6L IS USM lens with the blazingly fast Canon EOS-1D X Mark II DSLR. ISO 400. Evaluative metering probably +2/3 stop: 1/640 sec. at f/6.3 in Manual (hooray!) Mode.
Whimbrel walking
Image courtesy of and copyright 2019:
Luis Alberto Grunauer/Silvia's Jovial Photography
Your browser does not support iFrame.
Luis, You are killing yourself with food …
The moment that I met Luis he seemed as if he were my long-lost little brother. I was very comfortable working with him as it was really obvious that he loved bird photography and that he loved life. He is affable and friendly. Near the end of the IPT I felt secure enough in our new friendship to say the following to him: Luis, you are a sweet wonderful man but you are killing yourself with food. I know because I went down that path for about 40 years. I am fine if you tell me to shut up and mind my own business but I think that I might be able to help you. May I send you my Health Basics File?
Luis was open to my suggestion and we talked about our mutual love of food especially sweets. And we talked about our mutual love of sports. I was not surprised to learn that Luis was a baseball catcher. I subsequently sent him the Health Basics File. During one of our lunches at Cafe Vahik Luis met Dr. Cliff Oliver, the man who inspired me to start eating well and taking care of myself about 25 years ago. Cliff remains a great friend. After reading the file that I sent, Luis decided to contact Cliff. Learn more about Cliff here.
Dear Doctor Oliver
Good evening Dr. Oliver,
My name is Luis Alberto Grunauer, Jr. I had the privilege of meeting you last week during lunch during Artie's San Diego – La Jolla IPT. I was truly inspired by Artie's experience 20+ years ago in which you saved his life by helping him to change many aspects of his life, particularly his eating habits. This has had a great impact on me, as I can relate to Artie because we both like food, in particular sweets.
I am a food addict, and have been all of my life. I just love the taste of food and eat many times out of pleasure. My weakness are sweets and tasty foods. What has helped in the past from not dying of obesity, diabetes, or a heart condition is that I was a very competitive athlete in my younger years and played competitive baseball and football. I was also a competitive bodybuilder. I spent lots of hours on the fields and at the gym. Although I always ate healthy, I never stopped eating after I quit playing sports. My weight ballooned from 185 lb. at 9% body fat to 245 lb. at 40% body fat, and then lowered to 210 lbs. I have never gotten below 210. I became pretty much sedentary, in part because of injuries to my knees, shoulders and neck. I did power walk and hiking, but had to stop due to injuries. I do not take any opioid pain killers and often use ice, massages and liniments to relieve pain, and occasionally take Tylenol or Naproxen.
At the suggestion of Artie, I recently picked up a book titled Pain Free by Pete Egoscue, and started doing some of the exercises in the book to address my chronic pains, and will continue to do that indefinitely.
If possible, I would like to meet with you to discuss my issues in detail. I will be in the La Jolla area during the next two weeks (weather permitting) and perhaps we can have lunch at the salad place where we met. If there is a consultation fee, please let me know.
Look forward meeting you again.
Sincerely, Luis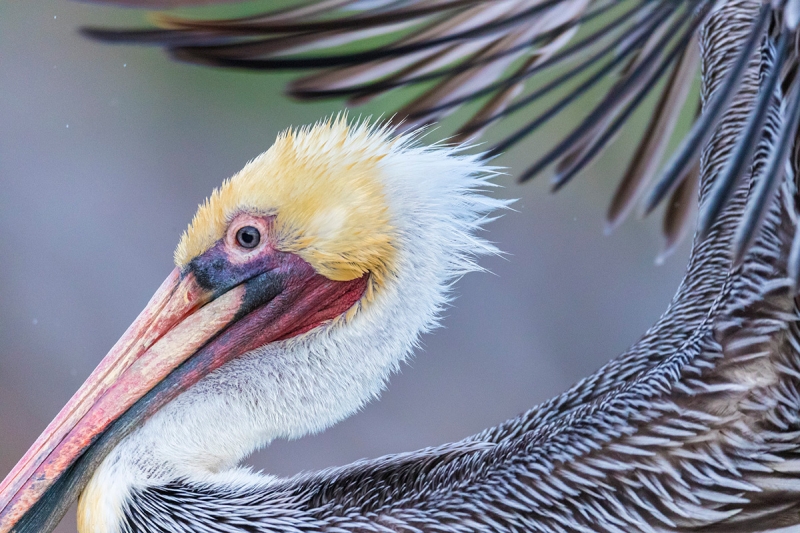 This image was created on the early morning of January 20 on the 2019 San Diego IPT. Luis used the tripod-mounted Canon EF 800mm f/5.6L IS USM lens with the blazingly fast Canon EOS-1D X Mark II DSLR. ISO 6400. Evaluative metering + 2/3 stop: 1/1600 sec. at f/5.6.
Pre-breeding Pacific race Brown Pelican flapping
Image courtesy of and copyright 2019:
Luis Alberto Grunauer/Silvia's Jovial Photography
Your browser does not support iFrame.
The Flapping Pelican
The image above is my favorite of the images that Luis sent for the post-IPT critique. To create it, he remembered my advice, "When unexpected action occurs, push the button. You just might get lucky and come up with something special."
Life Goes On
Dear Artie,
Thank you for everything you have done for me! The IPT was more than a photography experience for me. It marked a turning point that have allowed me to make drastic changes in my life. I was truly inspired by your story and how you overcame sweet addiction and pain, and by IT participant Matt Feldkamp's story about eliminating his sugar intake. Today is my 7th day without eating ANY sugars! Also, I have constrained myself to two servings of salads or veggies and a small serving of protein (salmon) at lunch and dinner. And I am drinking lots of water. I have felt the craving for sugar, but I am committed to curbing this craving.
Hopefully, I will meet with Dr. Oliver in the next two weeks.
Take care Art, and see you soon! Sincerely,Luis
Thanks Luis!
Thanks Luis for allowing me to share your images and story here, for your more than kind words, for your enthusiasm, and for your friendship. I wish you luck with improving your health and eating habits. Remember that it is important to think of this process as a new life. If you think of it as being on a diet you are doomed to fail. I fall off the wagon on occasion and thank you also for re-inspiring me to eat better. I am looking forward to seeing you again on the Fort DeSoto Spring PT and to eating some healthy meals at our table. with love, artie
ps: You can see some of Luis's Los Angeles and travel images on his website here.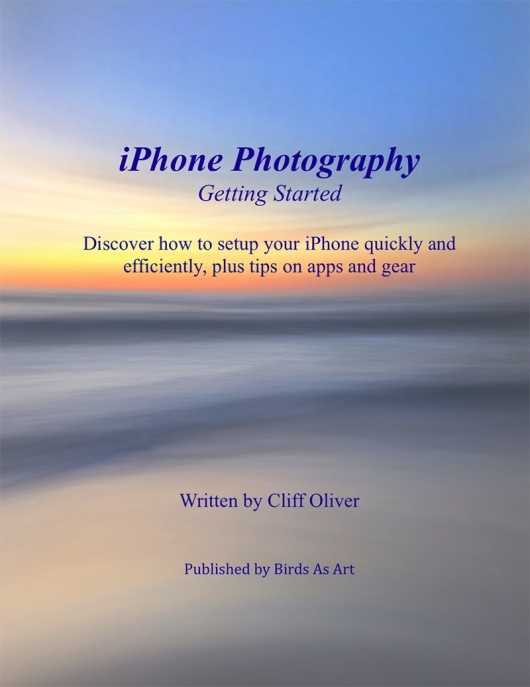 The iPhone Photography e-Guide

To order your copy of the The iPhone Photography e-Guide please click here.
The PDF is sent link by e-mail for downloading: the file is relatively huge at 216 MB.
Hard to Believe
Yes, Cliff has a great eye and wonderfully creative vision. Yet it is still hard for me to believe that he can make so many great images with "just" an i-phone. Almost more amazingly Cliff captures with his iPhone and does all of his post-processing on the phone! In this great new e-Guide written for BIRDS AS ART you will learn to use set up you iPhone quickly and efficiently and how to to use it. In addition, there are dozens and dozens of tips on Cliff's favorite apps and his favorite gear. Scroll down to the bottom to see the Table of Contents.
The iPhone Photography e-Guide: $20.00.
To order your copy of the The iPhone Photography e-Guide please click here.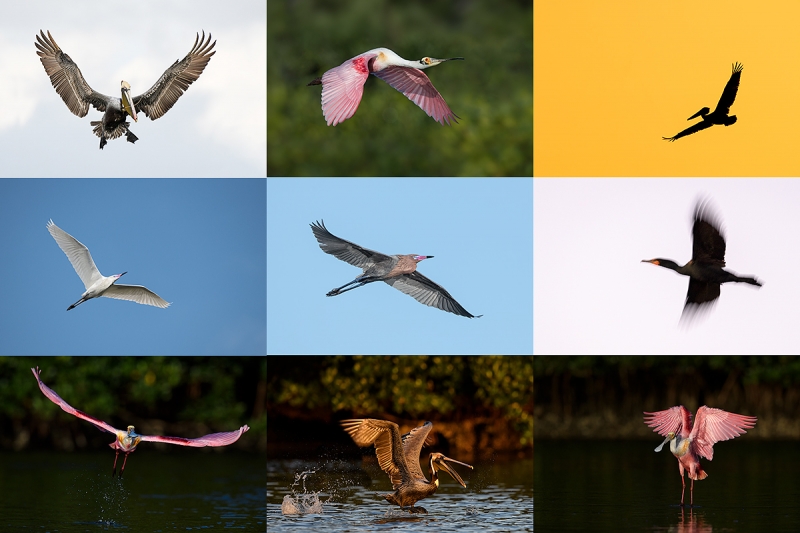 From left to to right clockwise back to the center: Brown Pelican, Roseate Spoonbill downstroke, Brown Pelican sunrise silhouette, Double-crested Cormorant pre-dawn blur, Roseate Spoonbill flapping after bath, Brown Pelican taking flight, Roseate Spoonbill taking flight, Reddish Egret white morph breeding plumage in flight, and Reddish Egret dark morph breeding plumage in flight.
All images on this card were created by me on the Hooptie Deux at Alafia Banks on the February 2018 trip.
You can click on each card to enjoy a larger version.
2019 Hooptie Deux/Roseate Spoonbill Boat 3 1/2 DAY IPT — FEB 16 thru 19, 2019: $2599.00. Limit: 5 photographers/Openings: 1.
3 1/2 days on the boat including four morning photo sessions and three afternoon sessions via customized pontoon boat.
Price per day Reduced from the 2018 rates! $200 late registration discount!
We will be leaving the dock very early for the morning sessions (weather permitting) in hopes of photographing the pre-dawn American Crow and White Ibis blast-offs. All sessions are planned for the Alafia Banks Roseate Spoonbill Rookery. We might consider other options in the unlikely event of horrific weather. There will be lots of opportunities for flight photography of several species including and especially Roseate Spoonbill. Also likely for flight photography are nesting Brown Pelican, both morphs of Reddish Egret, Great Blue Heron, Great Egret, White and Glossy Ibises, and Double Crested Cormorant. We should have some good chances with birds carrying nesting material. This IPT includes all boat and guide fees, in the field instruction, chest waders (feel free to bring your own of course to assure a perfect fit), and three working lunches on Saturday, Sunday, and Monday. For the most part we will be standing in mid-calf to knee high water behind our tripods. We help you get in and out of the boat with your gear. This is likely not the best trip for folks with mobility or balance problems. Note however that some folks opt to stay on the boat to photograph. They usually have lots of chances for flight photography of spoonbills and other species but are almost always pretty far away from the spoonbills that land.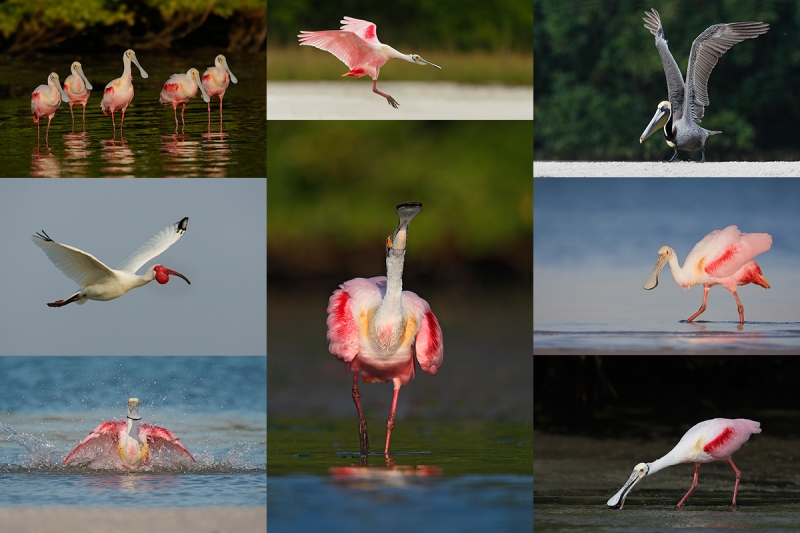 All images on this card were created by me on the Hooptie Deux at Alafia Banks
The Timing and Tides are Perfect!
I recently saw a similar trip advertised two months too late for breeding plumage spoonbills … The 2019 Hooptie Deux/Roseate Spoonbill Boat 3 1/2 DAY IPT represents an incredible opportunity to photograph Florida's most wanted species. I do hope that you can join us. There will be a meet and greet at 7:00pm sharp on the evening of Friday February 15, 2019. All of the images on the card were made on the Hooptie Duex during the last two weeks of February, prime time for the spoonies in mega-breeding plumage. Many folks have written expressing interest so please do not tarry.
Please e-mail to hold your spot. Then you may either secure your spot by calling Jim or Jennifer at the office at 863-692-0906 and leaving the $500 deposit on credit card or sending your check for payment in full to us as follows with the check made out to:
BIRDS AS ART and sent here via US mail:
BIRDS AS ART
PO BOX 7245
Indian Lake Estates, FL 33855
If you call to leave your deposit you will be asked to mail your check for the balance asap.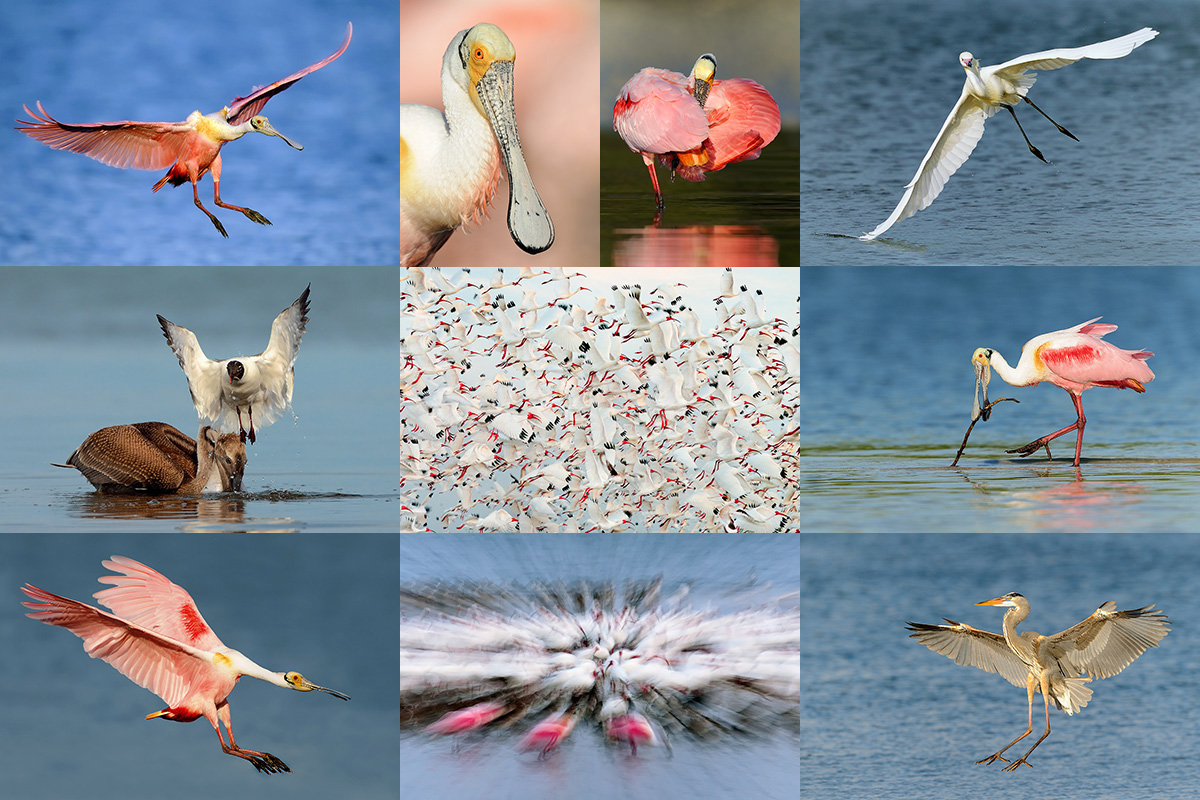 Images courtesy of our guide; copyright 2017 Captain James Shadle (aka Froggie). All of the images here were created at Alafia Banks. Card creation and design by Arthur Morris/BIRDS AS ART.
Everybody Loves Spoonbills!
Roseate Spoonbill is one of if not the most sought after avian photographic subjects in Florida. They are generally hard to find and somewhat difficult to approach. They are relatively easy to find at Alafia Banks—heck, you can't miss seeing them, but even there they can on some days be somewhat difficult to approach. On some days we may be able to get ridiculously close to them. The huge incentive to get out to Alafia Banks in mid-February is the chance to photograph this species at the height of its spectacular breeding plumage…. with long telephoto lenses. A 500 or 600 with a 1.4X TC is perfect for this trip.
Mornings to Alafia Banks for spoonbills and Brown Pelicans (with lots of flight photography often with the birds likely carrying nesting material), Double-crested Cormorants, ibises (both Glossy and White) in breeding plumage. Some of the White Ibises may be sporting their spectacular, distended, red, naked (un-feathered) throat pouches—typically larger in the females. In addition we may get to photograph egrets including Great and Reddish, both in full breeding plumage, shorebirds, and more. There will be lots of flight photography opportunities. Afternoon trips will most likely be back to Alafia Banks for the spoonbills with an option to visit a more sheltered inland rookery location for a variety of nesting birds. In the event of horrific weather artie will either take the group to Fort DeSoto or will conduct an extensive image review/Photoshop session. This IPT includes lunches on the full days with small group image sharing and review and some over-the-shoulder Photoshop instruction.
Help Support the Blog
Please help support my efforts here on the blog by remembering to click on the logo link above each time that you shop Amazon. That would be greatly appreciated. There is no problem using your Prime account; just click on the link and log into your Prime account. With love, artie
If In Doubt …
If in doubt about using the BAA B&H affiliate link correctly, you can always start your search by clicking here. Please note that the tracking is invisible. Web orders only. Please, however, remember to shoot me your receipt via e-mail.
Please Remember to use my Affiliate Links and to Visit the New BAA Online Store 🙂
To show your appreciation for my continuing efforts here, we ask, as always, that you get in the habit of using my B&H affiliate links on the right side of the blog for all of your photo and electronics purchases. Please check the availability of all photographic accessories in the New BIRDS AS ART Online Store, especially the Mongoose M3.6 tripod head, Wimberley lens plates, Delkin flash cards and accessories, and LensCoat stuff.
As always, we sell only what I have used, have tested, and can depend on. We will not sell you junk. We know what you need to make creating great images easy and fun. And please remember that I am always glad to answer your gear questions via e-mail.
I would of course appreciate your using our B&H affiliate links for all of your major gear, video, and electronic purchases. For the photographic stuff mentioned in the paragraph above, and for everything else in the new store, we, meaning BAA, would of course greatly appreciate your business. Here is a huge thank you to the many who have been using our links on a regular basis and those who will be visiting the New BIRDS AS ART Online Store as well.
Facebook
Be sure to like and follow BAA on Facebook by clicking on the logo link upper right. Tanks a stack.
Typos
In all blog posts and Bulletins, feel free to e-mail or to leave a comment regarding any typos or errors. Just be right :).