What's Up?
I spent four hours with Patrick Sparkman on FaceTime last night. We had planned to do a SONY A9 Setting Up Your A9 for Bird Photography video using Camtasia. After almost three hours we realized that that was not going to happen. 🙂 It took Patrick about an hour to help me get my brand new A9 set up. We have come up with alternate plans for sharing that information. Navigating the SONY menus is not as difficult as many profess.
I am having a ton of fun assembling the all-new Lessons from the Field Keynote presentation that I will be doing in two weeks. Whenever I go through the Slide Show Images folders I realize what blessed life I have had.
Three folks and a couple inquired as to the "huge" discount on the Galapagos trip. The three guys wound up telling me that they just could not swing it. I am still waiting to hear back from the couple.
IPT Updates
$200 late registration discount on the Spoonbill Boat IPT!
Unsolicited via e-mail from multiple IPT veteran Donna Bourdon
Thank you Artie for another amazing trip! The setting and the access to such spectacular wildlife was more than we could have hoped for. And you, yourself are remarkable. I am always touched by your selflessness in sharing your professional talent and knowledge. Not many working pros would be willing to share their intellectual property as you do. And the group experience was such fun. It was good to make new friends and enjoy food, fun and fellowship together! I hope to meet up with everyone again soon for another "over the top" adventure. with love, Donna
Unsolicited via e-mail from IPT veteran Eugen Dolan
Arthur, Thank you very much for your overwhelming infectious enthusiasm that helped get me up on some mornings. Also, your ability to express yourself- and explain in great detail why you like or may not like an image – was very helpful in allowing me to better analyze my images. Eugen
I have room for two folks on the spoonbill boat and still need three or four folks for the Galapagos trip. Please shoot me an e-mail to learn about late registration discounts for both the Spoonbill Boat and Galapagos trips.
The 2019 Hooptie Deux/Roseate Spoonbill Boat 3 1/2 DAY IPT — FEB 16 thru 19, 2019: $2599.00. Limit: 5 photographers/Openings: 2. $200 late registration discount
The 2019 Fort DeSoto Spring IPT/THURS 18 APRIL through the morning session on SUNDAY APRIL 21, 2019: 3 1/2 DAYS: $1549. Limit 8/Openings: 4. Meet and greet at 7PM on the evening of WED 17 APRIL.
The New, Expanded 2019 UK Puffins, Gannets, & Red Kites IPT. Thursday June 27 (from EDI) through Tuesday, July 9, 2019 (on the ground; fly home on Wednesday July 10.): $9,999. Limit 10 photographers/Openings: 9. This trip needs four to run. Co-leader: Peter Kes.
The GALAPAGOS Photo Cruise of a Lifetime IPT/The Complete Galapagos Photographic Experience. July 23 to August 6, 2019 on the boat. 13 FULL and two half-days of photography: $14,499. Limit: 12 photographers/Openings: 4. Please e-mail to learn about the huge late registration discount for this trip.
BIRDS AS ART
BIRDS AS ART is registered in the U.S. Patent and Trademark Office.
Selling Your Used Photo Gear Through BIRDS AS ART
Selling your used (or like-new) photo gear through the BAA Blog is a great idea. We charge only a 5% commission. One of the more popular used gear for sale sites charged a minimum of 20%. Plus assorted fees! Yikes. They went out of business. And e-Bay fees are now up to 13%. The minimum item price here is $500 (or less for a $25 fee). If you are interested please scroll down here or shoot us an e-mail with the words Items for Sale Info Request cut and pasted into the Subject line :). Stuff that is priced fairly — I offer pricing advice to those who agree to the terms — usually sells in no time flat. Over the past year, we have sold many dozens of items. Do know that prices on some items like the EOS-1D Mark IV, the old Canon 100-400, the old 500mm, the EOS-7D and 7D Mark II and the original 400mm DO lens have been dropping steadily. Most recently the price of used Canon 600mm f/L IS II lenses have been dropping like a rock with the introduction of the 600 III. You can always see the current listings by clicking here or on the Used Photo Gear tab on the orange-yellow menu bar near the top of each blog post page.
A Should've Listing
I should have featured this lens in the Louie's Life-changing IPT blog post here as all but one of Louie's images were created with perhaps my all-time favorite super-telephoto lens …
Canon EF 800mm f/5.6L IS USM Lens
Multiple IPT veteran John Johnson is offering a Canon EF 800mm f/5.6L IS USM Lens in Excellent Plus to Near-mint condition for the BAA record low price of $7499.00. The sale includes the rear lens cap, the lens trunk, the original tough front lens cover, a LensCoat and LensCoat Hoodie, and insured ground shipping via major courier to US addresses only. Your item will not ship until your check clears unless other arrangements are made.
Please contact John via e-mail or by phone at 1-216-533-6148 (Eastern time).
I owned and used the super-sharp 800mm f/5.6, often with a 1.4X TC, as my go-to super-telephoto lens for almost five years. If you work with birds that are tough to approach and have trouble making sharp images with the 2X III TC, this lens should have your name on it. The 800/5.6 is great from the car or from a blind. I was astounded when I counted to learn that 15 of the 67 images in my San Diego exhibit were created with my 800. Note that the 800 and a 7D Mark II get you out to 1280mm. Add the 1.4X III TC and you wind up at 1792mm, almost 36X! They 800s — still in production — sell new right now for $12,999 from B&H. They have used ones in similar but not quite as good condition in the insanely high price range of from $9,499.95 to $9,999.95. Several of them have been for sale at those prices for more than two years. Thus, John's lens is an amazing buy. artie

Orlando Camera Club Program Sponsored By Bedford Camera
On February 25, 2019, I will be presenting "Lessons from the Field – BIRDS AS ART Style" for the Orlando Camera Club. They told me that they did not want to see beautiful images as they would rather learn. I told them that I would need to show them lots of beautiful images during the course of the lessons. 🙂 I will be working hard on this brand new program for the next three weeks. The program is scheduled for 6:15 – 8:00pm at the Marks Senior Center, 99 E Marks Street, Orlando, FL 32803. The meeting is free and open to the public. If you learned about the program through the blog be sure to come up for a hug.
Huge thanks to Steve Elkins at Bedford Camera for sponsoring my appearance and to Holly Manus for the invitation. Click on the logo-link above or check out the Money Saving Reminder feature immediately below to get acquainted with Bedford.
From the OCC website here:
Arthur Morris will present "Lessons from the Field – BIRDS AS ART Style". This slide-illustrated lecture will feature hundred's of Artie's spectacular photographs. As he shares images from his favorite locations around the globe he will be telling us about the birds and other creatures that he photographs and about the equipment and techniques that he uses to create his images. Topics to be covered include getting close to free and wild birds, flight photography, getting the right exposure, and image design. A selection of books and CDs will be available.
Money Saving Reminder
If you need a hot photo item that is out of stock at B&H, would enjoy free overnight shipping, and would like a $50 discount on your first purchase, click here to order and enter the coupon code BIRDSASART at checkout. If you are looking to strike a deal on Canon or Nikon gear (including the big telephotos) or on a multiple item order, contact Steve Elkins via e-mail or on his cell at (479) 381-2592 (Eastern time) and be sure to mention your BIRDSASART coupon code and use it for your online order. Steve currently has several D850s in stock along with a Nikon 600mm f/4 VR. He is taking pre-orders for the new Nikon 500 P and the Nikon Z6 mirrorless camera body.
SONY A9 On Sale!
The SONY A9 went on sale at both B&H and Bedford yesterday with a $500 instant rebate. Please consider purchasing your A9 from a BAA affiliate.
Gear Questions and Advice
Too many folks attending BAA IPTs and dozens of photographers whom I see in the field and on BPN, are–out of ignorance–using the wrong gear especially when it comes to tripods and more especially, tripod heads… Please know that I am always glad to answer your gear questions via e-mail. Those questions might deal with systems, camera bodies, accessories, and/or lens choices and decisions.
A Light, Hand Holdable 200-800mm Lens …
As we have seen in several recent blog posts, the Sony FE 100-400mm f/4.5-5.6 GM OSS lens with the Sony FE 2.0x Teleconverter and the beyond remarkable Sony Alpha a9 Mirrorless Digital Camera is a lightweight, amazingly hand holdable rig that offers fast, accurate, science-fiction-like AF across 93% of the frame.
Some folks have questions about the image quality, sharpness and fine feather detail with SONY AWR (RAW) files. Patrick Sparkman and I not. I do feel that CR.2 files from the Canon EOS 5D Mark IVand NEF files from the Nikon D850 are somewhat superior to the SONY AWR (RAW) image files. I do feel that the SONY AWR files are at least on par with files from the Canon EOS-1D X Mark II and the Nikon D5 DSLR.
Check out the comments on my BPN Avian Forum post here to read some differing opinions. At times the discussion was civil.
The Incoming Brandt's Cormorant Images …
In my BPN Avian Forum post here, many folks commented about the huge BLUE cast in the image above. They were 100% right. Do read the various comments for lots more and lots stronger opinions on the quality of the SONY AWR files; can you say "overly opinionated, elitist, and somewhat arrogant"? Fasten your seat belts for this one.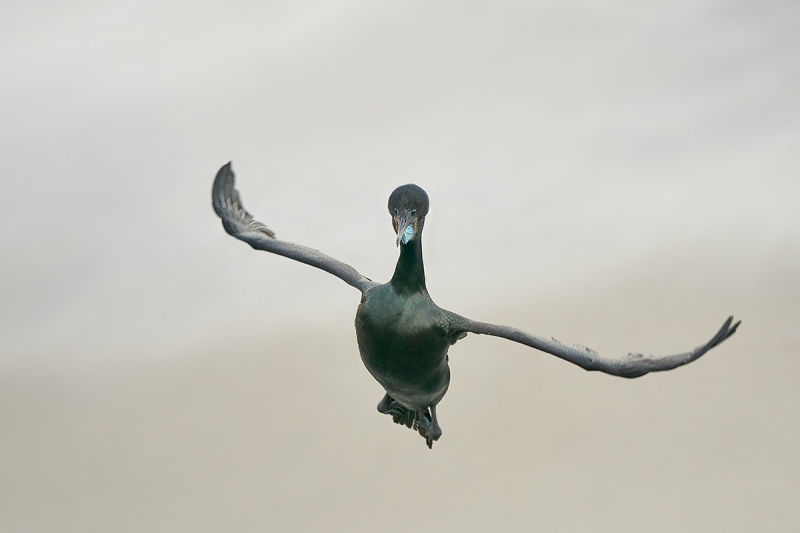 This is a color corrected version of Image #2 (above).
Image #3: Incoming Brandt's Cormorant/Color Corrected

Your browser does not support iFrame.
The Color Corrected Version
In hindsight, this underexposed ISO 3200 image was a very difficult to process. To get the background sand tan I simply raised the Color Temperature. Though the repost (Image #3) was better than the original, I still am not thrilled with the results.
Help Support the Blog
Please help support my efforts here on the blog by remembering to click on the logo link above each time that you shop Amazon. That would be greatly appreciated. There is no problem using your Prime account; just click on the link and log into your Prime account. With love, artie
If In Doubt …
If in doubt about using the BAA B&H affiliate link correctly, you can always start your search by clicking here. Please note that the tracking is invisible. Web orders only. Please, however, remember to shoot me your receipt via e-mail.
Please Remember to use my Affiliate Links and to Visit the New BAA Online Store 🙂
To show your appreciation for my continuing efforts here, we ask, as always, that you get in the habit of using my B&H affiliate links on the right side of the blog for all of your photo and electronics purchases. Please check the availability of all photographic accessories in the New BIRDS AS ART Online Store, especially the Mongoose M3.6 tripod head, Wimberley lens plates, Delkin flash cards and accessories, and LensCoat stuff.
As always, we sell only what I have used, have tested, and can depend on. We will not sell you junk. We know what you need to make creating great images easy and fun. And please remember that I am always glad to answer your gear questions via e-mail.
I would of course appreciate your using our B&H affiliate links for all of your major gear, video, and electronic purchases. For the photographic stuff mentioned in the paragraph above, and for everything else in the new store, we, meaning BAA, would of course greatly appreciate your business. Here is a huge thank you to the many who have been using our links on a regular basis and those who will be visiting the New BIRDS AS ART Online Store as well.
Facebook
Be sure to like and follow BAA on Facebook by clicking on the logo link upper right. Tanks a stack.
Typos
In all blog posts and Bulletins, feel free to e-mail or to leave a comment regarding any typos or errors. Just be right :).