What's Up?
I've been walking and swimming every day and am sleeping and feeling great. I am getting ready to head over to the west coast (of Florida) for the Spoonbill Boat IPT and more.
IPT Updates
$200 late registration discount on the Spoonbill Boat IPT! Scroll down for the details.
I have room for two folks on the spoonbill boat and still need three or four folks for the Galapagos trip. Please shoot me an e-mail to learn about late registration discounts for both the Spoonbill Boat and Galapagos trips.
The 2019 Hooptie Deux/Roseate Spoonbill Boat 3 1/2 DAY IPT — FEB 16 thru 19, 2019: $2599.00. Limit: 5 photographers/Openings: 2. $200 late registration discount
The 2019 Fort DeSoto Spring IPT/THURS 18 APRIL through the morning session on SUNDAY APRIL 21, 2019: 3 1/2 DAYS: $1549. Limit 8/Openings: 4. Meet and greet at 7PM on the evening of WED 17 APRIL.
The New, Expanded 2019 UK Puffins, Gannets, & Red Kites IPT. Thursday June 27 (from EDI) through Tuesday, July 9, 2019 (on the ground; fly home on Wednesday July 10.): $9,999. Limit 10 photographers/Openings: 9. This trip needs four to run. Co-leader: Peter Kes.
The GALAPAGOS Photo Cruise of a Lifetime IPT/The Complete Galapagos Photographic Experience. July 23 to August 6, 2019 on the boat. 13 FULL and two half-days of photography: $14,499. Limit: 12 photographers/Openings: 4. Please e-mail to learn about the huge late registration discount for this trip.
BIRDS AS ART
BIRDS AS ART is registered in the U.S. Patent and Trademark Office.
Selling Your Used Photo Gear Through BIRDS AS ART
Selling your used (or like-new) photo gear through the BAA Blog is a great idea. We charge only a 5% commission. One of the more popular used gear for sale sites charged a minimum of 20%. Plus assorted fees! Yikes. They went out of business. And e-Bay fees are now up to 13%. The minimum item price here is $500 (or less for a $25 fee). If you are interested please scroll down here or shoot us an e-mail with the words Items for Sale Info Request cut and pasted into the Subject line :). Stuff that is priced fairly — I offer pricing advice to those who agree to the terms — usually sells in no time flat. Over the past year, we have sold many dozens of items. Do know that prices on some items like the EOS-1D Mark IV, the old Canon 100-400, the old 500mm, the EOS-7D and 7D Mark II and the original 400mm DO lens have been dropping steadily. Most recently the price of used Canon 600mm f/L IS II lenses have been dropping like a rock with the introduction of the 600 III. You can always see the current listings by clicking here or on the Used Photo Gear tab on the orange-yellow menu bar near the top of each blog post page.
Money Saving Reminder
If you need a hot photo item that is out of stock at B&H, would enjoy free overnight shipping, and would like a $50 discount on your first purchase, click here to order and enter the coupon code BIRDSASART at checkout. If you are looking to strike a deal on Canon or Nikon gear (including the big telephotos) or on a multiple item order, contact Steve Elkins via e-mail or on his cell at (479) 381-2592 (Eastern time) and be sure to mention your BIRDSASART coupon code and use it for your online order. Steve currently has several D850s in stock along with a Nikon 600mm f/4 VR. He is taking pre-orders for the new Nikon 500 P and the Nikon Z6 mirrorless camera body.
Gear Questions and Advice
Too many folks attending BAA IPTs and dozens of photographers whom I see in the field and on BPN, are–out of ignorance–using the wrong gear especially when it comes to tripods and more especially, tripod heads… Please know that I am always glad to answer your gear questions via e-mail. Those questions might deal with systems, camera bodies, accessories, and/or lens choices and decisions.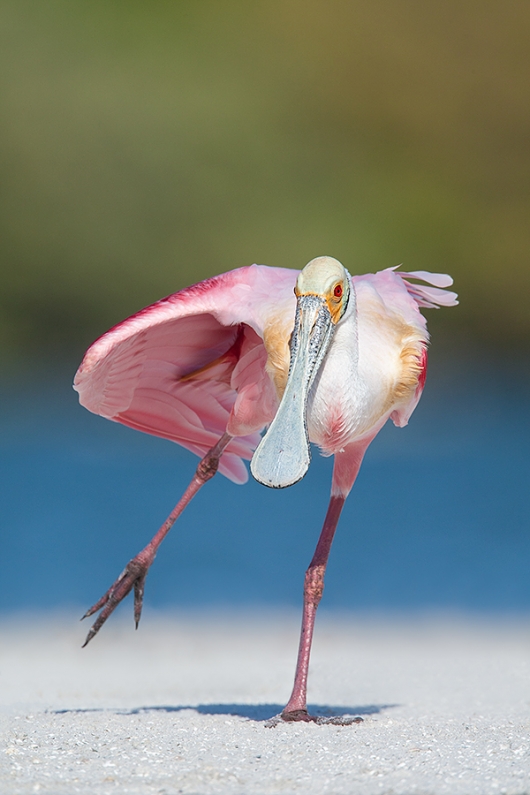 Roseate Spoonbill sandbar wing stretch
Traditional Fine Art Photographic Prints
All BIRDS AS ART images, both film and digital, are available as traditional Chromagenic photographic prints on luster paper as below. Your print will be hand-crafted by Reed Art & Imaging, Lakewood, CO.
You may purchase an unframed print of any BAA image that you see in a book, on the web site, or on Blog. All prints are digitally prepared, color corrected, and fine-tuned and are signed digitally. The sizes given are the actual image size — the image will be border to allow for easy matting so the paper size will be larger with 2 inch borders all around. Prices are for the print alone, shipped rolled in a sturdy tube via UPS ground. We do not offer matting or framing services. A fee of $15 will be added to the price of your print to cover shipping and handling. To order your print, or for info on larger sizes or special orders, please contact us via e-mail. Thanks for your interest in my work. artie
| Print Size | Price |
| --- | --- |
| 12 x 18″ | $149.00 |
| 16 x 24″ | 199.00 |
| 20 x 30″ | $274.00 |
| 24 x 36″ | $349.00 |
Fine Art Canvas Prints
For 1.5 inch thick Gallery Wrapped Canvas prints, please add 40% to the prices above. Our ready-to-hang canvas prints offer rigid, warp-resistant construction, an enclosed back, and all necessary hanging hardware. Your canvas prints will be created by Canvas On Demand, Raleigh, NC.
Thanks!
Big-time thanks to Keith Kleeman and Amy Baskin for their recent print orders. Keith ordered a huge (48X 32″ each) pelican triad for his home in Naples, FL and Amy a 12X18″ print of the spoonbill image above.
A Thank You From Luis
From the Comments section of the Louie's Life-changing IPT blog post here.
Luis A. Grunauer. February 10, 2019 at 4:04 pm
First of all, I wanted to thank Artie for letting me share both my photos and my IPT experience with all of you; and to all of you for your wonderful comments. What you see in the photos is a true reflection of the teachings and wisdom of Arthur Morris.
Because of my deep love for the animal kingdom, I tried bird and wild life photography since the time when the Canon 5D MK II was released. Early in 2018, when I made a serious commitment to take it to the next level. It all began with the purchase of A Canon 800mm super-telephoto lens and a few weeks later that was followed by an innocent email I sent to Artie inquiring about a tripod selection for that lens. As he suggested on his emails which followed, I joined his blog, watched all his videos on YouTube, took notes of his teachings on line, purchased his books and some equipment from the BAA store , used his store affiliate links, and closely followed his advice. I became fascinated about bird and wildlife photography and at the same time I became a student and a loyal follower of Artie.
Now, my next steps for me was to learn how to "place that rapid flying bird in the camera's frame…" and how to "come up with a decently exposed and properly focused photo" … I ultimately fulfilled my lifetime dream and attended my first IPT at San Diego – La Jolla in January of 2019, and it was a life changing experience for me, which I humbly had the privilege to share it with all of you. It was a life destiny that I needed to be in that San Diego IPT and meet my lost Big Brother Artie (he is more like a father and a mentor to me). In four and half days, I learned so much about bird photography, stuff that I could have never learned on my own in a lifetime. In short, that is my story.
If you never been on an IPT before, please make your best effort to attend one and you will never forget nor regret the wonderful experience, as it was for me. I promise you that your photography will be elevated to the highest-level and you will gain hands on knowledge and experience from the Best in the Business! I do hope to see you all in a future IPT, so you can not only learn one-on-one from the Father of Bird Photography, but so I can have the privilege to shake your hand and thank you for your wonderful comments and encouragement.
I know this gets kind of old, but Thanks again Artie. I could never thank you enough!
With lots of Love and sincere Appreciation …
Luis "Louie" Alberto Grunauer
I Can't Believe I Left Out the Best Part!
Since I purchased the Nikon AF-S NIKKOR 80-400mm f/4.5-5.6G ED VR lens and subsequently the Nikon AF-S NIKKOR 500mm f/5.6E PF ED VR lens I have been having more fun with my bird photography than in many years. The freedom of hand holding as opposed to lugging around a 600 f/4 has brought me a new joy. Now with the SONY gear I have a rig that is even smaller and more than 1 1/2 pounds lighter than the 500 PF and a D850 with the grip . And I have great focal length range with both TCs. And the AF performance with the SONY gear is superb; it is fast and sure and accurate. Canon AF at f/8 was better by far than Nikon AF at f/8 and SONY AF at f/8 (with the 1.4X TC) blows away Canon and only the SONY A9 autofocuses with the 2X TC at f/11 (on the 100-400). Combine all of the above with a quiet frame-rate of 15 fps with tracking AF( AF-C) and with seemingly instantaneous initial focusing acquisition there are times when I am absolutely giddy in the field when I am using my SONY gear. It is just too much fun.
Photography and Health Walks
For the past few weeks I have been walking one to two and a half miles each morning along the lakeshore and another 3/4 mile on some evenings. I've been carrying the SONY rig that I used to create today's featured image with me on every walk. On Sunday evening there was a halfway decent sunset. I had walked to the end of the pier and happened to glance behind me. A Little Blue Heron was flying right through the color right over the pier. I would not have tried even with my Nikon gear but I raised the lens and fired off three quick images. I is hard to describe almost instantaneous initial focus acquisition but when you experience it it is pure joy. One of the images had a light pole in it. All three frames were sharp and as fate would have it, the best wing position — the full downstroke, had the bird in the brightest most colorful part of the sky.
Help Support the Blog
Please help support my efforts here on the blog by remembering to click on the logo link above each time that you shop Amazon. That would be greatly appreciated. There is no problem using your Prime account; just click on the link and log into your Prime account. With love, artie
If In Doubt …
If in doubt about using the BAA B&H affiliate link correctly, you can always start your search by clicking here. Please note that the tracking is invisible. Web orders only. Please, however, remember to shoot me your receipt via e-mail.
Please Remember to use my Affiliate Links and to Visit the New BAA Online Store 🙂
To show your appreciation for my continuing efforts here, we ask, as always, that you get in the habit of using my B&H affiliate links on the right side of the blog for all of your photo and electronics purchases. Please check the availability of all photographic accessories in the New BIRDS AS ART Online Store, especially the Mongoose M3.6 tripod head, Wimberley lens plates, Delkin flash cards and accessories, and LensCoat stuff.
As always, we sell only what I have used, have tested, and can depend on. We will not sell you junk. We know what you need to make creating great images easy and fun. And please remember that I am always glad to answer your gear questions via e-mail.
I would of course appreciate your using our B&H affiliate links for all of your major gear, video, and electronic purchases. For the photographic stuff mentioned in the paragraph above, and for everything else in the new store, we, meaning BAA, would of course greatly appreciate your business. Here is a huge thank you to the many who have been using our links on a regular basis and those who will be visiting the New BIRDS AS ART Online Store as well.
Facebook
Be sure to like and follow BAA on Facebook by clicking on the logo link upper right. Tanks a stack.
Typos
In all blog posts and Bulletins, feel free to e-mail or to leave a comment regarding any typos or errors. Just be right :).