What's Up?
Disaster Averted
I arrived early on Monday evening past for the Orlando Camera Club presentation: Lessons from the Field/BIRDS AS ART-Style. As we were setting up it dawned on everyone that we did not have the proper cable connectors, we could not hook up my new computer to the projector … My one and only photographer teacher, old friend Milton Heiberg, was in attendance so I turned to him for help. It took a while but he came up with the perfect solution. He advised that I export the Keynote program as a PDF. We copied the PDF to a thumb drive and stuck that into an ancient PC that was hooked up to the projector. My Logi-tech mouse worked! And even better, the images looked great. The show was well-received by the more one hundred folks in attendance.
What Else?
Today's post features some great images made on the February Spoonbill Boat IPT by many times over multiple IPT veteran Anita North of Toronto, Canada. Please leave a comment letting us know which of Anita's five images is your favorite. And why. Many tanks!
A Student's Great Work!
Anita North has been on many IPTs. She has worked very hard for several years improving her skills. On the spoonbill boat IPT she pretty much killed me … Sometimes the students simply get too good; can you say Loren Waxman, Clemens Van der Werf, and George Golumbeski among others?
Shooting Flight with a Tripod-Mounted Super-telephoto Lens
Shooting flight with a tripod-mounted super-telephoto lens is a difficult skill to master. I am still working on improving in that area. Anita has long professed that she "couldn't do it." But here she did quite well …
Bathing Spoonbills
Getting to photograph a bathing spoonbill is a rare treat. Here Captain James Shadle was in the water maneuvering the Hooptie Deux into perfect position. Anita did the rest!
Flight Photography at Alafia Banks
There is lots of great flight photography on the spoonbill boat IPTs. Mornings are mostly off the tripod while in the water, afternoons are mostly hand holding with intermediate telephoto lenses or zooms.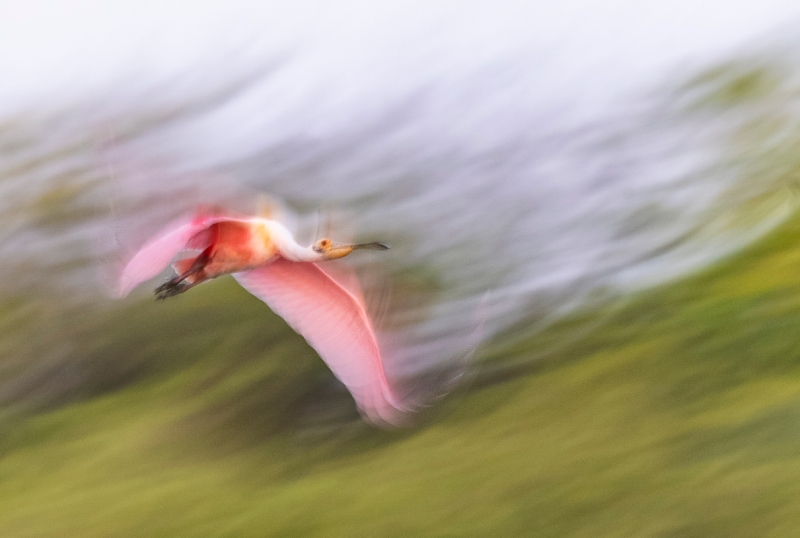 This image was created by Anita North on the February Spoonbill Boat IPT. She used the the hand held Nikon AF-S NIKKOR 500mm f/5.6E PF ED VR lens and the mega mega-pixel Nikon D850 DSLR.
Image #5: Roseate Spoonbill pre-dawn blur

Image courtesy of and copyright 2019: Anita North

Your browser does not support iFrame.
Pre-dawn Blurs
Many IPTs allow for the creation of pre-dawn blurs. On those trips I teach the Tv (S with Nikon) Shutter priority Auto ISO (or ISO Safety Shift) with Exposure Compensation (EC) technique. That works perfectly if the birds are flying only against the sky. But when the birds are flying low with vegetation in the background it is mandatory to go to Manual mode to keep the meter from overexposing the subjects. And that is just what Anita did to create this quite pleasing blur of an early morning spoonbill.
Facebook
Be sure to like and follow BAA on Facebook by clicking on the logo link upper right. Tanks a stack.
Typos
In all blog posts and Bulletins, feel free to e-mail or to leave a comment regarding any typos or errors. Just be right :).