What's Up?
Gatorland was great this morning; read and see more below. Learn more tomorrow about the sharpness issues that I have been having with my Nikon 600 VR with and without the TC-E14 and both of my D850 bodies. After seeing my images from this morning with the 500 PF and both D850 bodies (both with and without the TC-E14) I am 99.99% sure that I will be sending the 600 VR in for a check-up from the neck up on Monday …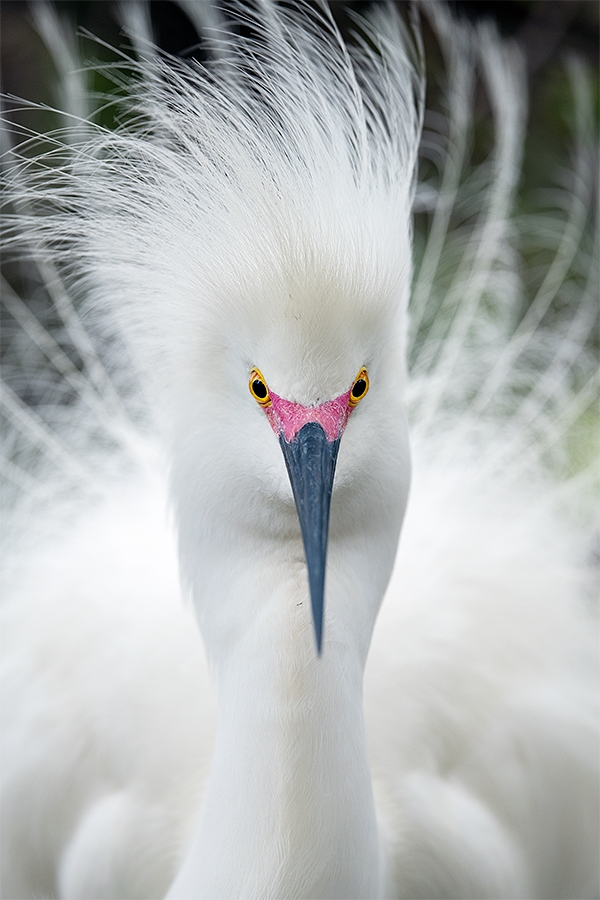 This image was created at Gatorland on the morning of Saturday, March 16, 2019. I used the hand held Nikon AF-S NIKKOR 500mm f/5.6E PF ED VR lens and my souped-up mega mega-pixel Nikon D850 DSLR.. ISO 800. Matrix metering plus about 1/3 stop: 1/500 sec. at f/7.1 was a slight underexposure. AUTO1 WB at 10:14am in totally cloudy conditions.
One up from center Group (gap) AF was active at the moment of exposure. The array was perfectly centered on the bird's forehead.
AF Fine-tune value: +6. See the Nikon AF Fine-tune e-Guide
Your browser does not support iFrame.
Your browser does not support iFrame.
Gatorland Session Tomorrow, Sunday 17 MAR, 2019
Join me at Gatorland tomorrow as above and learn a ton. Despite several reports that "Gatorland sucks this year" I had a great time with lots of action and lots of beautiful birds including Great Egret, Snowy Egret, and Tricolored Heron many un spectacular breeding plumage. The biggest problem at Gatorland is that most of the visiting photographers — and there were more than a few on Saturday morning — simply have no clue … And the best news, an intermediate telephoto lens is ll you need. Learn to think and see like a pro tomorrow. Plus tons more.
If you are interested please get in touch immmediately via e-mail.
Morning Session — 7-10am: $200.00
Morning Session with a working lunch including image review and Photoshop: $300.00
Stay tuned for next weekends Gatorland schedule.
I do hope that somebody joins me for tomorrow. 🙂
ps: Thanks to BPN friend Joe Przybyla for setting me straight on Gatorland on Friday evening when I was still undecided …