What's Up?
On Wednesday, after Patrick Sparkman spotted something in a RAW file that I had sent to him and others, I re-focus fined-tuned my main D850 body with the TC-E14 and the 600 VR, the combo that had been giving the biggest problems in terms of sharpness. Patrick suggested a change in my micro-adjusting techniques and it was a brilliant improvement. I will be sharing that with you here soon.
Any hoo, I headed down to the lake and had a great session with the two colts and the two still-small chicks. I was so, so excited as I was sure that the sharpness issues would be gone. But alas, the pudding was spoilt. When I got back to the house I quickly downloaded the images, looked at a very few, and was dismayed to see that all of the images I looked at were soft. So I packed up the 600 VR along with my main TC-E14 and send a 23 pound box off to Nikon Repairs in Melville on Long Island.
Late yesterday afternoon, after my swim, I went down to the lake with the 500 PF to make sure that I was still capable of creating sharp images. As you can see below, I can.
Then, this morning (FRI 22 MAR), I edited the March 21, 2019 file in Photo Mechanic and was stunned to find lots of what looked like to me pretty sharp images of the chicks from the morning session … Should I have sent the lens in (at great expense)? Or was it me? In retrospect, AF with the troubled rig was simply too inconsistent. I should find out in about a week what NPS Repairs has to say about my 600 VR …
I was glad to learn yesterday that Ron Owen of Orlando will be joining me at Gatorland on Saturday morning.
Cheaper Indian Lake Estate Sandhill Crane Chicks and Colts Sessions
Join me at ILE any Monday, Tuesday, Wednesday (or possibly Friday) morning for the next few weeks to photograph silly tame Sandhill Crane chicks and colts. Best news: there is a third pair on eggs that should be hatching very soon.
Morning Session — 7:30-9:30am: $100.00
Add an hour of image review and Photoshop: $100.00
If you are interested, please get in touch via e-mail or call my cell at 863-221-2372. Limit three.
Cheap Gatorland Sessions
Join me at Gatorland in March as below — it was great both days this past weekend. You will learn a ton. Including the simple trick that enabled me to create today's featured image while nobody else could … Really.
If you are interested, please get in touch via e-mail or call my cell at 863-221-2372. Limit three.
Friday or Saturday Morning Session — 7-10am: $200.00
Saturday Morning Session with a working lunch including image review and Photoshop: $300.00
Saturday Afternoon session — 4pm til closing: $150.
Full day with the working lunch: $450.00.
Sunday morning session 7-10am: $200.00.
Sunday morning session with a working lunch including image review and Photoshop: $300.00
Save $100 by creating your own mini-IPT by combining a Full day Saturday session including a working lunch with a Sunday morning session with a working lunch. Limit: three photographers: only $650 for a ton of learning over two days. As I said, cheap!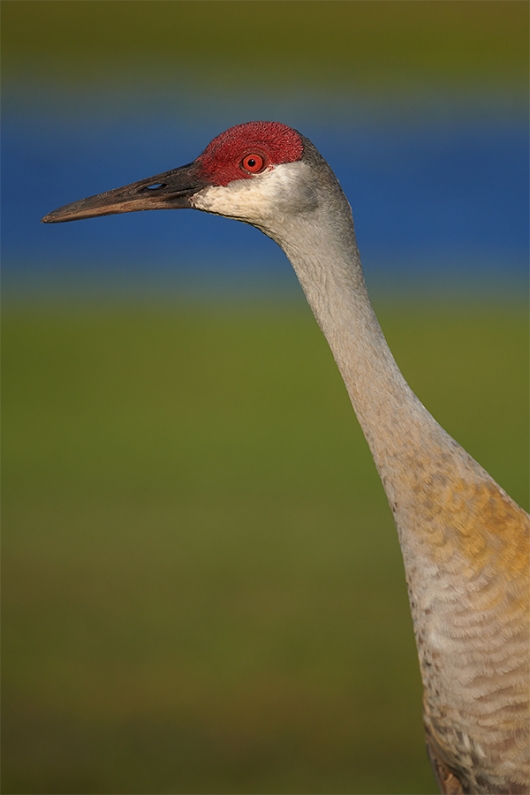 This image was created at Indian Lake Estates on March 18, 2019. I used the hand held Nikon AF-S NIKKOR 500mm f/5.6E PF ED VR lens and my back-up Nikon D850.. ISO: 500. Matrix metering at zero: 1/2000 sec. at f/6.3 in Manual mode. Auto1 WB at 5:4y pm.
One up and to the right of center Group AF was active at the moment of exposure. The array was on the very top of the bird's neck just below and behind the bird's cheek.
Sandhill Crane, adult head and neck portrait

Your browser does not support iFrame.
A Blue Streak
The blue streak in the background is a relatively distant canal. Rest assured that I gave my quadriceps a great workout.
The Lesson
Small, even minuscule changes in your position/choice of perspective can have tremendous influence on the success of an image. Had I been even a half inch higher or a half inch lower today's featured image would have been an insta-delete. My thighs muscles are feeling it this morning, but it was well worth it.
Your Call
Do you like the streak, hate it, or could you care less about it?
Facebook
Be sure to like and follow BAA on Facebook by clicking on the logo link upper right.
Typos
In all blog posts and Bulletins, feel free to e-mail or to leave a comment regarding any typos or errors. Just be right :).