What's Up?
On a clousy Monday morning past, the brilliant Micheal Tapes (creator of LensAlign MK II & FocusTune) came by with friend Dennis Huff. Despite the overcast weather we had good luck with the smaller-but-growing-fast pair of crane chicks and with the pair of larger colts. Both have become quite dependable. After our session Michael helped me out with what I thought was a strange behavior with FocusTune (on my new MacBook Pro) but turned out to be something fantastic that will make micro-adjusting much easier. That along with a technique change that the equally brilliant Patrick Sparkman came up with. I will be sharing these developments here on the blog soon; they will make micro-adjusting and focus fine-tuning about 80% easier than it had been …
The morning weather here at ILE has not been up to the usual clear and sunny central Florida standards. Five days ago, inspired by the warm, sunny afternoons, I upped my slow swim distance from 3/4 mile to a full mile (88 lengths). I am feeling pretty darned good. I was pleased to learn that blog regular Donnette Largay is coming up to ILE on Saturday for an afternoon and a following morning instructional session; she needs help with setting up her Canon gear and getting sharp images.
Chris at Cypress Computer in beautiful downtown Lake Wales was able to recover the e-mail folder with the contest entries; I should (belatedly for sure) announcing the winners next week.
Despite lots of recent interest I still need three folks for the Galapagos trip. Please shoot me an e-mail to learn about the huge late registration discount on the Galapagos trip.
The 2019 Fort DeSoto Spring IPT/THURS 18 APRIL through the morning session on SUNDAY APRIL 21, 2019: 3 1/2 DAYS: $1549. Limit 8/Openings: 1. Meet and greet at 7PM on the evening of WED 17 APRIL. Free morning session on WED 17 APRIL.
The New, Expanded 2019 UK Puffins, Gannets, & Red Kites IPT. Thursday June 27 (from EDI) through Tuesday, July 9, 2019 (on the ground; fly home on Wednesday July 10.): $9,999. Limit 5 photographers/Openings: 2. This trip is a definite go.
The GALAPAGOS Photo Cruise of a Lifetime IPT/The Complete Galapagos Photographic Experience. July 23 to August 6, 2019 on the boat. 13 FULL and two half-days of photography: $14,499. Limit: 13 photographers/Openings: 3. Please e-mail to learn about the huge late registration discount for this trip.
Selling Your Used Photo Gear Through BIRDS AS ART
Selling your used (or like-new) photo gear through the BAA Blog is a great idea. We charge only a 5% commission. One of the more popular used gear for sale sites charged a minimum of 20%. Plus assorted fees! Yikes. They went out of business. And e-Bay fees are now up to 13%. The minimum item price here is $500 (or less for a $25 fee). If you are interested please scroll down here or shoot us an e-mail with the words Items for Sale Info Request cut and pasted into the Subject line :). Stuff that is priced fairly — I offer pricing advice to those who agree to the terms — usually sells in no time flat. Over the past year, we have sold many dozens of items. Do know that prices on some items like the EOS-1D Mark IV, the old Canon 100-400, the old 500mm, the EOS-7D and 7D Mark II and the original 400mm DO lens have been dropping steadily. Most recently the price of used Canon 600mm f/L IS II lenses have been dropping like a rock with the introduction of the 600 III. You can always see the current listings by clicking here or on the Used Photo Gear tab on the orange-yellow menu bar near the top of each blog post page.
I was glad to learn recently of the following Used Gear sales:
Multiple IPT veteran Morris Herstein sold a Canon 600mm f/4 L IS II USM lens in like-new condition for the incredible BAA record-low price of $6,999.00 (was $7,999.00) in mid-March.
Todd Koudelka sold a Canon EF 500 mm f/4L IS II USM lens in excellent to near-mint condition for the BIRDS AS ART record-low price of $6299.00 (was $6499.00) in late March.
Bob Beal sold his rarely used, eight month old Nikon AF-S NIKKOR 600mm f/4E FL ED VR lens in like-new condition for the BAA record-low price of $10,500.00 (It was originally listed at $10,796.96.)
Sigma 150-500mm F5-6.3 DG OS HSM Lens (for Canon EF mount)
John Myers is offering a Sigma 150-500mm F5-6.3 DG OS (optical stabilization) HSM Lens (for Canon EF mount) in excellent plus condition (with a smudge on the lens hood) and a Wimberley P-20 plate for the BAA record-low by far price of $399.00. The sale includes the front and back lens covers, the Wimberley P-20 plate (a $58 value), the carrying case, and insured ground shipping via major courier. Your lens will not ship until your check clears unless other arrangements are made.
Please contact John via e-mail or by phone at 419-575-1568 (Eastern time.)
I have seen lots of sharp images made with a variety of Sigma telephoto zoom lenses; John's lens would be great for someone looking for an inexpensive quality telephoto zoom. artie
BAA Image Critiques
You can have your best images critiqued over the phone with Arthur Morris: 15 images for $100. Online digital galleries are fine. 1500 pixels wide or tall JPEGs are fine. Please call or send a check or a Paypal. You will get an honest, no-holds-barred critique during our phone consultation. If I think it's great, I will say so and tell you why. It is best to e-mail first to check my upcoming schedule before posting images. Checks made out to "BIRDS AS ART" should be sent to: Arthur Morris/BIRDS AS ART PO Box 7245, Indian Lake Estates, FL 33855. Send the link to your images to me via e-mail.
Via e-Mail from Multiple IPT Veteran David Hollander
Artie, Thanks for the photo critique today. Your views are invaluable. I am not objective about my own pictures, and my friends just say that they're all swell and provide no useful feedback. I particularly like the specific, actionable suggestions about how the picture could have been taken better and what I can do about the picture now. E.g., "move back, put more space on the right, remove the rock in the lower left, lighten the picture; sun angle is wrong, the bird's head is facing away and should be facing us; use detail extractor on the face; picture 3 is better than picture 2; picture 1 is awful and should be cut; You should have been higher/lower relative to the subject." I liked your bluntness about which pictures don't work, since no one else will tell me. I agree that had more exposure errors than I should have at this stage of my education. On the other hand, a lot of times I knew that I was not in the ideal place for a picture that was taking, but I was not allowed to get into a better place. The restrictions placed by the expedition staff often prevented me from moving to a better location, and in particular, from getting closer or lower. Regards, David
The Snowy Egret Flight Answer
In the Flight Photography is About a Lot More than Sharpness … blog post here, I posted with regards to the Snowy Egret flight image:
High Level Question
You can see here that I was working slightly off sun angle with the sun coming over my left shoulder instead of over the top of my head. Why didn't I move to my left so that when the bird was in the best zone I would have been right on sun angle?
The Answer
If I had moved one big step to my left and pushed the shutter button at the exact same moment, I would have been working up sun angle but would have, as I like to say, "Been shooting up the birds butt." I.E., too much from behind the bird. Achieving a decent subject to sensor plane orientation is one of the many reasons that we occasionally want to shoot a bit off of sun angle. That rarely more than 15 degrees.
SONY A9 Getting Started Guide with Video
If you are just getting started with your SONY a9 body and would like to know how to set the menu items that are relevant to bird photography, please send a Paypal for $22.00 to e-mail with SONY Quick Start Guide in the Subject line or at least somewhere in the e-mail. The guide also includes the best Focus Areas to use for photographing birds both in flight and action and at rest. Along with my comments.
Get a Free Copy!
If you have used my B&H or Bedford affiliate link to purchase a SONY a9 or the Sony FE 100-400mm f/4.5-5.6 GM OSS Lens, please shoot me your receipt via e-mail along with a request for your free copy of the SONY Quick Start Guide. Once I confirm that you have used the link correctly you will receive your guide with a link to the video via e-mail.
SONY Stuff
Getting Started Guide Update
If you have a copy of the above-mentioned guide, please insert the words "Expand Flexible Spot or " right before the words "Flexible Spot (M for medium)."
A Great SONY 100-400 OSS Lens Tip
When IPT veterans Mike Gotthelf and Morris Herstein hired me for an afternoon of SONY instruction and a morning of SONY photography last month, all three of us were having the same problem. Often, when we pressed the shutter button the system would not attempt to focus (none of the AF dots were dancing …) I suggested that zooming slightly in or out would solve the problem but the last thing that you want is to raise your lens and have no AF. I realized that the four AF Hold buttons about halfway out on the lens might be the problem and Patrick Sparkman suggested the same thing. I had convinced myself that that was not the problem until I realized that when I was holding the lens properly that the pad at the base of my left index finger was depressing the AF Hold button on the bottom of the lens …
To solve the problem on the a9 go to the Camera 2 (purple) menu and then scroll to Custom Operation 1 (screen 8/9). The first item there is Custom Key (Shoot.) Then press the center button on the Control (thumb) Wheel and right-click the joystick (or the Control Wheel) to the third sub-screen. The Focus Hold Button will be the last of three items. Highlight that by down-clicking the joystick (or the Control Wheel) and then press the center button on the Control Wheel. The default there is Focus Hold. You do not want that. Now right click the joystick (or the Control Wheel) about a zillion times until you come to Not set. Hit the center button on the Control Wheel and your no AF problems should cease.
And yes, the menus on the SONY bodies are quite complex. 🙂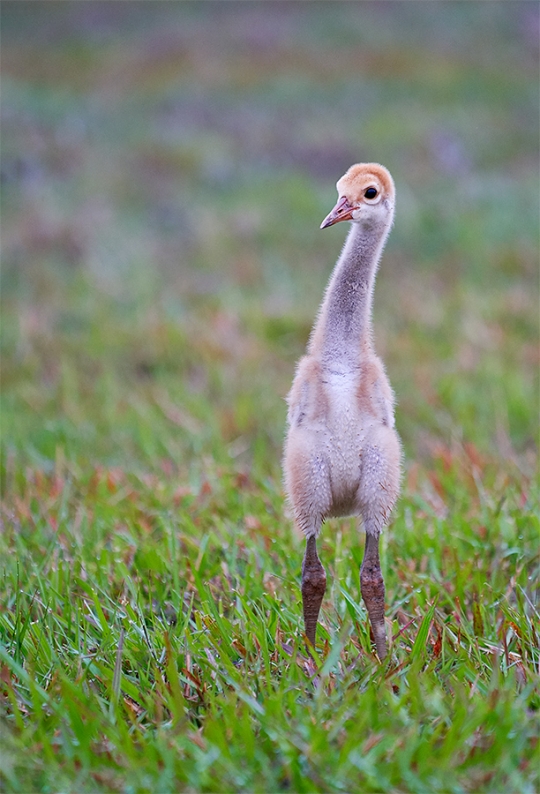 This image was created at ILE on Monday morning past. I used the hand held Sony FE 100-400mm f/4.5-5.6 GM OSS lens (at 312mm) and the beyond remarkable Sony Alpha a9 Mirrorless Digital Camera. ISO: 4000. Highlight metering to faint Zebras: 1/250 sec. at f/5.6 in Manual mode.
The AF data is currently unavailable.
Image #1. Sandhill Crane two-week old chick looking forlorn

Your browser does not support iFrame.
The Monday Morning Session
It was fun shooting with Michael Tapes again and meeting his friend Dennis. The chicks were so tame that Dennis went from his 500 PF to the 300 PF! With the image above I tried to create a mood that reflected the weather. First I converted the ARW (RAW) file in Capture One. The image optimizations were done in Photoshop CC 2019. I did a bit of foreground grass clean-up using the Patch Tool, Content Aware Fill, and the Spot Healing Brush. Notice that I did not use the Clone Stamp Tool except to Divide and Conquer. All (that plus tons and tons more) as detailed in The BIRDS AS ART Current Workflow e-Guide (Digital Basics II).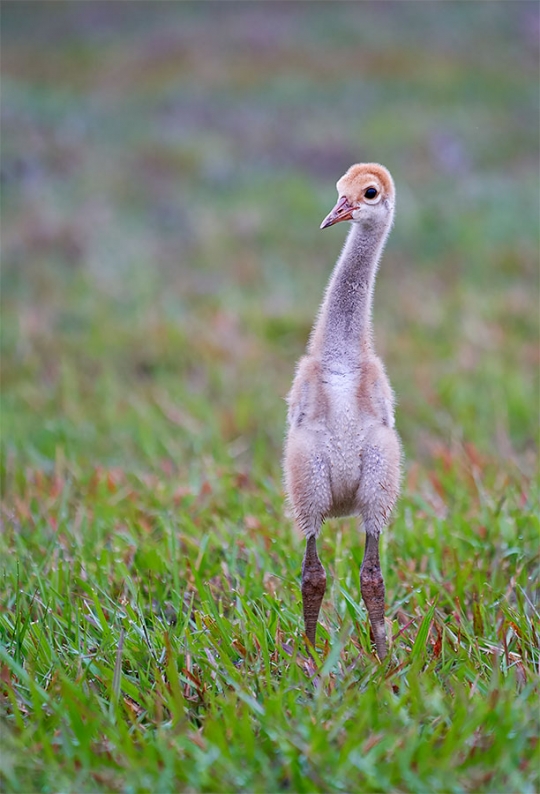 This is the same image with additional changes in Photoshop CC 2019.
Image #2. Sandhill Crane two-week old chick looking forlorn

Your browser does not support iFrame.
The Second Version
I finally got around to purchasing the current version of NIK filters and installing it on my new machine. For Image #2 I selected the bird and applied a bit of NIK Color EFEX Pro Detail Extractor and Tonal Contrast to the bird only. Then I ran NeatImage noise reduction on the background only.
Your Thoughts
Which version do you prefer?
Is the look of Image #1 too soft?
Is Image #2 too crunchy?
In terms of softness or crunchiness is either one just right?
Do you see a color cast? If so, which color?
Help Support the Blog
Please help support my efforts here on the blog by remembering to click on the logo link above each time that you shop Amazon. That would be greatly appreciated. There is no problem using your Prime account; just click on the link and log into your Prime account. With love, artie
If In Doubt …
If in doubt about using the BAA B&H affiliate link correctly, you can always start your search by clicking here. Please note that the tracking is invisible. Web orders only. Please, however, remember to shoot me your receipt via e-mail.
Please Remember to use my Affiliate Links and to Visit the New BAA Online Store 🙂
To show your appreciation for my continuing efforts here, we ask, as always, that you get in the habit of using my B&H affiliate links on the right side of the blog for all of your photo and electronics purchases. Please check the availability of all photographic accessories in the New BIRDS AS ART Online Store, especially the Mongoose M3.6 tripod head, Wimberley lens plates, Delkin flash cards and accessories, and LensCoat stuff.
As always, we sell only what I have used, have tested, and can depend on. We will not sell you junk. We know what you need to make creating great images easy and fun. And please remember that I am always glad to answer your gear questions via e-mail.
I would of course appreciate your using our B&H affiliate links for all of your major gear, video, and electronic purchases. For the photographic stuff mentioned in the paragraph above, and for everything else in the new store, we, meaning BAA, would of course greatly appreciate your business. Here is a huge thank you to the many who have been using our links on a regular basis and those who will be visiting the New BIRDS AS ART Online Store as well.
Facebook
Be sure to like and follow BAA on Facebook by clicking on the logo link upper right.
Typos
In all blog posts and Bulletins, feel free to e-mail or to leave a comment regarding any typos or errors. Just be right :).