What's Up?
Wow, I have so much to share and so many new and exciting images that I didn't know where to start. So I chose a sharp image made at 400mm with the SONY gear at 1/8 second … Sorry, that is not a typo! . Read on to learn more.
Multiple IPT veterans Anita North and Jim Miller headed out on Sunday afternoon but my first choice location was overrun by beach-goers. My #2 afternoon spot turned out to be the bomb. We had crazy tame shorebirds in breeding plumage. Those included Black-bellied and Wilson's Plovers, Least, Semipalmated, and an amazing three White-rumped Sandpipers, Willet, Short-billed Dowitcher, and Dunlin. Later in the afternoon they were going by several equally tame Great Egrets and a single handsome breeding plumage adult Little Blue Heron. All were fishing and all were catching! BTW, I had only seen white-rumps once before in spring.
On Monday morning the weather forecast looked grim and things started off a bit slowly. But we wound up having a spectacular morning and the weather was great as well. The 100% chance of thunder and lighting never materialized. The highlights of our morning at DeSoto were bathing skimmers on another low light morning — can you say pleasing blurs?, and some absolutely tame Snowy and Great Egrets and Great Blue Herons. One of the snowies was in full breeding plumage with the cherry red lores and a bill that looked as if it were made from polished ebony.
I was glad to learn recently that IPT veteran Joel Eade sold his Canon EF 500mm f/4 L IS (the original IS model, the "old five") in excellent condition for the BAA record-low price of $2750.l00 (was 2999.00) within days of listing it and that Douglas Smith sold his Canon EF 400mm f/4L IS DO II USM lens in near-mint condition for only $4425.00 for a quick sale after listing it for a BAA record-low $4999.00.
FlexShooter Pro
I had lots of great flight photography opps on Sunday morning with the 600 VR on the FlexShooter Pro. I killed. Images soon. And each day I learn a bit more that makes working with this great head easier. A few days ago I was wondering whether I would be using the Mongoose M3.6 or the FlexShooter Pro six months from now. Today, I am pretty positive that I will be using a FlexShooter Pro for all of my photography … If you missed the news on the FlexShooter Pro, the great new counter-balanced gimbal/ballhead, check out the blog post here. We've sold a dozen so far so there are just 11 in stock right now …
Last Gatorland In-the-Field Sessions of the Season: Friday May 10, Saturday May 11, or Sunday May 12, 2019.
Join me at Gatorland this coming weekend and learn a ton. It will be prime time for Cattle Egrets in breeding plumage, we might even have a shot at some Little Blue Herons, and there will still be lots of chicks of all sizes. There were still some nests with eggs on my last visit. Learn to shoot in the shade on sunny days! Most folks who visit Gatorland simply have no clue. Join me to learn how to photograph at easily accessible rookeries. An intermediate telephoto lens is all that you will need. I will have two of those and my 600 VR. Learn to think and see like a pro. A loaner FlexShooter Pro will be available.
Morning Session — 7-10am: $200.00
Morning Session with a 90-minute working lunch including image review and Photoshop: $300.00.
Still Desperate 🙂
I am desperately seeking one or two for the Galapagos Photo-Cruise of a Lifetime — no reasonable offer will be refused. And I am fervently hoping to sign up exactly one more photographer (male or female) for the UK Puffins, Gannets, and Red Kites IPT — with a large late-registration discount.
The New, Expanded 2019 UK Puffins and Gannets IPT. Seahouses, Bempton Cliffs, and the Dunbar, Scotland Gannet boat to Bass Rock! Thursday June 27 (from EDI) through Tuesday, July 9, 2019 (on the ground; fly home on Wednesday July 10.): $9,999 — a large late-registration discount is available. Limit 5 photographers/Openings: 1
The GALAPAGOS Photo Cruise of a Lifetime IPT/The Complete Galapagos Photographic Experience. July 23 to August 6, 2019 on the boat. 13 FULL and two half-days of photography: $14,499 — no reasonable offer will be refused. Limit: 12 photographers/Openings: 2.
The 2020 San Diego 4 1/2-DAY BIRDS AS ART Instructional Photo-Tour (IPT) WED JAN 8, 2020 thru and including the morning session on SUN JAN 12: 4 1/2 days: $2099.(Limit: 8/Openings: 7)
SONY A9 Getting Started Guide with Video
If you are just getting started with your SONY a9 body and would like to know how to set the menu items that are relevant to bird photography, please send a Paypal for $22.00 to e-mail with SONY Quick Start Guide in the Subject line or at least somewhere in the e-mail. The guide also includes the best Focus Areas to use for photographing birds both in flight and action and at rest. Along with my comments.
Get a Free Copy!
If you have used my B&H or Bedford affiliate link to purchase a SONY a9 or the Sony FE 100-400mm f/4.5-5.6 GM OSS Lens please shoot me your receipt via e-mail along with a request for your free copy of the SONY Quick Start Guide. Once I confirm that you have used the link correctly you will receive your guide with a link to the video via e-mail.
BIRDS AS ART
BIRDS AS ART is registered in the U.S. Patent and Trademark Office.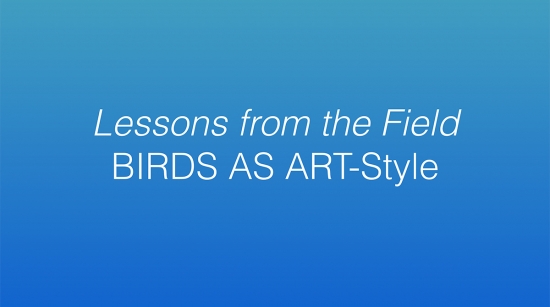 Lessons From the Field/BIRDS AS ART Style is a 1 hour, 15 minute, 314 image,
click and play MP4 video
Lessons From the Field/BIRDS AS ART Style: $10.00
Click here to order or see the Save $10 Bundle offer below.
Lessons From the Field/BIRDS AS ART Style is a 1 hour, 15 minute click and play MP4 video. It is available here in the BAA Online Store, by phone order, or by sending a Paypal for $10.00 to birdsasart@verizon.net. As the file is a large one, be sure to upload it when you have a good internet connection.
The video features 314 of artie's best images, educational and otherwise. Based on his 35 years of in-the-field experience, it covers all the basics along with many fine points. Are you making mistakes that give you no chance to create a great image? Learning to avoid those and learning to think like a pro will make you a better photographer. If you purchase and study the video, it will surely prove to be the best ten dollars you've ever spent on photography.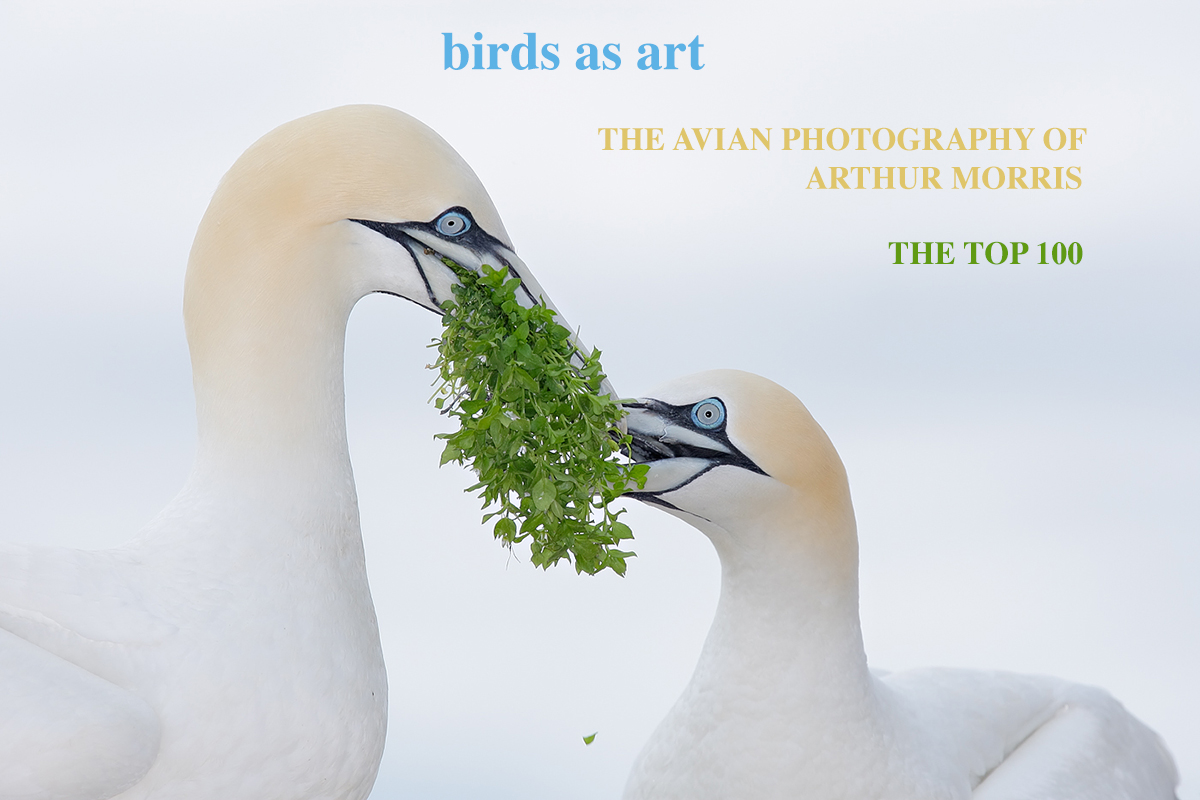 birds as art: The Avian Photography of Arthur Morris/The Top 100:
Save Ten Bucks!
Order the Lessons From the Field MP4 video and add a copy of the birds as art: The Avian Photography of Arthur Morris/The Top 100 (via convenient download — normally sells for $20.00) for an additional 10.00.
Order the bundle for $20.00 by clicking here.

Money Saving Reminder
If you need a hot photo item that is out of stock at B&H, would enjoy free overnight shipping, and would like a $50 discount on your first purchase, click here to order and enter the coupon code BIRDSASART at checkout. If you are looking to strike a deal on Canon or Nikon gear (including the big telephotos) or on a multiple item order, contact Steve Elkins via e-mail or on his cell at (479) 381-2592 (Eastern time) and be sure to mention your BIRDSASART coupon code and use it for your online order. Steve currently has several D850s in stock along with a Nikon 600mm f/4 VR. He is taking pre-orders for the new Nikon 500 P and the Nikon Z6 mirrorless camera body.
Booking.Com
Many IPT folks have been using the Booking.Com link below to get great rates and save a handsome $25.00 in the process. If you too would like to give Booking.Com a shot, click here and to earn a $25 reward on your first booking. Thanks to the many who have already tried and used this great service.
Airbnb
I have been using AirBNB for all of my travel lodging needs. Everyone on the Fort DeSoto IPT is staying at an AirBNB property in Gulfport. Airbnb lists more than 4.5 million homes across 200 countries; you'll find spacious, affordable options for every occasion. With Airbnb you will travel with confidence as reviews from past guests help you find the right fit. Once you do, their secure messaging makes it easy to coordinate with your host. And Airbnb support teams are available 24/7. And this morning, I made a 17-day reservation for an Airbnb condo for San Diego, 2020. I am staying with Rick again: his place has lots of room, a full kitchen, two bedrooms, and great WiFi. All for a lot less than the price of a chain hotel.
Yikes. I almost forgot the best part: Airbnb rates average less than half of even the least expensive chain hotels and motels. If you would like to save $40 on your first booking sign up by using this link: Airbnb. Airbnb does charge clean-up and service fees that make short stays less attractive bargains than long stays.
Those who prefer to stay in a motel or hotel are invited to use the Booking.com link above to save $25.00.
Gear Questions and Advice
Too many folks attending BAA IPTs and dozens of photographers whom I see in the field and on BPN, are–out of ignorance–using the wrong gear especially when it comes to tripods and more especially, tripod heads… Please know that I am always glad to answer your gear questions via e-mail. Those questions might deal with systems, camera bodies, accessories, and/or lens choices and decisions.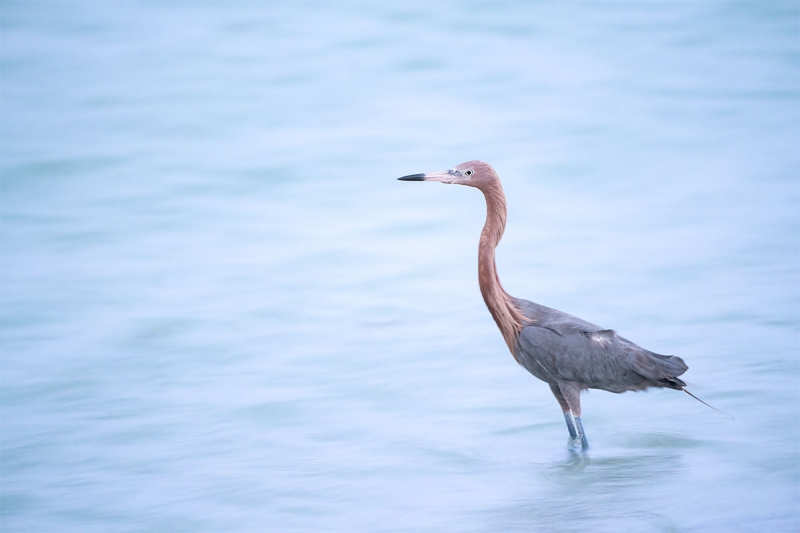 This image was created on May 5, 2019 while scouting for the upcoming 2019 DeSoto Sandbar Secrets IPT. I used the hand held Sony FE 100-400mm f/4.5-5.6 GM OSS lens (at 400mm) and the high mega-pixel Sony Alpha a7R III Mirrorless Digital camera body. ISO 5000: 1/8 sec. at f/6.3 in Manual mode was about + 1 2/3rds stops. Exposure determined by Zebras with ISO on the rear dial … AWB at 6:33am, 15 minutes before sunrise with a big dark cloud on the eastern horizon. Expand Flexible spot on the bird's neck. Tracking AF was active at the moment of exposure.
Image #1: Reddish Egret standing still

Your browser does not support iFrame.
How Dark Was It?
The image above was created at 1/8 second at ISO 5000. How dark was it? DARK! It had just gotten light enough to focus. SONY has a clear the advantage when it comes to being able to focus when you are working with in extraordinarily low EV levels.
Accidentally Sharp …
I was hoping that this bird would dance so that I could create a pleasingly blurred image. Ordinarily I would work at about 1/15 or 1/30 second when trying this technique. But that would have included working at an ISO of 10,000 or 15,000, not what I wanted to do.
So I dropped down to a ridiculous 1/8 second and tried to create a walking bird blur (see Image #2 below) by panning very slowly with the bird as it hunted. When the bird paused for a moment, I pressed the shutter button and did not think anything of it. I was, however, pretty much stunned by the bird's sharp eye when I saw this image, the second in a series of about ten made before the bird flew off in the darkness. Sharp at 1/8 second at 400mm while hand holding is simply not usual in my world. How did it happen? I can only credit the combination of the OSS (Optical Steady Shot) technology in the 100-400 FE and the 5-axis SteadyShot INSIDE image stabilization in the a7R iii designed to minimize the appearance of camera shake when shooting handheld. The other day I thought that sharp at 1/100 sec. at 400mm was pretty good. Sharp at 1/8 second at 400mm is totally insane.
I love the blurred water contrasting with the relatively sharp bird.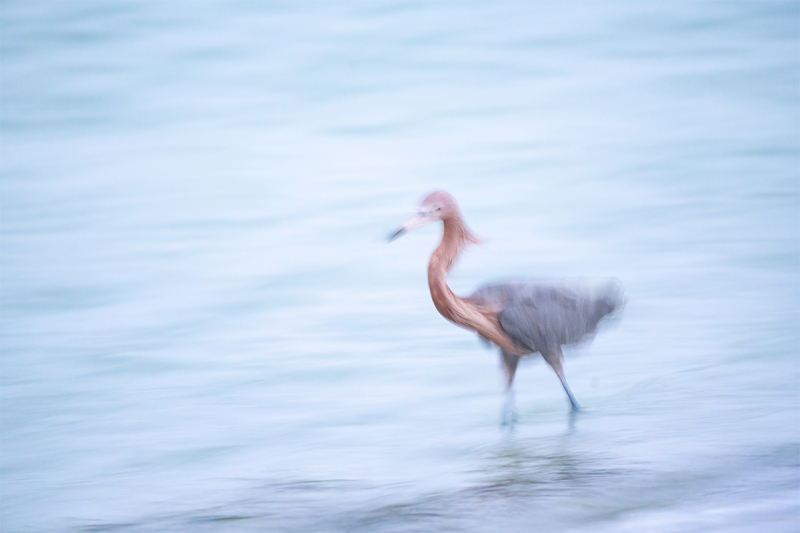 This image also was created on May 5, 2019 while scouting for the upcoming 2019 DeSoto Sandbar Secrets IPT. I used the hand held Sony FE 100-400mm f/4.5-5.6 GM OSS lens (at 400mm) and the high mega-pixel Sony Alpha a7R III Mirrorless Digital camera body. ISO 4000: 1/8 sec. at f/6.3 in Manual mode was about + 1 2/3rds stops. Exposure determined by Zebras with ISO on the rear dial … AWB, 15 seconds after Image #1 (above). Expand Flexible spot on the bird's neck. Tracking AF was active at the moment of exposure.
Image #2: Reddish Egret walking slowly …

Your browser does not support iFrame.
The Walking Blur …
When trying to create a pleasingly blurred image os a bird or an animal that is walking slowly you need to get down to really low shutter speeds. At the moment of exposure this Reddish Egret was walking very slowly along the shoreline looking for a fish or two. I panned very slowly with the bird and wound up up creating one walking blur that I liked. But I liked the totally unexpected sharp one better for a variety of reasons.
For each image I applied NeatImage at 85% on the background and 35% on the bird as detailed in the in the The Professional Post Processing Guide by Arash Hazeghi and yours truly. Again, the BKGR noise cleaned up as smooth as a baby's tush.
Do You Like Either One or Both?
Or neither? In any case, leave a comment and let us know why.
If In Doubt …
If in doubt about using the BAA B&H affiliate link correctly, you can always start your search by clicking here. Please note that the tracking is invisible. Web orders only. Please, however, remember to shoot me your receipt via e-mail.
Please Remember to use my Affiliate Links and to Visit the New BAA Online Store 🙂
To show your appreciation for my continuing efforts here, we ask, as always, that you get in the habit of using my B&H affiliate links on the right side of the blog for all of your photo and electronics purchases. Please check the availability of all photographic accessories in the New BIRDS AS ART Online Store, especially the Mongoose M3.6 tripod head, Wimberley lens plates, Delkin flash cards and accessories, and LensCoat stuff.
As always, we sell only what I have used, have tested, and can depend on. We will not sell you junk. We know what you need to make creating great images easy and fun. And please remember that I am always glad to answer your gear questions via e-mail.
I would of course appreciate your using our B&H affiliate links for all of your major gear, video, and electronic purchases. For the photographic stuff mentioned in the paragraph above, and for everything else in the new store, we, meaning BAA, would of course greatly appreciate your business. Here is a huge thank you to the many who have been using our links on a regular basis and those who will be visiting the New BIRDS AS ART Online Store as well.
Facebook
Be sure to like and follow BAA on Facebook by clicking on the logo link upper right.
Typos
In all blog posts and Bulletins, feel free to e-mail or to leave a comment regarding any typos or errors. Just be right :).