What's Up?
The two crane chicks are doing quite well and are getting bigger every day. They continue to amaze me with their tameness; I created some nice head portraits of the chicks with the 100-400. Though they were the stars of the show, I had some good Great Blue Heron flight chances in the morning and enjoyed an indigo black/blue thunderstorm sky in the afternoon.
The forecast for today is cloudy with SW wind; I will be heading down to the lake at about 7am.
The SONY e-Guide and videos will be in the BAA Online Store tomorrow.
BIRDS AS ART
BIRDS AS ART is registered in the U.S. Patent and Trademark Office.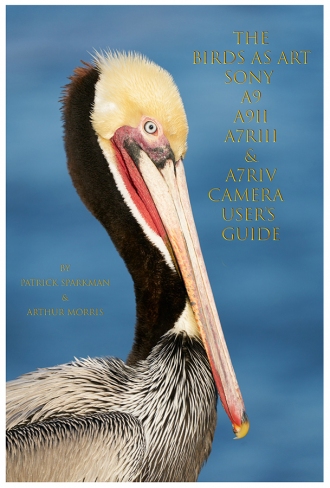 Click on the image to enjoy a larger version.
The SONY e-Guide by Patrick Sparkman and Arthur Morris
The Sony Camera e-Guide (PDF) and Videos Info
Yesterday I prepared the final PDF for the Sony Camera e-Guide. It will not be available in the store until early next week but you can order yours right now. The cost of the SONY e-Guide is $100.00 US and will include one of the four (4) camera set-up videos — we offer one video each for the a7r iii, the a7r iv, the a9, and the a9 ii — and the written guide with the galleries. Additional camera videos are $25.00 each The guide is now done.
If you would like to order the e-Guide now, please send a Paypal for $100 US to birdsasart@verizon.net and be sure to include the words "SONY e-Guide" in the Paypal e-mail along with the name of your camera or cameras so that you can receive the correct video or videos. Note: please add $25 for each camera video after the first. And please be sure to type your e-mail address into your Paypal order. Then be sure to send a copy of the Paypal transaction to me via e-mail.
For your convenience, the SONY e-Guide and videos will be in the BAA Online Store tomorrow.
SONY 200-600 Update
Steve Elkins now has four SONY 200-600s in stock; one of them surely has your name on it. Contact Steve as below to save $50.00.
Money Saving Reminder
If you need a hot photo item that is out of stock at B&H, would enjoy free overnight shipping, and would like a $50 discount on your first purchase over $1000.00, click here to order and enter the coupon code BIRDSASART at checkout. If you are looking to strike a deal on Canon or Nikon gear (including the big telephotos) or on a multiple item order, contact Steve Elkins via e-mail or on his cell at (479) 381-2592 (Eastern time) and be sure to mention your BIRDSASART coupon code and use it for your online order. Steve has been great at getting folks the hot items that are out of stock at B&H. Those include the SONY a7r IV, the SONY 200-600, the SONY 600mm f/4 GM, and the Nikon 500mm PF. Steve is eager to please.
Gear Questions and Advice
Too many folks attending BAA IPTs and dozens of photographers whom I see in the field and on BPN, are–out of ignorance–using the wrong gear especially when it comes to tripods and more especially, tripod heads… Please know that I am always glad to answer your gear questions via e-mail. Those questions might deal with systems, camera bodies, accessories, and/or lens choices and decisions.
Amazing Front-Yard Discovery! It Ain't Just Crane Chicks: Dayflower
I was taking my SUV out of the driveway. I am not sure what made me look down but I did, and there, just to my right, were dozens of pretty blue blossoms. The next day was still, so after I got back from the lake I got out my quasi-macro rig — the SONY 100-400 with the 1.4X TC and the a7r iv — and went to work. After screwing up while photographing Yellow Canna flowers down by the lake, I went back to the SONY eGuide, studied the sections on Manual Focus Toggle and Focus Magnifier, and set up my a7r iv as per the guide. Now I was all set to focus manually when doing flowers. Once I had everything down pat and was able to focus with extreme accuracy, I went back to the guide and re-crafted the instructions under Focus Magnifier so that even a second-grader could follow the detailed instructions. Now I am a macro machine!
This blossom was photographed in situ, as it was growing naturally.
I've been Face Timing with my friend "Bug" Bob Allen with regards to propagating the salt and pepper bush in our butterfly garden. The butterflies love the small blossoms. I mentioned that it was hard to believe how many small wildflowers I had just started noticing. He said, There is a name for that, it's called plant blindness.. I think that I will change Bob's nickname (by one letter) to "Bud" Bob Allen.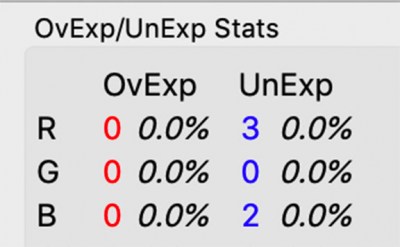 RawDigger Screen Capture

Your browser does not support iFrame.
More on SONY Exposure …
In the SONY e-Guide, in the SONY Zebras Coaching Gallery, there is a great tip on getting the right exposure for yellow and purple flowers. I followed the advice there and wound up with a pretty much perfect exposure: 3 under-exposed RED pixels and 2 under-exposed BLUE pixels out of 61,000,000. Not bad.
Note also that I went to Shade WB to create today's featured image. I did that because the color on the rear monitor looked way off. Yes, you can always change the White Balance in post, but for me, it is comforting when what you are seeing on the back of the camera looks a lot like what you are seeing in life.
The Art of Flower Photography by Denise Ippolito and Arthur Morris
You can learn everything e about this e-book here, or order your copy here.
Video: The Art of Flower Photography
In this B&H Event Space video, two of the world's premier photographers of flora and fauna — Arthur Morris and Denise Ippolito — share the techniques they use to create dramatic, sharp, well-composed, properly exposed images of flowers and flower fields. Denise does great things with the Canon 100mm f/2.8 L IS lens, while artie often goes to longer focal lengths—he has been seen photographing tulips at Keukenhoff Gardens, Holland, with a 600mm lens and a teleconverter. In addition to standard techniques, the video ends with Ippolito and Morris showing a wide range of abstract floral images and describing a variety of creative artistic effects such as multiple exposures, sharp/soft blending, texture overlays, warping a flower, creating zoom/twirls, in-camera blurs, and many others.
Click here to see the video.
If In Doubt …
If you are in doubt about using the BAA B&H affiliate link correctly, you can always start your search by clicking here. Please note that the tracking is invisible. Web orders only. Please, however, remember to shoot me your receipt via e-mail.
Please Remember to use my Affiliate Links and to Visit the BAA Online Store 🙂
To show your appreciation for my continuing efforts here, we ask, as always, that you get in the habit of using my B&H affiliate links on the right side of the blog or Bedfords, for all of your photo and electronics purchases. Please check the availability of all photographic accessories in the New BIRDS AS ART Online Store, especially the Mongoose M3.6 tripod head, Wimberley lens plates, Delkin flash cards and accessories, and LensCoat stuff.
As always, we sell only what I have used, have tested, and can depend on. We will not sell you junk. We know what you need to make creating great images easy and fun. And please remember that I am always glad to answer your gear questions via e-mail.
I would, of course, appreciate your using our B&H affiliate links or Bedfords for all of your major gear, video, and electronic purchases. For the photographic stuff mentioned in the paragraph above, and for everything else in the new store, we, meaning BAA, would of course greatly appreciate your business. Here is a huge thank you to the many who have been using our links on a regular basis and those who regularly visit the New BIRDS AS ART Online Store as well.
Facebook
Be sure to like and follow BAA on Facebook by clicking on the logo link upper right.
Typos
In all blog posts and Bulletins, feel free to e-mail or to leave a comment regarding any typos or errors. Just be right :).