What's Up?
On a still, sunny Thursday morning, inspired by the two Spatterdock i-phone images below, I spent two hours photographing Spatterrdock buds and blossoms. I will be sharing some of those images with you here soon. This morning — Friday 19 JUNE 2020 — I spent most of my time with the crane family but wound up photographing a nice Spatterdock flower with the 600GM/2XTC/a7r iv combo.
This morning I spoke with Christopher Robinson, the former editor of Outdoor Photographer. We had worked together on some articles and covers as far back as the Age of Film. For the past five years, he has been running the day-to-day content operations on the Sony AlphaUniverse.com website. Chris was recently excited to learn that I had gone to SONY full-time and will be doing a feature article on me detailing how I've used my SONY gear for birds, wildlife, and general nature photography.
BIRDS AS ART
BIRDS AS ART is registered in the U.S. Patent and Trademark Office.
SONY e-Guide Discount Program
Purchase a (new) qualifying SONY camera body (a7r iii, a7r iv, a9, a9 ii) from Bedfords or using a BIRDS AS ART B&H affiliate link, and you will receive a $40 discount on the SONY e-guide. Purchase a (new) SONY 200-600mm G lens from Bedfords or using a BIRDS AS ART B&H affiliate link, and you will receive a $25 discount on the SONY e-guide. Purchase a (new) SONY 600mm f/4 GM lens from Bedfords or using a BIRDS AS ART B&H affiliate link, and you will receive a free SONY e-guide with one or two videos.
Please send your Bedford's or B&H receipts to me via e-mail to receive your discount and your ordering instructions. Folks purchasing from Bedfords and using the BIRDSASART code will save $50. Folks sending their B&H receipts may need to wait a few days to have their purchases confirmed. Folks using Bedfords will have their purchases confirmed immediately.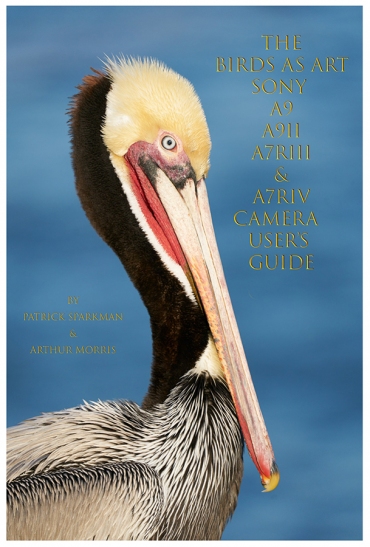 94 sold to rave reviews.
The SONY e-Guide by Patrick Sparkman and Arthur Morris
The Sony Camera User's e-Guide (and Videos)
Click here to purchase the guide with one Camera Set-up Video. Be sure to e-mail us by clicking here to specify your camera body so that we can send you a link for the correct video.
Click here to purchase the guide with two Camera Set-up Videos. Be sure to e-mail us by clicking here to specify your two camera bodies so that we can send you links for the correct videos.
Click here to learn more about the SONY e-Guide.

Money Saving Reminder
If you need a hot photo item that is out of stock at B&H, would enjoy free overnight shipping, and would like a $50 discount on your first purchase over $1000.00, click here to order and enter the coupon code BIRDSASART at checkout. If you are looking to strike a deal on Canon or Nikon gear (including the big telephotos) or on a multiple item order, contact Steve Elkins via e-mail or on his cell at (479) 381-2592 (Eastern time) and be sure to mention your BIRDSASART coupon code and use it for your online order. Steve has been great at getting folks the hot items that are out of stock at B&H. Those include the SONY a7r IV, the SONY 200-600, the SONY 600mm f/4 GM, and the Nikon 500mm PF. Steve is eager to please.
Gear Questions and Advice
Too many folks attending BAA IPTs and dozens of photographers whom I see in the field and on BPN, are–out of ignorance–using the wrong gear especially when it comes to tripods and more especially, tripod heads… Please know that I am always glad to answer your gear questions via e-mail. Those questions might deal with systems, camera bodies, accessories, and/or lens choices and decisions.
What the ? Image #1
In the What the ? blog post here, I posted this:
Image #1: What is It?
If you have an idea as to what is pictured in the image above, please leave a comment and be as specific as possible.
David Policansky wrote, I think that Image #1 is a sliced kiwi fruit.
Margaret commented: Image #1 is an alien's eyeball.
Ravi Hirekatur was at least in the neighborhood when he wrote: #1 looks like a reflection of a flower pod on something.
In fact, Image #1 is a photograph of a Spatterdock bud just peaking out of the water. Spatterdock, also known as Cowlily or Yellow Water Lily is a perennial, herbaceous, emergent aquatic plant. Its deep yellow, globe-shaped flowers grow at just above the surface of the water. The egg- to heart-shaped leaves have a basal V-notch and usually float on the surface of the water.
First I screwed the Singh-Rey 77mm Warming Circular Polarizer to the front of the lens (with the hood removed). To make the image, I set the tripod up directly over the bud right at the lens's minimum focusing distance as the buds are less than an inch across. I made sure to seat the tripod firmly in the mud. I had already Plamped the stem in place underwater (using a shelf bracket) to keep the bud close to perfectly still. Then I set the polarizer to dark. The bud was just cresting the surface of the water and the lens was pointed straight down at the subject.
Great Macro Tip
If you are all set up but find that your subject is a bit too large in the frame or that you are slightly inside of the minimum focusing distance of the lens, simply loosen the clamp and slide the plate back as much as an inch before re-tightening the clamp. Many times, you will be good to go without having to move the tripod or re-aim the lens. If you are focusing manually (as is usually best when doing macro photography) you will of course need to re-focus.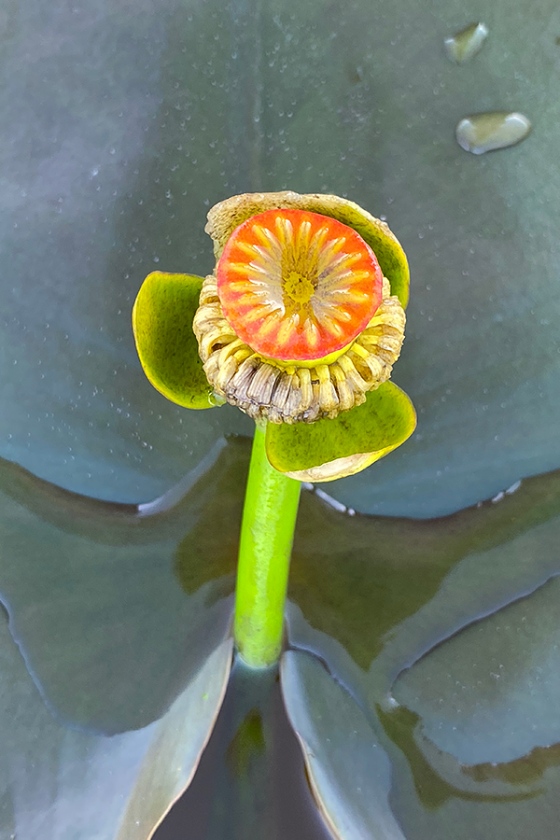 This image was created with the i-Phone 11+.
Image #2: Spatterdock bud
Spatterdock Bud
Above is a more traditional photo of a Spatterdock bud (and leaf). I shaded the subject with my body and then stood vey still to let the wavelets subside.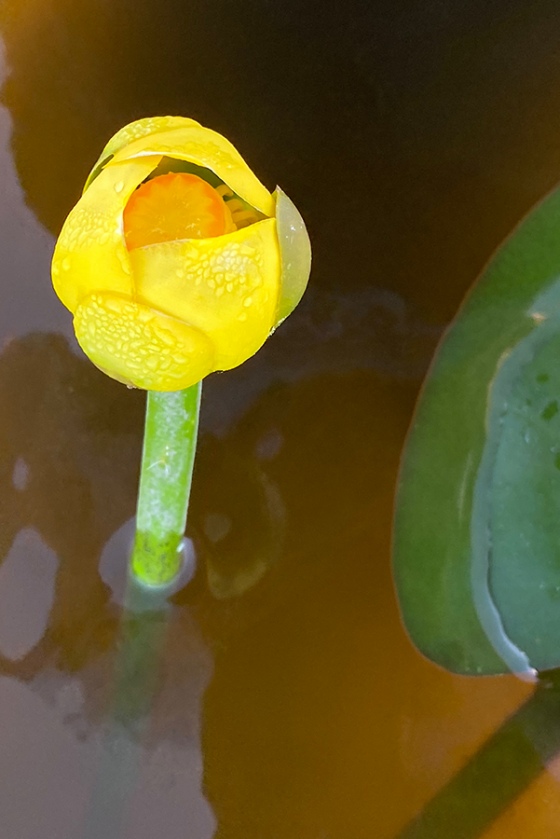 This image was created with the i-Phone 11+. The exposure was dialed down too\ prevent over-exposing the yellow petals.
Image #3: Spatterdock flower (and leaf).
Spatterdock Flower
To my eye, the Spattedock flowers are not as beautiful as the developing buds.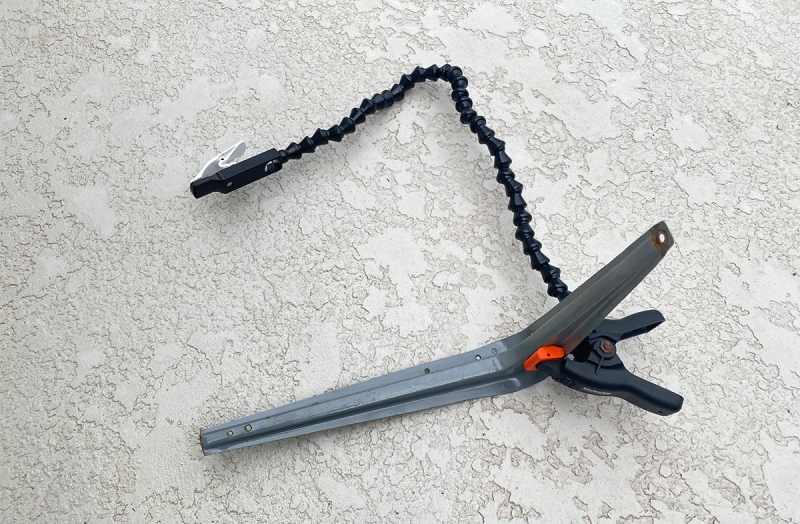 This image was created with the i-Phone 11+. The exposure was dialed up to prevent underexposing the subject.
Image #4: Wimberley Plamp II clamped onto shelf bracket
Wimberley Plamp II/Shelf Bracket Rig
This little combo is a must for macro photographers. The shelf bracket was purchased a while back at Lowe's for 99 cents. Stick the bare end of the bracket in the dirt to keep low-growing flowers from blowing in the wind. To keep the bud in Image #1 still, I stuck the bare end of the bracket into the mud. This rig is much easier to carry around than an extra tripod … And best of all, when you are finished, simply un-clip the stem of the flower, pull the shelf bracket out of the dirt or mud, and leave everything growing as it was before you arrived.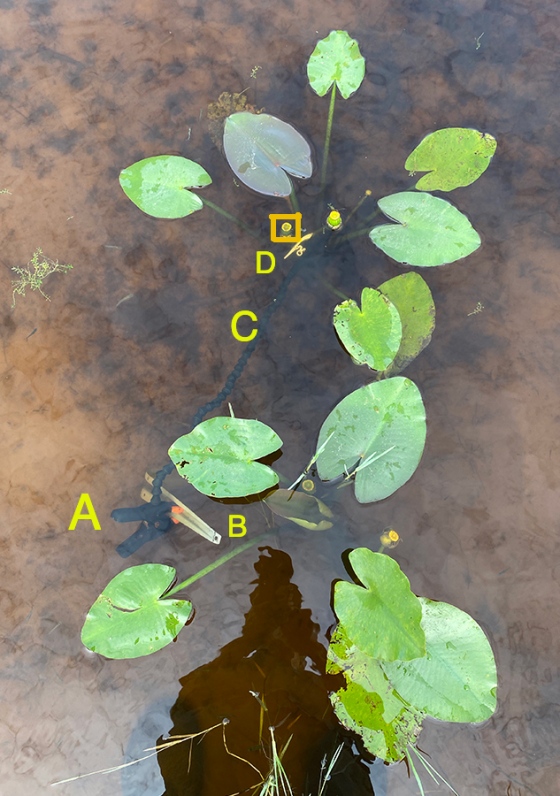 This image was also created with the i-Phone 11+.
Image #5: The Plamped in place set-up used to create Image #1.
The Set-up
A is the heavy-duty clamp of the Wimberley Plamp II attached to the shelf bracket.
B is the shelf bracket. One end is stuck into the mud while the Plamp is clamped to the other end.
C is the stiff but flexible positionable arm.
D is the lightweight clamp used to keep the stems still. One of the clamp jaws is white, the other is black. You need to be careful where you affix it to the stem so that the clamp does not appear in the image.
The subject from Image #1 — the object of my attention — is in the yellow box just above and to the right of D.
If In Doubt …
If you are in doubt about using the BAA B&H affiliate link correctly, you can always start your search by clicking here. Please note that the tracking is invisible. Web orders only. Please, however, remember to shoot me your receipt via e-mail.
Please Remember to use my Affiliate Links and to Visit the BAA Online Store 🙂
To show your appreciation for my continuing efforts here, we ask, as always, that you get in the habit of using my B&H affiliate links on the right side of the blog or Bedfords, for all of your photo and electronics purchases. Please check the availability of all photographic accessories in the New BIRDS AS ART Online Store, especially the Mongoose M3.6 tripod head, Wimberley lens plates, Delkin flash cards and accessories, and LensCoat stuff.
As always, we sell only what I have used, have tested, and can depend on. We will not sell you junk. We know what you need to make creating great images easy and fun. And please remember that I am always glad to answer your gear questions via e-mail.
I would, of course, appreciate your using our B&H affiliate links or Bedfords for all of your major gear, video, and electronic purchases. For the photographic stuff mentioned in the paragraph above, and for everything else in the new store, we, meaning BAA, would of course greatly appreciate your business. Here is a huge thank you to the many who have been using our links on a regular basis and those who regularly visit the New BIRDS AS ART Online Store as well.
Facebook
Be sure to like and follow BAA on Facebook by clicking on the logo link upper right.
Typos
In all blog posts and Bulletins, feel free to e-mail or to leave a comment regarding any typos or errors. Just be right :).