What's Up?
It was clear at ILE at 6:00am on Friday morning past. My plan was to head down to the lake to try to find some birds to photograph, but 45 minutes later there was some haze in the eastern sky and it was super-still; there was no wind at all. So I made the obvious choice and went to look for some flowers. One of the things that I love about wildflower photography is that the subjects change from week to week, sometimes almost from day to day. I stopped for 30 minutes to photograph a small flowering tree right on the corner of Park and Lantana, got back in my SUV, and barely made it an additional 50 yards to the first drainage ditch and found more neat stuff to photograph. At 8am I headed down to the lake to enjoy the beautifully muted light. I foound and photographed two Ospreys on The Perch; that was a first. Next I had some good chances on a young Great Egret chowing down on the latest mayfly hatch, and, on the way home, stopped for a few Black Vultures picking at a long-dead Osprey-dropped fish. All in all, it was a great morning.
The forecast for today — 27 JUNE 2020 (it is almost July; can you believe it?), is for more of the same, still and partly cloudy. I will be headed out at about 6:45am to do some photography.
BIRDS AS ART
BIRDS AS ART is registered in the U.S. Patent and Trademark Office.
Via e-Mail from Phillip Bird
As a new user of the Sony A7RIII I ordered your Sony e-Guide as soon as I unpacked the camera. Buying the guide is one of the best camera-related investments I have ever made. I am learning so much and I'm sure that the guide is saving me a great deal of time and frustration in dealing with all of the options available on this amazing camera. Thanks to you and Patrick for putting this guide together.
Phill
SONY e-Guide Discount Program
Purchase a (new) qualifying SONY camera body (a7r iii, a7r iv, a9, a9 ii) from Bedfords or using a BIRDS AS ART B&H affiliate link, and you will receive a $40 discount on the SONY e-guide. Purchase a (new) SONY 200-600mm G lens from Bedfords or using a BIRDS AS ART B&H affiliate link, and you will receive a $25 discount on the SONY e-guide. Purchase a (new) SONY 600mm f/4 GM lens from Bedfords or using a BIRDS AS ART B&H affiliate link, and you will receive a free SONY e-guide with one or two videos.
Please send your Bedford's or B&H receipts to me via e-mail to receive your discount and your ordering instructions. Folks purchasing from Bedfords and using the BIRDSASART code will save $50. Folks sending their B&H receipts may need to wait a few days to have their purchases confirmed. Folks using Bedfords will have their purchases confirmed immediately.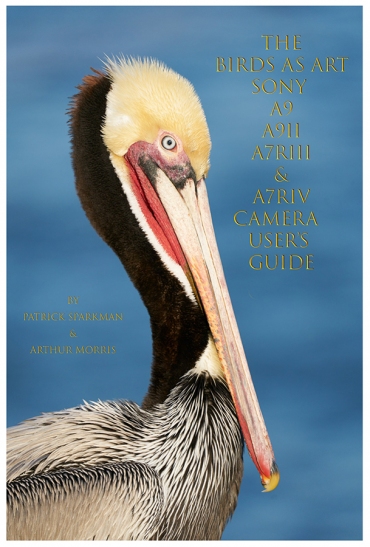 98 sold to rave reviews.
The SONY e-Guide by Patrick Sparkman and Arthur Morris
The Sony Camera User's e-Guide (and Videos)
Click here to purchase the guide with one Camera Set-up Video. Be sure to e-mail us by clicking here to specify your camera body so that we can send you a link for the correct video.
Click here to purchase the guide with two Camera Set-up Videos. Be sure to e-mail us by clicking here to specify your two camera bodies so that we can send you links for the correct videos.
Click here to learn more about the SONY e-Guide.
Selling Your Used Photo Gear Through BIRDS AS ART
Selling your used (or like-new) photo gear through the BAA Blog is a great idea. We charge only a 5% commission. One of the more popular used gear for sale sites charged a minimum of 20%. Plus assorted fees! Yikes. They went out of business. And e-Bay fees are now up to 13%. Please understand that e-Bay prices are bogus. And the same is true of the prices of used gear including my dear friends at B&H and the other mega-outfits. They offer you pennies and then try to sell the stuff to ignorant folks for ridiculously high prices. With their huge international exposure, they occasionally find someone …
The minimum item price here is $500 (or less for a $25 fee). If you are interested please shoot us an e-mail with the words Items for Sale Info Request cut and pasted into the Subject line :). Stuff that is priced fairly — I offer pricing advice to those who agree to the terms — usually sells. With the pandemic and the down economy, the market had been somewhat depressed but sales have been brisk for the past few weeks. And over the past year, we have sold many many hundreds of items. Do know that prices the used prices of many items have been dropping steadily. The prices garnered for used Canon gear has tanked completely as demand has dropped tremendously. It is ironic that for decades Canon gear had very strong resale value … That said, the prices on used Nikon gear are dropping as well. You can see all the currrent bargains here on the Used Gear Page.
Note: all BAA Used Gear sales include insured ground shipping via UPS to lower 48 US addresses only. Others who live elsewhere are invited to e-mail the seller for shipping surcharge info. Sellers should charge you only the difference between shipping to the farthest US location from their home and the charge to a non-lower-48 address.
Very Recent Sales
Patrick Hogue sold his Nikon D500 DSLR Camera in excellent condition and a 16mm-80mm F2.8-4.0 VR Nikkor zoom lens in near-mint condition for a BAA record-low $985.00 and a Nikon AF-S NIKKOR 500mm f/5.6E PF ED VR lens in near-mint condition for a very low $3195.00 (was $3450.00), both in mid-JUNE 2020.
Anita North sold her Nikon AF-S NIKKOR 500mm f/5.6E PF ED VR lens in excellent plus condition for a BAA record-low $3045.95 (was $3095.95) in early JUNE 2020.
Arthur Morris sold his Nikon D850 DSLR Camera (Body Only) in excellent plus to like-new condition for a BAA record-low $1,795.95 (was $1995.95) in early JUNE 2020.
Patrick Hogue sold his Nikon AF-S NIKKOR 200-500mm f/5.6E ED VR lens in excellent plus condition for $850.00 (was $896.95) and a Sony Cyber-shot DSC-RX10 IV Digital Camera in near-mint condition for a BAA record-low $998.00, both soon after being listed in late-MAY 2020.
Carol Anderson, wife of the late Walt Anderson — inventor of the Better Beamer, sold a Canon 200-400 f/4L IS USM lens with internal 1.4X Extender in excellent plus condition for $4998.00 and a Canon EOS-1DX Mark II camera body in like-new condition for $2798.00, both soon after they were listed in early June 2020.
Anita North sold her Nikon D500 DSLR in excellent plus to near-mint condition for a BAA record-low price of $895.95 in mid-June 2020.
Blog regular Fred Innamorato sold his Canon EF 400mm f/4 DO IS II lens in excellent plus condition for $3099.99, a Canon EF 300mm f /2.8L IS II USM lens in excellent plus condition for $2899.00, a Canon EF 100-400mm f /4.5-5.6L IS USM II lens in excellent plus condition for $999.00, an EOS 5D Mark IV camera body in excellent plus condition for $1549.00, a Canon EOS-1DX Mark II camera body in excellent plus condition for $2698.00, a Canon EF Extender 1.4X III (teleconverter) in excellent plus condition for $219.00, a Canon EF Extender 2X III (teleconverter) in excellent plus condition for $219.00, and a Canon Extension Tube Set, the EF 12 II and EF 25 II, in excellent plus condition for $124.90, all on the first day of listing in late-MAY 2020.
New Listing
Canon EOS-1D X Professional Digital Camera Body/with Extras!
Sean Werle is offering a Canon EOS-1D X body in excellent condition for $1499.00. The body has minor areas of worn paint and one small bit of the fake leather stuff that is glued to Canon bodies is mysteriously disappeared some years ago. The camera is in perfect working condition and has less than 105,000 shutter actuations. Photos are available upon request. The sale includes the camera body with original strap, one extra LP-E4N battery (two total), the LC-E4N charger, 2 UDMA7 120MB/s Sandisk Extreme 64GB card, a Canon GP-E1 GPS attachment ($229.00 value), and insured ground shipping via major courier to lower-48 US addresses only. Your item will not ship until your check clears unless other arrangements are made.
Please contact Sean via e-mail or by phone at 1-413-348-0032 (Pacific time)
Two fast, rugged 1D X bodies served as my workhorse cameras for more than four years. I used them to create hundreds of family-jewels-type images. I actually liked the 1D X more than I liked my 1D X IIs … artie

Money Saving Reminder
If you need a hot photo item that is out of stock at B&H, would enjoy free overnight shipping, and would like a $50 discount on your first purchase over $1000.00, click here to order and enter the coupon code BIRDSASART at checkout. If you are looking to strike a deal on Canon or Nikon gear (including the big telephotos) or on a multiple item order, contact Steve Elkins via e-mail or on his cell at (479) 381-2592 (Eastern time) and be sure to mention your BIRDSASART coupon code and use it for your online order. Steve has been great at getting folks the hot items that are out of stock at B&H. Those include the SONY a7r IV, the SONY 200-600, the SONY 600mm f/4 GM, and the Nikon 500mm PF. Steve is eager to please.
Gear Questions and Advice
Too many folks attending BAA IPTs and dozens of photographers whom I see in the field and on BPN, are–out of ignorance–using the wrong gear especially when it comes to tripods and more especially, tripod heads… Please know that I am always glad to answer your gear questions via e-mail. Those questions might deal with systems, camera bodies, accessories, and/or lens choices and decisions.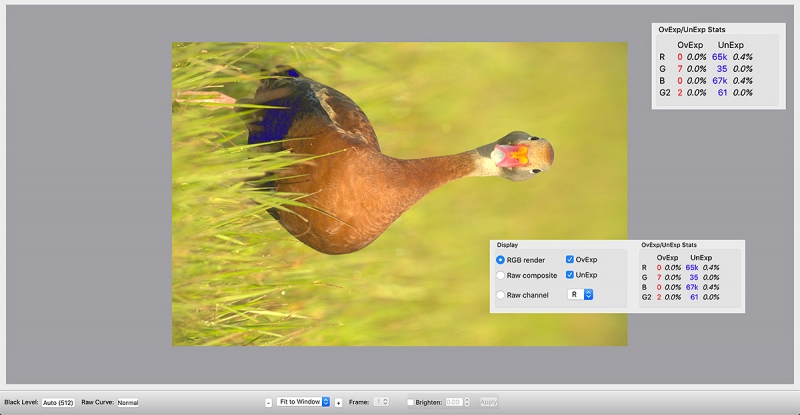 Click on the image to see a larger version and be better able to read the fine print.
Image #1: RawDigger partial screen capture for Black-bellied Whistling Duck head and neck portrait
On RawDigger
Since I have begun using and trusting RawDigger, my exposures have gotten better, always mega-pushed to the right to ensure low noise files with maximum data in the raw file. Note in the screen capture above that there are exactly 7 over-exposed GREEN pixels out of 61,000,000. Not bad. You never want more than a smattering of overexposed pixels. The underexposed pixels on the duck's belly — shaded BLACK — are indicated by the blue underexposure warning. As with film, you simply need to expose for the WHITEs (and let the dark tones fall where they may).
Since I was not enamored with the video that I created, I have decided to do a single RawDigger e-Guide. It will be several weeks in production as need to finish my 2019 taxes. The guide will be intended only for serious photographers who really want to up their games. What I learned recently from Patrick Sparman is that it is possible to have zero over-exposed pixels and zero under-exposed pixels and still have an image that is underexposed by as much as two stops … For me, RawDigger has been a life-changer.
The Relatively Large Crop
Compare the (cropped) optimized image (Image #2) with the original file seen in Image #1, the screen capture that opened this blog post. In fact, 66% of the original pixels were cropped away. Sharp a7r iv images (even those created at 1200mm) can stand up to relatively huge crops.
Black-bellied Whistling Duck has been becoming increasingly common in small numbers here at ILE over the past few years. As they are quite shy, however, the are difficult photographic subjects. I was very happy with this image despite the fact that I was slightly off sun angle.
Down-the-Lens Barrel AF Tip
With birds looking right at you with both eyes visible, it is imperative that you focus accurately on one eye or the other. The larger in the frame the ssubject, the more this is true. Whether you are using Canon, Nikon, SONY or any other system, the best way to focus on a single eye is to use a single small AF point and get it right on the eye you want. For today's featured image, I went for sharp focus on the subject's left eye (the one on our right) because it was lit by the sun.
At all costs you must not select an array. Why? There is a great chance that the AF system will grab the tip of the bill leaving both eyes well behind the plane of sharp focus. In theese situations, Canon users shoould avoid using Zone or either of the Expand AF patterns, Nikon User's need to avoid susing Group (grp) or one of the d- settings, and SONY folks need to stay away from Zone. All user's should not choose Wide or full screen or all-points AF for the same reasons when photographing a large in the frame bird looking right down the lens barrel. Note that such poses often yeild powerful image designs.
The beauty of SONY's trracking Flexible Spot is that you do not have to move the AF point around in the frame; the camera does that for you.
If In Doubt …
If you are in doubt about using the BAA B&H affiliate link correctly, you can always start your search by clicking here. Please note that the tracking is invisible. Web orders only. Please, however, remember to shoot me your receipt via e-mail.
Please Remember to use my Affiliate Links and to Visit the BAA Online Store 🙂
To show your appreciation for my continuing efforts here, we ask, as always, that you get in the habit of using my B&H affiliate links on the right side of the blog or Bedfords, for all of your photo and electronics purchases. Please check the availability of all photographic accessories in the New BIRDS AS ART Online Store, especially the Mongoose M3.6 tripod head, Wimberley lens plates, Delkin flash cards and accessories, and LensCoat stuff.
As always, we sell only what I have used, have tested, and can depend on. We will not sell you junk. We know what you need to make creating great images easy and fun. And please remember that I am always glad to answer your gear questions via e-mail.
I would, of course, appreciate your using our B&H affiliate links or Bedfords for all of your major gear, video, and electronic purchases. For the photographic stuff mentioned in the paragraph above, and for everything else in the new store, we, meaning BAA, would of course greatly appreciate your business. Here is a huge thank you to the many who have been using our links on a regular basis and those who regularly visit the New BIRDS AS ART Online Store as well.
Facebook
Be sure to like and follow BAA on Facebook by clicking on the logo link upper right.
Typos
In all blog posts and Bulletins, feel free to e-mail or to leave a comment regarding any typos or errors. Just be right :).