This Just In!
Just got back from an amazing session down by the lake at ILE (I created 468 images in a less than 45-minute session!). It is now 8:50am. Despite the "partly cloudy" weather forecast the fog lifted quickly to reveal clear skies. With some moisture in the air, the light was gorgeous. I found the small crane chicks right were I left them. They are more accepting and curious each day. I was working with the SONY 200-600 G lens but the chicks were getting so close that I went back to the car for the closer focusing 100-400 GM. I wound up making great head portraits of the chick with the 1-4! If you doubt me, click here to send me an e-mail requesting a screen capture of one of the full frame chick head shots. (It is now 9:30am: 58 lovely keepers after the first edit.)
The weather is looking great for the coming weekend with Friday looking perfect. In all seriousness, this is a once-in-a=lifetime opportunity for most folks. If you would like to explore the possibility of joining me for one or more mornings (FRI/SAT/SUN), please contact me immediately via e-mail or text or try me on my call at 863-221-2372. Lodging in the guest room gallery is available.
What's Up?
Ron Santini and I enjoyed a stellar morning at Stick Marsh. Ron was amazed by the fact that we were often within ten feet of gorgeous spoonbills. In the predawn, I set up the C1 and C2 modes on his R5 so that we were able to work on creating pleasing blurs early on and then switch quickly and easily to working with high shutter speeds once it got brighter. We had many dozens of great incoming spoonbill chances and Ron was a quick study.
Ron and his wife Mary are traveling in a small but wickedly neat/cool van/motor home. Sitting inside it brought back many wonderful memories of the two trips around North American that my late-wife Elaine and I made in our tiny Winnebago Minnie-winnie during the sabbatical year just before her death from breast cancer in November of 1994. As Ron, Mary, and I said our goodbyes, Ron said, "I learned more about bird photography and my R5 in two hours than …" At that point, he was lost for words.
I headed into town on Tuesday afternoon to do some shopping and to deposit the checks that I had received on Monday — one for each of the two SONY a9 ii bodies that I sold last week …
Today is Wednesday 31 March 2021. The morning forecast for ILE is for partly cloudy with a gentle breeze from the south/southeast. I will be heading down to the lake early to check on the two new baby cranes.
This blog post took more than two hours to prepare and makes ninety-nine consecutive days with a new one. Please remember to use my B&H affiliate links or to save money at Bedfords by using the BIRDSASART discount code at checkout. Doing either often earns you free guides or discounts. And doing so often earns my great appreciation.
Unsolicited, via e-mail, from Fernando Ramos
The excellent Canon EOS R5/R6 Camera User's e-Guide is unlike anything I've encountered. Your detailed instruction supported by excellent reasoning is exactly what I needed to help me set-up my Canon EOS R5. Thank you for sharing your expertise with me; as a result, you saved me immeasurable time. Fernando
Unsolicited, via e-mail, from Joel Eade
Thank you so much for the R5/R6 guide and I am honored to have had an image included! It is a wonderfully written, extremely comprehensive document that would benefit any R5 user. It is evident that a tremendous amount of time and effort was required to create it. After reading through, I can say it that flows in a logical fashion and that each item is carefully described in a way that is not difficult to follow. I agree with 99% of your set up suggestions 🙂 Joel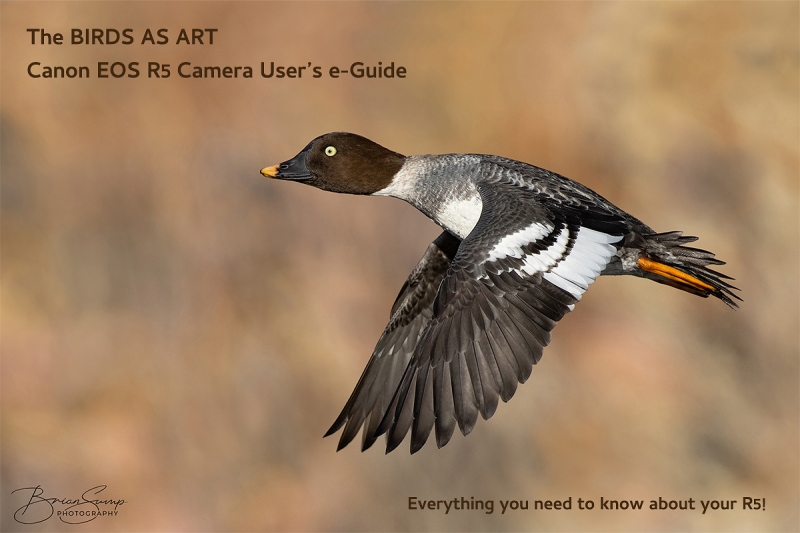 Cover Image courtesy of and Copyright 2021 Brian Sump (Sump scores!)
The BIRDS AS ART Canon EOS R5 Camera User's e-Guide: $75.00
The guide is 82 pages long: 21,458 words. More than 50 DPP 4 Autofocus-depicting screen captures. And a 31 minute 44 second educational video. This guide took three and a half months of hard work and a ton of help from at least seventeen very helpful and generous folks.
The guide covers — in great detail — all Menu Items that are relevant to bird, nature, and wildlife photography. It does not cover video. The section on AF methods and the AF Gallery has been expanded from the R5/R6 AF e-guide. It remains the one of the great strengths of this guide. I share my thoughts on what I am sure is the single best AF Method for photographing birds in flight. As most of you know, the guide includes a simple and easy way to change AF Methods that was introduced to me by Geoff Newhouse. In the AF Gallery you will see exactly how Face Detection plus Tracking AF works. In the Educational R5 Gallery video, I share my favorite R5 images along with dozens of bird photography tips and techniques.
In addition, I teach you how to get the best exposures with your R5. Detailed instructions on using the great In-camera HDR and Multiple Exposure features will be appreciated by creative folks who like to have fun. The three shutter modes are explained in detail as well. Bruce Dudek solved the can't-get-to-Auto ISO problem that had stumped everyone at Canon. This information is of course shared in the guide. You will learn how to set up your EVF (Electronic Viewfinder) and Screen toggle options. Not to mention that the mysterious performance of the Q Button is revealed and simplified. Brian Sump's images reveal how well you can do when using the R5 with EF lenses using one of the three Canon EF-EOS R Mount Adapters (as Donna did with Image #1 below). You will learn how I use Customize Dials to put either ISO or EC on the Thumb Dial and how to set up and save Custom Shooting Modes (C1-C3) that can remember both your Customize Dial and Customize Button settings! That is something that none of the SONY bodies do. 🙁 Near the end of the guide I share my all-important MY MENU items with you.
Like all BAA educational materials, the R5 guide is written in my informal, easy-to-follow style. I am quite proud of this guide and look forward to hearing your thoughts on our hard work.
You can purchase your copy of the BIRDS AS ART Canon EOS R5 Camera User's e-Guide for $75.00 here in the BAA Online Store or by calling Jim in the office weekday afternoons at 863-692-0906 with your credit card in hand.
New and Better Bedfords Discount Policy!
You can now save 3% on all of your Bedfords photo gear purchases by entering the BIRDSASART coupon code at checkout. Your discount will be applied to your pre-tax total. In addition, by using the code you will get 2nd day air shipping via Fed Ex.
Grab a Nikon AF-S Teleconverter TC-14E III and save $14.99. Purchase a Canon EOS R5 and your discount will be $116.97. Purchase a Sony FE 600mm f/4 GM OSS lens and save a remarkable $389.94! Your Bedford's purchase no longer needs to be greater than $1,000.00 for you to receive a discount. The more you spend, the more you save.

Money Saving Reminder
Many have learned that if you need a hot photo item that is out of stock at B&H and would enjoy free second-day air shipping, your best bet is to click here, place an order with Bedfords, and enter the coupon code BIRDSASART at checkout. If an item is out of stock, contact Steve Elkins via e-mail or on his cell phone at (479) 381-2592 (Central time). Be sure to mention the BIRDSASART coupon code and use it for your online order to save 3% and enjoy free 2nd-day air shipping. Steve has been great at getting folks the hot items that are out of stock at B&H and everywhere else. The wait lists at the big stores can be a year or longer for the hard to get items. Steve will surely get you your gear long before that. For the past year, he has been helping BAA Blog folks get their hands on items like the SONY a9 ii, the SONY 200-600 G OSS lens, the Canon EOS R5, the Canon RF 100-500mm lens, and the Nikon 500mm PF. Steve is personable, helpful, and eager to please.
Gear Questions and Advice
Too many folks attending BAA IPTs (remember those?) and dozens of photographers whom I see in the field and on BPN, are–out of ignorance–using the wrong gear especially when it comes to tripods and more especially, tripod heads… Please know that I am always glad to answer your gear questions via e-mail. Those questions might deal with systems, camera bodies, accessories, and/or lens choices and decisions.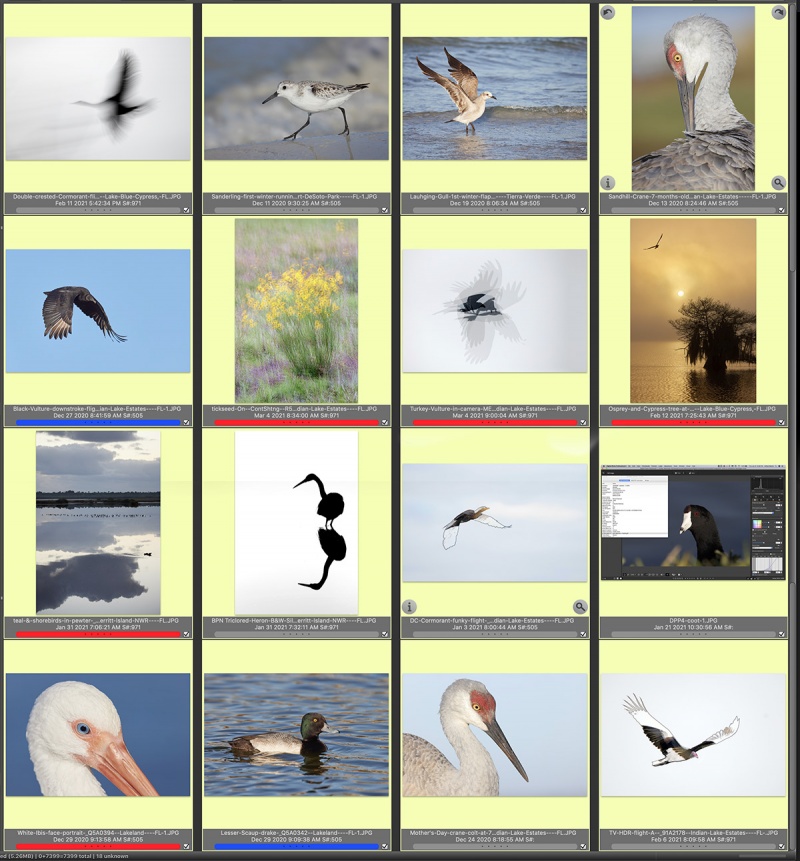 Canon R5/RF 100-500 Composite
Reasons to love the Canon EOS R5 Mirrorless Digital camera body
There are lots of reasons to love the highly touted 45MP Canon EOS R5 Mirrorless Digital camera body. Here are just a few:
1- The superb 45MP CR3 files handles large crops easily.
2- The Menu is easy to navigate.
3- The Face Detection plus Tracking technology (though not perfect) is superb.
4- The Date/Time/Zone menu item shows the date and time without the need to press a second button!
5- The Custom shooting modes (C1-C3) allow the user to save many items including and especially Customize Buttons, Customize Dials, and Shutter Mode settings. That makes the Custom shooting modes a huge plus for users who do not need to waste time fiddling around with various settings. When I want to go from shooting flight and action in Manual mode with ISO on the Thumb Dial to creating pleasing blurs in Tv mode with Exposure Compensation on the Thumb Dial I simply switch from C1 Mode to C2 mode.
6- With the R5, users can create in-camera High Dynamic Range (HDR) images with a slew of options. I love creating funky in-camera HDR images of birds in flight in cloudy-dark conditions.
7- With the R5, users can create two different kinds of Multiple Exposures with zillions of options.
8- To create HDR images or Multiple Exposures I select C3 mode that with the Shutter Mode saved to Elec. 1st-curtain. This is another great time saving convenience.
9- Formatting a card takes about one second …
10- One of three different Canon EOS R Adapters enable folks to use their Canon EF lenses seamlessly with all of the great R5 features maintained. AF performance with the adapters and EF lenses is superb. Learn all about the adapters (and lots more) in the Canon Comeback Fueled By Mirrorless Bodies & Lenses. The skinny on everything that you wanted to know about Canon Mirrorless but were afraid to ask … blog post here.
In the interest of fairness and balanced coverage, I must mention this: Donna Bourdon, currently on an Alan Murphy workshop in the Rio Grande Valley, told me that it was very hot in the blinds on the first day; Donna's R5 had an overheating warning and the R5 of another participant shut down completely. While overheating problems when shooting extensive video with the R5 are common knowledge, this is the first I have heard of the problem when shooting stills.
Reasons to love the Canon RF 100-500mm f/4.5-7.1L IS USM Lens
There are lots of reasons to love the Canon RF 100-500mm f/4.5-7.1L IS USM lens. Here are just a few:
1- Its light weight and relatively small size make it eminently hand holdable for most folks.
2- It is superbly sharp.
3- The 100-500mm focal length range makes it an incredibly versatile lens.
4- The less than four-foot Minimum Focusing Distance (MFD) at 500mm adds tremendously to its versatility.
5- It plays extremely well with both the Canon Extender RF 1.4x and even the Canon Extender RF 2x.
6- It is an excellent lens for photographing birds in flight and in action.
7- It also makes an excellent quasi-macro lens for a wide range of subjects like snakes, frogs, dragonflies, butterflies, and medium-sized and large flowers.
8- It kills when working at close range with tame birds. It allows the user to create super-tight head portraits and abstract body-parts and feather-pattern images.
9- Zooming out toward 100mm often enables users to create pleasing bird-scapes that feature lots of habitat.
10- The lens construction is sturdy and the 1-5 zooms smoothly in and out over the entire focal length range.
If I left out something that you love about your R5 or RF 100-500, please leave a comment.
Typos
With all blog posts, feel free to e-mail or to leave a comment regarding any typos or errors.