What's Up?
It was foggy and still when I woke on Wednesday. Remarkably, I opted to stay in and get some work done. That after 12 days in a row with at least one photo session. I did my bursts and swam my half-mile in the afternoon.
Today is Thursday 5 May 2022. I will be meeting Anar early at Stick Marsh for her second In-the-Field session this week. The morning forecast for Fellsmere is calling for partly cloudy turning sunny with almost no wind.
Wherever you are and whatever you are doing, I hope that you too have a great day. This blog post took about an hour to prepare and makes fifty-five days in a row with a new one.
Please remember to use the B&H and Amazon links that are found on most blog pages and to use the BIRDSASART discount code at checkout when purchasing your new gear from Bedfords. Please, also, consider joining a BAA IPT. You will be amazed at how much you will learn!
Gatorland In-the-Field Session
Sunday 8 May 2022. 7:00 to 9:00am: $200.00/person
Two hours of intensive instruction. Cheap! You need to have a season photo pass or purchase one for that date to enter. If you are interested, please contact me ASAP via e-mail.
2022 Gatorland Photographer's Pass Program
Though the 2022 Gatorland Photographer's Pass Program (GPPP) is much improved from last year's program, it falls well short of the great program that was in effect BC (Before Covid). I am hoping that the program will be restored to its former greatness next year. This year's program included ten scheduled days. There are three remaining. With a pass, you can get into the park at 7:00 am instead of the normal 10:00 am entry time.
Reservations are required two days before your visit. For example, if you wish to visit on 27 March, you need to make your reservation on March 25th. You can make reservations here on the Gatorland website, or by calling 407-855-5496 ext. 226 during business hours with your credit card in hand. There is no late stay option this year. The price is $25.00 + tax per visit and includes early entry at 7:00 AM at the SOUTH ENTRANCE. All tickets are date specific and non-transferable. You will not be able to leave until 10:00am when Gatorland opens.
Choose from the remaining 2022 dates:
May 8, 2022
May 14, 2022
May 21, 2022
The famous Gatorland Bird Rookery was created in 1991 as an alligator breeding marsh. While the birds lose an occasional chick to the gators, they gain protection from ground predators. This unique habitat has grown into one of the largest and most accessible wading bird rookeries in Florida. Today, this area provides protected nesting, foraging, and roosting area to more than 20 different species of birds, many of which are listed as Endangered or Species of Special Concern. Gatorland's boardwalks provide birders and photographers with access to these incredible birds, their nests, and their young, allowing people to safely observe them while capturing stunning photographs.
You can learn exactly how to make the best possible photographs at Gatorland in here .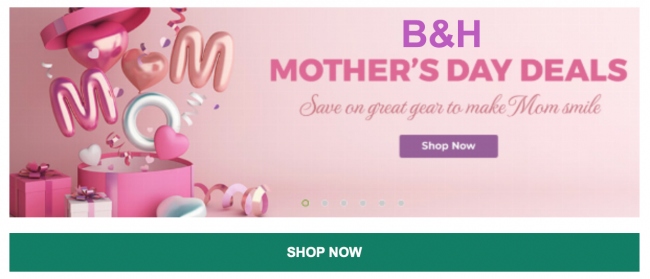 B&H Mother's Day Specials
Click here or on the logo-link above to see a changing line-up of Mother's Day Specials. You do not have to be a mother to click or to make a purchase!
BIRDS AS ART Image Optimization Service (BAA IOS)
Send a PayPal for $62.00 to birdsasart@verizon.net or call Jim at 863-692-0906 and put $62.00 on your credit card. Pick one of your best images and upload the raw file using a large file sending service like Hightail or DropBox and then send me the link via e-mail. I will download and save your raw file, evaluate the exposure and sharpness, and optimize the image as if it were my own after converting the raw file in Adobe Camera Raw. Best of all, I will make a screen recording of the entire process and send you a link to the video to download, save and study.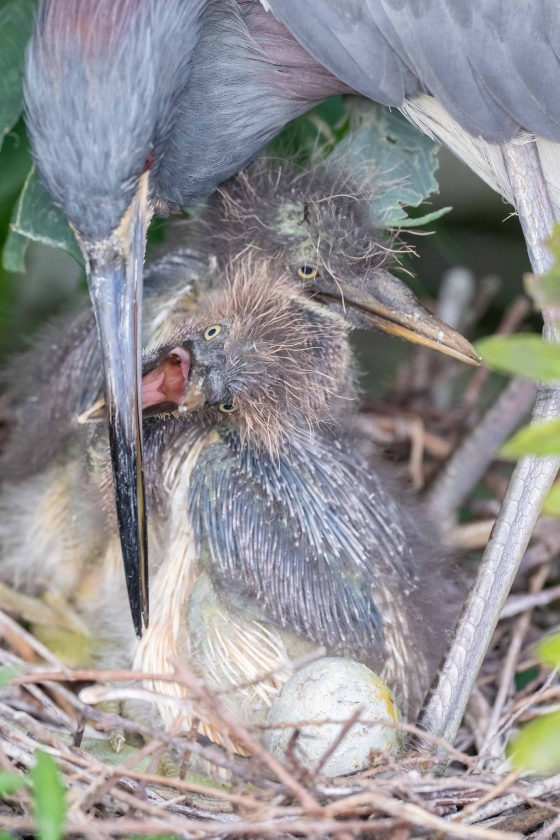 This image was also created on 30 April at Gatorland. Standing at full height, I used the no-longer available Induro GIT304L Stealth Carbon Fiber Tripod/Levered-Clamp FlexShooter Pro-mounted-Sony FE 600mm f/4 GM OSS lens with the Sony FE 1.4x Teleconverter, and The One, the Sony Alpha 1 Mirrorless Digital Camera.. ISO 5000. The exposure was determined using Zebra technology with ISO on the rear wheel: 1/320 sec. at f/8 (stopped down one stop) in Manual mode. RawDigger showed that the raw file was dead-solid perfect. AWB at 7:57:16am on a then mostly cloudy morning. I made sure to shade the nest with my torso.
Tracking: Spot-S with Bird-Eye/Face Detection performed perfectly. Click on the image to enjoy the high-res version.
Image #1: Tricolored Heron chicks in nest, one begging to be fed, with one egg

Your browser does not support iFrame.
Your Call
Note the sharp focus on the right eye of the begging chick. Even though I stopped down one stop from f/5.6 to f/8, the top of the adult's head is nowhere near sharp as it is well in front of the plane of focus on the chick's eye, well outside the zone of sharp focus.
Do the out-of-focus feathers on top of the adult's head bug you?
Would you have tried to do anything in the field to render them sharper? Why or why not?
I raised the ISO from 2500 to 5000 to get a good exposure at 1/320 sec. Why was it important for me to raise the shutter speed?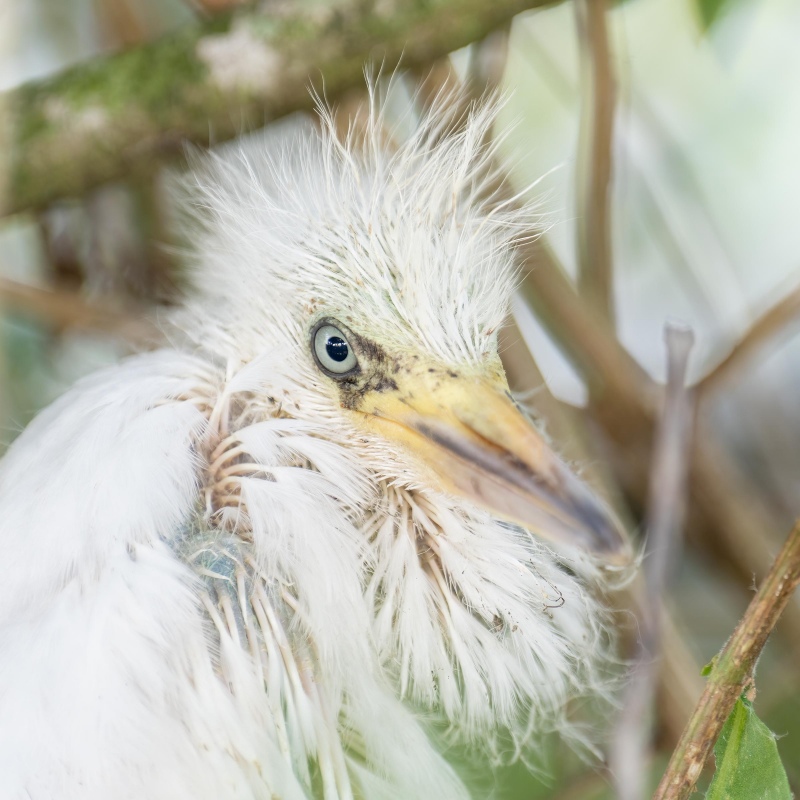 This image was created on 30 April 2022 at Gatorland in Kissimmee, FL. I used the hand held Sony FE 70-200mm f/2.8 GM OSS II lens with the Sony FE 2x Teleconverter (at 400mm) and The One, the Sony Alpha 1 Mirrorless Digital Camera.. The exposure was determined via Zebras with ISO on the thumb dial. ISO 1000: 1/125 sec. at f/5.6 (wide open) in Manual mode. AWB at 8:59:58am in the shade on a then-mostly sunny morning.
Tracking: Spot/S with Bird-Eye/Face Detection performed perfectly. Click on the image to enjoy a high-res version.
Image #2: Snowy Egret head portrait of chick

Your browser does not support iFrame.
Finding the Clear Slot
One of the most important skills at wading bird rookeries is being able to determine the best perspective, to find a clear slot through the twigs, branches, and leaves so that you can get your lens on the subject while avoiding the usually many intervening obstructions. Join me this coming Sunday to learn this skill real time.
Note: the nest in Image #1 was relatively wide open for one photographer. If you moved left or right even a few inches, your view of the nest would have been obstructed.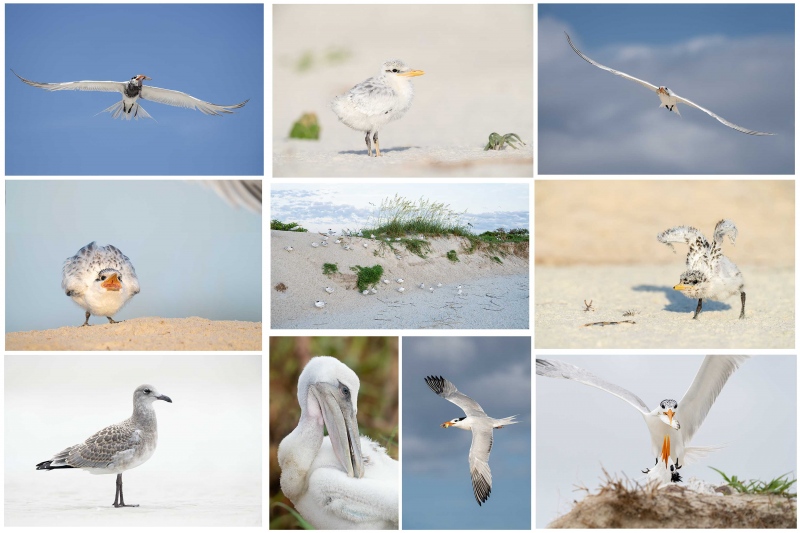 Click on the composite image to enjoy the incredible quality of the hi-res JPEG.
Clockwise from upper left clockwise and back around to the center: Royal Tern in flight with squid for chick; Royal Tern chick on beach; Royal Tern in flight with shrimp for young; Royal Tern chick — double overhead wing stretch; Royal Tern landing with greenback for chick; Royal Tern in flight with juvenile mahi mahi for chick; Brown Pelican — large chick preening; Laughing Gull in fresh juvenal plumage; Royal Tern chick begging; Many Royal Terns with many chicks on face of dune.
Jacksonville IPT: #1: 4 FULL DAYS — the afternoon of 16 June thru the morning of MON 20 June 2022: $2,099.00. (Limit 6 photographers)

Jacksonville IPT #2: the afternoon of FRI 1 JULY thru the morning of TUES 5 July 2022: $2099.00 (Limit 6 photographers)

Jacksonville IPT #3: the afternoon of FRI 15 JULY thru the morning of TUES 19 July 2022: $2099.00 (Limit 6 photographers)

Ride with me: add $200.00. I do not like to disappoint: each trip will run with one participant. If necessary.
I first visited the breeding bird colony at Jacksonville in late June 2021. I was astounded. There were many thousands of pairs of Royal Terns nesting along with about 10,000 pairs of Laughing Gulls. In addition to the royals, there were some Sandwich Terns nesting. And there are several dozen pairs of Brown Pelicans nesting on the ground. Flight photography was non-stop astounding. And photographing the tern chicks was relatively easy. Folks could do the whole trip with the Sony 200-600, the Canon 100-500 RF, or the Nikon 500 PF or 200-500 VR. With a TC in your pocket for use on sunny days. Most of the action is within 100 yards of where we park (on the beach). As with all bird photography, there are times when a super-telephoto lens with either TC is the best tool for the job.
Morning sessions will average about three hours, afternoon sessions about 1 1/2 hours. On cloudy mornings with favorable winds, we may opt to stay out for one long session and skip the afternoon, especially when the afternoon forecast is poor. Lunch is included on the first three days of the IPT and will be served at my AirBnB. After the first lunch there will be an introductory program. On days two and three we will do image review and Photoshop after lunch.
We will be based somewhere west and a bit north of Jacksonville where there are many AirBnB possibilities. The deposit is $599.00. Call Jim at the office any weekday at 863-692-0906 to pay by credit card. Balances must be paid by check.
What You Will Learn on a Jacksonville IPT
1- First and foremast you will learn to become a better flight photographer. Much better.
2-You will learn the basics and fine points of digital exposure. Nikon and Canon folks will learn to get the right exposure every time after making a single test exposure, and SONY folks will learn to use Zebras so that they can be sure of making excellent exposures before pressing the shutter button.
3- You will learn to work in Manual exposure mode even if you fear it.
4- You will learn to evaluate wind and sky conditions and understand how they affect bird photography, especially the photography of birds in flight.
5- You will learn several pro secrets (for each system) that will help you to become a better flight photographer.
6- You will learn to zoom out in advance (because the birds are so close!) 🙂
7- You will learn how to approach free and wild birds without disturbing them.
8- You will learn to spot the good and the great situations.
9- You will learn to understand and predict bird behavior.
10- You will learn to design pleasing images by mastering your camera's AF system.
11- You will learn to choose the best perspective.
12- You will learn to see and control your backgrounds.
13- You will learn to see and understand the light.
14- You will learn to see and create pleasing blurs in pre-dawn situations.
15- You will learn to be ready for the most likely event.
And the best news is that you will be able to take everything you learn home with you so that you will be a better photographer wherever you are and whenever you photograph.
Typos
With all blog posts, feel free to e-mail or to leave a comment regarding any typos or errors.