The Streak Continues: 142
I published this post at 6:15am Amsterdam time, just after midnight on the east coast. We enjoyed yet another great day of photography at Keukenhof and the nearby tulip fields.
This post marks 142 straight days with a new blog post. With so many folks getting in the habit of using our B&H links and our Amazon logo-links why quit now? To show your appreciation for my efforts here, we do ask that you use our the B&H and Amazon affiliate links on the right side of the blog for all of your purchases. Please check the availability of all photographic accessories in the BIRDS AS ART Online Store, especially Gitzo tripods, Wimberley tripod heads, and the like. We sell only what I used, tested, and can depend on. We will not sell you junk. We know what you need to make creating great images easy and fun. And we are always glad to answer your gear questions via e-mail.
You can find the following items in the store: Gitzo tripods, Mongoose M3.6 and Wimberley heads, plates, low feet, and accessories, flash brackets, , Delkin e-film Pro Compact Flash Cards, LensCoat products, and our unique line-up of educational materials including ABP I & II, Digital Basics, Site and Set-up e-Guides, Canon and Nikon Camera Users and AF e-Guides, and MP-4 Photoshop video tutorials among others.
I would of course appreciate your using our B&H affiliate links for all of your major gear, video, and electronic purchases. For the photographic stuff mentioned in the paragraph above we, meaning BAA, would of course greatly appreciate your business. Here is a huge thank you to the many who have been using our links on a regular basis and visiting the BAA Online store as well.
This blog post took 1 1/2 hours to put together. Enjoy!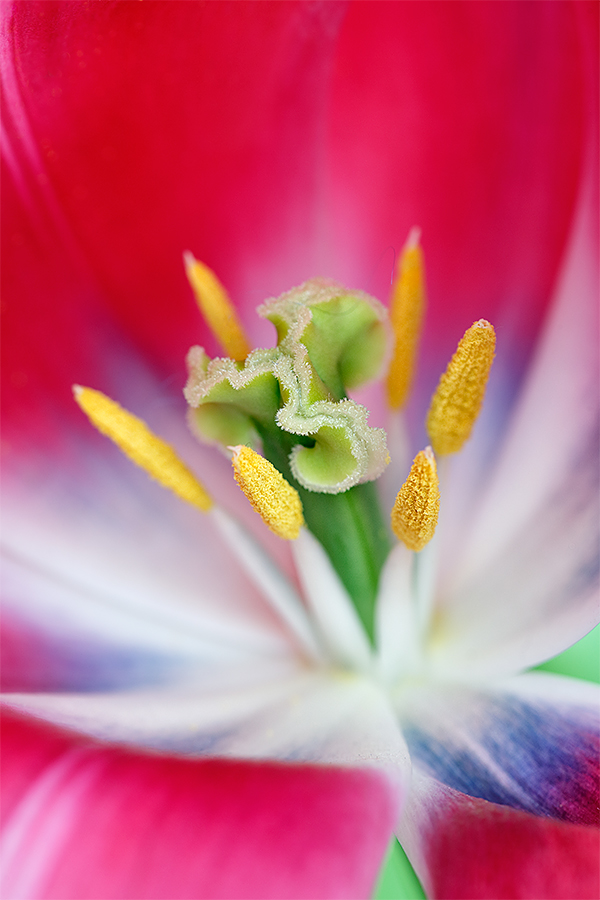 This image was created yesterday, midday on a mostly sunny April 19, at Keukenhof Gardens with the Gitzo GT1542T Tripod, the Mongoose M3.6 head, the Canon EF 180mm f/3.5L Macro USM lens and the Canon EOS 5D Mark III. ISO 400. Evaluative metering +1 stop as framed: 1/40 sec. at f/7.1 in Av Mode. Color temperature: 5000.
Central sensor only Rear Focus AF on the tip top of the pistil. Click here to see the latest version of the Rear Focus Tutorial. Click on the image to see a larger version.
Damaged Goods a Big Plus
As I believe that I mentioned here previously, many of the tulip beds in the Willem-Alexander Pavilion at Keukenhof Gardens have either been cut or feature flowers well past their prime. In many instances, this has proven to be a huge plus for flower photography. With a single damaged petal it is possible, with the right perspective, to see into the center of the flower. As a tulip nears the end of its days, many of the petals flop down. This often leaves spectacular (as above) views of the flower centers that are almost always still pristine.
All that you need to do is choose the right flower and the right perspective and you are in business.
The Canon 180mm Macro Lens
While I have been going more and more to the far lighter Canon EF 100mm f/2.8L Macro IS USM lens, there are times when the reach of the 180 macro can save the day. In fact, I often use the 180 with either the 1.4X TC or with a TC/extension tube combo.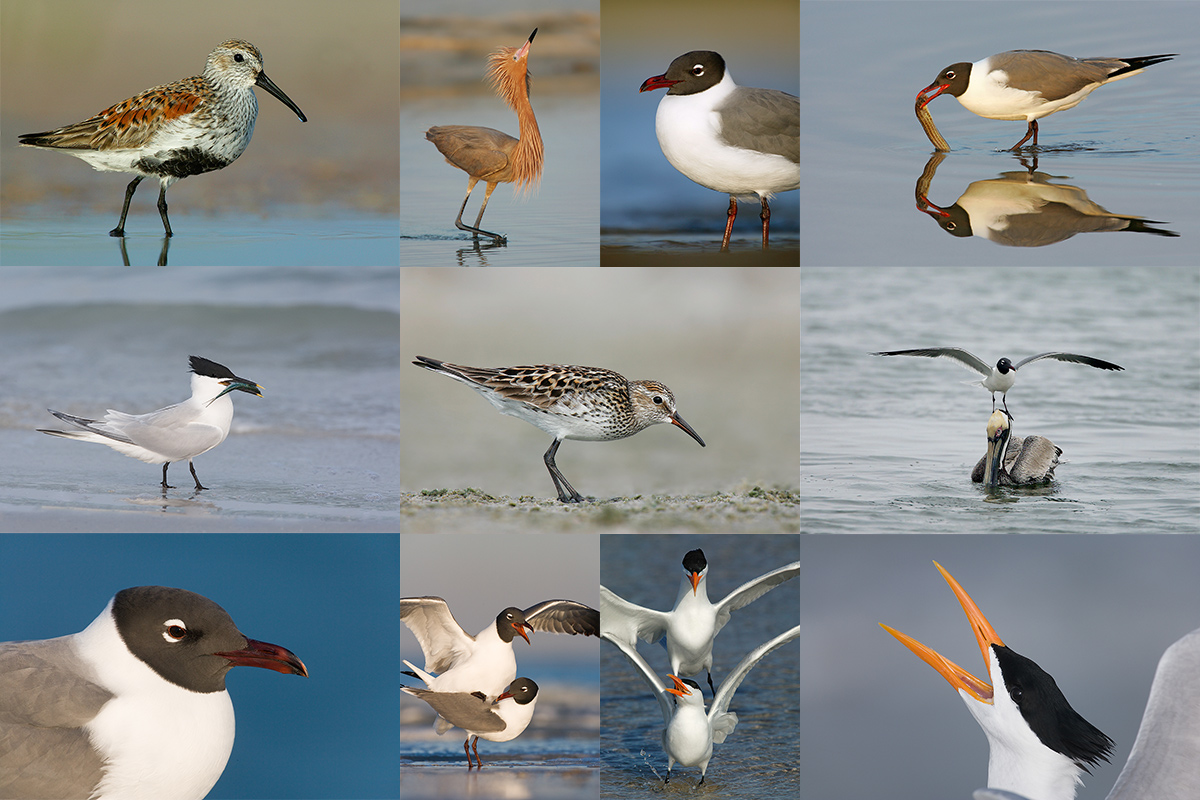 Fort DeSoto in spring is rich with tame birds. With many in breeding plumage it is a photographer's paradise. I hope that you can join me there in mid-May.
Short Notice Fort DeSoto IPT/In-the-Field Workshops: May 9, 10, & 11, 2014
IPT–3 FULL DAYs: $1099
In-the-Field Workshops: $399/day
Fort DeSoto in spring is so good that I needed to create two cards in order to give folks an idea of what is possible. Even then I have barely scratched the surface. If you are coming from out of town you will surely want to do all 3 days, the entire IPT. Local folks may wish to join me for one or more full days.
There will Lots of tame birds including breeding plumage Laughing Gull and Royal and Sandwich Terns courting and copulating. American Oystercatcher plus lots of sandpipers and plovers, some in breeding plumage. Red Knot in breeding plumage likely. Lots of wading birds including Great and Snowy Egrets, both color morphs of Reddish Egret, Great Blue, Tricolored and Little Blue Heron, and Yellow-crowned Night-Heron. Roseate Spoonbill and WOod Stork between possible and likely…. Lots of flight photography with the gulls and terns and with Brown Pelican.
You will learn how to approach free and wild birds without disturbing them, to understand and predict bird behavior, to identify many species of shorebirds, to spot the good situations, to choose the best perspective, to see and understand the light, to get the right exposure every time after making a single test exposure, and to design pleasing images by mastering your camera's AF system. And you will learn learn how and why to work in Manual mode (even if you are scared of it).
At lunch we will review my images–folks learn a ton watching me edit–why keep this one and delete that one. If you opt to bring your laptop, we will take a look at five of your best images from the morning session. We will process a few of my images in Photoshop after converting them in DPP. That followed by Instructor Nap Time.
This is the IPT hotel: Comfort Inn St. Petersburg, FL. 2260 54th Ave N., St. Petersburg, FL 33714. tel: 1-727-362-0075. The best airport is Tampa (TPA).
Payment in full via credit card is due upon registering. Please call Jim or Jennifer at 863-692-0906 to register.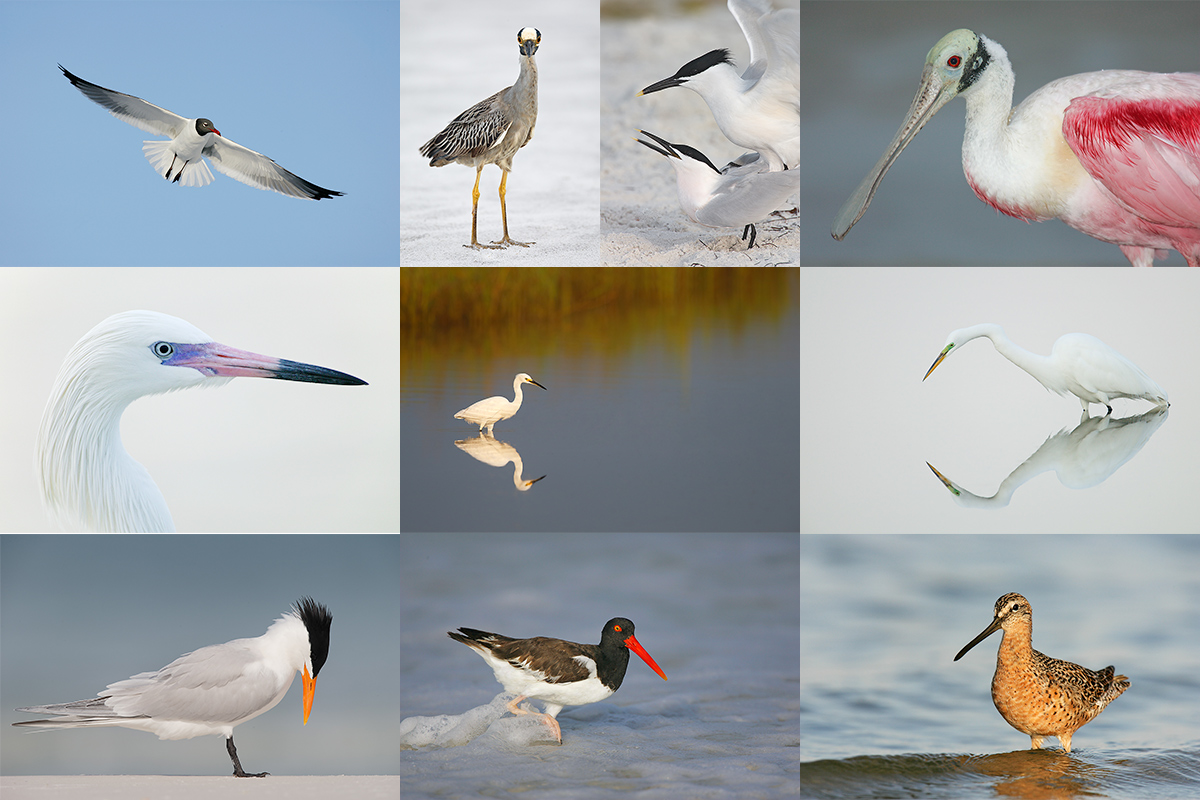 Fort DeSoto in spring is rich with tame birds. With many in breeding plumage it is a photographer's paradise. I hope that you can join me there in mid-May.
Fort DeSoto Site Guide
Can't make it in mid-May? Get yourself a copy of the Fort DeSoto Site Guide. Learn the best spots, where to be when in what season in what weather. Learn the best wind directions for the various locations. BAA Site Guides are the next best thing to being on an IPT. You can see all of them here.
Shorebirds/Beautiful Beachcombers
If the shorebirds in the ID quiz gave you pause, get yourself a copy of my Shorebirds/Beautiful Beachcombers. Includes ID tips, shorebird biology, migration, and tons more. All in my simple-to-read easy-to-read style.
Canon Gear for Sale
Doug Bolt is offering a used Canon 400mm f/4L IS DO lens in very good to excellent condition for $4599. The sale includes the lens trunk and lens cover; the seller will pay shipping to US addresses only. This one should sell in minutes to someone looking for a lightweight super-telephoto. The item will ship only when the check clears.
Please contact Doug for additional info and/or a link to photos via e-mail or try him by phone at home: at 301-937-3112 or on his cell at 301-537-8073.
Doug is also offering a used EOS-5D Mark II in very good to excellent condition for $1199. There is a shallow scratch on the body and a faint smudge on the top LCD. The sale includes a RRS L-plate, a vertical grip, and the original box and all the stuff that came in it. The seller will pay shipping to US addresses only. This one is a great body for flowers and landscapes. Mine saved me on a Southern Oceans cruise when I trashed two EOS-1D Mark IV bodies in a rainstorm; it was a great back-up camera body. The item will ship only when the check clears.
Again, please contact Doug for additional info and/or a link to photos via e-mail or try him by phone at home: at 301-937-3112 or on his cell at 301-537-8073.
Support the BAA Blog. Support the BAA Bulletins: Shop B&H here!
We want and need to keep providing you with the latest free information, photography and Photoshop lessons, and all manner of related information. Show your appreciation by making your purchases immediately after clicking on any of our B&H or Amazon Affiliate links in this blog post. Remember, B&H ain't just photography!
….. …..
Typos
In all blog posts and Bulletins, feel free to e-mail or to leave a comment regarding any typos, wrong words, misspellings, omissions, or grammatical errors. Just be right.