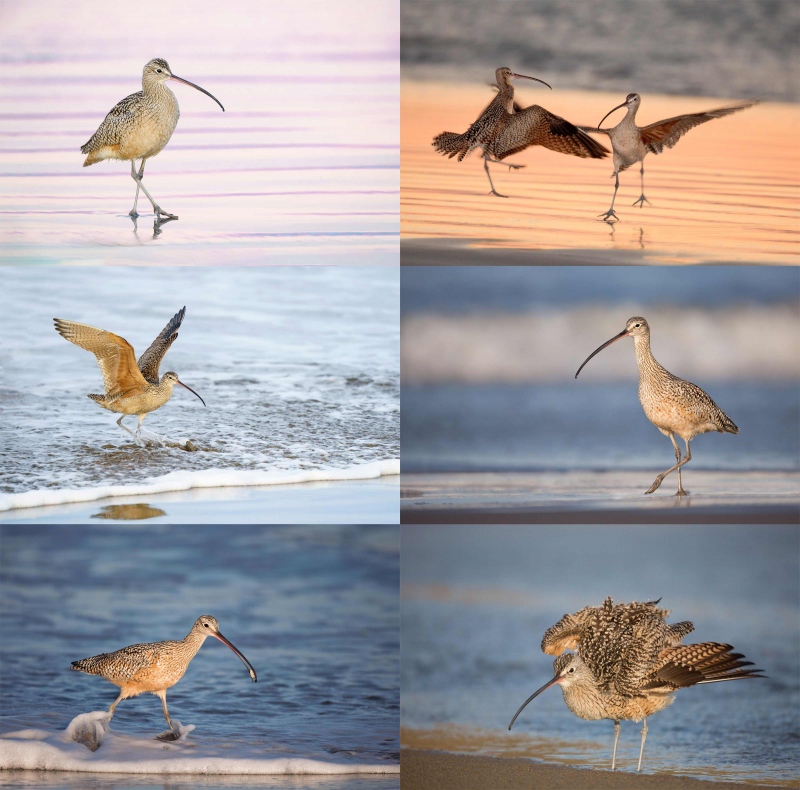 Clockwise from the upper left: in pink/purple predawn reflections; squabbling over feeding territory; with wings raised; with sand flea; ruffling after bath; on the edge of the surf with one foot raised.
Be sure to click on the composite image to view a larger, sharper high-res version.
Morro Bay Long-billed Curlew Images
2024 Morro Bay 3 1/2-DAY BIRDS AS ART Instructional Photo-Tour (IPT): WED 7 FEB through the morning session on SAT 10 FEB 2024: $1999 (Limit: 6 photographers).
There will be a short Meet and Greet after dinner on your own at 7:00pm on TUES 6 FEB 2024.
Join me in one of the most beautiful and scenic places on the planet to photograph a large variety of birds of sea and shore. As above, the star of the show will be Long-billed Curlew. There will be lots of Marbled Godwits, Whimbrels, and Willets as well, and lots of the smaller shorebird species like Black and Ruddy Turnstone. Black Oystercatcher is likely and we should get to photograph large flocks of Western Sandpipers in flight over the bay. With any luck we should enjoy some colorful sunrises and sunsets. There are lots of gulls including Western, California, and Mew. There is one location where we may get to photograph Western, Clarke's, Eared, and Pied-billed Grebe, Lesser Scaup, and Common Loon. We may run into some passerines including Anna's Hummingbird, Brewer's Blackbird, and White-crowned Sparrow. And we have a chance for several species of raptors. Yikes, I almost forgot California Poppy, California Ground Squirrel, and Sea Otter.
The Details
This IPT will include four 3-hour morning photo sessions and three 2-hour afternoons (all times are approximate and dependent on conditions, most especially the weather), three working (image review and Photoshop) brunches (included), and of course tons of great in-the-field instruction photographic instruction. Each working brunch will be followed by Instructor Nap Time (INT). On cloudy days with a poor afternoon forecast, we may — at the leader's discretion, stay out in the morning for a single long session and skip the afternoon. To ensure very early starts and that you get some sleep, breakfasts and dinners will be your responsibility. This IPT will run with only a single registrant as I do not like disappointing anyone.
Your $699 deposit is due now. Credit cards are OK for that. You can register by calling Jim during weekday business hours before noon Eastern time at 863-692-0906 with a credit card in hand. Once you leave a deposit, you will receive an e-mail with your balance and instructions for sending your check two months before the trip begins. If you wish to pay in full right off the bat, you can make your check out to BIRDS AS ART and send it via US mail here: BIRDS AS ART, PO BOX 7245, Indian Lake Estates, FL 33855. You will receive a confirmation e-mail with detailed instructions and clothing and gear advice two months before the trip. Please shoot me an e-mail if you plan to register or if you have any questions.
IPT veterans and couples or friends signing up together may e-mail for discount information.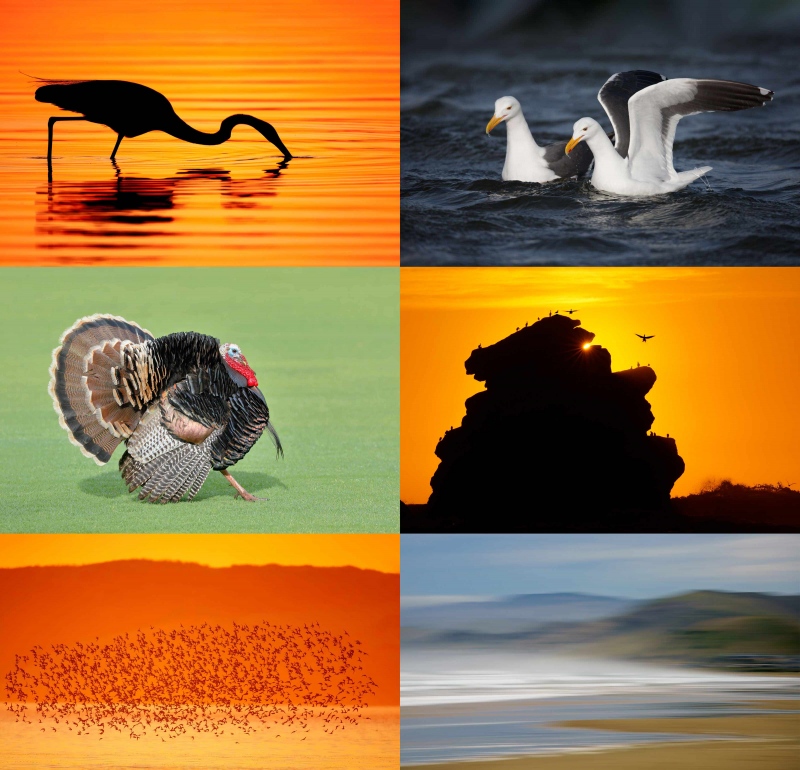 Clockwise from the upper left: Great Egret fishing at sunset; pair of Western Gulls; Bird-Sh_t Rock at sunset; pan blur of the beach north of the rock on a foggy morning; shorebird flock over bay at sunset; Wild Turkey tom strutting.
Be sure to click on the composite image to view a larger, sharper high-res version.
Morro Bay Miscellaneous
Getting Up Early and Staying Out Late
Folks attending this IPT will be out in the field as early as possible and stay out late to take advantage of sunrise and sunset colors as is pretty much the case on almost all BIRDS AS ART Instructional Photo-Tours. Doing so will often present unique photographic opportunities, opportunities that will be missed by those who need their beauty sleep and those who need to get home for a proper dinner. I really love it when I am leaving the beach on a sunny morning after a great session just as a carful or two of well-rested photographers are arriving. Or watching folk leave the beach just before the western sky lights up.
What You Will Learn
I short, you will learn more than you could ever have dreamed of. All will learn the basics and fine points of digital exposure. Nikon and Canon folks will learn to get the right exposure every time after making a test exposure, and SONY folks will learn to use Zebras so that they can be sure of making excellent exposures before pressing the shutter button. Everyone will learn how to approach free and wild birds without disturbing them, to understand and predict bird behavior, to identify many species of shorebirds, to spot the good situations, to choose the best perspective, to see and understand the light, and to design pleasing images by mastering your camera's AF system. Most importantly, you will surely learn to evaluate wind and sky conditions and understand how they affect bird photography. And you will learn how and why to work in Manual mode. The best news is that you will be able to take everything you learn home with you so that you will be a better photographer wherever and whenever you photograph.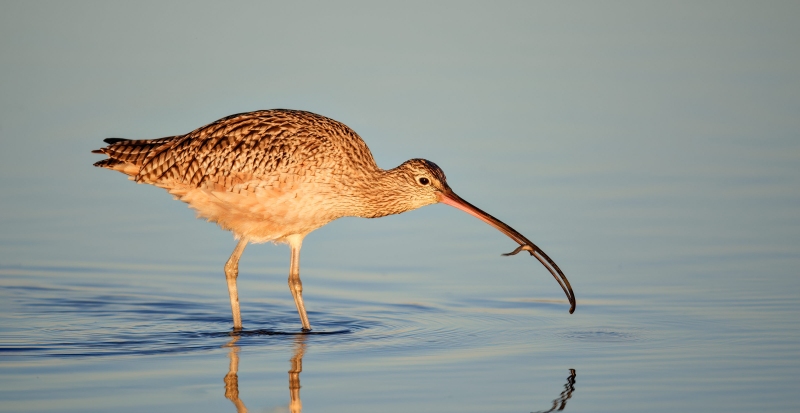 This image was created on 15 January 2009 with the tripod-mounted Canon 800mm f/5.6L IS lens and the EOS-1D Mark III. ISO 400. Aperture Priority +1 stop: 1/1000 sec. at f/5.6 (wide open). AWB at 3:34pm on a sunny afternoon.
Be sure to click on the image to view a larger, sharper high-res version.
Long-billed Curlew with tiny fish
Getting Back to Morro Bay
I am excited about getting back to Morro Bay, especially considering that I will have my Sony Gear with me. All of the images in today's post were created about ten or more years ago. The AF systems on the Canon gear I was using then were crude at best as compared to the AF systems of today's amazing mirrorless bodies. The Sony a-1, IMHO, is the best of the lot by far. If you would like to know why I am positive that the Sony a-1 is the best camera for bird photography, click here to shoot me an e-mail request.
The Stars of the Morro Bay Show!
The target species for nearly all avian photographers visiting bird-rich Morro Bay, CA at any season but summer is North America's largest most spectacular shorebird, Long-billed Curlew. With their long decurved bills, these birds are adept at grabbing sand crabs on the edge of the surf and probing deeply into wet sand and mud to extract fiddler crabs from their burrows. The bills of the females, which often exceed nine inches in length, are longer than the bills of the males. At Morro Bay, this species is common in fall, winter, and early spring and are often easily approached. And best of all, there is tons of action — flight, feeding on sand crab, squabbles with other species, and bathing.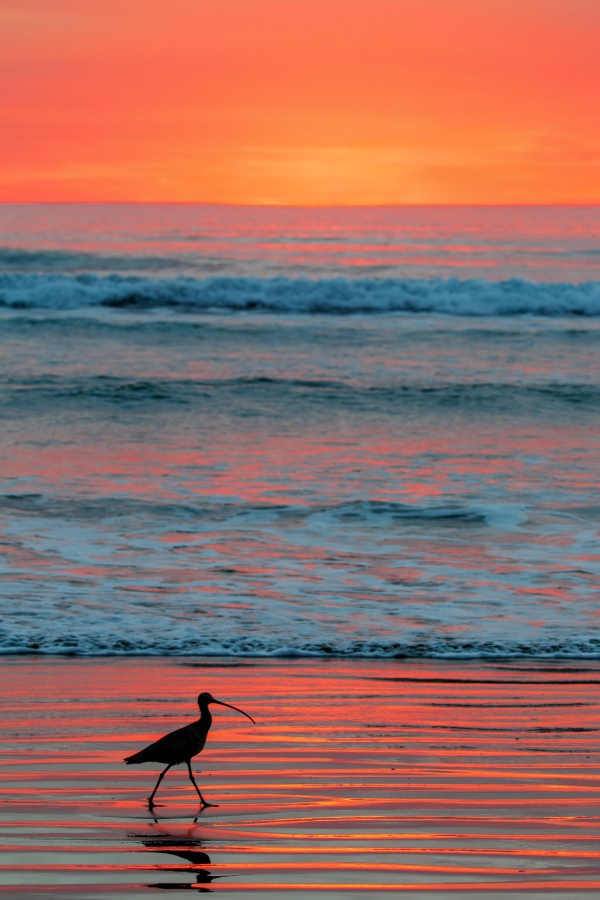 This image was created on 14 January 2015 with a handheld Canon 100-400mm lens and the EOS 7D Mark II. ISO 800. Aperture Priority +1/3-stop: 1/100 sec. at f/5.6 (wide open). AWB at just before sunset on a partly cloudy afternoon.
Be sure to click on the image to view a larger, sharper high-res version.
Long-billed Curlew at sunset
Image Quality Then and Now
As I re-processed most of the images use here today, I quickly came to realize how inferior the raw files are as compared to the raw files that I create today with my Sony a-1. As mentioned above, the older AF systems were simply not capable of consistently creating sharp-on-the-face-and-eye images. Today, image sharpness is taken for granted by competent shooters most of the time. Exacerbating the soft focus problem is the fact that the image quality of the files rendered by the older cameras is dismal when compared to what is routine today. The larger files sizes — 51 MP with the Sony a-1, for example — and the huge improvement in sensor technology makes it painfully obvious that we are living in a dream world today. Don't get me wrong, processed following my latest BIRDS AS ART digital workflow, many of the older images made with my Canon gear stand up just fine for web use and many would surely make fine prints. When taking a close look by zooming in in Photoshop, however, the differences in image quality are obvious and huge (even to someone like me who does not have a good eye for fine detail). Not to mention that the vast superiority of today's best mirrorless camera bodies in all three major system includes their hard-to–believe high ISO renderings.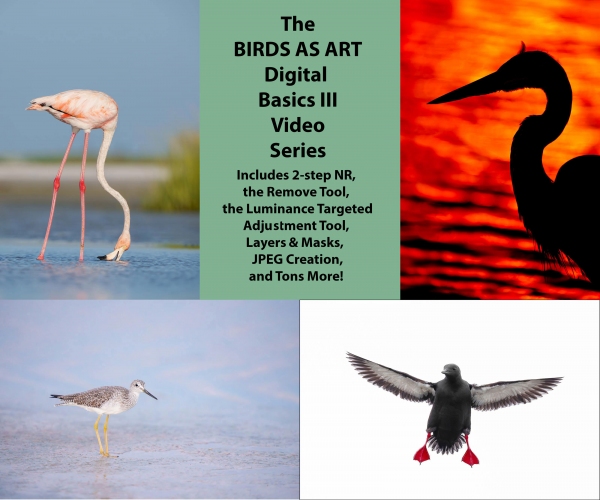 The Digital Basics III Video Series
The Digital Basics III Video Series
I realized about a year ago that my digital workflow had changed significantly and was toying with the idea of writing a Digital Basics III. More recently, I have learned and begun working with two great new Photoshop Tools, the Remove Tool and the Luminance Targeted Adjustment Tool. The former is like a smarter Spot Healing Brush Tool on steroids and the latter is a huge step up from the fabulous Color Mixer Tool. During that same time frame, I came up with a new and improved 2-step noise reduction technique. I still use Divide and Conquer, Quick Masks, Layer Masks, an expanded array of personalized keyboard shortcuts, and tons of other stuff from both versions of Digital Basics.
As soon as I realized that I did not want to take on another large writing project, I realized that by creating a series of videos I could much more easily share all the details of my current digital workflow and much more easily incorporate additional new tips, techniques, and tools as I went. And so, The Digital Basics III Video Series was born. You can check out Volume I/#1 here and Volume I/#2 here.
You might opt to purchase single videos or to subscribe to Volume I and save $26 by ordering the first five videos in one fell swoop. You can purchase the five videos in Volume I by clicking here. The videos will be most valuable for folks using the latest version of Photoshop (2024) or Lightroom along with Topaz DeNoise AI and Topaz Sharpen AI.
Typos
With all blog posts, feel free to e-mail or to leave a comment regarding any typos or errors.