[Not a valid template]
This Brown Pelican image was created at La Jolla, CA on the recently concluded San Diego IPT with the Canon 800mm f/5.6L IS lens and the EOS-1D Mark IV. ISO 400. Evaluative metering +1/3 stop: 1/800 sec. at f/9. It is likely that this is a sub-adult bird as the red bill pouch is indicative of a bird in breeding plumage but the rest of the bird is reminiscent of a one year old bird.
Two Simple But Great Tim Grey Photoshop Tips
When I created the image above, I had not cleaned my sensor in a while. When I processed the image, I noted three serious dust spots. I usually eliminate dust spots with the Patch Tool ("P" for me but not the default) but this time hit "J" for the Spot Healing Brush. Digital Basics folks will be familiar with the fact that I use lots of keyboard shortcuts (including many that I create myself such as "P" for the Patch Tool). In any case, I have been disappointed in the Spot Healing Brush ever since I switched to CS-5. When I have used it, I have always gotten smudging, even with something as simple as a dust spot. I had correctly set Content Aware on the Option bar but was still getting horrible smudging.
[Not a valid template]
Here you can see the dust spots that were giving my Spot Healing Brush problems. For about seven years I have been using a Lens Pen to clean my sensors quickly, easily, and safely. Purchase a Lens Pen Combo Kit from us and we will e-mail you detailed sensor cleaning instructions. Learn more here. Once the Delkin Sensor Scope came along things got even easier. If you have never cleaned your sensor and are scared stiff of doing so my best advice would be for you to save $10 by purchasing the Sensor Cleaning Bundle w/Scope, receive and study our instructions, and get to work. Thanks to Robert O'Toole for teaching me to use a Lens Pen to clean the sensors of my digital camera bodies.
Whenever Tim Grey co-leads an IPT with me I make sure to have a list of Photoshop stuff that has been bugging me. (I am trying to sign him up for Bosque next year….) At the first opportunity, I asked him about the problems that I had been having with the Spot Healing Brush. He responded instantly, "What do you have the hardness set to?" "Zero," I replied. "I teach folks to set the hardness of all brushes to 0%. " "Wrong!" he said. "The Spot Healing Brush with Content Aware set works best at 100% hardness." I tried it and it worked perfectly, not only for dust spots but in a variety of others situations as well.
"Furthermore," he continued, "you complain that when you use the Clone Stamp Tool that you get color but no texture. What do you have the hardness set at?" "Zero again," I said confidently. "Wrong again," Tim shot back. Yikes, I thought, I have been teaching folks to set their brushes to 0% hardness for years. "50% works great for the Clone Stamp Tool," said Mr. Grey. Not wanting to give in completely I set the hardness for my Clone Stamp Tool to 40% and have been thrilled with the improvement.
Live and learn. Thanks Tim!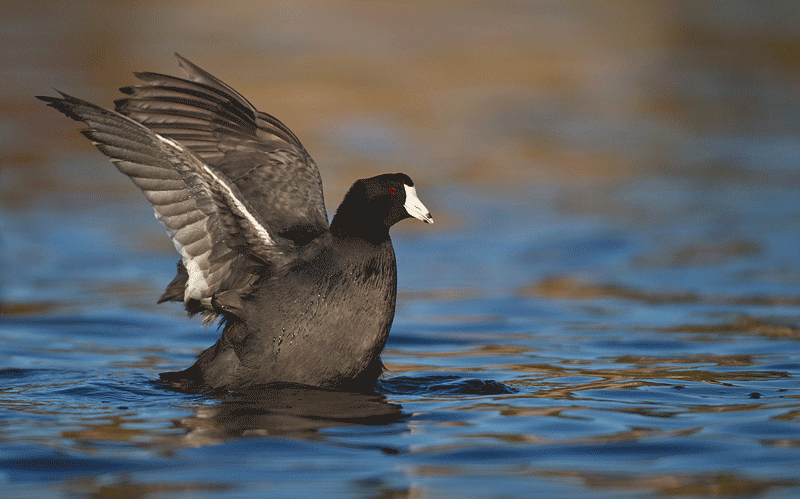 Two coots were fighting. I swung the big lens around to frame them and they disappeared for about 30 seconds. I was mystified. When they surfaced, peace reigned and one of the birds leaned back to flap. I created three images and kept two. I used the Canon 800mm f/5.6L IS lens with the EOS-1D Mark IV. ISO 400. Evaluative metering -1/3 stop (to save the white bill): 1/2500 sec. at f/6.3. I used the 2 AF sensors below the central sensor; I love that for much of my duck photography.
Which coot image do you like better, the wide image or the tight image? If you leave a comment let us know why you prefer the one that you do.
Shopper's Guide
Below is a list of the gear that I used to create the image above. Thanks a stack to all who have used the Shopper's Guide links to purchase their gear as a thank you for all the free information that we bring you on the Blog and in the Bulletins.
Canon 800mm f/5.L IS lens Right now this is my all time favorite super-telephoto lens.
Canon EOS-1D Mark IV professional digital camera bod.y And this is the very best professional digital camera body that I have even used..
And from the BAA On-line Store:
Gitzo 3530 LS Tripod This one will last you a lifetime.
Mongoose M3.6 Tripod Head Right now this is the best tripod head around for use with lenses that weigh less than 9 pounds. For heavier lenses, check out the Wimberley V2 head.
Double Bubble Level You will find one in my camera's hot shoe whenever I am not using flash.
Delkin 32gb e-Film Pro Compact Flash Card Fast and depen.
If you are considering the purchase of a major piece of photographic gear be it a new camera, a long lens, a tripod or a head, or some accessories be sure to check out our complete Shopper's Guide.