[Not a valid template]
This Dalmatian Pelican image was created with the Canon 70-200mm f/2.8L IS lens (hand held at 130mm) with the EOS-1D Mark IV. ISO 400. Evaluative metering +2/3 stop: 1/1250 sec. at f/8. This image was made from the boat on our one sunny morning at Lake Kerkini, Greece. This JPEG represents the optimized TIFF file.
[Not a valid template]
This JPEG represents the image after it was converted and leveled; I used the Ruler Tool to draw a line through the center of each pupil….At A and J I used several Quick Masks to create the water that I needed while maintaining the pattern of the wavelets. At B & C I used the Patch Tool to eliminate a variety of white thingies. At D & E I used the Spot Healing Brush to get rid of a hair (D) and a dust spot (E) that had been on the sensor. The top of the wing below F & G had too-bright Whites as did the top of the head at H. I did a Color Range Selection followed up by a Linear Burn to tame tame the. I added lots of Blacks to the Whites in Selective Color and then used a Hide-all Layer Mask to bring the bird back to white. At K I used a series of Quick Masks each with a Layer Mask to cover the top of the bird's head there. I probably did a bit more but heck, it's Friday!
Everything above is of course described in complete detail in the FEB 2011 Digital Basics Update. 🙂
Digital Basics FEB 2011 Update
I am proud to announce that the February 2011 Digital Basics Update was sent on Friday afternoon (March 11, 2011) to all on the Digital Basics Purchase List. Folks who purchase Digital Basics now will of course receive this latest Update. Updates are free for as long as I am around to write them. This update took me about ten hours to write. All of the brand new material has been incorporated into the text in red type. If you already own Digital Basics and you did not receive your update, please indicate that in an e-mail and be sure that you let us know how you paid. If you have gotten a new e-mail address since you purchased DB, please let us know both the old address and the new and be sure to indicate which is which 🙂
Digital Basics, an e-mailable PDF, includes free updates for the life of the author 🙂 Unless you are already a Photoshop Whiz, getting a copy will likely be the best $20 you ever spend on photography. (Many folks have expressed that exact sentiment.) You can send a PayPal for $20 to us at this e-mailaddress. You can call Jim at the office at 863-692-0906 during the week or try me at the same number on the weekends if you suspect that I am home. Folks who prefer the convenience of using the BAA On-Line Store can click here to order a copy. If you order on a weekend your PDF will be sent via e-mail on the first work day of the week.
Digital Basics–written in clear, precise, easy to understand English–details the following:
The advantages of digital capture.
Understanding histograms.
The basics of digital exposure.
My complete digital workflow from capture to image optimization.
BreezeBrowser & Downloader Pro (for PCs only). Not using both? You should be!
Image editing, storage, and back-up.
Making RAW conversions in ACR (revised and improved!).
Fine-tuning White Balance.
Dozens and dozens of great Photoshop tips including Cropping & Cloning, Leveling & Image Rotation, using the amazing Patch Tool, making Curves Adjustments, using Selective Color, Robert O'Toole's great Average Blur Color Balancing Trick, using a Contrast Mask, Adding Canvas, Sharpening, Using and Creating Actions, Batch Processing, Digital Eye Doctor, making Color Range Selections and Linear Burns, using and creating your own Keyboard Shortcuts, and creating stitched panoramas.
The Basics of Quick Masking.
Note: many of the topics above have been revised and improved.
All-new in this update are the following:
Re-setting the ACR sliders (page 44).
An all new way to set your White point during ACR conversions (page 47).
Tim Grey's Non-destructive Dodge & Burn (page 54).
Getting rid of the annoying Pixel Grid once and for all! (page 84).
New Spot Healing Brush and Clone Stamp Tool Tips (page 93).
An easy-as-pie Color Cast Removal Trick (page 97).
And the pièce de résistance, "Layer Masking for Dummies" (pages 97-99).
I am very proud of "Layer Masking for Dummies." As recently as 18 months ago I simply could not–try as I might–understand Layer Masking at all. With the help first of Robert O'Toole, and then more recently Denise Ippolito, I mastered not only the use of regular Layer Masks but the use of Inverse (or Hide-all) Layer Masks. Today I use one or more Layer Masks (sometimes many more) on each image that I process. Adding a Layer Mask to a layer enables you to quickly and easily fine-tune the changes that you have made to the layer. I took special care as I always do to make sure that even a third grader would be able to create and use Layer Masks to help them make better images.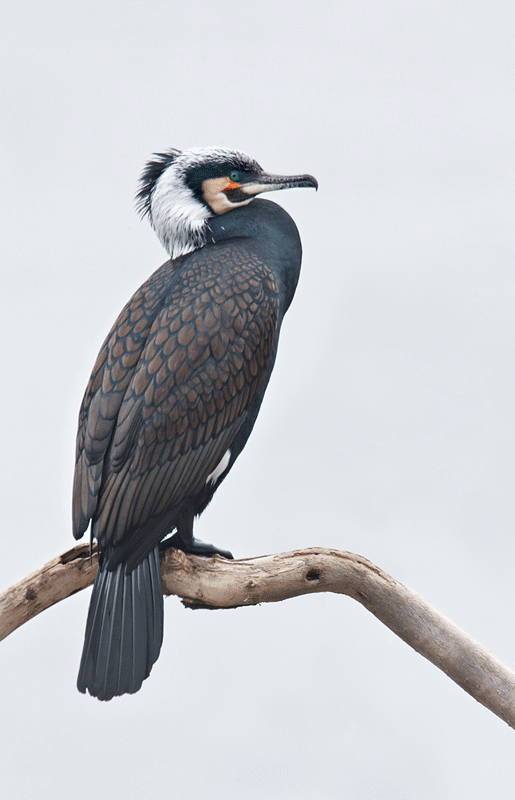 This Great Cormorant was photographed with the Canon 800mm f/5.6L IS Lens, the 2X III TC, and the EOS-1D Mark IV. ISO 400. Evaluative metering +1 stop: 1/100 sec. at f/13. I used Live Mode/Quick Mode AF to focus accurately as described in the Mark IV (& 7D) User's Guides.
If you own Photoshop CS-3, 4, or 5 and cannot confidently transform the before image above into the after image as seen in the animated GIF, then you need to order a copy of Digital Basics PDF right now 🙂
Theo took several of us by four wheel drive SUV to photograph these gorgeous breeding plumage birds.
[Not a valid template]
Once the birds flew off–they are very skittish–I advised everyone to photograph the empty perch so that they would have an image to provide source material. You need to learn to think digitally while you are still in the field. It will make your post-processing life a lot simpler 🙂
In a comment to this post, Marvin Falk asked a very important question. I have added it here (along with my reply), for completeness.
Marvin's comment: Digital Basics… I have the Art of Bird Photography II and the APTATS-1 disk. Does the new update update these, or is this an entirely different animal? Sorry for the confusion.
Marvin, You are helping to clear up the confusion so there is no need at all to apologize. 🙂 The Digital Basics chapter in ABP II was actually extracted from the manuscript in progress in about 2004 and sold as the first Digital Basics. Since then it has undergone about six major updates. In 2009 my workflow had changed so much that I revised and re-wrote the entire thing. By then the end product had no resemblance at all to the Digital Basics chapter in ABP II. I would therefore recommend your getting a copy of Digital Basics if you wish to improve your Image Optimization skills 🙂 Note: both APTATS I (advanced Quick Masking) and APTATS II (advanced Layer Masking) continue to stand on their own. All that I do is Digital Basics is share the basics covered in of each of Robert's PDFs. To whet folks appetites… artie
Shopper's Guide
Below is a list of the gear that I used to create the images above. Thanks a stack to all who have used the Shopper's Guide links to purchase their gear as a thank you for all the free information that we bring you on the Blog and in the Bulletins. Before you purchase anything be sure to check out the advice in our Shopper's Guide.
Canon 70-200mm f/2.8L IS II lens. Man, I am loving this lens on my shoulder with the 2X III teleconverter. I also use it a lot–depending on the situation–with the 1.4X III TC.
Canon 800mm f/5.L IS lens. Right now this is my all time favorite super-telephoto lens.
Canon EF 1.4X III TC. This new TC is designed to work best with the new Series II super-telephoto lenses.
Canon EF 2XIII teleconverter. The new 2X III TC is a bit sharper than the previous version, the EF 2X II TC.
Canon EOS-1D Mark IV professional digital camera body. The very best professional digital camera body that I have ever used.
And from the BAA On-line Store:
Gitzo 3530 LS Tripod. This one will last you a lifetime.
Mongoose M3.6 Tripod Head. Right now this is the best tripod head around for use with lenses that weigh less than 9 pounds. For heavier lenses, check out the Wimberley V2 head.
Double Bubble Leve.l You will find one in my camera's hot shoe whenever I am not using flash.
Delkin 32gb e-Film Pro Compact Flash Card. Fast and dependable