Hand Infection Update
Thanks all for your good wishes. Well, I did wind up taking a pain pill on Sunday morning…. Dr. White called at 8:30am to see how I was doing. I wound up driving myself the 1 1/2 hours up to his office. And back. He gave me a shot–actually several–to numb the hand. Those injections really hurt; I was seeing stars. He 'teased open" the mostly healed incision, drained out some fluid, and immobilized mt left wrist and hand with a fiberglass splint, soft tape, and an ace bandage. I need to keep taking my antibiotics and keep the hand elevated. While I feel a lot better than I did 24 hours ago (late on Saturday afternoon) I am still experiencing major discomfort and a bit of throbbing (should I inadvertently bring my hand to my side). Dr. White wants to see me in his office on Tuesday afternoon. With the soft cast on at least I do not have to worry about range of motion :). You've gotta love that next breath!
[Not a valid template]
The image above is the optimized image; scroll down to see the before & after animated GIF. This American Alligator image was created at the St. Augustine Alligator Farm with the Canon 800mm f/5.6L IS lens and the EOS-1D Mark IV. ISO 400. Evaluative metering -2/3 stop: 1/200 sec. at f/8 set manually after histogram and blinkies check. Even though the gator was in the shade I knew that with the dark animal and the dark water I would need to underexpose to avoid burning (over-exposing) the white egret feather on its head.
Feather-head
Here is a bit more on the creation of this image. There were lots of gators lolling around in the shade but none of them floated my boat. Then I noted this medium-sized animal with an egret feather that looked as if it had been carefully placed between and just beyond those sinister eyes. And I got excited.
We grab our gear. We go for a walk. Then we see something that catches our eye, that tickles our fancy, that floats our boat. Next we decide which lens in our arsenal would be the best tool for the job at hand. Then we frame the image, determine the best exposure, do our best to create a sharp image (usually :)), and press the shutter-button a few times. Once we have the images on the computer we select our favorites and optimize the best of those. I am in love with the whole process; this is another of the many great blessings that make my life so wonderful. .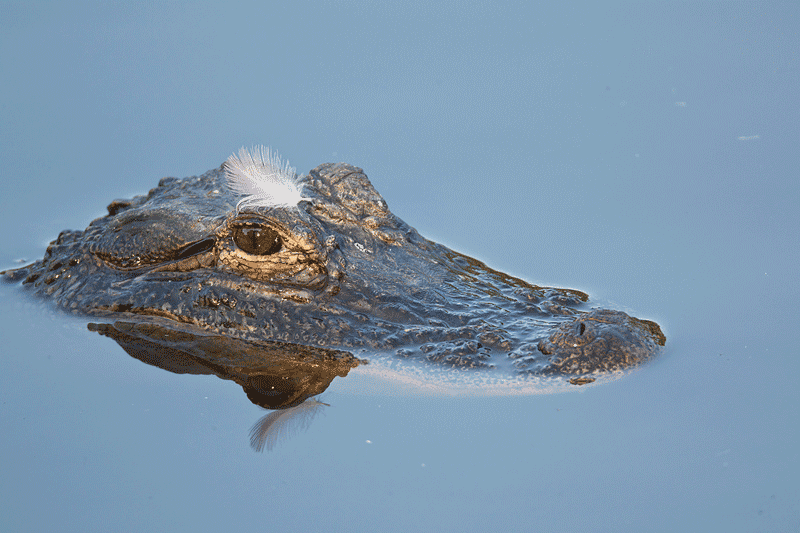 I spent 15 minutes using the Patch Tool and the Spot Healing Brush to clean up crud in the water and the whitewash on the gator and another 30 minutes while on the phone with a friend using the Clone Stamp Tool at 50% Opacity to tone down the specular highlights on the gator. Obviously, I like the feather. But even that needed a bit of Patch Tool work. Lastly I used a Quick Mask followed by the Clone Stamp Tool at 100% hardness to clean up the smudged area in front of the snout. Learn how and why to use which of the above tools when in our Digital Basics File, an e-mailable PDF.
Shopper's Guide
Below is a list of the gear that I used to create the image above (along with some related items). Thanks a stack to all who have used the Shopper's Guide links to purchase their gear as a thank you for all the free information that we bring you on the Blog and in the Bulletins. Before you purchase anything be sure to check out the advice in our Shopper's Guide.
Canon 800mm f/5.L IS lens. Right now this is my all time favorite super-telephoto lens.
Canon EOS-1D Mark IV professional digital camera body. My workhorse professional digital camera bodies.
And from the BAA On-line Store:
Gitzo GT3530LS Tripod. This one will last you a lifetime.
Mongoose M3.6 Tripod Head. Right now this is the best tripod head around for use with lenses that weigh less than 9 pounds. For heavier lenses, check out the Wimberley V2 head.
Double Bubble Level. You will find one in my camera's hot shoe whenever I am not using flash.
Delkin 32gb e-Film Pro Compact Flash Card. These high capacity cards are fast and dependable.
I pack my 800 and tons of other gear in my ThinkTank Airport SecurityTM V2.0 rolling bag for all of my air travel and recommend the slightly smaller Airport InternationalTM V2.0 for most folks. These high capacity bags are well constructed and protect my gear when I have to gate check it on short-hops and puddle jumpers. Each will protect your gear just as well. By clicking on either link or the logo below, you will receive a free gear bag with each order over $50.