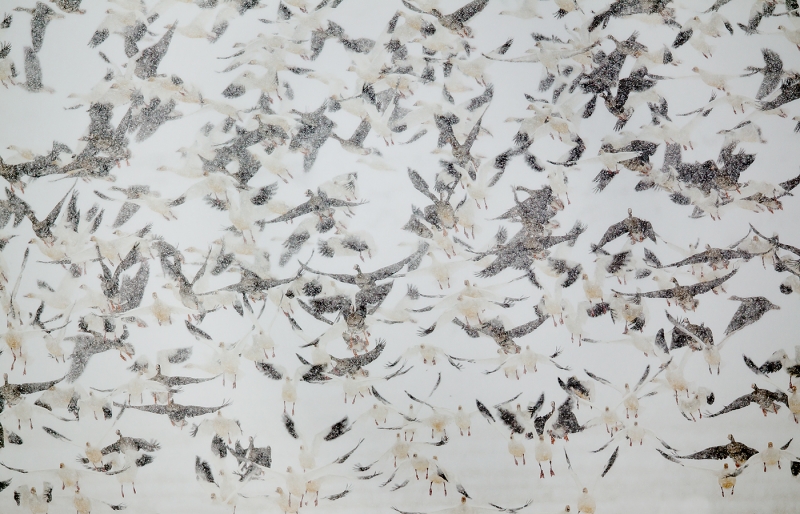 This image of both light and dark (White-fronted) geese blasting off was created at Klamath NWR, OR with the Canon 800mm f/5.6L IS and the EOS-1D Mark IV. ISO 400. Evaluative metering +2 1/3 stops: 1/640 sec. at f/6.3 in Tv Mode.
For Your Critique: Image #1
Over the course of the next three months or so, I will present nineteen more images in this series. Feel free to praise them or tear them to shreds. As we preach on BPN (BirdPhotographers.Net), honest but gentle. Heck, no need to be gentle; polite will do. Above is "Salt and Pepper Snow Storm." I look forward to each of you taking your best shot. Would you delete this image?
For a greater appreciation of the image above, click on the photo to view a 1400 pixel wide version. Click on the enlarged version to close it.
Shopper's Guide
Below is a list of the gear mentioned that I used to create the image above. Thanks a stack to all who have used the Shopper's Guide links to purchase their gear as a thank you for all the free information that we bring you on the Blog and in the Bulletins. Before you purchase anything be sure to check out the advice in our Shopper's Guide.
Why waste time comparison shopping when you know that B&H will always offer the lowest prices? Support both the Bulletins and the Blog by making all your B & H purchases here.
Canon 800mm f/5.L IS lens. Right now this is my all time favorite super-telephoto lens.
Canon EOS-1D Mark IV professional digital camera body. My two Mark IVs are my workhorse digital camera bodies.
And from the BAA On-line Store:
Gitzo GT3530LS Tripod. This one will last you a lifetime.
Mongoose M3.6 Tripod Head. Right now this is the best tripod head around for use with lenses that weigh less than 9 pounds. For heavier lenses, check out the Wimberley V2 head.
CR-80 Replacement Foot for Canon 800. When using the 800 on a Mongoose as I do, replacing the lens foot with this accessory lets the lens sit like a dog whether pointed up or down and prevents wind-blown spinning of your lens on breezy days by centering the lens directly over the tripod.
Double Bubble Level. You will find one in my camera's hot shoe whenever I am not using flash.
The Lens Align Mark II. I use the Lens Align Mark II pretty much religiously to micro-adjust all of my gear an average of once a month and always before a major trip. Enjoy our free comprehensive tutorial here.
Delkin 32gb e-Film Pro Compact Flash Card. These high capacity cards are fast and dependable. Clicking on the link below will bring you to the Delkin web site. There is lots of great stuff there. If you see a product that we do not carry let us know via e-mail; we will be glad to have it drop-shipped to you and save you a few bucks in the process.
I pack my 800 and tons of other gear in my ThinkTank Airport SecurityTM V2.0 rolling bag for all of my air travel and recommend the slightly smaller Airport InternationalTM V2.0 for most folks. These high capacity bags are well constructed and protect my gear when I have to gate check it on short-hops and puddle jumpers. Each will protect your gear just as well. By clicking on either link or the logo below, you will receive a free gift with each order over $50.