[Not a valid template]
This image of a Coastal Brown Bear cub clinging to its mom was created at Geographic Harbor, Katmai National Park, AK with the the tripod-mounted Canon 800mm f/5.6L IS lens, the 1.4X III TC, and the EOS-1D Mark IV. ISO 800. Evaluative metering +1 stop: 1/500 sec. at f/8 in Tv mode.
Lens/TC/Camera Body Micro-Adjustment: -4. After the MIV body that I dropped was repaired and the focus was adjusted (by Canon Repair Services) I re-calibrated the 800 with the 1.4X TC; the correct micro-adjustment changed from +10 to -4.
From the Bear Boat to Mom's House
The just-concluded (I was photographing clamming bears less than 26 hours ago!) Bear Boat IPT that I co-lead with Robert O'Toole was a great success despite some snotty weather and few bears at Hallo Bay. For additional details see the next Bulletin. I boarded the float plane yesterday at 11:00am. We flew in beautiful weather to Kodiak, AK arriving right about noon despite a detour to check out some Fin Whales from the air. We arranged to have our halibut and salmon shipped home by Island Seafood and made our way to the Kodiak Airport. Several of us departed on time at 4:40pm and arrived in Anchorage at about 5:30. My 8:30 American Airlines red-eye flight to Dallas was delayed for well more than an hour. I landed the next morning (that would be today, Thursday, August 11, 2011) just after 7am and connected with my AA flight to Orlando. I am writing this blog post as I lay over for my 4:05pm Southwest flight up to Islip this afternoon. I will be visiting my Mom, my two sister's, and my younger daughter Alissa and her family and doing some photography on Long Island as well. I am scheduled to land at about 6:30 and should be having chicken and eggplant at my Mom's by 7:30 or so….. All in all it will have been a long journey.
ps: Made it: 28 hours, door to door. Dinner at my Mom's in five minutes 🙂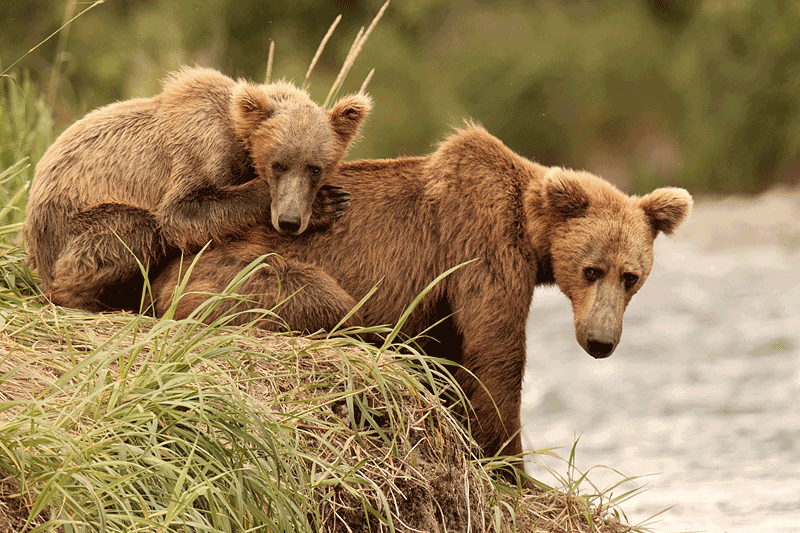 This animated GIF shows the original capture and the optimized image.
Note the removal of the (unfortunate) grass stems above the cub's head (and another in the upper left corner); I used the Patch Tool in conjunction with several small Quick Masks. I also lightened the eye sockets with a Tim Grey dodge and burn layer and sharpened the faces of both bears with a contrast mask. All of the above as described in the amazing Digital Basics File, a PDF that is sent to you via e-mail. Digital Basics includes my complete workflow and dozens of great Photoshop tips.
Do note that even with the changes that I made this image would be eligible to be entered in the BIRDS AS ART International Bird Photography Competition–11 categories, 34 winners, and $20,000+ worth of great prizes. Click here for details or here to see the original announcement in the blog.
Shopper's Guide
Below is a list of the gear used to create the images in this blog post. Thanks a stack to all who have used the Shopper's Guide links to purchase their gear as a thank you for all the free information that we bring you on the Blog and in the Bulletins. Before you purchase anything be sure to check out the advice in our Shopper's Guide.
Support both the Bulletins and the Blog by making all your B & H purchases here.
Canon 800mm f/5.L IS lens. Right now this is my all time favorite super-telephoto lens.
Canon 1.4X III TC. This new TC is designed to work best with the new Series II super-telephoto lenses.
Canon EOS-1D Mark IV professional digital camera body. My two Mark IVs are my workhorse digital camera bodies.
And from the BAA On-line Store:
LensCoats. I have a LensCoat on each of my big lenses to protect them from nicks and thus increase their re-sale value. All my big lens LensCoat stuff is in Hardwood Snow pattern.
LegCoat Tripod Leg Covers. I have four tripods active and each has a Hardwood Snow LegCoat on it to help prevent further damage to my tender shoulders 🙂
Gitzo GT3530LS Tripod. This one will last you a lifetime.
Mongoose M3.6 Tripod Head. Right now this is the best tripod head around for use with lenses that weigh less than 9 pounds. For heavier lenses, check out the Wimberley V2 head.
CR-80 Replacement Foot for Canon 800. When using the 800 on a Mongoose as I do, replacing the lens foot with this accessory lets the lens sit like a dog whether pointed up or down and prevents wind-blown spinning of your lens on breezy days by centering the lens directly over the tripod.
Double Bubble Level. You will find one in my camera's hot shoe whenever I am not using flash.
Be sure to check out our camera body User's Guides here.
The Lens Align Mark II. I use the Lens Align Mark II pretty much religiously to micro-adjust all of my gear an average of once a month and always before a major trip. Enjoy our free comprehensive tutorial here.
Delkin 32gb e-Film Pro Compact Flash Card. These high capacity cards are fast and dependable. Clicking on the link below will bring you to the Delkin web site. There is lots of great stuff there. If you see a product that we do not carry let us know via e-mail; we will be glad to have it drop-shipped to you and save you a few bucks in the process.
I pack my 800 and tons of other gear in my ThinkTank Airport SecurityTM V2.0 rolling bag for all of my air travel and recommend the slightly smaller Airport InternationalTM V2.0 for most folks. These high capacity bags are well constructed and protect my gear when I have to gate check it on short-hops and puddle jumpers. Each will protect your gear just as well. By clicking on either link or the logo below, you will receive a free gift with each order over $50.