A Picture is Worth a Thousand Words…
Delkin 32GB COMPACTFLASH PRO 450X UDMA 6
Can you say rugged and dependable?
They say that a picture is worth a thousand words…. In the center of the image above is a brand new 32gb Delkin Flash card just like the ones that I use. It is flanked by the two 32 gb Delkin flash cards that I have been using for nearly 3 years now. Without failure. Without a single problem. It is not hard to understand why I use and depend on Delkin every time that I am afield (and even when I am photographing the construction of my new swimming pool!)
And on the rare occasion that a Delkin card fails it will be replaced no questions asked. No matter how old or how little paint is left on the card!
For those of you who need a few additional words:
Delkin's UDMA 6 CompactFlash supports professional digital SLRs that can utilize its high-performance benefits but will still provide faster speed for non-UDMA digital cameras. UDMA technology, initially designed to increase the efficiency of computers, drastically lessens input and output times without hindering camera performance. Specifically, the card can receive data from the camera, where it must be initially compressed, at an impeccable rate. For photographers this means increased accuracy and the ability to process more images rapidly. UDMA also offers faster download times to a desktop or PC for the mass relocation of images. This alternative to direct-camera transfer will also prevent battery power loss and restricted camera use during transfer.
As stated, Delkin Devices is fully committed to customer satisfaction, and our memory cards are put through several rigorous quality assurance tests before being released. If you experience any difficulties or just have questions about your purchase, our US-based customer support system will provide a solution. Our team of technicians will gladly recover the accidental deletion of images completely free of charge and even retrieve files on cards that have been re-formatted or whose file system has been somehow corrupted. Proving our dedication to excellence, Delkin Devices is a member of the CompactFlash Association, guaranteeing strict adherence to the highest level of manufacturing standards.
You can purchase a Delkin card from us here or learn more about Delkin products here. If you see something there that you like we can save you a few bucks by having it drop-shipped. Please let us know via e-mail.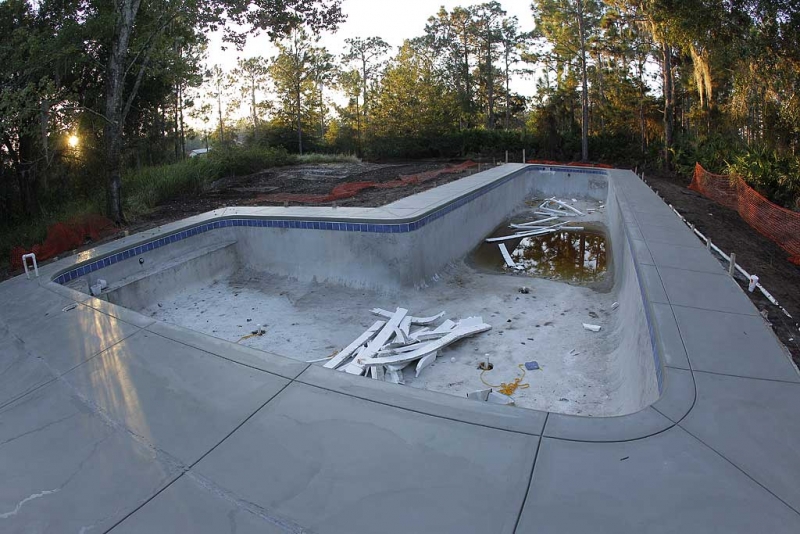 I was not kidding about the pool. 🙂 This is the view from just outside the French doors in my new office. The pool is 60 feet long by 12 feet wide with a 15 foot square addition for the grandkids on the left. You gotta love it.
This image was created with the handheld Canon 15mm fish eye lens with the EOS-1D Mark III (replaced now by the EOS-1D Mark IV). ISO 800. Evaluative metering +1/3 stop: 1/400 sec. at f/5 in Av Mode.
Earn Free Contest Entries and Support both the Bulletins and the Blog by making all your B & H purchases here.
More and more folks are earning multiple contest entries with their B & H purchases. See here for details on that. Eleven great categories, 34 winning and honored images, and prize pools valued in excess of $20,000. Click here to visit the competition home page.
Shopper's Guide
Below is a list of the gear used to create the images in today's blog post. Thanks a stack to all who have used the Shopper's Guide links to purchase their gear as a thank you for all the free information that we bring you on the Blog and in the Bulletins. Before you purchase anything be sure to check out the advice in our Shopper's Guide.
Canon 15mm fish eye lens. It is difficult to learn to use this lens well but trying and learning is a ton of fun.
Canon EOS-1D Mark IV professional digital camera body. My two Mark IVs are my workhorse digital camera bodies.