A Photographer's Guide to the Ontario Landscape
BIRDS AS ART is proud to announce the publication of "A Photographer's Guide to the Ontario Landscape," a new e-book by Andrew McLachlan of Thornton, Ontario. Andrew's guide is the latest in a long line of beautiful, inspiring, educational, how-to and where-to treatises brought to you by BAA Books. If you want to skip the spiel you can click here to order. 🙂 Or see more options below.
A Photographer's Guide To The Ontario Landscape: $24; YouSendIt file downloads are sent via e-mail.
The vast and varied landscapes of Ontario, Canada's second largest province, provide photographers with a great variety of outstanding destinations and opportunities. "A Photographer's Guide To The Ontario Landscape" by Andrew McLachlan is an easy-to-read, easy-to-follow resource that will make it a snap for both local and visiting photographers to plan their outings and to maximize their time afield. Why spend days looking for the best spots when Andrew has already done the legwork?
From the remote Abitibi Canyon in the northeast to Point Pelee in the southwest, from the Ottawa Valley in the southeast to the Algoma Highlands north east of Sault Ste Marie, Andrew has-with skill and passion–photographed them all in every season. In addition he will guide you to the regions famous for fall colour including the Haliburton Highlands and Muskoka.
You will learn where and when to go to create dramatic landscapes. Andrew's images will educate and inspire you. And his e-book contains dozens of excellent tips (each in its own sidebar) for folks who enjoy creating scenic landscape images. He covers all the bases including exposure and histograms, composition and image design, shutter speed, aperture, and depth-of-field, creative vision and perspective, matters of weather and light, and tips on all types of gear including lens choice, tripods, tripod heads, lens and camera body plates, & filters.
This e-book, the first-ever comprehensive guide to photographing Ontario's landscapes, is a must for all who enjoy making great images of nature's vistas.
The simplest and fastest way to order your copy of "A Photographer's Guide to the Ontario Landscape" is through the BAA On-line Store by clicking here. Alternatively, you can order your copy by sending a check for $24 made out to "Arthur Morris" to us at BIRDS AS ART, PO Box 7245, Indian Lake Estates, FL 33855. Be sure to include your e-mail address (written legibly). If you prefer to use PayPal you can send $24 to us via e-mail; be sure to include the title of the book.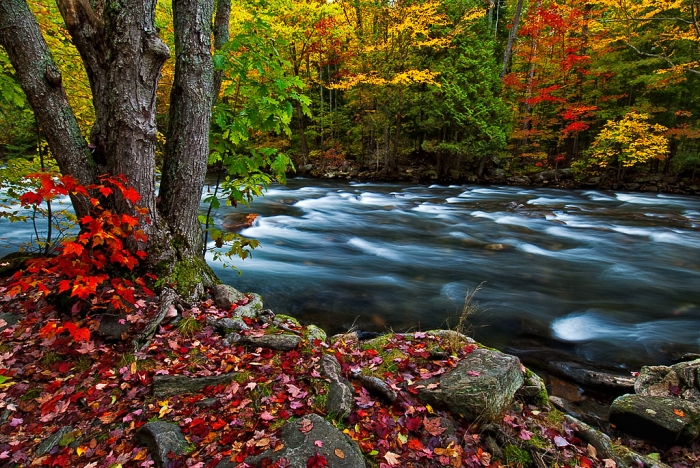 Haliburton Highlands, Fall colour at Kennisis River, Ontario. Nikon D200, Nikon 12-24mm lens, polarizing filter. Image copyright 2011: Andrew McLachlan.
artie is traveling 🙂
artie is traveling in the Southern Ocean (Falklands, South Georgia, & Antarctica) and will unable to respond to your questions and comments until after his return on 26 January 2012.
Earn Free Contest Entries and Support both the Bulletins and the Blog by making all your B & H purchases here.
More and more folks are earning multiple contest entries with their B & H purchases. See here for details on that. Eleven great categories, 34 winning and honored images, and prize pools valued in excess of $20,000. Click here to visit the competition home page.
Shopper's Guide
Thanks a stack to all who have used the Shopper's Guide links to purchase their gear as a thank you for all the free information that we bring you on the Blog and in the Bulletins. Before you purchase anything be sure to check out the advice in our Shopper's Guide.