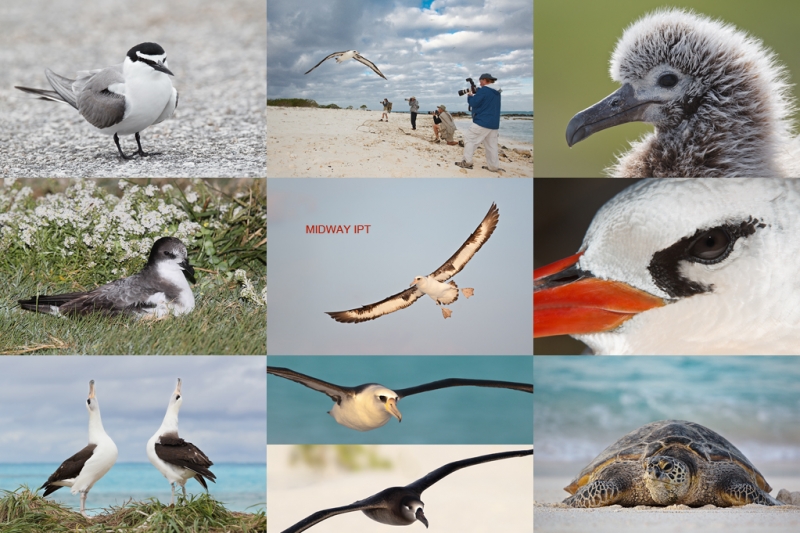 Join me on Midway and photograph three species of albatross until your arms are too tired to lift your rig…. Click on the composite image to enjoy a larger version.
MIDWAY 2013
MIDWAY ATOLL BAA IPT: March 25, 2013 (from Honolulu, Oahu, HI) 7-FULL DAYS OF PHOTOGRAPHY: $7995 ALL INCLUSIVE FROM HNL. Limit: 14/Openings 3.
There are only three slots open right now…. The trip schedule is now etched in stone and we are good to go. The price is firm barring any fuel surcharges. This might very well be the last year for tourism to this amazing spot….
The group will fly to Midway from the Charter Aircraft Hangar on the late afternoon of March 25, 2013. You will need to be in Honolulu by late morning on the 25th. For safety's sake, I will be arriving in Honolulu on March 24 to avoid missing the charter flight. You should do the same. If you plan to arrive on the 25th and are delayed, you will miss the charter flight and will not be able to get to Midway. Period. If you do choose to arrive on the 24th as advised, the hotel is on your dime.
We will arrive at Midway after dark on the 25th. We will leave Midway well after dark on April 1 arriving in Honolulu during the very early morning of April 2, usually between 1 and 2 am. The cost of a hotel day-room is included in the trip. If you need late check-out (after noon on the 2nd) that will be on your dime too. Most flights back to the US are red-eyes.
We will enjoy seven full days of photography. We will enjoy hundreds of thousands of nesting albatrosses both Laysan and Black-footed. We will see and photograph (and video if you like) chicks of all sizes and the incredibly intricate courtship displays of both species. You will be able to create head portraits of both species with a 70-200 lens. We will enjoy hours of albatross flight photography. The morning runway flight photography is incredible. It is likely that we will see and get to photograph the exceedingly rare Short-tailed Albatross (though briefly because of access restrictions). We will see and photograph White (formerly Fairy) Tern as well as Red-tailed Tropicbird. After lunch on sunny days the skies in front of the Clipper House will be filled with courting Red-tailed Tropicbirds. Other likely subjects include Lasyan Duck, Pacific Golden-Plover and Bristle-thighed Curlew. Those who bring their flashes will be able to photograph Bonin's Petrel after dark. I will likely leave my flash at home as there are severe weight restrictions on this trip; each of us will be limited to about 60 pounds total.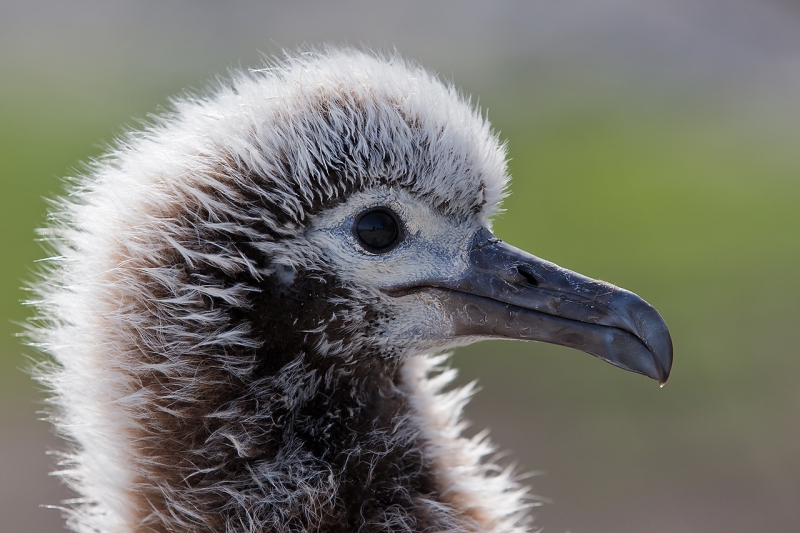 This Laysan Albatross chick was photographed with the Canon 70-200mm f/2.8L IS II lens, the 1.4X III TC (hand held at 250mm), and the Canon EOS-1D Mark IV. ISO 400. Evaluative metering -1/3 stop: 1/800 sec. at f/7.1 in Av mode. I needed to under-expose to prevent burning the rim lit feathers.
Central Sensor/AI Servo Rear Focus AF active at the moment of exposure. Click here if you missed the Rear Focus Tutorial. Click on the image to enjoy a larger version.
Imagine that here I needed to zoom out!
We will make a one day boat trip, about a 15 minute ride, to Eastern Island where we will see and photograph nesting Red-footed Booby and nesting Great Frigatebird with inflated red gular pouches. Grey-backed Tern and several other species are possible. And of course there will be zillions of nesting Laysan Albatrosses there. We can expect two species of noddy on the trip, Brown and Black–I think that the Black Noddies are more likely on Eastern Island. Both islands are rife with historical significance, derelict buildings and hangars, and artifacts; the naval battle of Midway was the turning point in World War II.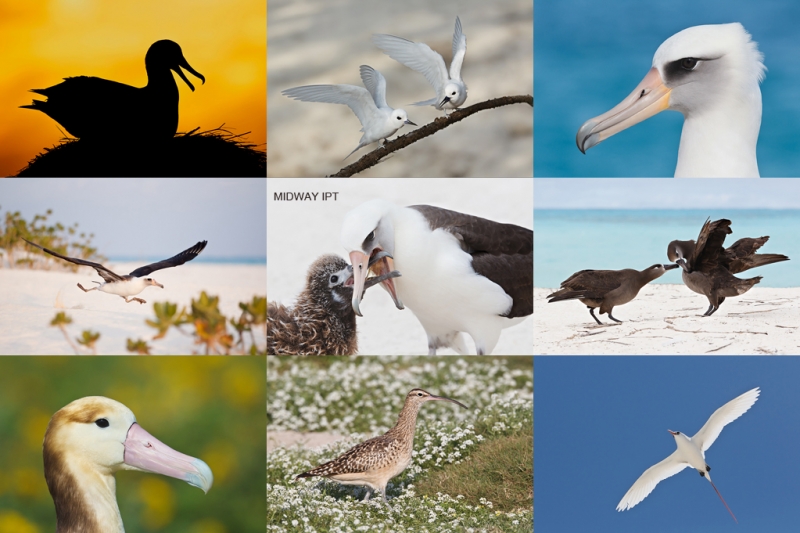 Midway is a world renowned wildlife photography destination that ranks right up there with Antarctica, East Africa, Japan in winter, and the Galapagos. And like the Galapagos, most of the wildlife is inordinately tame. Click on the composite image to enjoy a larger version.
In order to cover the huge expense of the round-trip charter aircraft to and from Midway Island this trip needs to fill in order to run. In the almost unimaginable event that this minimum is not met, or if the trip is denied government approval, your deposit will of course be refunded in full. It is otherwise non-refundable. Once the trip is confirmed you will be advised to purchase trip cancellation insurance. I do expect this trip to fill in very short order. A waiting list will be created for those who are late to respond. Please hold off purchasing plane tickets until you hear that the trip is a go. Do note that while many trips are advertised as once in a lifetime, this one may very well be that once in a lifetime opportunity as there is constant talk that each season may be the very last.
What's included? The round trip charter airfare from HNL to Midway and back, all lodging and meals on Midway. The food, both American and Thai, is killer good so do not plan on losing any weight, all associated national park fees as well as transport via large golf cart. For the most part we will stay together as a group. Those wishing to photograph on their own with some restrictions may rent bikes. Also included is in-the-field instruction. Informal image sharing and Photoshop instruction will be available most days for those sitting next to me or looking over my shoulder in the lobby of Charley Barracks early mornings, evenings, and during break time. I do try to catch a short nap each day.
What's not included: The cost of the airfare from your home to and from HNL. Your meals in Honolulu. The cost of your hotel room on March 24th and late check out if needed on April 2. Personal items and souvenirs purchased on Midway.
If you are a happy camper and wish to register for this trip please call us at 863-692-0906 immediately. If no answer do not leave a message but do send an e-mail to me at mailaddress. You will be given instructions for sending a deposit check for $800 to us here: Arthur Morris/BIRDS AS ART, PO Box 7245 (mail) or 4041 Granada Drive (courier), Indian Lake Estates, FL 33855. Your deposit is non-refundable.
For the folks who have never traveled with us, please remember, happy campers only. If you are a bitter and unhappy person we do not care to travel with you. If you are pleasant, fun, easy to get along with and know how to act in the field with a group, we would be delighted to have you along.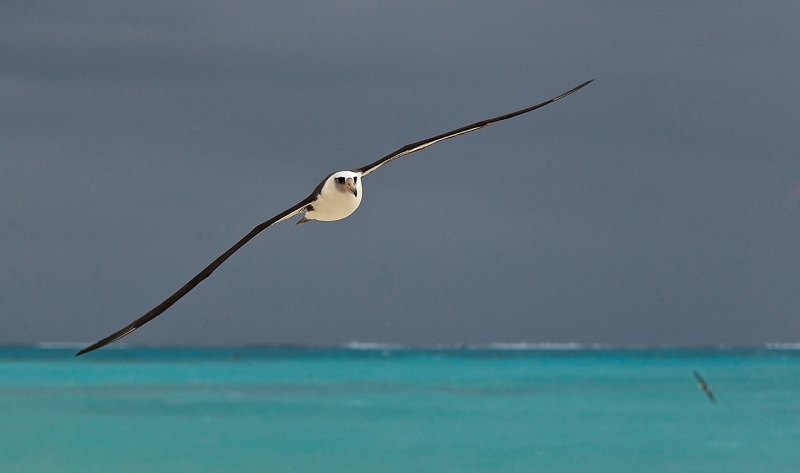 This Laysan Albatross was photographed in flight over the lagoon that surrounds the atoll. The black storm cloud was a rare bonus. I used the
Canon 70-200mm f/2.8L IS II lens, the 1.4X III TC (hand held at 118mm), and the Canon EOS-1D Mark IV. ISO 1000. Evaluative metering -1/3 stop: 1/1000 sec. at f/5.6 in Manual mode.
Central Sensor/AI Servo Rear Focus AF and re-compose. Click here if you missed the Rear Focus Tutorial. Click on the image to enjoy a larger version.
Note the waves breaking over the reef that surrounds the atoll.