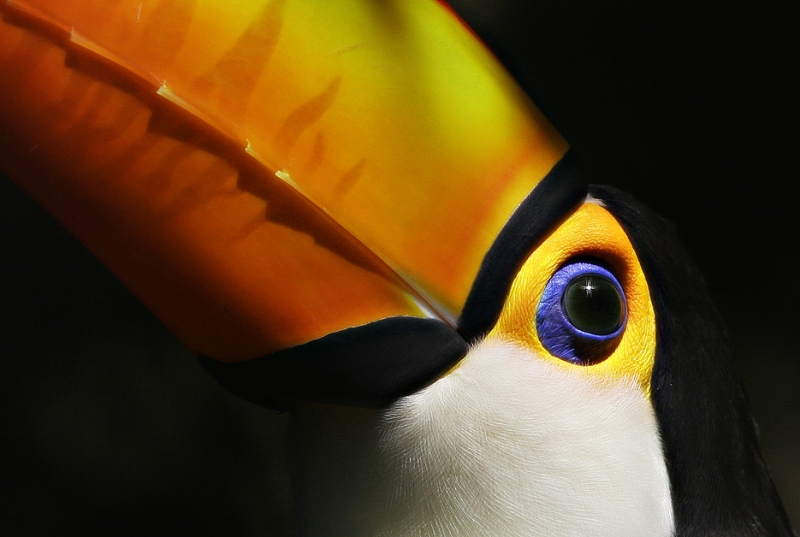 Congratulations to Stan Hoyt. His image of a Toco Toucan is the frst prize winner in the Captive category of the BIRDS AS ART 1st International Bird Photography Competition.
Toco Toucan: Stan Hoyt
Stan's toucan image was voted first by the contest judges in the Captive category receiving 23 out of a possible 25 points. It just edged out Alain Pascua's fine Great Philippine Eagle image below that scored 21 out of the possible 25 points. Interestingly enough it was also the first choice in the public voting receiving a total of 444 points, just beating out Alain's Philippine Eagle below which garnered 429 points. As just one of the five finals contest judges I can say that I like the bold colors, the sharpness, the black background, the unusual perspective, the image design, and that wicked eye highlight.
Here is the e-mail that we received from Stan:
Dear Artie, Peter, and Denise.
Wow! This is one email I never expected to receive. I am deeply honored that one of my photos is being considered. I have already uploaded the raw and the optimized images. Here is the information you requested.
Bird Species: Toco Toucan
Location: Alligator Farm, St. Augustine, FL
When: June 23, 2006 at 3:31 PM
Details: Canon 20D, 300mm f4 @f7.1, 1/640 sec., ISO 200, -1 1/3 exp. comp., evaluative metering, AI Servo AF, handheld
Having already enjoyed a morning of photography at the Alligator Farm in St. Augustine, Florida, I returned in mid-afternoon, intending to go straight to the rookery. I took only a few steps past the entrance when my attention was captured by a toco toucan in a large screened enclosure. This beautiful bird was quite active, taking an interest in its surroundings, including the people passing by. Stopping to admire, I began to experiment by taking hand-held images from different locations and angles. The jungle foliage in the enclosure softened the afternoon sun, but also created a lot of dapplied sunlight and shadow. My camera kept wanting to focus on the fine dark mesh of the screen rather than the bird, and I wondered whether any of the images I took would be usable. It wasn't until I got home and reviewed them on my computer that I saw that not only were several images acceptably sharp but noted that the mesh had created a peculiar cross-hatched catchlight that set off the toucan's bold eye.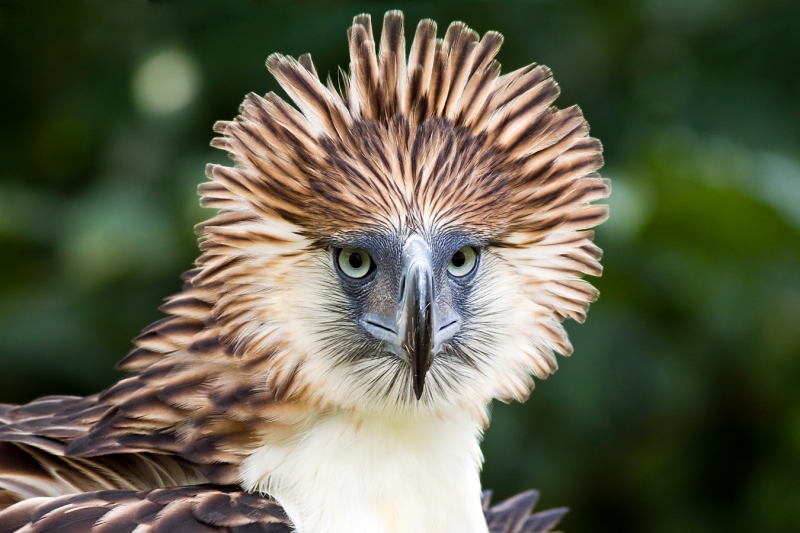 Congratulations to Alain Pascua. His Great Philippine Eagle image was awarded second prize in the Captive category of the BIRDS AS ART 1st International Bird Photography Competition.
Great Philippine Eagle, Alain Pascua.
Alain's eagle was voted second by the contest judges in the Captive category. It received 21 out of a possible 25 points. It placed second in the public vote as well scoring 429 points. As one of five Finals judges I can say that this majestic and regal species along with its raised crest caught my attention from the moment that I saw it. If you have any suggestions on how this image could have been improved within the rules of the contest please leave a comment.
Here is what we heard from Alain:
English Name: Great Philippine Eagle
Common Name: Haring Ibon (Filipino, meaning King Bird), Monkey-eating Eagle (former English name)
Scientific Name: Pithecophaga jefferyi
Conservation Status: Critically Endangered
Range: Endemic to the Philippines, restricted in Eastern Luzon, Samar, Leyte and Mindanao
Location: Philippine Eagle Center, Davao City, Mindanao, Philippines
Date Photographed: June 11, 2010
Equipment: Canon EOS 50D, Canon EF 400mm f/5.6L USM, Benro GH-1 Gimbal Head and Tripod
Settings: 1/160 sec, f/5.6, ISO 800, Evaluative Metering, Manual Exposure in Available Light
I photograph birds in the wild, in their natural habitat, but with the difficulty of finding the Great Philippine Eagle in the wild brought about by its dwindling population and the difficult terrains in a few areas where it could be sighted, I contented myself in photographing it in captivity. I have to overcome the obstructions of cages, iron bars and wires though, so I timed my visit to the Philippine Eagle Center in Davao City in Mindanao during the celebration of Philippine Eagle Week when one of the Great Philippine Eagles is usually brought out of the cage and displayed at a public area. My focus was to capture the image of a majestic, royal, kingly and proud Great Philippine Eagle lording over the depressions of captivity, and fittingly portraying its stature as national bird of the Philippines and the largest eagle in the world. I spent the whole day at the breeding center, patiently waited for visitors to come and for feeding time during which periods the eagle was most active with its lion mane-like head crest standing up for seconds. I clicked more than a thousand shots and packed up only when I was contented enough that one of my images have truly captured and given justice to this great bird. That was on June 11, 2010, the eve of the celebration of the Philippine's 112th National Independence Day, a very fitting day to pay homage to Haring Ibon – the Lord of the Forest and the King of Birds.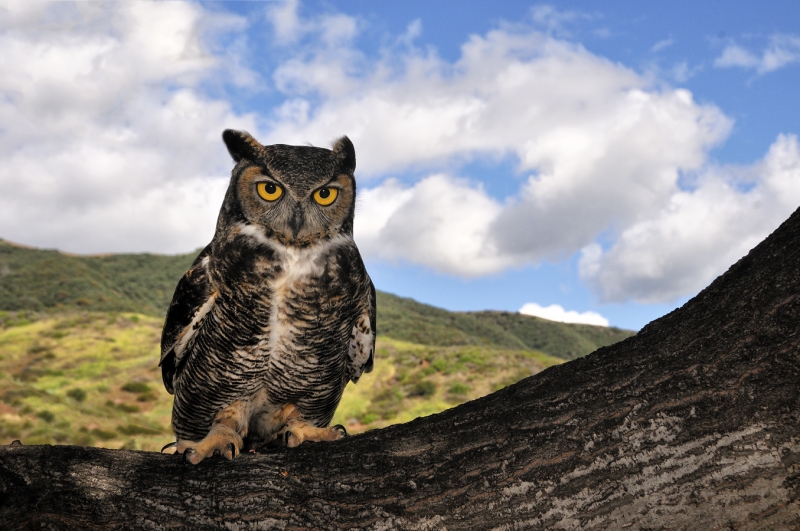 Congrats to Eric A. Rosen. His Great Horned Owl on curved branch was awarded third place in the Captive category of the BIRDS AS ART 1st International Bird Photography Competition.
Eric A. Rosen, Great Horned Owl on curved branch
Eric's owl image was voted third by the contest judges in the Captive category. In somewhat of a surprise to me it finished 8th in the public voting (but only 19 points out of fifth place). I love the curved branch, the puffy white clouds, the great look at those huge talons, Eric's choice of perspective, and the use of flash to even out the exposure. Selectively lightening the subject would have yielded an even stronger image.
From Eric via e-mail:
I created this image of a captive, non-releasable Great Horned Owl using a handheld Nikon D300 with the Nikkor 18-200mm telephoto lens (hand held at 42mm) and some fill flash. I volunteer my services as a photographer for a non-profit organization that rehabilitates birds that have been hurt; some of the birds are injured so badly that they can never be released back into the wilderness. This photo was taken in February 2010 at a private ranch in Ojai, CA.
Congrats!
Congrats to all who placed images in the top ten in the Captive category. You can see all ten honored images here. 210 images made the next to last cut. Only ten went to the judges. Getting to the final round is quite an accomplishment. The seven photographers who survived to the final round of judging are invited to leave a comment and let us know about their honored image. Note that each of the top three images was created with a focal length of less than 400mm. And all were made locally, near the photographers home.
Prizes (see below) will be shipped once all the winners are announced as several folks had more than one top three images. Be sure to patronize our sponsors; without them, this contest would not exist. More educational stuff from the Contest coming soon.
| First Prize | 2nd Prize | Third Prize | Sponsor |
| --- | --- | --- | --- |
| $100 Gift Certificate | $50 Gift Certificate | $25 Gift Certificate | B&H PHOTO VIDEO |
| choice of lens plate | P-5 camera body plate | Plamp | Wimberley |
| 16 GB 450 X UDMA Compact Flash Card | Sensor Scope | Universal Memory Card Reader | Delkin Devices |
| Level 3 Gift Subscription | Level 2 Gift Subscription | Level 1 Gift Subscription | Nature Photographer Magazine |
| $30 Discount Certificate | $25 Discount Certificate | $20 Discount Certificate | Canvas On Demand |
| Laptop Bag or Pixel Sunscreen | Pixel Pocket Rocket | AA Battery Holder | Think Tank |
| $50 Gift Certificate | $25 Gift Certificate | $10 Gift Certificate | Lens Coat |
| Canon/Nikon Lens Plate | Canon/Nikon Camera Body Plate | . | 4th Generation Design |
| . | Better Beamer | Better Beamer Replacement Fresnel | Visual Echoes |
| TriKlear Kit | TriKlear Kit | TriKlear Kit | Lens Pen |
| Giottos MH 1302-655 BallHead | Double Bubble | . | HP Marketing |
| BreezeBrowser Pro/Downloader Pro Combo | BreezeBrowser Pro | Downloader Pro | Breeze Systems |
| Sito HD Version Gold Web Site | | | Sito HD |
.
B&H Double Rebates Include the 5D Mark III
Click here. Select one of four current Canon camera bodies–both the EOS-5D Mark III and the EOS-7D are in the group. Add a lens–there are 30 in the group, a Series III teleconverter, or a Speedlite, and enjoy large double rebates. The lenses include lots of my favorites: the 70-200mm f/4 L IS, the 70-200mm f/2.8L IS II, the circle lens, the 180 macro, and the 300mm f/4L IS. You can check the specs on all Canon telephoto lenses here. This double rebate offer expires on April 2, 2012.
Nikon Dslr + Lens Bundle Rebates
Click here for details. Offer includes the brand new D3200 and the D7000.